---
Here you have our list with best sleeping bags for car camping from top brands in this industry, in a variety of styles and shapes and with all possible temperature ratings.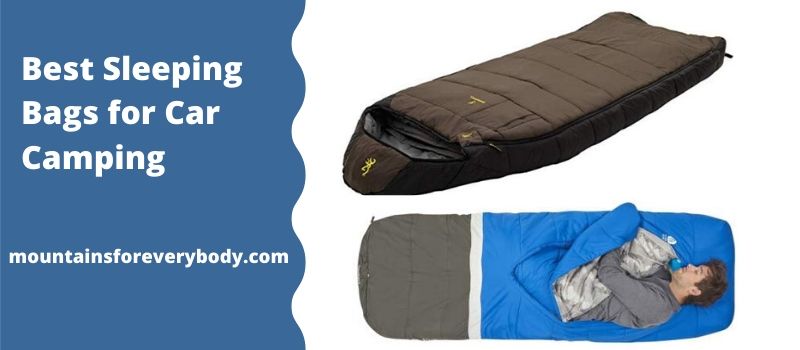 When it is about car camping, I normally rather use a camping quilt or a double sleeping bag, rather than a standard sleeping bag. This because I feel claustrophobic in sleeping bags.
But some items here in the list can indeed be open and used as a blanket as well, and you have really unique and versatile bags included. If you are new in this activity, just to stress that the brands presented here are among the best known in this industry.
---
Best car camping sleeping bags – my list
The sleeping pads in the list are ordered alphabetically, so this is not ranking. It would be impossible to rank them because they are so different.
Here are a few data about each of the sleeping pads from the list above. Please follow the links for more.
---
1. ALPS Mountaineering Blaze -20 Degree Mummy Sleeping Bag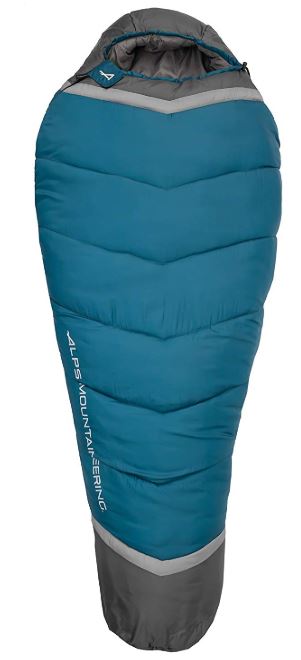 So here you have a very typical mummy-style bag, sand this means the comfort it offers is a bit limited. But this is a thermally efficient construction which you will need for car camping in extremely cold conditions. So if you need a bag for such weather situations, no need to think twice.
Its temperature rating is impressive -20 F (-29 C), and you have synthetic insulation. They build it in two sizes, so the weight of the regular size is 6 lb 12 oz (3.06), and its dimensions are 80 x 32 inches (203 x 81 cm).

---
2. Alps Mountaineering Fusion 40 Sleeping Bag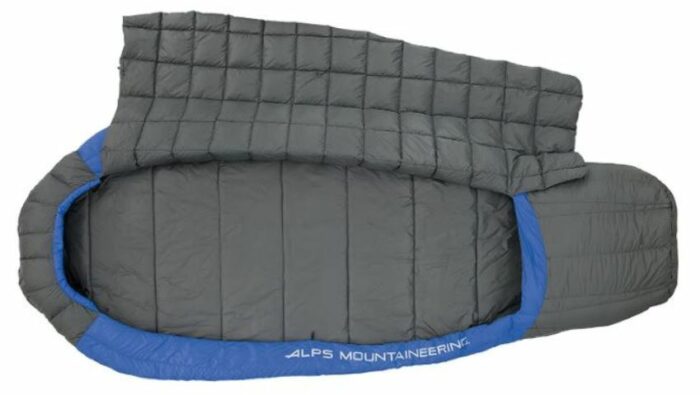 Here you have a unique design without zippers, and the number 40 indicates its temperature rating in F, so this is a bag for up to two seasons in the warmer part of the year.
If you have versatility in mind, this is one of such bags, with its 2 lb 2 oz (964 g) of weight this is a very light item and you can carry it in the pack as well.
There is one more unique detail here, you have a dual fill, down on the top part, and synthetic on the bottom. Above all, it is surprisingly affordable for all its features.

---
3. Browning Camping McKinley -30 Degree Sleeping Bag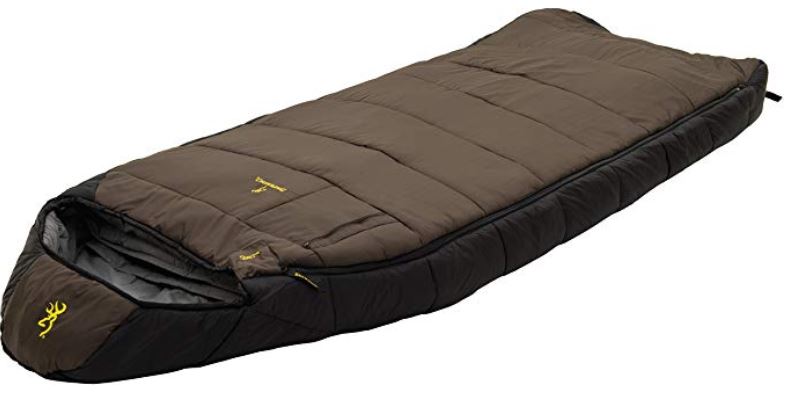 This Browning Camping McKinley is designed for extreme conditions and you realize this from the temperature rating which is -30 F (-34 C). This is a relaxed rectangular design, incredibly comfortable but equipped with everything needed for such extreme conditions. Observe its massive hood as one of these elements.
You have a synthetic insulation here and the bag is heavy with its 12 lb 12 oz (5.78 kg). It is built in one size and the dimensions are 90 x 36 inches (229 x 91 cm). This is an incredible value/price combination.

---
4. Browning Camping Side-by-Side 0 Degree Double Sleeping Bag
The reason for having this double bag here is that this is 5-in-1 system. You can use it as its name suggests, as a double bag, but you can unzip two of its sides and use as two single sleeping bags. Of course, each of these two halves can be used as a blanket as well. So this is an incredibly versatile construction.
The bag is built in the best tradition of this brand, it is strong, durable, and reliable. The insulation is synthetic and its official temperature rating is 0 F (-18 C). This is also a heavy item as it is, it weighs 12 lb 14 oz (5.84 kg) and a bigger part of it, precisely 140 oz (4 kg) is its insulation.

---
5. Exped MegaSleep Duo 25 Sleeping Bag

The reason for having this Exped MegaSleep Duo 25 Sleeping Bag here in the list is similar to the Browning Camping Side-by-Side double bag. This is again something incredibly versatile and unique, a lightweight 5-in-1 system.
This implies that its two sides have two different temperature ratings, and you can unzip them and have 2 sleeping bags with different ratings for different climates. You can also use them as separate blankets.
The insulation is synthetic and the bag is nicely packable and lightweight for a double-wide bag, it weighs 64.2 oz (1820 g). As mentioned, you can use only one side of it as a single sleeping bag, and this is then an ultralight option. Please follow the link for more.

---
6. Kelty Galactic 30 Sleeping Bag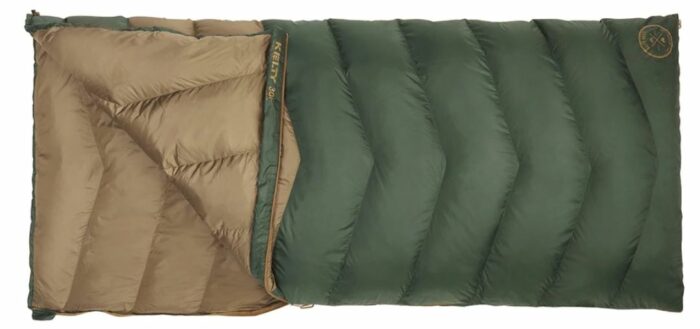 With this Kelty Galactic 30 Sleeping Bag you get a very pleasant bag with a down 600 fill. Note that it is also lightweight enough to be carried even on a shorter tour, the weight of the regular version is 2 lb 10 oz (1.2 kg).
You can unzip it and use it as a blanket, and you can zip it to another bag of this type and create a double sleeping bag. So this is a versatile bag. It is built in several different sizes, for men and women.
The rating is 30 degrees, but it has no hood and it is rectangular, this is why I have included it in my list of best 2-season sleeping bags.

---
7. Kelty Kush 30 Degree Synthetic Fill Car Camping Sleeping Bag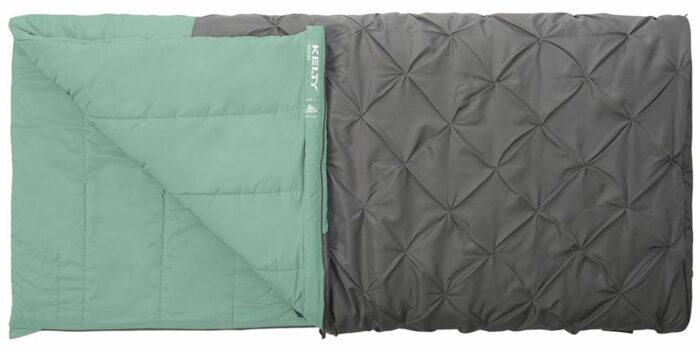 This is a new sleeping bag on the market, they launched it for the season 2020. From the picture you realize it is a rectangular bag, but you can open it completely and use as a blanket as well. In addition to this, it comes with a great stuff sack so you can roll it up and use as a pillow.
As its name suggests, this is a car camping item that weighs 4 lb 6 oz (2 kg) and the temperature rating will depend on how you use it, as a bag or as a blanket. Officially, this is 30 F (-1 C) degrees, and you have what they call the CloudLoft synthetic insulation.

---
8. NEMO Ramsey 15 Sleeping Bag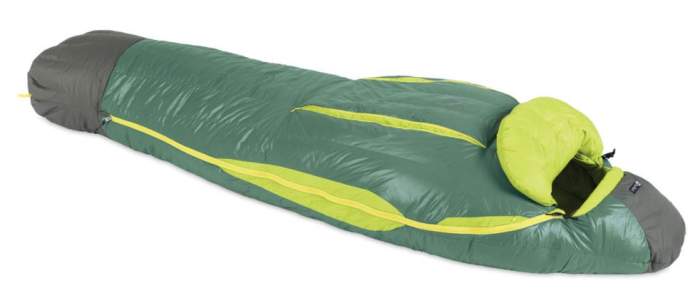 There a couple of reasons for adding this NEMO Ramsey 15 Sleeping Bag here. The first is that it is very light, so this is something you can carry on the tours from your car camping basecamp. The regular size of this bag weighs only 2 lb 7 oz (1.12 kg) and this is great in view of its excellent temperature rating 15 F (-9 C). The insulation is a 650-fill Nikwax Hydrophobic down.
On the other hand, although this is a sort of a mummy-style bag, it has some extra features that add to its overall comfort that mummy bags normally do not have. So, you have vents on the chest zone, this is what they call Thermo Gills, there is also a waterproof foot box, and you have a blanket fold visible in the picture above.

---
9. Sierra Designs Frontcountry Bed 35 Degree Sleeping Bag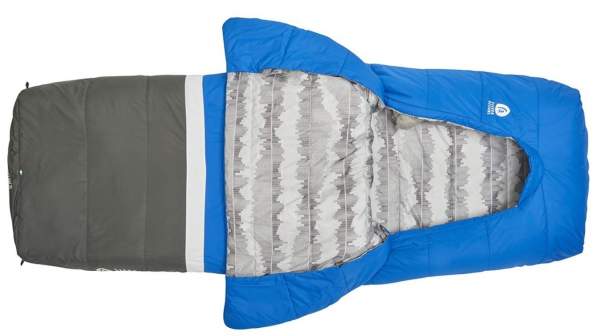 This Sierra Designs Frontcountry Bed 35 Degree Sleeping Bag is totally unique zipperless design with quite a number of features. It is roomy and I think it is a great option for car camping. Note that it weighs 4 lb 6 oz (1989 g), so this is not something you would carry, but this is doable on shorter tours.
It comes with an integrated pad sleeve that keeps the pad in place when you turn during the night. You also have a feet vent. The insulation is synthetic and the comfort rating is 37 F (3 C). Note that they build it in two sizes, and it is also very affordable.

Note that they have launched yet another series with a different temperature rating and in several sizes, so check this Sierra Designs Frontcountry Bed 20 Duo Queen Size to see more.
---
10. Teton Sports Celsius Regular Sleeping Bag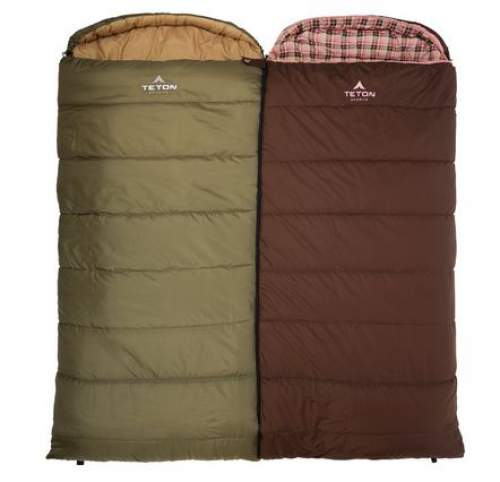 It is hard to find a sleeping bag that could match the popularity of this Teton Sports Celsius bag. The picture above shows two of them just to realize how different fabric they may have and also to demonstrate that you can zip them together. But this is indeed a single sleeping bag and they built it in many different sizes, and they have very different temperature ratings as well.
So the Celsius Regular is with the temperature rating -18 C (0 F) and it weighs 5 lb (2.27 kg), its dimensions are 80 x 33 inches (203 x 84 cm). This is a very affordable bag.

---
How to choose your sleeping bag for car camping
As you realize, this list with best sleeping bags for car camping includes a variety of very different options so the question is how to choose. There are several important different aspects to consider:
Versatility: You have seen that some of them are sleeping systems that offer various configurations, so this is something worth considering. Some are heavy and definitely not suitable for carrying in the pack, but I have included a few options that you can take on the trail.
Comfort: You might want to consider options that offer more space, or those that can be open and used as blankets. In my case, for sleeping in the car this is usually warm enough and this is the most comfortable option.
Warmth: If you are like me then no mummy bag is ever comfortable enough. However, for a cold-weather camping nothing can match such a design. In any case, you have a huge range of possible temperature ratings here in the list, this is indicated for each of the bags above.
Price: Some of the bags are incredibly affordable, you will realize this if you follow the links. Normally, sleeping bags with quality down fill are always far more expensive.
Thank you for reading. This list will be updated whenever I find something worth adding here. So bookmark this text and visit occasionally. If you need more options, just check under the category Sleeping Bags. You will need a sleeping pad if you sleep in the tent next to your car, so check this list with car camping pads.