---
The Coleman Brazos Cold Weather Sleeping Bag is incredibly affordable, warm enough for a 3-season camping, all-synthetic, and machine washable.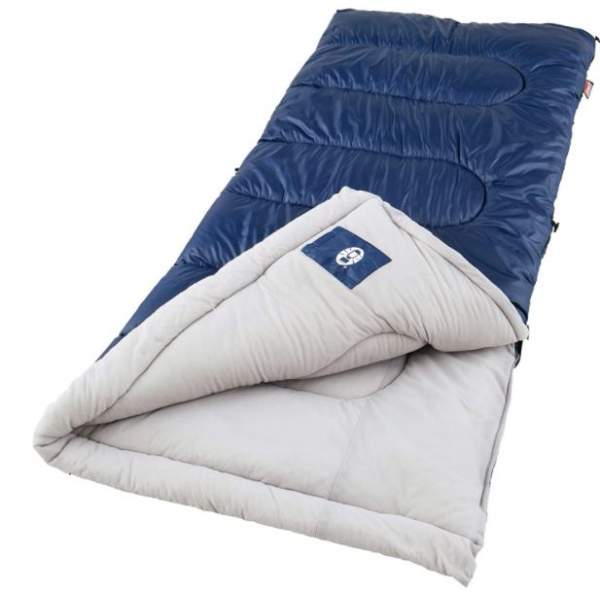 ---
Key features & benefits
Synthetic rectangular sleeping bag.
ZipPlow snag-free patented design.
Fiberlock insulation construction.
Machine washable.
Can be zipped to another bag.
Incredible price.
---
What this Coleman Brazos sleeping bag is about
I would say that with this sleeping bag it is all about affordability. So if you are preparing for camping with your kids and want each of them to enjoy his or her own sleeping bag, you will hardly find a better option.
So it is not surprising that on Amazon alone, as of the moment of writing this text, this bag has received more than 7500 comments and reports by users. Frankly speaking, it is hard to find any bag that would match this.
But this is not only about the price, this sleeping bag comes with some really good features that are described below. The general shape is rectangular, and this implies both good and bad features. The good is that you have far more space than in any mummy type bag. The bad is that its thermal efficiency is a bit inferior to those narrow bags.
This is an all-synthetic sleeping bag, so you have a durably constructed stain-resistant polyester shell, and with soft tricot liner. The insulation is their proprietary ColeTherm synthetic insulation. Note that this bag is machine washable, so it will stand up to spills and anything that kids mat do with it.
You have a full length zipper so the bag can be unzipped and used as a blanket or as a quilt. You can also zip it to another bag of this type and create a double-wide bag. Kids might like to use them that way. Note that they have the bag in two different color combinations shown in the pictures here. There is a small inner pocket shown in the picture below.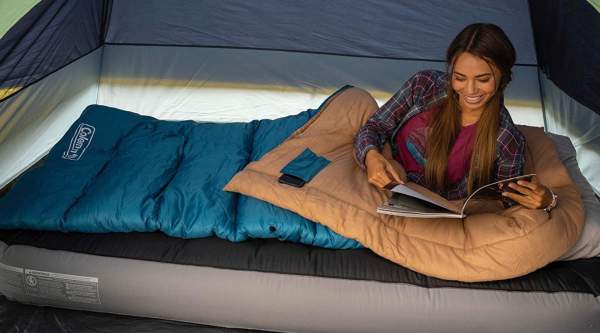 Is it really for cold weather?
The official name used in the title above includes the words Cold Weather. The official rating of this bag is 20 F (-7 C). But at various places you can also see 30 F (-1 C) as its temperature rating, and this is the comfort limit. They claim it is with a certified temperature rating, and this means independently tested for temperature accuracy. But as you know, we are all built different, and no rating can be accurate for everybody. It is best to test it in controlled conditions.
In any case, you have what they call the FiberLock design which is supposed to prevent insulation from shifting. This increases the bag's durability and eliminates cold spots. There is also what they call the ThermoLock design, this is nothing but a baffle that reduces heat loss through the zipper.
---
Who is it for
Regarding the best use & climate, you have already seen its temperature rating. The bag is thick and warm, but there is no hood. So it can be used as a 3-season sleeping bag, but I would not call it a cold weather sleeping bag. If this is what you want, check some of these bags.
Regarding the size, this bag measures 75 x 33 inches (191 x 84 cm), and they write it is for users of up to 5 ft 11 in (180 cm). So it is fair to say that it is a bit short for most adults. 
Regarding the weight, there are various numbers around, perhaps they had different versions in the past. The bag has been around for many years. It weighs 4.1 lb (1.86 kg) so this is not for the trail. The packed size is (L x D) 18 x 10.4 inches (46 x 26 cm). All in all, this is a camping sleeping bag.
Regarding the price, I have already mentioned how affordable this sleeping bag is, and the price is partly behind its popularity. This is one of the top-selling items among camping bags on Amazon.

---
Specifications
Type: rectangular.
Weight: 4.1 lb (1.86 kg).
Dimensions (L x W): 75 x 33 in (191 x 84 cm).
Packed size (L x D): 18 x 10.4 in (46 x 26 cm).
Warranty: this Brazos Cold-Weather Sleeping Bag includes a limited five-year manufacturer's warranty.
---
Final thoughts & rating
So you have seen it, this Coleman Brazos Cold Weather Sleeping Bag is an excellent item for families with teenagers and kids, incredibly affordable and easy to use and to keep clean. The fabric is durable, and the bag is fairly warm to be used in 3 seasons. Fully recommended. It is included in my list of best rectangle sleeping bags.
Below you can see how this sleeping bag stands against my usual rating criteria. This may help if you compare it with other products of this type:
BEST PLACEs TO BUY regarding shipping and price:
For more options, please check in my list Coleman Sleeping Bags for Adults. Bookmark this site and come again, this will keep you informed because I add texts here regularly. Let me know if you have questions or comments, there is a comment box below. Have a nice day.