---
Here you have my list with the best extreme cold sleeping bags for the temperatures in the range -20 to -40 F (-29 to -40 C), all from the top brands. Keep reading.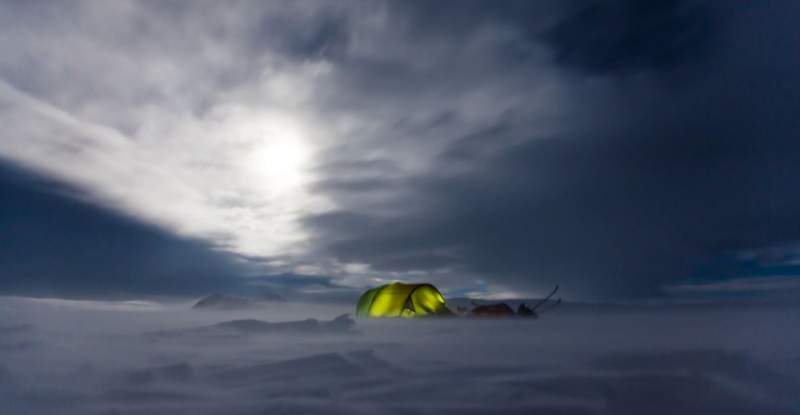 ---
What is included in the list
First to stress that I set the upper-temperature limit of -20 F (-29 C). So all the bags are either with this temperature rating or lower. Now you realize what I mean by extreme cold.
All these extreme cold sleeping bags can be placed in two distinct groups:
Lightweight sleeping bags for backpacking. These are very expensive items and built from ultra-light and ultra-packable materials.
Winter sleeping bags for camping. This type should be understood as bags that are too heavy and too bulky to be carried on the trail. This is due to their materials and the overall comfort they offer. Note that the sleeping bags from this group can be several times less expensive than the bags from the first group.
Related to the groups mentioned above, you have the bags with the following types of fill:
Winter sleeping bags with synthetic insulation.
Down-fill winter sleeping bags.
Winter sleeping bags that combine both down and synthetic insulation. There are some good reasons for this.
Regarding the type & shape, you have either mummy-style bags or rectangular bags. The latter normally offer far more comfort.
---
My list of extreme temperature sleeping bags
So here is my list with the sleeping bags ordered alphabetically, the numbers are just for navigation and this is not a ranking:
---
1. ALPS Mountaineering Blaze -20 Degree Mummy Sleeping Bag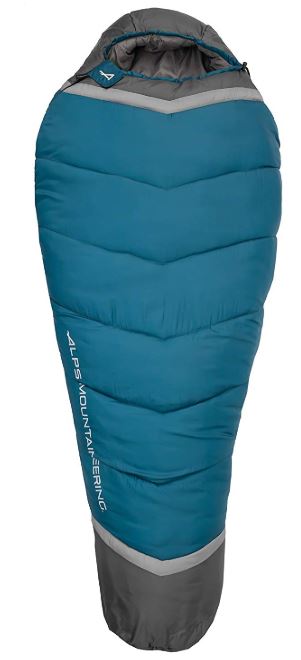 The Blaze series includes no less than 4 sleeping bags with different temperature ratings, and they are built in multiple sizes as well. So the Blaze -20 is the warmest of all, a durable polyester ripstop shell with a soft polyester liner. The insulation is synthetic and they call it TechLoft Silver insulation. You have a two-layer off-set construction, a contoured hood, and chest and zipper baffles to keep the warmth in.
The weight of the R size is 6 lb 12 oz (3.06 kg) so it is too heavy to be carried on the trail. The packed size is 23 x 14 inches (58 x 36 cm). Note that they are very confident in their products and offer a lifetime warranty. It is important to stress that this is an incredibly affordable sleeping bag.

---
2. Big Agnes Crosho UL -20 Down Mummy Sleeping Bag

Big Agnes Crosho UL -20 Down Mummy Sleeping Bag is ultra-light and ultra-packable. So the weight for its R size is 3 lb (1.36 kg) and the corresponding compressed size is 9 x 8 inches (23 x 20 cm). This is due to its top-quality 850 DownTek water repellent down fill.
They use what they call body mapping and this implies longitudinal baffles that distribute heat from end to end and they allow the bag to more closely follow the contours of the user. The baffles are with FlowGates, introduced in the baffles to prevent the insulation from down-shifting. This eliminates cold spots and increases thermal efficiency.

---
3. Browning Camping Denali -30 Degree Mummy Sleeping Bag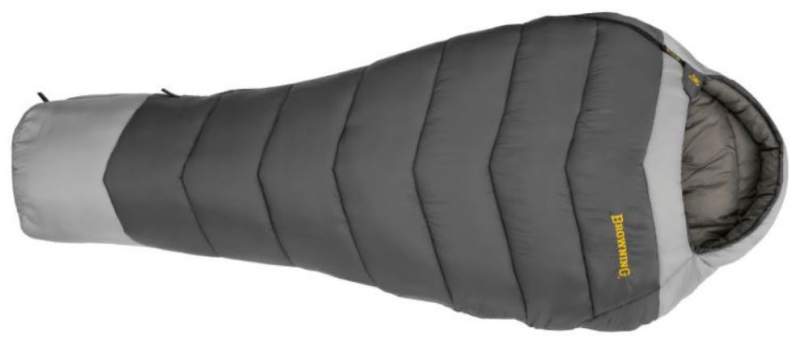 This Browning Camping Denali -30 Degree Mummy Sleeping Bag is a new version of the camping bag that has been on the market for years.
This bag is incredibly affordable for such a great temperature rating which is -30 F (-34 C). As you realize from the picture above, this is a mummy cut and you have a narrow hood. But the bag is very large in the shoulder area.
This is also an incredibly durable item with the shell 210T nylon diamond ripstop fabric, and the liner is a 210T polyester. The insulation is synthetic and the bag is heavy with its 9 lb 9 oz (4.3 kg) of weight. The packed size (L x D) is 24 x 15 inches (61 x 38 cm). So this is a basecamp bag and not a bag to carry on the trail.

---
4. Browning Camping McKinley -30 Degree Sleeping Bag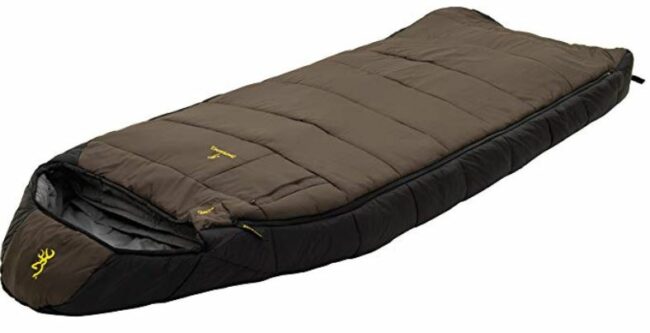 This Browning Camping McKinley -30 Degree Sleeping Bag is a rectangular sleeping bag, very reliable and durable, designed for extreme weather conditions. This is also a great value/price combination.
The insulation is synthetic, and they call it Techloft Insulation. You have no less than 160 oz (4.54 kg) of the insulation material alone in this bag. The total weight of the bag is 12 lb 12 oz (5.78 kg).
The fabric is a very durable 210T nylon diamond ripstop outer fabric and a brushed polyester liner. The packed size is (L x D) 27 x 17 inches (68 x 43 cm), so it is quite bulky and heavy. They include a compression stuff sack and roll-up straps.

---
5. Marmot Col Sleeping Bag -20 Degree Down

Here you have something exceptional, a sleeping bag with a waterproof and breathable shell. So you have their MemBrain 2-layer 30D Pertex Shield ripstop nylon 2.3 oz/yd, and the quality fill inside is fully protected. The lining is a Pertex Microlight 30D 100% nylon 1.3 oz/yd.
The bag is with a temperature rating of -20 F (-29 C), and it is EN tested. The fill is a high quality 800+ fill goose down, and the weight is 3 lb 14.59 oz (1.774 kg). The bag is nicely packable and the packed size is (L x D) 16 x 7.5 inches (41 x 19 cm).

---
6. Marmot CWM -40 Degree Sleeping Bag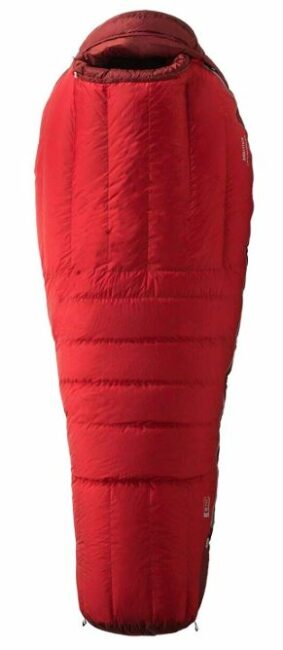 You will hardly find a sleeping bag with a better temperature rating. Here you have -40 F (-40 C) temperature ratting and the bag comes with an EN certificate.
You have a top-quality lofty Responsible Down Standard-certified 800-plus fill power goose down for maximum warmth and compressibility.
But there is more, the bag is with a waterproof and breathable shell, this is their PertexShield 30D 100% nylon 2 layer 2.3 oz/yd. The weight is 4 lb 9 oz (2066 g) and the packed dimensions are (L x D): 19 x 9.5 inches (48 x 24 cm). So this is a backpack-portable sleeping bag and with such an incredible rating.

---
7. NEMO Sonic -20 Degree Sleeping Bag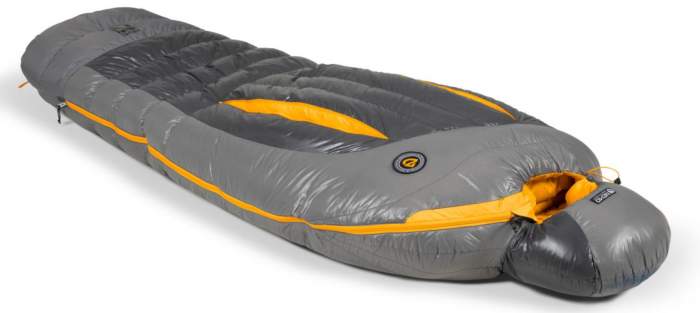 This NEMO Sonic -20 Degree Sleeping Bag is built in two sizes and the R size weighs only 3 lb 8 oz (1.59 kg). In view of its -20 F (-29 C) temperature rating, it is appropriate to describe it as an ultralight sleeping pad. So this is one of those that are suitable for the trail.
This is an award-winning design, it is equipped with a venting system which allows for some heat to escape when needed, and this without letting cold air in. The picture above shows its Thermo Gills that serve this venting purpose.
You also have stretch stitching at the knees, a waterproof and breathable foot box and hood, and a zippered pocket. The fill is one of the best options on the market, so you have an 800 FP down fill. The plumes are treated so they will stay dry longer in wet conditions.

---
8. Therm-a-Rest Polar Ranger Minus 20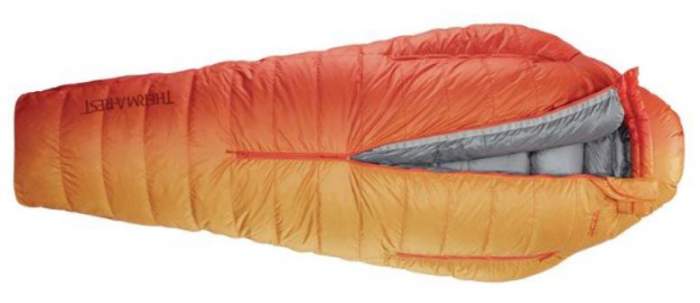 This is an advanced and award-winning design with a temperature rating of -20 F (-29 C). The bag is designed in collaboration with polar explorer Eric Larsen so every component of the bag is maximized for warmth even in Arctic settings.
The temperature rating mentioned above is due to its 800-fill Nikwax Hydrophobic down insulation. But it is interesting that it also includes a synthetic snorkel hood and a rather unusual central zipper. It has overlapping side vents which can open to allow arm use and customizable temperature control.
The foot box is with a Toe-asis foot warmer pocket, and you also have overstuffed draft tubes, and quilt and blanket loops. This bag weighs 3 lbs 4 oz (1.47 kg) and its packed size is 20 x 11 in (51 x 28 cm). So this is again an ultralight and ultra-packable item. Please see more in the video below.

---
How to choose your extreme weather sleeping bag
Price: I have decided to put this criterion on the first place here simply because the differences in prices can be enormous. By this, I mean that for the most expensive bags here you would have to pay around 6-8 times more than for the most affordable bags. But this difference in price has some good reasons, see the next criterion.
Weight: The heaviest bags here in the list are 4 times heavier than some of the lightest. So this is what determines their best use. The heavier bags are usually far more affordable.
Packed size: The packed size is due to the shape and fill, and some of the bags here can be described as ultra-packable in spite of such an incredible temperature rating. But this comes at a price of course.
Features & comfort: To shed the weight, some of the bags are very simple in the design, so if you want more comfort and feel claustrophobic in mummy bags, go for some of the rectangular bags. Though, be ready for their weight.
---
Final words & Editor's choice
So this was my list with best extreme cold sleeping bags. You might want to bookmark this text and check occasionally because I shall be adding new bags here whenever I see something that deserves to be included in this collection.
For such sleeping bags, you will need a winter camping tent and an appropriate sleeping pad as well. It is essential that the R-value of a pad corresponds to the temperature rating of the bag. So make sure that you have R-value 8 or higher.
For more options please visit my page with sleeping bags. Please use the comment box below if you have any comments or questions. Have a nice day.