---
NEMO Sonic -20 Degree Sleeping Bag is an award-winning winter sleeping bag that has been further improved recently. Equipped with a venting system that allows some heat to escape without letting cold air in, this bag can be used in a very wide range of temperatures.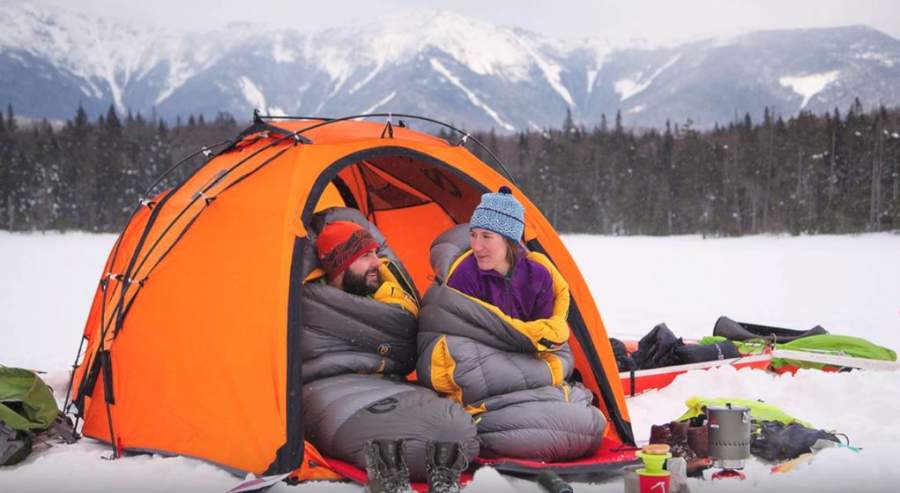 ---
NEMO Sonic Sleeping Bag: Key features
Thermo Gills.
Top quality down fill.
Stretch stitching at the knees.
Waterproof and breathable footbox and hood.
Dual draft tube.
Zippered pocket.
Designed for extremely low temperatures.
Two sizes.
---
Where to buy
This sleeping bag is available on Amazon and I have seen it on several of their global stores. After checking at the manufacturer's site, I can confirm that as of the moment of writing this text the bag is more affordable on the Amazon-US store. You might also benefit from their efficient shipping service.
---
What this is about – the most important features of the Sonic -20 bag
This Sonic series has been around for a number of years already. As far as I remember it became famous for its Thermo Gills, a feature which they are now introducing in many of their cold weather sleeping bags, see for example their Aya 15 bag. So this is an award-winning design, but it has been updated for the 2019 season.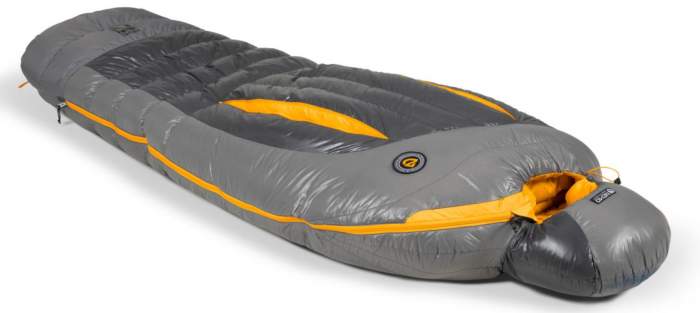 So what are Thermo Gills
These are two longitudinal cuts through the insulation on the chest area, you can see them in the picture above. These cuts have zippers on the outer side, and on the inside they are sewn-in. So you cannot pass your hand through those cuts, they are closed from inside. But when you unzip the outer section of the cuts you can have ventilation and heat release at a much slower rate than when you unzip the standard side zipper.
In other words, those are vents which you might need if you feel too warm in the bag. This is why it was praised when it appeared on the market as a bag that is suitable for the temperature range from -20 to +40 degrees F.
The fill
Here you have one of the best options on the market, the 800 FP down fill. The plumes are treated so they will stay dry longer in wet conditions, and when they eventually get wet they will dry much faster than untreated plumes. This is at least what the manufacturer claims.
Stretch stitching at the knees area
The bag is a mummy cut so as you can imagine it is narrow as normal for such a type, this is about thermal efficiency. But they have added this stretch stitching to increase comfort in particular for side sleepers.
Waterproof and breathable footbox and hood
The purpose of this feature is to protect the bag when it gets in contact with the walls of the tent. As you surely know, there is always condensation on the walls, and many winter tents are also single-layer type. So the foot area and the hood are the parts of the bag that are more likely to touch the tent's walls, this is because trail tens are built short to save the weight of course.
Dual draft tube & redesigned draft collar
Sleeping bags usually have a draft tube along the side zipper, but here you have them two, one on each side of the zipper. So when you zip up the bag, they get in contact and prevent cold drafts that would normally come through the zipper. It also has an oversized draft collar around the neck, see the picture below, with Velcro closure to seal the bag.
Zippered pocket
So this is a tiny zippered pocket at the shoulder area, shown in the picture above. This is always great to have for some small items that you might need.
---
Who is it for
Size-wise, they build this sleeping bag in two sizes, regular and long. You will see below in the specifications the meaning of this expressed through numbers. So it is most suitable for men.
Seasons-wise, the temperature rating for this bag is -20 F (-29 C) so clearly, this is a winter sleeping bag and as such suitable for expeditions, for mountaineers, and for alpinists.
But note that they also have the 0-degree option which is for a bit higher temperatures.
Weight-wise, the R-size weighs 3 lb 8 oz (1.59 kg) so for a bag designed for extreme conditions this is a lightweight option. Note also that its packed size is great, again in view of its temperature rating. It can be compressed to (L x D) 16 x 8.5 inches (41 x 22 cm) which is better than many quality bags with a higher temperature rating, see the picture.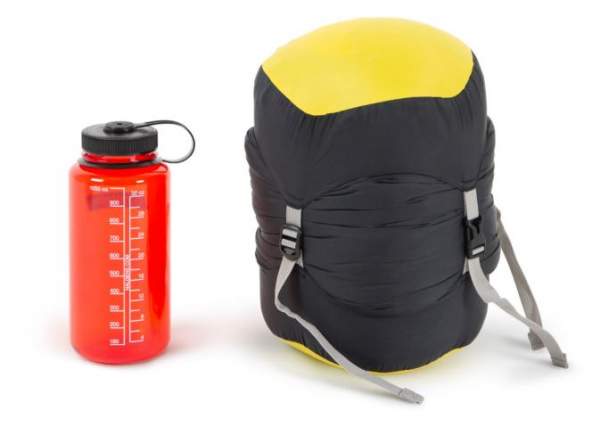 ---
Materials
The shell fabric is a very light 20D nylon ripstop DWR and the footbox is reinforced 40D nylon ripstop Nemo's OSMO material. The lining is 30D nylon taffeta with DWR. It comes with a compression stuff sack and a mesh storage bag.
The 800 FP down insulation is hydrophobic, PFC-free, and 100% Responsible Down Standard (RDS) certified. Please see a bit more in this short video:
---
Good and less good features
Here is my short summary:

Great packed size.
Great temperature rating.
Quality craftsmanship.
Great warranty.
Compression stuff sack included.

The price & rating
The R size of this Sonic -20 bag is on Amazon with the price tag around $500, so this is expensive but the price is normal for such a temperature-rated bag. Note that at Nemo's site it is around $570. On the EU market, the price is over 700 Euro.
Please see how I rate it for a number of criteria used for all the bags in the site:
My rating of the NEMO Sonic -20 Degree Sleeping Bag:
Weight -

7.6/10

Packed size -

8.2/10

Temperature rating -

10/10

Comfort & features -

9/10

Price -

7/10
---
Specifications
Minimum weight:
– R: 3 lb 8 oz (1.59 kg).
– L: 3 lb 10 oz (1.64 kg).
Packed size (L x D): 16 x 8.5 in (41 x 22 cm).
Temp rating: -20 F (-29 C).
Fill weight: 2 lb 2 oz (960 g).
Length:
– R: 78 in (198 cm).
– L: 84 in (213 cm).
Fits:
– R: 183 cm.
– L: 198 cm.
Girth (shoulders/hips/knees):
– R: 61/58/53 in (155/147/135 cm).
– L: 69/63/56 in (175/160/142 cm).
Warranty: Nemo's lifetime warranty.
---
NEMO Sonic -20 Degree Sleeping Bag vs Competitors
In fact, in the table below I am showing two bags that are not real competitors to this Sonic -20 bag. The numbers demonstrate how nicely packable this bag is, it packs better than the Therm-a-Rest bag which is 0-degree rated. But the Big Agnes bag shows that you can have a much lighter and far better packable option if you go for a bag that is "only" 0-degree, so bear this in mind if you do not really need a bag for extremes like this Sonic bag.
---
Final thoughts
So NEMO Sonic -20 Degree Sleeping Bag is a top-notch outdoor item for serious cold-weather adventures. They describe it as best suited for mountaineering, but if you can afford it, it will protect you from the cold regardless of where you are going to use it. I have included it in my list of best lightweight winter sleeping bags for camping.

If you need more options to check, please visit my page with sleeping bags, you have top-notch items presented in detail.
Note that this is not a sponsored text and I am not paid by the manufacturer. Please use the comment box below in case of questions or comments.

---