---
This NEMO Women's Aya 15 Degree Sleeping Bag is a top-notch ultralight backpacking bag with Nikwax treated down fill, EN rating, and venting options.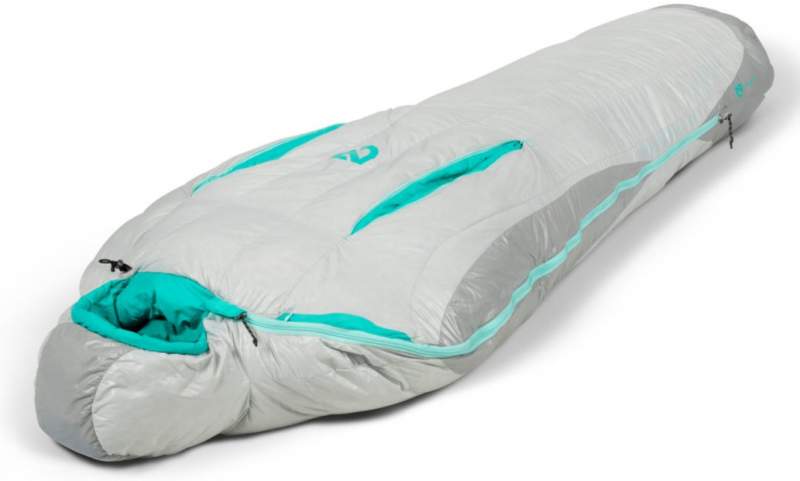 ---
Key features & benefits
Women-specific sleeping bag.
Top-quality fill.
Two sizes.
Thermo-Gills.
EN  rated.
---
What this is about
This Aya 15 sleeping bag is a women-specific design and a bag from a new 2019 series which they launched together with the corresponding Kayu bags for men. This means that the insulation is distributed in the way and at places where women need it most, and this is different from the bags for men.
This is a mummy cut with a hood that looks like a hood in a jacket, yet it offers plenty of room in the shoulder area. This is a bag designed to keep the warmth and the hud design is the consequence of it. Although it is built ultralight, you still have some nice details here like the small zippered pocket shown in the picture.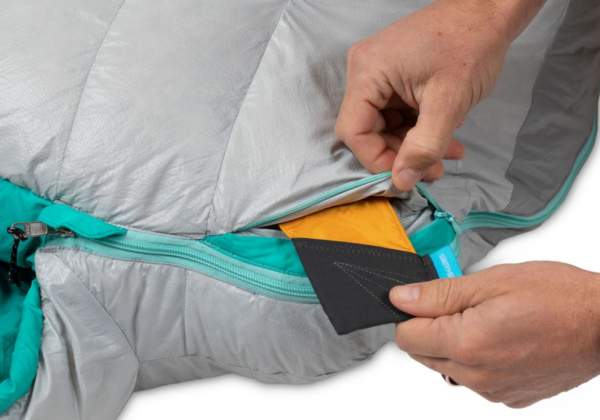 Two sizes & two temperature ratings
They build it in two sizes R and L, you will see the numbers below. But they also build it with two temperature ratings so you have this Aya 15 and also Aya 30. The same holds for the Kayu bags (shown in the links on the bottom of the page).
This is an EN rated bag, just to know. Not all top manufacturers make an effort to provide such a reliable rating. But as always, bear in mind that the feeling of cold is personal. So although here you have 15 F (-9 C) as the official rating, add at least 5 – 10 degrees for comfort to be sure. In any case, this is a true 3-season-plus sleeping bag.
The fill
You have a premium waterproof 800 fill power (FP) down insulation here. So the plumes are treated with Nikwax to be water-resistant, and such a material will keep you warm even in wet and humid conditions. The coating is PFC free and this item is also 100% Responsible Down Standard (RDS) Certified for traceability throughout the supply chain.
Venting
You have a two-way zipper to open the feet area if you feel too warm. But in addition to this, you also have what they call Thermo-Gills. Those are two zippered cuts on the external fabric and through the insulation that offer a medium ventilation, see the picture below.
Note however that they are sewn-in inside so you cannot pass your hand through any of them. This allows the heat to escape slowly as compared with the case when you open the side zipper. This feature they have in many of their recent bags. You will see it also in their Nemo Clio 15 in the comparison table below.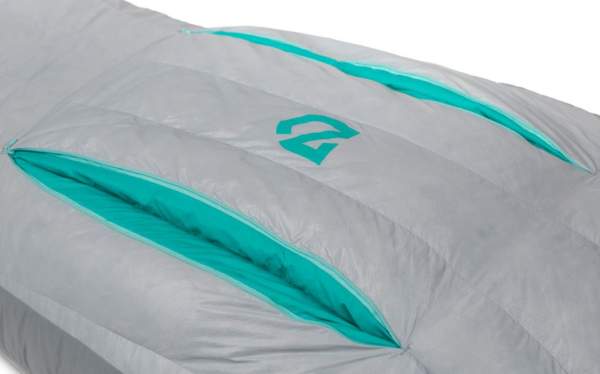 The fabric
The shell is 20D nylon ripstop DWR, and the footbox and the hood are reinforced 40D nylon ripstop, waterproof and breathable. This is because you can touch the tent walls with these parts and there is always condensation there, see the picture below. The interior is soft and cozy 30D nylon taffeta DWR.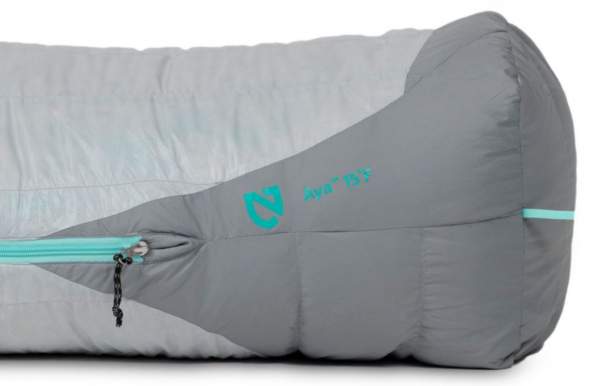 You get a compression stuff sack for the trail and a larger sack for storing it at home. Note that you have a full-length YKK zipper with a snag-less baffle construction and a draft tube that seals warm air in.

---
Who is it for
Regarding the weight, with its 2 lb 1 oz (940 g), this is an excellent example of a sleeping bag for backpackers and hikers.
Regarding the seasons, this is a reliable bag that will make you warm in all conditions in a 3-season-plus use. It may be too warm for summer use, but you have ventilation features integrated here.
Regarding the size, they make it in two sizes so if you a short person you can choose the shorter option and avoid carrying unnecessary weight; though the difference in the weight is really small.
Please see more about this new Nemo Kayu and Aya series in this short video by the manufacturer:
---
Specifications
Best use: backpacking.
Sizes: R, L.
Minimum weight:
– R: 2 lb 1 oz (940 g).
– L: 2 lb 2 oz (964 g).
Temp rating: 15 F (-9 C).
EN comfort: 17 F (-8.3 C).
Packed size R (L x D): 16 x 9 in (40 x 23 cm).
Fill: 800 down.
Fill weight:
– R: 1 lb 3 oz (530 g).
– L: 1 lb 4 oz (567 g).
Fits up to:
– R: 5'6″ (168 cm).
– L: 6′ (183 cm).
Girth (shoulder/hip/knee):
– R: 58/54/44 in (147/137/112 cm).
– L: 62/57/46 in (157/143/117 cm).
Compressed volume:
– R: 4.79 l.
– L: 5 l.
Lifetime warranty.
---
NEMO Aya 15 bag for women vs Competitors
In the table below I show this Aya 15 side by side with two other top-notch bags for women that are with the same temperature rating. So the weight difference is a direct consequence of the higher quality fill, and this is what makes it lighter. But its fabric is also thinner. It is more expensive than the other two bags, please follow the links for more details.
---
Final thoughts, rating, pros & cons
So if you need an ultralight bag for long backpacking and hiking tours and for sleeping at various altitudes with a variety of possible temperatures, then paying for an item like this NEMO Women's Aya 15 Degree Sleeping Bag makes sense. It will protect you when the temperature drops, and you can ventilate it in a warmer environment. If you can afford it, then you will have a great outdoor sleeping item. I have added it to my list of best 3-season sleeping bags.
This is a high-end item and not for people that are on a budget. Please see how I rate it against criteria used for all the bags here in the site:
If you think it is too warm for you, check their Nemo Women's Rave 30 sleeping bag. But if you need something more affordable, check this Kelty Tru.Comfort Women's 20 Sleeping Bag with some unique features.
Please note that I have no relation with the manufacturer and this is not a sponsored text. There is a comment box below so do use it in the case of questions or comments. Have a nice day.