---
Kelty Tru.Comfort Women's 20 Sleeping Bag is a really innovative and versatile camping tool with some unique features which make it suitable for all seasons. Its temperature rating is 20° F (-7° C).

---
Key features and benefits
Kelty doesn't stop surprising us with innovative designs, so here it is again with this nicely built sleeping bag. See the most important features here (and much more below):
Women-specific bag.
Unique two-layer design – built in blanket.
Innovative zipper design with feet vent.
A bag for all seasons.
Oversized mummy-style bag.
Oversized hood for a pillow.
---
Tru.Comfort 20 – who is it for
The weight 5 lb 4 oz (2.38 kg) determines its best use. So this is not something to carry long distances in the backpack. But it is great at places with a car, motorbike, or bicycle access, for hunters, kayakers, and everywhere where you do not have to carry it yourself.
You will see in the specifications that the temperature comfort limit is 27° F (-3° C), but its official temperature rating is 20° F (-7° C), hence the number 20 in its name, and this makes it a winter tool. But you will realize also its specific design which allows for warmer seasons use, more below.
---
Women-specific design
This implies a cut appropriate for women's body, and the result of this is a better thermal efficiency. So you have the following:
The shoulder area is narrower, while the bag is wider in the waist zone.
There is more insulation in the central area and in the foot box. This is frequently seen in bags for women from quality brands.
---
Two-layer design – built in blanket
This is a unique feature of this bag. From the outside, it looks like an (oversized) mummy bag, see the picture above, but when you unzip it, you realize that you have an extra blanket inside.
So the role of this blanket is twofold. First, it adds extra warmth when you need it, otherwise, you just push it aside under the outer layer.
Second, when it is not cold outside, you keep the outer layer permanently unzipped and use the inner layer as an ordinary blanket. This is what makes it a tool suitable for all seasons.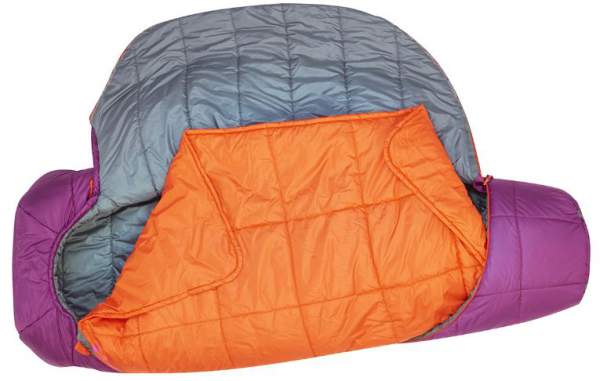 ---
Innovative zipper design
Here you have an innovative two-way zipper design, used in several recent bags by Kelty. It goes from one side to the other and allows for opening the bag from each side. So you can have a venting option for feet when needed. You can see it in the picture: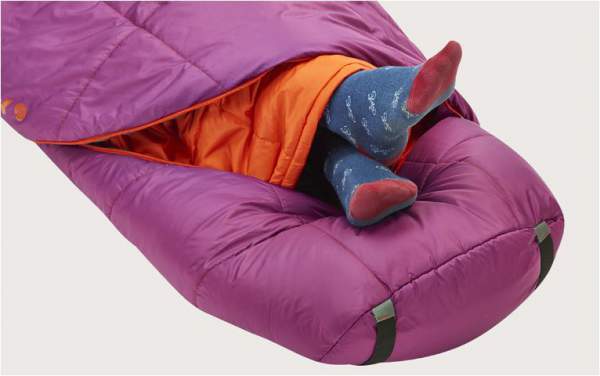 ---
Other features
The bag is designed for women up to 5 ft 8 in (173 cm), it is good to bear this in mind; this is not so impressive to me.
The insulation is synthetic ThermaPro, with good features because it retains its insulation even when wet, and it also maintains its softness and loft in time. The temperature rating is 20° F (-7° C) and the comfort limit is 27° F (-3° C). But I would be cautious about this and add some 5 degrees or so.
The fabric is 50D polyester taffeta, and you have an insulated and oversized adjustable hood which is large enough to accommodate a pillow. You have hang loops for a convenient storage, and a stuff sack is also included. See a bit more in this video by Kelty:
---
Pros & Cons
Here is my summary:
 

Good & Cool

 

Less good

Unique features.
Very versatile.
Very comfortable.
Great temperature rating.
Reasonable price.
The weight of this bag is 5 lb 4 oz (2.38 kg), so this is not a hiking or backpacking tool. This is for ordinary camping, and if you accept this, then its weight should not be an issue.
The price
At the moment of writing this text, the Amazon price for this bag is $120. So it is a bit steep, there are more affordable options on the market; but in view of its features and versatility, I think it is reasonable.
What users think
The bag has received impressive reviews by users. On Amazon, the average rating so far is 4.4/5, quite appropriate in my view. See how I rate this bag:
My rating breakdown of the Kelty Tru Comfort Women's 20 Sleeping Bag
Weight -

6/10

Packed size -

7.6/10

Temperature -

9/10

Comfort & features -

9.6/10

Price -

8.8/10
---
Specifications
Gender: for women.
Style: oversized mummy shape.
Purpose: camping, travel.
Weight: 5 lb 4 oz (2.38 kg).
Fill weight: 55.5 oz (1.58 kg).
Insulation: synthetic, ThermaPro.
Length fit: 5 ft 8 in (173 cm).
Temperature rating: 20° F (-7° C).
Comfort limit: 27° F (-3° C).
Stuffed size: 15 x 11 in (38 x 28 cm).
Shell: 50D polyester taffeta.
Liner: 50D polyester taffeta.
Stuff sack included.
Oversized hood.
---
Summary
In the conclusion of this Kelty Tru.Comfort Women's 20 Sleeping Bag review, I wish to stress again that I am really impressed with its design and features. In spite of its mummy-shape, this bag offers a lot of comfort and you can sleep in various positions in the bag even when it is fully zipped. The extra blanket adds a lot of functionality, versatility, and comfort. I can fully recommend it. This bag is added it to my list with best sleeping bags for women.
You might want to know that Kelty is a renown brand, a company established in 1952. There are many of their products presented in this site. This is a reliable brand which I trust.
Thank you for reading. If you still need something else, please visit my page with bags, you will find something for you. Observe also this double wide bag from the same Kelty's series. Check this new 2018 version of the Kelty Tuck 20 Degree bag with some great features and an incredible price tag. If you would want something with down fill, please see this Marmot Women's Teton Sleeping Bag.
In the case of questions or comments, please use the comment box below. Have a nice day.


---