---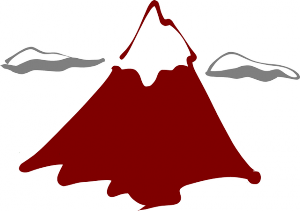 I climbed Mount Teide Tenerife several times in the past. You may read about this in another page and in a post. But I decided to climb it solo again, so this was my third overnight climb.
[Menag Jamport Em-Yes Kez Tessa; Duduk]
The reason for doing this again is that in the previous two attempts I did not manage to capture the exact moment of the sunrise, and the appearance of the shadow of Mount Teide across the Atlantic. I was late for about 20-30 minutes, so the shadow was there but a bit shortened. Not this time – this was my firm decision.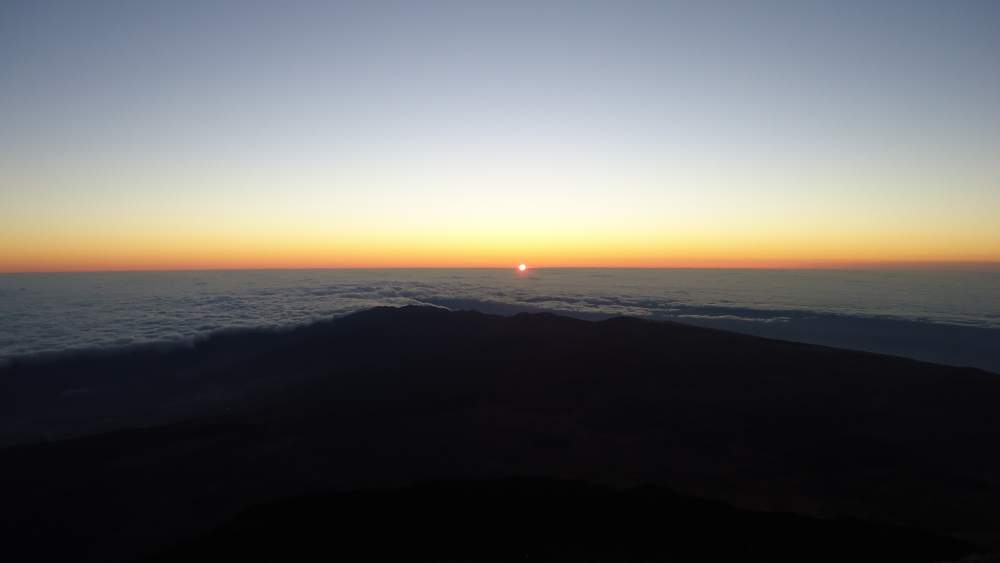 My itinerary to El Teide
To get to El Teide I had to rent a car. The person in the agency was curious why I needed it overnight, so I explained. Then she asked, not completely joking: "Are you normal?" Thank you for asking Asi, frankly speaking, I am not so sure about the answer.
Anyhow, I drove from Santa Cruz, set off at 22:30, and I was at Montaña Blanca parking in the great crater at midnight. So I started walking immediately. The parking is at around 2350 meters above the sea, and Mount Teide summit is 3718 meters, just to have feeling about the height difference.
In the beginning, for about an hour, the moonlight was so strong that I did not need a torch. But after that, it became very dark. So stars and The Milky Way were better visible than ever, especially in view of the altitude. There were no winds at all, and imagine many hours of walk in something that could only be described as a total absence of any sound whatsoever.
I had plenty of time and I knew it. It was on purpose, I wanted to be sure not to miss the moment. So I did not push much, and frankly speaking, I am not sure if I could. I was sleepy and tired, especially after 3 in the morning.
There were two lights above me on the mountain, some people were moving up at a distance of around one hour climb. It was a pleasant feeling realizing that I was not the only fool out there. I arrived at Altavista hut (3260 m) at 4 AM, and I saw the two people sitting in front of it in the darkness, no lights in the huts at all.
⇒ Related: Can You Climb Teide Without a Permit?
It was cold and they were obviously suffering from it. But just like me, they realized that it was too early to continue to the summit. They did not speak English, and my Spanish, well better not to mention it. Later lights in the hut were on, and through the window, I could see people getting up. I walked around to warm-up a bit, as I was shivering quite visibly and could not control it.
To my surprise, I realized that a few youngsters were in blankets behind the building, sitting on the ground by the wall. I asked why, and got an answer that it was too hot inside and that they could not sleep. Now imagine, I was shivering all the time and I would give everything to get inside.
Eventually, the door was open at some point, so I indeed got in. It was so pleasant as compared with the outside. I stayed there for almost one hour, till 5 AM, and then decided to move on, still had plenty of time; the sunrise was scheduled (by the highest authorities) on 7:22.
I arrived at the summit as a first person that morning, with yet another 40 minutes to wait before the sunrise. At some places, there were warm gasses (a lot of sulfur, so imagine the smell) and steam coming from inside the mountain, so I tried to get my hands warm a bit as gloves could not help. It helped and I felt better. I even warmed my coffee which I was carrying from Santa Cruz in a bottle. Indeed, on the summit of El Teide you might cook for free!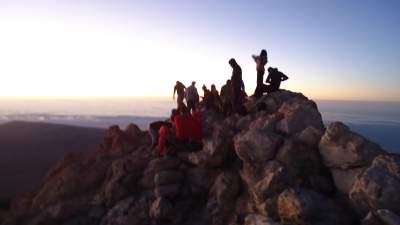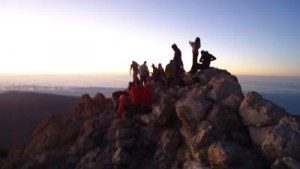 Soon many people arrived from the hut, and we were more than 20 on the summit. Many girls and boys, in a great spirit, singing 'E viva España', the atmosphere was great.
The east was changing colors, and then there was a magic moment. A tiny orange dot first and then it became an orange disk. The Sun was there, rising behind the sea of clouds. In that same moment, the shadow of Teide was appearing in the west, first just the top of the cone, hardly visible, and then it was a complete shadow extending along the Atlantic.
I heard youngsters delighted shouting "how romantic" and such thing. It was a magical moment, although rather noisy after the night of quietness. I hope you will realize this from the photos. I told the youngsters that I had a site about mountains, and that I would put this on the site so I wanted them to remember and have a look.
I promised to have it there 'by tomorrow'. I doubt that they would remember the name of the site, but here is the text, a promise is a promise. I greatly appreciated the fact that later many of them descended all the way back to the road, instead of going to the cable car.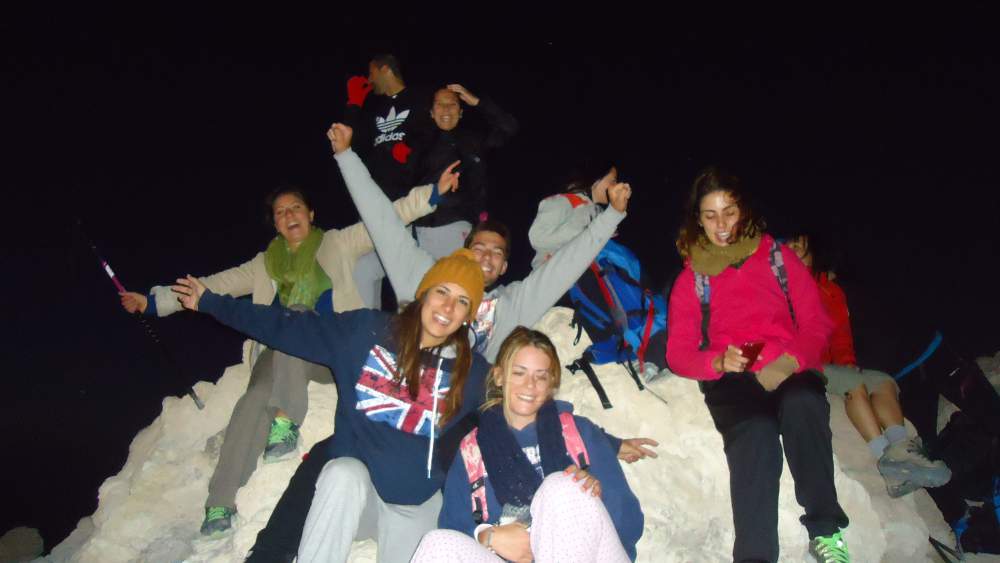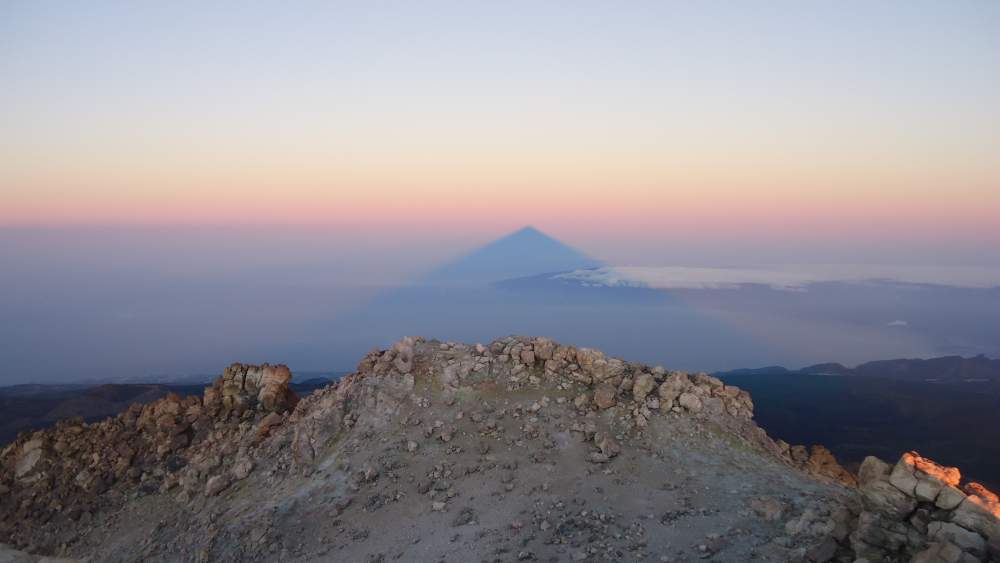 I descended the same way back, and had a quick nap in front of the hut. It was so pleasant in the morning Sun after such a cold night. Then I continued my descent. So after full 11 hours of walk up and down, I was back at the car, and I fall asleep immediately.
About 20 minutes later I started driving. But after about 20 kilometers I had to stop again and take a nap. This helped, and in the end, I was safely back.
I hope you like this text. If this is so, do share it on your favorite social media, and leave some comments in the box below. I shall be happy to read them.
If you plan to go there, just to know that you can do your accommodation reservation through Booking.com. I have used their services many times in the past and can fully recommend them.