---
Here you have a list with best sleeping bags for women, a variety of models from top brands and for all seasons, for camping and backpacking. Please keep reading.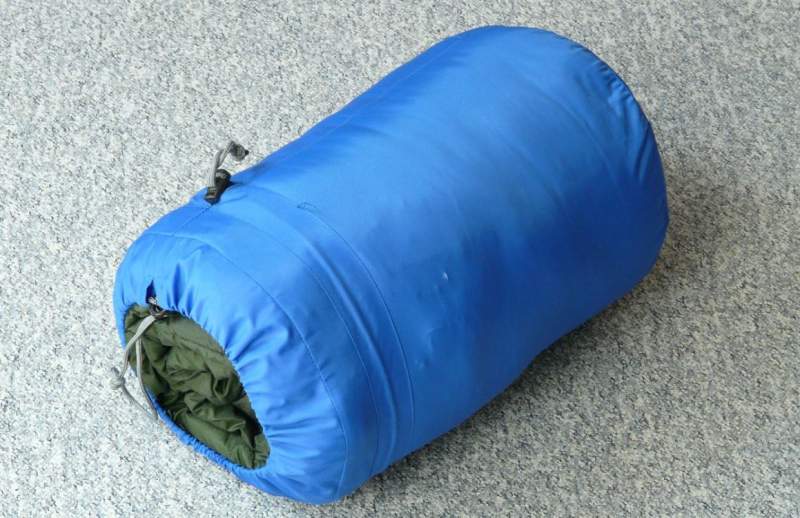 Most of the sleeping bags on the market are in fact unisex, and this holds in particular for those that are built in several sizes. In such a case you can chose smaller sizes if you are a woman and this will work fine for you.
But some top brands build also women-specific sleeping bags. This implies a certain size, shape, insulation distribution, and different colors.
This about the insulation distribution implies that such a bag has more insulation in areas that are more sensitive for a woman.
The difference in shape may imply a narrower bag in the shoulder zone, wider in the hip area, and a combination of such features.
Having an appropriate size will save you from carrying unnecessary weight in the pack. So this should be a good reason for choosing a women-specific bag.
---
What is included
Regarding the weight you have the following two types:
Women backpacking sleeping bags.
Camping sleeping bags.
As you can imagine, the first group includes ultra-lightweight bags that are suitable for the trail, built from lightweight materials and with down fill. The camping bags are heavier, with the focus on comfort rather than on the weight.
Regarding the fill you have again two groups:
Women's down fill sleeping bags.
Women's synthetic sleeping bags.
The second group usually includes heavier items.
Regarding seasons, you have:
Sleeping bags for summer camping.
3-Season sleeping bags.
Winter sleeping bags, or cold weather sleeping bags.
---
My list with best women's sleeping bags
So here is the list with the bags given in alphabetical order, so the numbers are just for navigation and this is not a ranking.
All the bags are only briefly described here, so please follow the links to my full reviews.
---
1. Big Agnes Torchlight Expandable Down Mummy Sleeping Bag

This Big Agnes Torchlight Expandable Down Mummy Sleeping Bag is unique expandable and with a patent-pending design. It is incredibly packable and lightweight, and they build it with gender-specific features, so this is why it is included here.
You have these bags with two different temperature ratings 20 F (-6.7 C) and 30 F (-1 C) and in two different sizes. The bag comes with a 600 down fill. The picture above shows one of the possible ways of how you can expand this bag.
Women's ultralight R 20-degree bag weighs 2 lb 10 oz (1.19 kg). It is included also in my list of best compact sleeping bags and in the list of best 3 season sleeping bags.

---
2. Kelty Tru.Comfort Women's 20 Sleeping Bag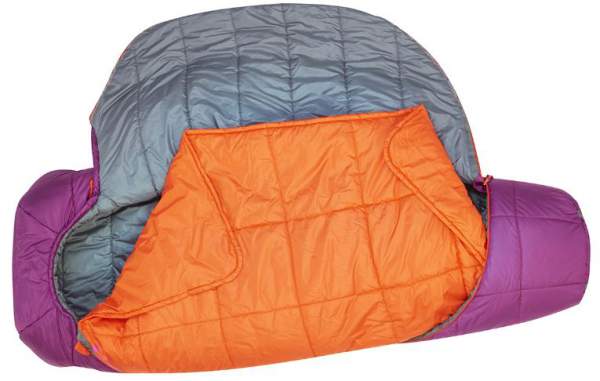 Here you have a rather innovative design and the bag is suitable for at least 3-season use. The temperature rating is 20° F (-7° C). What you see in the picture is its two-layer structure. So you have a blanket included and it adds extra warmth when needed it. But when it is warm you can keep the outer layer permanently unzipped and use this blanket only.
The bag is also with an innovative zipper which is two-way type and it also goes over the foot box, So you can unzip it from any side and have ventilation if needed.
The insulation is a synthetic ThermaPro and it retains its insulation even when wet, and it also maintains its softness and loft in time. This is a heavy bag so this is only for camping, it weighs 5 lb 4 oz (2.38 kg).

---
3. Marmot Women's Ouray 0 Degree Sleeping Bag

As you realize from the title, this is a sleeping bag that can be used even for winter camping, its temperature rating is 0 °F (-18 °C). I wish to stress that it is also EN tested, not all brands have such a certificate with their models and there is no formal obligation for this. But when you have it, then you know you can rely on what they claim in the specifications.
The bag is a mummy cut as you see from the picture and it is built in two sizes. You have a 650 Power duck down fill, so this is a treated down for a better performance in wet conditions. The bag has YKK zippers, the main long and one short on the other side, for an easy access. It weighs 3 lb 10 oz (1.64 kg), so as you realize it is not so lightweight, but see the temperature rating so this is normal.

---
4. Marmot Women's Teton Sleeping Bag

This Teton Sleeping Bag is with a 650 treated down fill and the system they use is called Down Defender. They apply ground-level side seams and such a design is supposed to reduce heat loss because a warm air inside the insulation tends to raise in the upper layers where you have fewer seams.
The bag is with EN rating and it is for temperatures 17.4 F (-8.1 C) comfort and -32.3 F (-35.7 C) EN extreme. It is built in two sizes and this is a mummy cut to minimize the weight. So it weighs 2 lb 15.5 oz (1.32 kg) in the size R. The zipper is top quality YKK. Please follow the link for more.

---
5. NEMO Women's Aya 15 Degree Sleeping Bag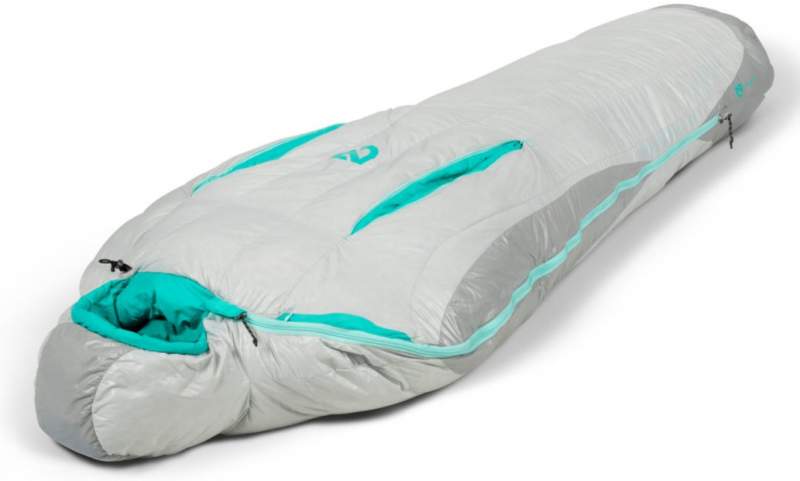 This Aya bag is also with the 15-degree rating and it comes with the EN rating as well. This is an ultralight option for a 3-season camping and backpacking. The bag weighs only 2 lb 1 oz (940 g) and this is mainly due to its top-quality premium waterproof 800 fill power (FP) down treated with Nikwax.
They build it in two sizes R and L and it comes with venting features. So you have Thermo Gills on the chest area for a slow venting if you feel too warm. The zippers are YKK top quality and the hood is like in jacket, for a better thermal efficiency.

---
6. Nemo Women's Cleo 15-Degree Down Mummy Sleeping Bag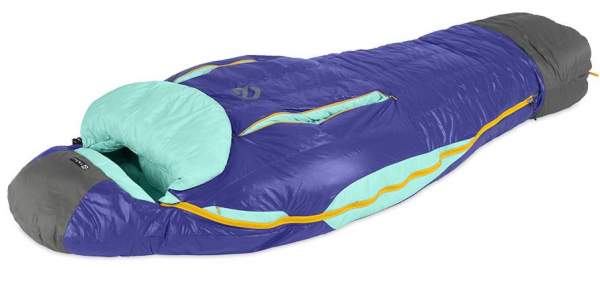 This Cleo bag is rich in features and this is a patent-pending design. Here too you can see the Thermo Gills for ventilation, this is the feature they are adding to many of their recent bags. But it also has the blanket fold under the chin, you can see it in the picture. The footbox and the hood are with a piece of waterproof fabric to prevent moisture from the tent's walls to get in.
The fill is a 650 Nikwax-treated down and the temperature rating is 15 F (-9 C). Note that they build it in two sizes R and L. It comes with a compression stuff sack and it reduces to (L x D) 12 x 7.5 inches (30 x 19 cm) when packed. This is a sleeping bag suitable for 3-season use.

---
7. Nemo Women's Rave 30-Degree Insulated Down Sleeping Bag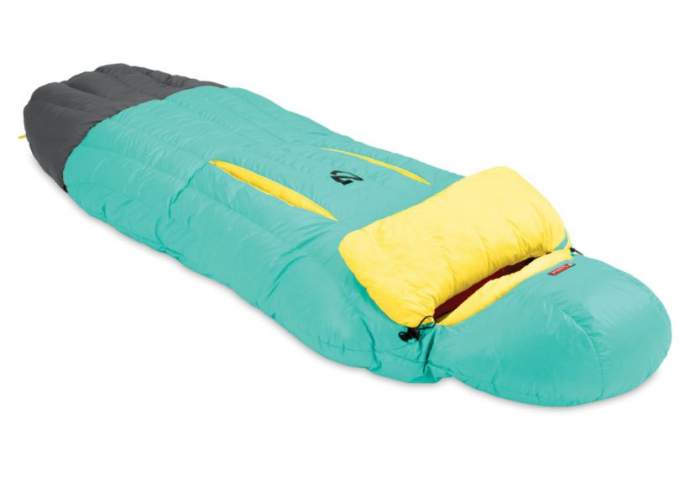 This Rave 30-Degree Insulated Down Sleeping Bag for women incorporates Nemo's award-winning spoon-shaped structure. This means that the bag gives more space where you need it most, so this is a hybrid between a rectangular and a mummy bag. But it also comes with Thermo Gills, those are the zippered cuts in the chest area that you can see in the picture above.
You also have the Blanket Fold, this is the yellow piece under the chin area, and inside the hood you have a pillow pocket. The dark area in the foot zone is a waterproof fabric. The zipper is a two-way type so you can have additional venting.
The fill is 650 down fill Responsible Down Standard (RDS) Certified. The temperature rating is 30 F (-1 C), so this bag is indeed a 3-season item. It weighs 2.5 lb (1.13 kg) and they describe it as a backpacking bag. Please follow the link for more.

---
8. Teton Sports Trailhead Sleeping Bag

They build this Teton Sports Trailhead Sleeping Bag in two sizes, R and S. So the size S is the reason for including it here because it is very suitable for women.
The official rating is 20 F (-6.6 C) but I think it is not for so low temperatures and this is why I have included it in my list of best 2 season sleeping bags. This is a very compact mummy-style bag with synthetic insulation.
The weight of the S size is 2 lb 4 oz (1 kg), so it could be described as moderately light, but this is a bit heavy for the trail. The price is hard to match.

---
Final thoughts & Editor's Choice
So this was my list with best sleeping bags for women that are currently on the market. As you realize the temperature rating is quite wide so you have options for all seasons and for all weather conditions. Some of the bags may look too warm for summer camping and hiking, but if you check closely you will see that they have any of the following features:
Two-way zipper for separate venting of the foot area and the upper body.
Some have extra venting options on the chest zone.
Some have a dual-layer design so you can use them as it suits you best.
This list will be updated whenever I find a good model on the market, so bookmark this text and check from time to time.
All these are women-specific designs but bear in mind that you might be doing great with any of unisex models. You can see many of them in my page with sleeping bags.
A sleeping bag is not enough if you are camping in a cold environment. You need an appropriate sleeping pad, so check my page with pads, you will find some great models that fit the bags presented above. But if you are not sure how to choose, here are a few numbers with R-value and temperature correspondence:
| | | |
| --- | --- | --- |
| R-Value | Temperature F | Temperature C |
| 1.2 | 48 | 9 |
| 1.6 | 46 | 8 |
| 1.7 | 41 | 5 |
| 2.1 | 36 | 2 |
| 2.5 | 34 | 1 |
| 2.9 | 28 | -2 |
| 3.2 | 23 | -5 |
| 4 | 12 | -11 |
| 4.1 | 10 | -12 |
| 4.6 | 5 | -15 |
| 4.9 | 1 | -17 |
| 5.3 | -4 | -20 |
| 5.9 | -11 | -24 |
| 6 | -13 | -25 |
| 6.4 | -18 | -28 |
| 7 | -26 | -32 |
So with these numbers, you can get at least some idea of what R-value you need for your sleeping bag with its given temperature rating in F and C degrees.
Editor's Choice
Thank you for reading. Please use the comment box below in the case of questions or comments. I wish you a nice day.