---
If you need a sleeping bag for the warmer part of the year, check this list with best 2 season sleeping bags, all high-quality products from top brands.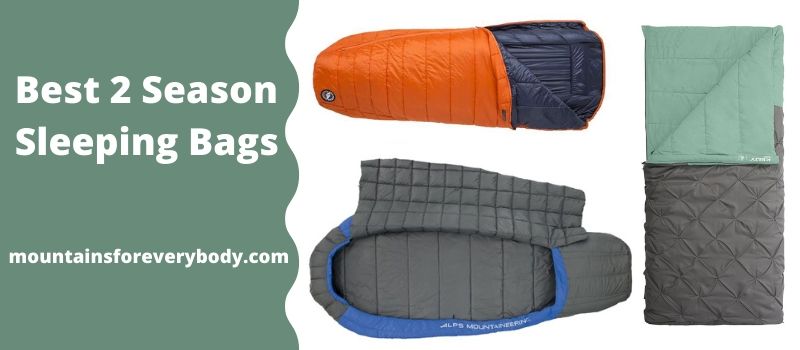 What is 2-season sleeping bag meaning
In short, this is about sleeping bags for the warmer part of the year. So this means summer, late spring, and early autumn. These bags are not so constrictive so you have space to sprawl, they have some ventilation features, and they are also sometimes without a hood.
You will see some that are zipperless by the design. This also means that they are less enclosed than the bags for cold weather, but they are still warm enough for sudden chili nights in the camp.
As you will realize, some of them manufacturers describe as 3-season bags, but it is best to take this with a bit of salt. This is all based on some 'average' users, 'average' age, etc. You can read more about this in my separate text.
The fact is, the feeling of cold is very individual. So add at least 10 degrees F to the official rating which they give, and also test the bag in controlled conditions to avoid unpleasant surprises in the backcountry.
---
Best two season sleeping bags – my list
The sleeping bags in the list below are ordered by the weight from heavier to lighter so you have them for car camping and for backpacking:
Here I give only some basic data about each of the sleeping bags from the list above. Please follow the links for more.
---
1. Kelty Kush 30 Degree Synthetic Fill Car Camping Sleeping Bag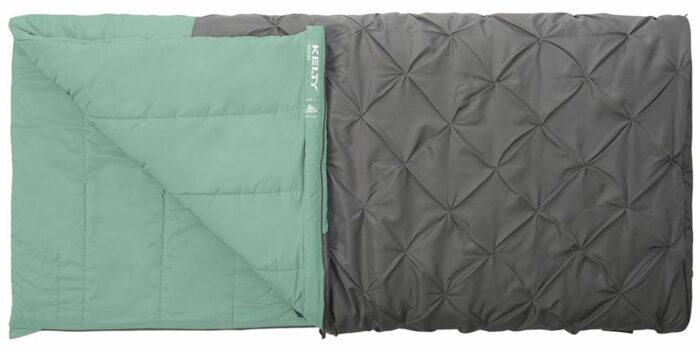 So here you have a rectangular sleeping bag, but you can open it completely and use it as a blanket as well. In addition to this, you should know that it comes with a great stuff sack so you can roll it up and use as a pillow. This is why they describe it as a versatile 3-in-1 system.
As its name suggests, this is a car camping bag and you realize this from its weight which is 4 lb 6 oz (2 kg). The official temperature rating is 30 F (-1 C) degrees. But this will depend on how you use it, as a bag or as a blanket. You have what they call the CloudLoft synthetic insulation. This is easy to maintain and to wash.

---
2. Sierra Designs Frontcountry Bed 35 Degree Sleeping Bag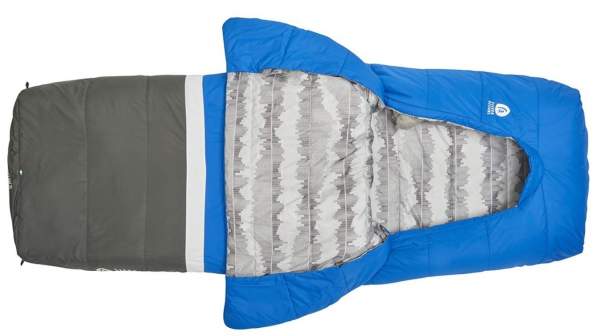 This Sierra Designs Frontcountry Bed 35 Degree Sleeping Bag is a unique zipperless design with quite a number of features. This brand is known for such items and they have yet another from this series for two people.
So this is a roomy sleeping bag and I think it is a great option for car camping. Note that it weighs 4 lb 6 oz (1989 g), so this is not something you would carry in the pack.
Note that it comes with an integrated pad sleeve so this will keep the pad in place when you turn during the night. You remember I mentioned venting features in some of the bags? So you have a feet vent here.
The insulation is synthetic and the comfort rating is 37 F (3 C). You might want to know that they build it in two sizes, and the bag is very affordable.

---
3. Alps Mountaineering Fusion 40 sleeping bag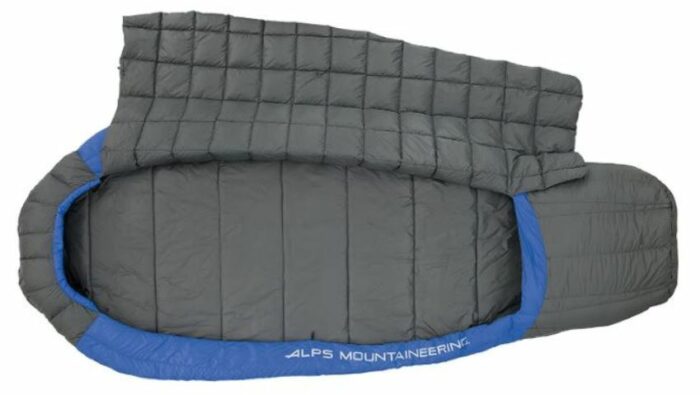 This Alps Mountaineering Fusion 40 sleeping bag is again one of the zipperless examples. The picture above shows that it has a top blanket that is sewn in on one side only. You have toggles and loops to keep it in place when needed. Observe that it has a proper hood with a cinch system, and a real foot box,  so you can keep yourself warm when needed. If you need venting, just move the blanket to the side.
This is a very lightweight and nicely packable mummy-style bag with a unique design and a hybrid down-synthetic fill. This means that the top is with a down fill and the rest is with a synthetic fill. The bag weighs 2 lb 2 oz (964 g) and its official temperature rating is 40 F (4 C). Note also that it is very affordable.

---
4. Big Agnes Lost Dog 45 Degree Sleeping Bag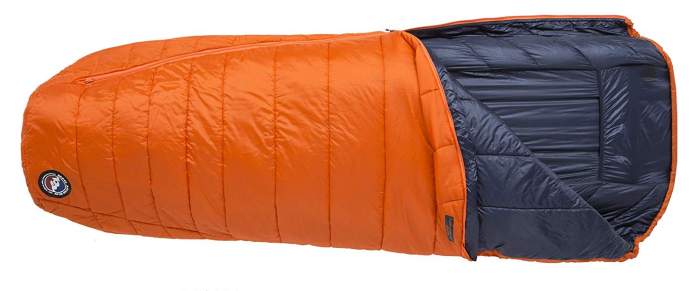 The Big Agnes Lost Dog 45 is a part of a new series of four synthetic-insulated sleeping bags with various temperature ratings so they cover all the seasons. This is just to know if you need something warmer.
So the bag is built in three different sizes and you have a synthetic insulation which is 100% post-consumer recycled polyester. The shell is a nylon ripstop fabric with a water repellent finish, and the lining is polyester.
A great feature here is a Flex Pad Sleeve that can accommodate multiple pad widths, so the pad will keep the sleeping bag in place and it will not twist when you turn around during the night.
This is an ultralight bag with its 1 lb 12 oz (794 g) weight, and it is also ultra-packable, so it is a perfect option for backpackers. The official temperature rating is 45 F (7 C).

---
5. Big Agnes V Notch UL 40 Degree Sleeping Bag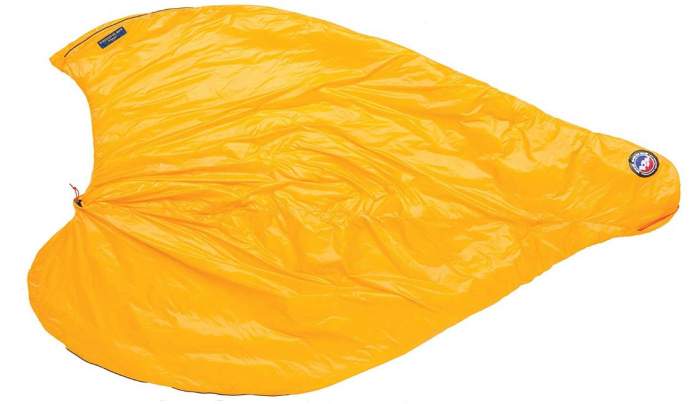 This Big Agnes V Notch UL 40 Degree Sleeping Bag is in this position here because of its weight, so this is indeed an ultra-lightweight and ultra-packable backpacking item for up to 2-seasons use. It weighs only 1 lb 8 oz (680 g).
You have a minimalist in style bag with a top-quality synthetic insulation, and its temperature rating is 40 F (4.4 C). They build it in two sizes.
A really great feature here is that you can use it as an ordinary sleeping bag, which is then a mummy-style, but you can also open it fully and use as a blanket shown in the picture above. Note that in this case you have a foot box.

---
6. Sierra Designs Cloud 35 Degree Sleeping Bag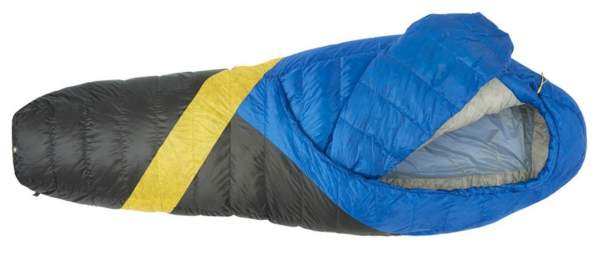 This Sierra Designs Cloud 800 35-Degree Sleeping Bag is yet another innovative ultra-lightweight and zipperless design. It is formally declared as a 3-season item with its EN comfort limit 36 F (2 C), so it may be warmer than most of the bags in the list.
But I have added it here because it has its comforter shown in the picture, plus a feet vent. So there is no doubt you can use it as a great 2-season option. Its R size weighs only 1 lb 7 oz (0.66 kg), and this is because of its down fill, so this is a great backpacking bag.


---
How to choose your 2-season sleeping bag
The list above shows really the best 2 season sleeping bags currently available on the market. It will be updated and new bags will be added whenever I find something worth adding here.
You have a variety of very different options so the question is how to choose. Here are some tips that might help:
Versatility: This applies mainly to the weight and the packed size. Some are a bit heavy and not suitable for carrying in the pack, but I have included a few ultralight options that you can take on the trail. This makes them suitable for any outdoor activity.
Comfort: I am a bit claustrophobic in a bag, and I like to have options that offer more space, or those that can be open and used as blankets. So if you are like me, check those bags that offer such features.
Warmth: These are sleeping bags for warm weather, but if you think you can have chili nights, check the bag's construction. Go for the model with a hood and with cinching features so that you can keep the warmth inside.
Insulation: You have sleeping bags here with a synthetic fill, a down fill, and also combination of both in some cases. Normally, those with down will be lighter, but you have seen an example of an ultralight synthetic bag as well. Synthetic is always easier to maintain.
Price: These are all top brands in this industry, there are differences in prices, yet some of the bags are incredibly affordable, you will realize this if you follow the links. Typically, the bags with a down fill tend to be more expensive.
Thank you for reading. Please bookmark this text and visit occasionally. If you need more options, just check under the category Sleeping Bags. Have a nice day.