---
The Nemo Tempo 20 Sleeping Bag for Men & Women is a feature-rich synthetic sleeping bag built in several temperature ratings and sizes, with top quality materials and at a reasonable price.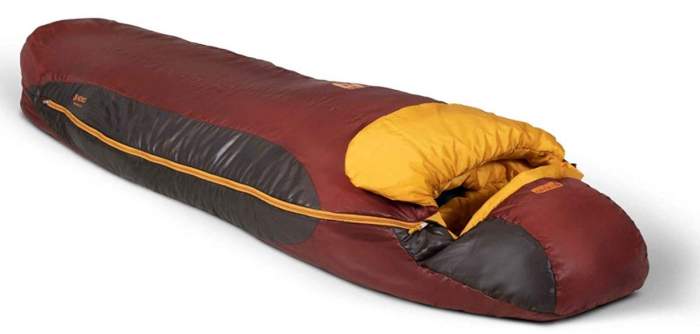 ---
Key features & benefits
Relaxed spoon shape profile.
Synthetic sleeping bag.
Built with 3 different temperature ratings.
Gender specific options.
Durable fabric.
Blanket Fold.
Hooded bag.
Pillow pocket.
Can be zipped to another sleeping bag.
Patent pending design.
---
What this Nemo Tempo sleeping bag is about
Here you have Nemo at its best and this because of many reasons. They build this sleeping bag in several different temperature ratings, more precisely 20, 35 and 50 F (-7, 2, 10 C). But they build it also in two different sizes R and L, and in addition to this, you have separate Nemo Tempo bag for women and for men.
In other words, as of the moment of writing this text, there are 12 Tempo sleeping bags available on the market. So this is a really big series. The picture below shows 6 bags for men.

On the other hand, I would say that these sleeping bags have more or less the same features that are available in some other bags of this brand. But this Tempo bag is with a synthetic insulation and this makes all the difference. Below are some of the most important features that you have here.
Relaxed spoon shape
To understand this terminology, it is best to see the picture below. So the Tempo bag is the type on the right. As you realize, this is something in between the mummy sleeping bag and a classic rectangular bag. I would say it it close to rectangular than to mummy.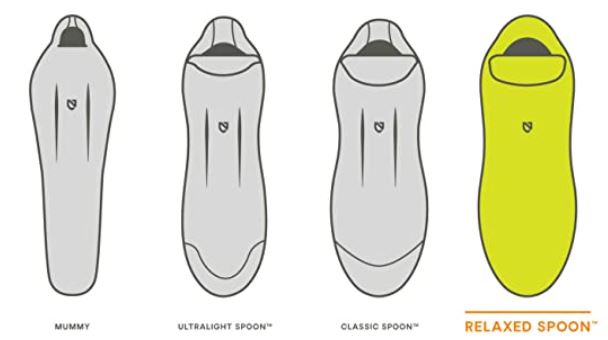 They have started with this spoon shape a few years earlier, and you can see it in their NEMO Riff 15 Degree Sleeping Bag, Nemo Women's Rave 30-Degree Insulated Down Sleeping Bag, and in several others.
The logic behind this shape is in their statement that seventy percent of people sleep on their side. So this patented Spoon shape and its relaxed version with its generous cut at the elbows and knees is introduced for such users.
Other features
The bag comes with their Blanket Fold, this feature is unique to Nemo and they have been adding it to all of their recently built sleeping bags. This is the piece under the chin which you can use to prevent cold draft, see how it looks: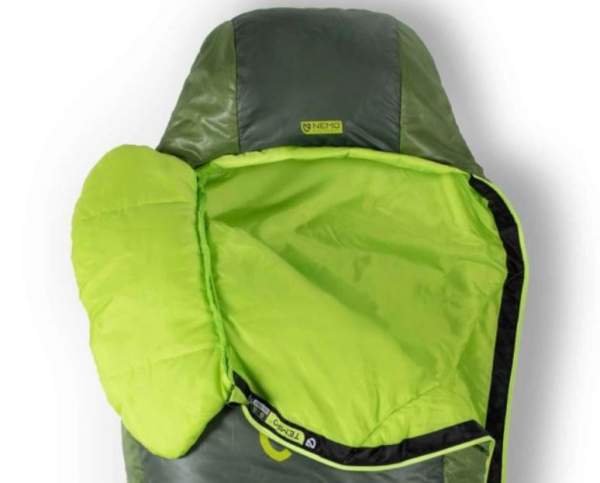 You have the top quality zippers here, this is YKK. The picture below shows the zipper garage under the chin, so this is a great attention to details.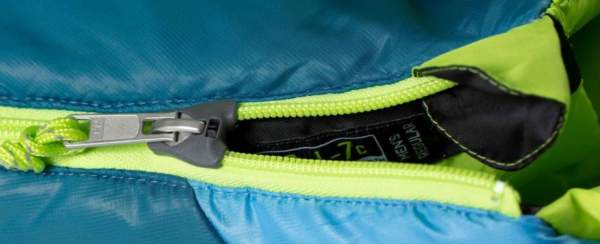 Note also that you can zip two bags together, so if you are with your partner, you do not have to be separated. The picture shows two bags zipped: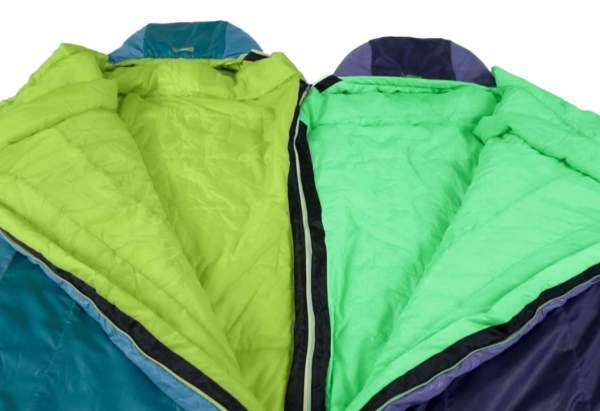 The bag comes with an integrated pillow pocket, so this is an addition that helps keeping your pillow in place.
Insulation & materials
They use what they call the Stratofiber synthetic insulation, and they claim it is a perfect blend of moisture resistance, comfort, packability, and affordability. I already mentioned three different temperature ratings options, and the bag is hooded and equipped with the usual features to preserve the warmth.
So you have a draft baffle along the zipper (visible in the picture above), there is a draft collar around the neck, and there is also a draw string shown in the picture below. Observe also the zippered phone pocket.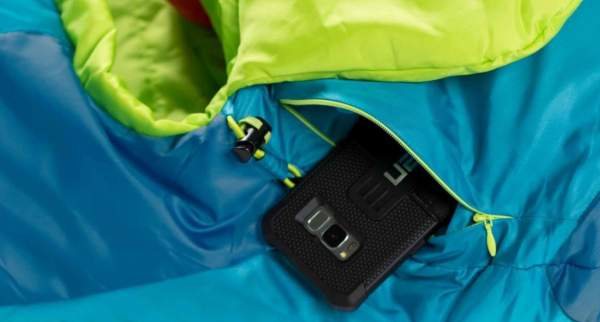 The shell fabric is quite durable 50D polyester ripstop DWR, and the lining fabric is a 50D polyester taffeta DWR.
Differences between sleeping bags for men and for women
It may be interesting to point out some differences. So for example R size for women is heavier than R size for men, although the bag for women is smaller. But this only for the 20 F version. For the 35 and 50 F versions, the bags for men are heavier because they are bigger.
This is because the bags for women (for lower temperatures) are with more insulation. This difference vanishes with bags designed for higher temperatures.
So R size 20 F (women) has 2 lb 14 oz (1.3 kg) of insulation. Total weight is 3 lb 12 oz (1.7 kg).
R size 20 F (men) has 2 lb 10 oz (1.2 kg) of insulation. Total weight is 3 lb 10 oz (1.65 kg).
But:
R size 50 F (women) has 1 lb 6 oz (610 g) of insulation. Total weight is 2 lb 8 oz (1.13 kg).
R size 50 F (men) has 1 lb 7 oz (650 g) of insulation because it is bigger. Total weight is 2 lb 9 oz (1.17 kg).
See also 35 F versions:
R size 35 F (women) has 1 lb 10 oz (740 g) of insulation. Total weight is 2 lb 13 oz (1.28 kg).
R size 35 F (men) has the same amount 1 lb 10 oz (740 g) of insulation. Total weight is 2 lb 14 oz (1.32 kg), so it is heavier because it is bigger.
Please see more in this short video:
---
Who is it for
Regarding the best use & climate, you have seen all the temperature options, so you have sleeping bags for summer camping and for up to 3 seasons, or perhaps a bit more than that.
Regarding the size, here again you can choose between R and L versions to avoid carrying unnecessary weight. The L version for men is 84 inches (213 cm) long, and the R version is 78 inches (198 cm).
For women the L version is 78 inches (198 cm) and the R version is 73 inches (185 cm).
Regarding the weight, the R version for men and for 20 F weighs 3 lb 10 oz (1.65 kg). This is not bad for such a temperature rating.
But if this is about carrying the bag on the trail, you might want to compare it with their Nemo Disco 15 down-fill which is a warmer bag yet it weighs only 2 lb 11 oz (1.22 kg).
See also the NEMO Riff 15 Degree Sleeping Bag that is a down-fill type and it weighs 2 lb 9 oz (1.16 kg). So as expected, down bags are usually quite lighter. Then why using this synthetic? The reason is the price and also performance, such an all-synthetic bag may outperform a down-fill bag in wet and dump conditions.
Regarding the packed size, it is quite good and the bag can be described as compact, see below how the R size 20 F version looks: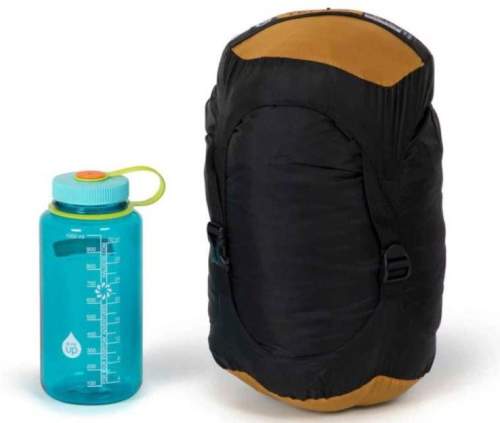 Regarding the price, I would say it is fair for such a quality bag and for such a reliable and globally-known brand. It still makes sense to check around, so you will have several different links below.

---
Specifications (for the R size)
Type: hybrid between a mummy and rectangular.
Weight (20 F bag):
– R (men): 3 lb 10 oz (1.65 kg).
– R (women): 3 lb 12 oz (1.7 kg).
Fits Up To:
– R (men): 6′ (183 cm).
– R (women): 5'6″ (168 cm).
ISO lower limit:
– R (men): 19 F (-7 C).
– R (women): 23 F (-5 C).
Girth (shoulder/hip/knee):
– R (men): 64/61/64 in (163/155/163 cm).
– R (women): 62/58/62 in (157/147/157 cm).
Packed size R bag (L x D):
– R (men): 14 x 9 in (36 x 23 cm).
– R (women): 14 x 9 in (36 x 23 cm).
Compressed volume:
– R (men): 9.2 l.
– R (women): 9.7 l.
Protected by the NEMO Lifetime Warranty.
---
Final thoughts & rating
In summary, this Nemo Tempo 20 Sleeping Bag for Men & Women is really nicely built and comfortable with its relaxed spoon shape. It can be described as light enough and compact to be carried on the trail. There are so many options to choose from, regarding the temperature rating and the physical size.
This is an excellent product from an outstanding brand, fully recommended. I have included it in my list of best 3 season sleeping bags and also into best 2 season sleeping bags.
Below you can see how I rate the R size 20 F version against my usual rating criteria so that you can easily compare it with other items of this type:
BEST PLACEs TO BUY
With such a brand there are many sellers who are happy to offer the product, so here are some of them:
For more options, please check under the category Sleeping Bags. Bookmark this site and come again, this will keep you informed because I add texts here regularly. Let me know if you have questions or comments, there is a comment box below. Have a nice day.