---
Nemo Women's Rave 30-Degree Insulated Down Sleeping Bag is a 3-season bag that incorporates Nemo's award-winning spoon-shaped structure, the Thermo Gills, and much more. 
---
Key features & benefits
Women-specific design.
Thermo Gills.
Spoon-shaped profile.
Blanket Fold.
Waterproof & breathable footbox.
100% Responsible Down Standard (RDS) Certified down.
Pillow pocket in the hood.
Zippered stash pocket.
---
Where to buy
Check on Amazon, you will hardly find a better place regarding shipping conditions and the price.
---
What type of a sleeping bag is this
This Rave 30 bag is a hybrid between a rectangular and a mummy bag. But when you see the pictures you realize that it is closer to a rectangular bag. This means that it is wide where you need space and this is at the shoulder area and below the waist.
But it has many other features as well that set it apart. This is a patent-pending women-specific design and this implies a corresponding shape, size, and fill distribution.
The bag is reasonably lightweight and built with the best materials. You have already seen a few features mentioned above so if you are not familiar with the terminology let me say a few words.
Thermo Gills
Those are two parallel zips which you have on the chest area. They added them to serve as vents and to regulate temperature in the bag. You might need this feature when you use the bag in a warmer environment.
Note that these zips open the insulation from outside only, the inner area still remains sewn in and closed, see the picture below to realize what I mean. So these are not full openings on the bag, they only make an opening between the insulation baffles to release some heat but you cannot pass your arm through these Gills, and you unzip them only from the outside.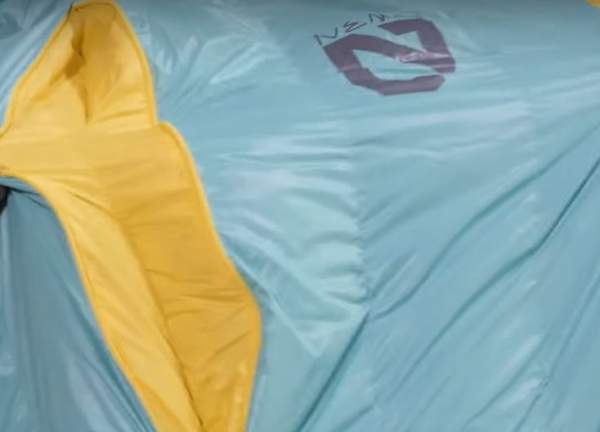 To realize even more how this works, see this picture which shows how the heat escapes through these Gills, this is indeed an innovative system: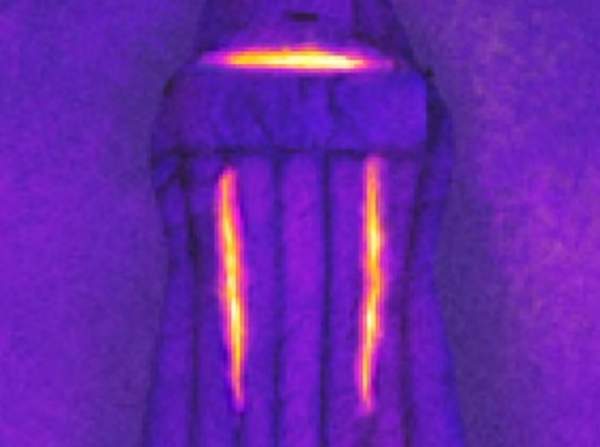 Blanket Fold
This is a piece that looks like a short blanket which you see under the chin, visible in the picture below. In fact, this is an extended collar which can be tucked-in when you need to preserve the warmth in a cold environment. Otherwise, you push it out. So it is there for comfort and it has an opposite role as compared to the Thermo Gills.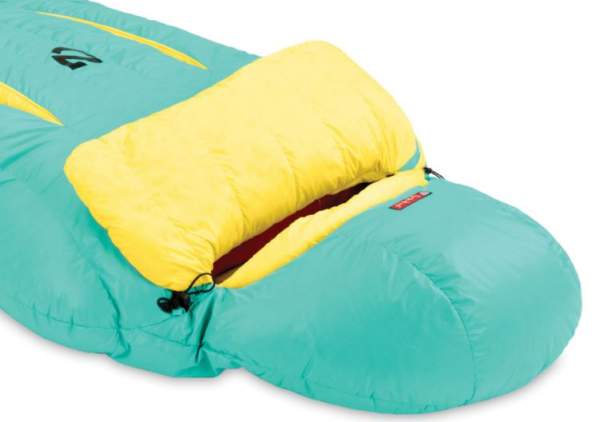 The waterproof/breathable footbox.
So this is a really useful detail which they introduced on the area which usually touches the walls of the tent. So this protects the bag form the water that appears due to condensation on the tent's walls. You see it as the brown fabric on the feet zone.
Other features
The hood is large and you do not feel constricted but you have a drawcord to cinch it properly in combination with the Blanket Fold mentioned above to prevent any cold draft.
The zipper is two-way type so you can have additional venting to open only the feet zone if you need to. This is surely a great feature for a warmer environment.
Note also that the baffles are longitudinal on purpose. They do this apparently to allow the heat traveling along the baffles so it is distributed evenly.
Inside the hood you have a large sleeve for a pillow, again a nice feature so your pillow will stay in place during the night. There is also a small zippered pocket for valuables, see the pictures below.
Note that you can zip it together with the bags from Nemo's Disco series so you can use it with your partner in a double side configuration.
---
Materials & construction
The material is very soft 30D nylon ripstop with a durable water repellency. The footbox fabric is a stronger 40D nylon ripstop OSMO with a DWR. The inner lining is 30D nylon taffeta also DWR.
The fill is 100% Responsible Down Standard (RDS) Certified 650 down with a traceable origin that ensures a humane treatment throughout the supply chain. It is treated with Nikwax hydrophobic coating so it should perform well even in damp conditions and it should still insulate you similar to synthetic insulation.
The zipper is on the right and this is a top quality #5 YKK zipper. The carry bag is without compression straps so the packed size is not particularly impressive, see the picture: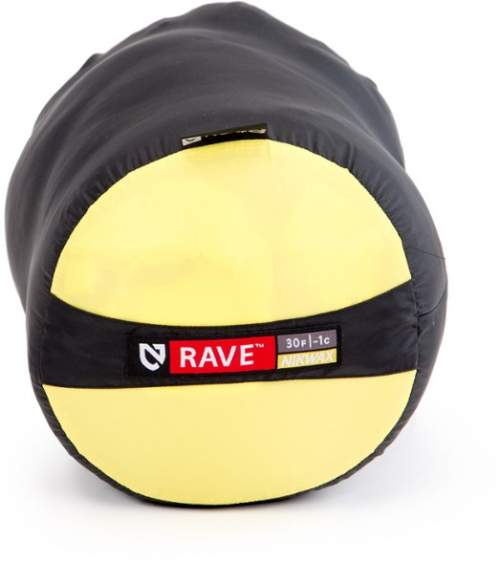 ---
Who is it for
Size-wise, they build this Rave 30 bag for women and you have two sizes, regular (R) and long (L). Note that these terms correspond to the women's body. Please see below in the specifications the exact numbers.
Seasons-wise, with its temperature rating of 30 F (-1 C), this bag is indeed a 3-season item. If you feel too warm, you have several types of venting features here.
Weight-wise, with its 2.5 lb (1.13 kg), they describe it as a backpacking bag. The truth is that there are much lighter options on the market and you will see one in the comparison table below, but then you would pay much more.
The packed size is not so impressive because the carry bag is without compression straps.
Please see more about the technology behind this design in this video by Nemo, you will realize that this is a top quality product:
---
Good and less good features
Here is my short summary:

Attention to details.
Very comfortable.
Top quality materials.
Award-winning features.
Patented design.

Expensive.
No compression straps on the carry bag.
The price & rating
As of the moment of writing the text the R size bag is around $260 on Amazon. So it is expensive but this is a normal price for top brands, and you will not find such great features in many bags on the market. You will see one far more expensive bag in the comparison table below. Please see how I rate this bag:
My rating breakdown of the Nemo Rave 30-Degree Insulated Down Sleeping Bag for women:
Weight -

8.4/10

Packed size -

7.6/10

Temperature rating -

8.5/10

Comfort & features -

9.5/10

Price -

7.7/10
---
Specifications
Best use: backpacking & hiking.
Sizes: R & L.
Weight: 2 lb 8 oz (2.5 lb, 1.13 kg)
Packed size (L x D): 18 x 9 in (46 x 23 cm).
Temperature rating: 30 F (-1 C).
Fill: down 650.
Fill weight:
– R: 1 lb 3 oz (0.54 kg).
– L: 1 lb 5 oz (0.6 kg).
Fits height:
– R: up to 66 in (168 cm).
– L: up to 72 in (183 cm).
Girth shoulders/waist/knees:
– R: 62/58/62 in (157/147/157 cm).
– L: 64/60/64 in (163/152/163 cm).
Length:
– R: 73 in (185 cm).
– L: 78 in (198 cm).
Compressed volume:
– R: 7.5 liters.
– L: 8 liters.
---
Nemo Women's Rave 30-Degree Sleeping Bag vs Competitors
I thought you might want to see how the temperature rating (and the corresponding insulation) affects the weight and packed size of a bag. Though the non-impressive packed size of the Rave 30 bag is also due to the lack of compression straps on its carry bag. Anyway, I give one bag with the rating of 15 F and the other with the rating of 20 F. All are with a down fill and women-specific bags. Please follow the links for more:
Big Agnes
Hitchens UL 20 S
---
Final thoughts
So as you realize, this Nemo Women's Rave 30-Degree Insulated Down Sleeping Bag is a warm 3-season bag but it allows for a few ways of ventilation to release the heat. It combines several recent innovations which Nemo has been introducing in their sleeping bags and which have been awarded in the past a few years. I have added it to my list with best sleeping bags for women.
Note that they also have the Rave 15 bag with the same basic features but with more insulation. In the video above you have seen those features also in some other bags of this brand, in particular in the Disco and Rif series for men.

If you need some more options to see, please visit my page with sleeping bags. Note that I am not paid by the brand or related in any sense, so this is NOT a sponsored text. I only give my unbiased view of the product.
Thank you for reading. Please use the comment box below in the case of questions or comments. Have a nice day. 

---