---
This Kelty Kush 30 Degree Synthetic Fill Car Camping Sleeping Bag is a new item they launched recently, rectangular and with some unique features.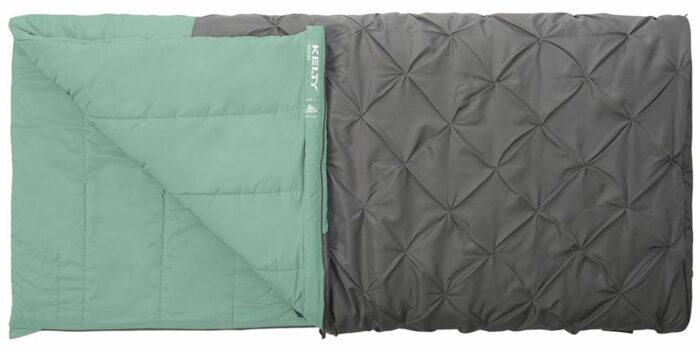 ---
Key features & benefits
Rectangular shape with plenty of room.
3-in-1 Design.
Very good price.
---
So what this Kelty Kush 30 Degree Bag is about
Here you have a completely new product from Kelty which they launched for the season 2020. Kelty is known for its innovative designs so some elements of their creativity you can see here as well.
• They have built this bag as a simple rectangular shape, and this is how you can use it. The picture above shows how it looks.
• But you can also open it completely and use it as a blanket. This is what I do with my sleeping bags whenever possible because I feel a bit claustrophobic in every bag. But as you know when it is cold you need an enclosed structure to preserve your body heat.
• This is not all. You get a stuff sack which is of such a size that you can fold the bag a few times and store inside and then use as a very pleasant pillow with the dimensions 30 x 19 inches (76.5 x 48.5 cm). It is shown in the picture: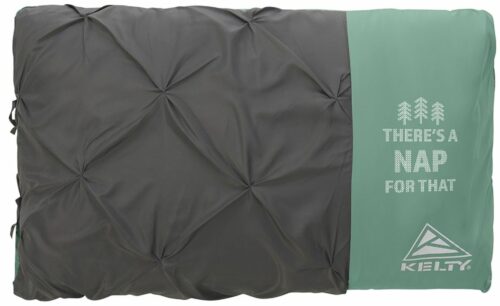 So now you realize why I describe it as a 3-in-1 system.
---
Who is it for
Regarding the weight, with its 4 lb 6 oz (2 kg) this is a camping bag as already indicated in the title. So this is not something to carry in the pack. You might want to compare this to their another down-filled bag, the Kelty Galactic 30 Sleeping Bag that is also rectangular and without a hood.
You will see below that my rating for the packed size is very low, but this is based on its stuff sack. In reality, you could compress it far more, but there is no compression sack included. So it would be fair to say that it is best to ignore the packed size rating because it is not essential for such a camping bag.
Regarding the seasons and climate, based on its declared temperature rating, this is a 3-season sleeping bag. But note that there is no hood here and this is a rectangular bag, so you might want to use it for a maximum of two seasons, summer, late spring, and early autumn. I see it as built for comfort and not for cold weather.

---
How is it built
The temperature rating
Officially the bag is with the rating 30 F (-1 C) so this would mean it is for 3 seasons as I mentioned above. Such a great rating is due to its CloudLoft synthetic insulation and you have it around 61% of the bag's weight.
The fabric
The fabric is durable here, and this is partly behind the weight of this bag which is a bit heavy. So the shell is no less than 75D 260T Pongee Pintuck polyester. These strange words are what fabric manufacturers use and they may be difficult to understand, but you see the denier value and the tenacity, this is a strong material.
The liner is a very pleasant 50D 300T Pongee polyester. Other features include a small stash pocket which you will see in the video below, and you also have an anti-snag zipper design.
Please see a bit more in this short video:
---
Specifications
Type: rectangular.
Weight: 4 lb 6 oz (2 kg).
Fill weight: 43 oz (1.22 kg).
Temperature rating: 30 F (-1 C).
Dimensions: 78 x 31 in (198 x 78.5 cm).
Stuffed size: 30 x 19 in (76.5 x 48.5 cm).
---
Final thoughts, rating, pros & cons
In summary of this Kelty Kush 30 Degree Synthetic bag to stress again that this is a very comfortable and large bag with some unique details. The materials are very pleasant, this is all synthetic so no special care is needed. The price is simply excellent. Fully recommended. I have included it in my lists best sleeping bags for car camping and best 2-season sleeping bags.
Here is my rating against the standard set of criteria, and summary of pros and cons, so you can easily compare with other bags here in the site:
You might want also to check this unique Alps Mountaineering Fusion 40 sleeping bag built without zippers. If you need something lightweight but for extreme conditions, check our separate list with some impressive low-temperature sleeping bags.
Note that we add new texts on a regular basis, so bookmark this site and check occasionally. There is a subscription form below for our weekly newsletter, so subscribe and stay informed. Have a nice day.