---
This Kelty Galactic 30 Sleeping Bag review is about a pleasant rectangular bag but with a down 600 fill, versatile and suitable for backpacking and camping, for men and women.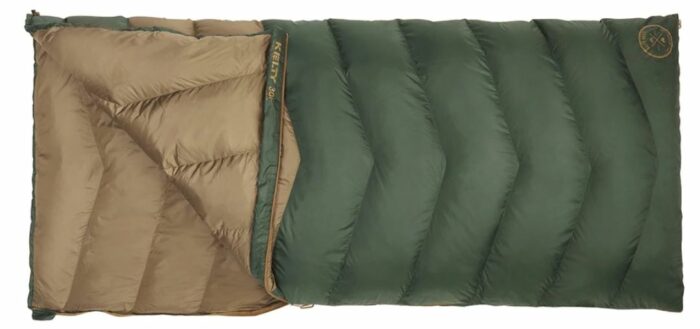 ---
Key features & benefits
Down fill.
Rectangular bag.
Lightweight.
30 Degrees rating.
Incredible price.
It can be zipped with yet another bag.
It can be used as a blanket.
---
What this is about
Insulation & temperature rating
Kelty is a brand that never stops surprising with their innovative products. This Galactic 30 Sleeping Bag is an example. I start here with insulation on purpose because you have a 600-fill down used in this bag. Now, down is an expensive and the lightest material used in sleeping bags, so you will see it normally in the mummy-style bags built to shed weight.
But what you have here is a very comfortable and large traditional rectangular sleeping bag. The top picture above reveals how pleasant it looks with its simplistic and fluffy construction.
The declared temperature rating is 30 F (-1 C) and this would put it in the group of 3-season bags. But note that it is without hood so I would not use it in such a cold climate. It is best suited for two seasons, late spring, summer, early autumn. If you are undecided about this bag and any synthetic, I think you should not be, this is definitely a better option. A bag with such a down is cozier and softer than a synthetic bag.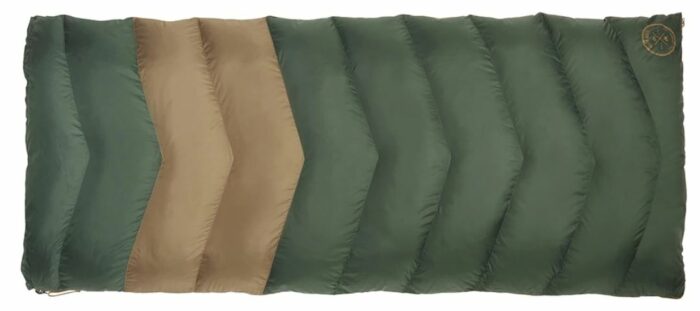 More about materials and design
The mentioned 600 fill down is what they call DryDown, so it is treated and it is supposed to perform better than an untreated down. They used a spray-on polymer that resists water while maintaining its loft, and it dries faster than untreated down if it gets wet.
The shell is a reasonably durable 50D downproof polyester taffeta and the same material is used for the liner. The picture below shows how you can use it in a warmer environment.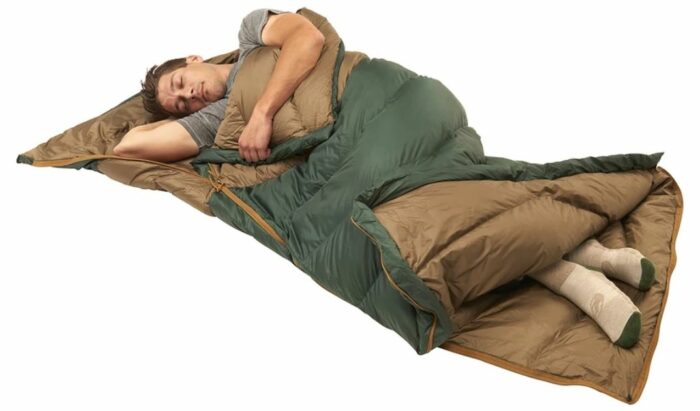 They have built it nicely so you can zip it together with another bag and create a large double bag. But you can also use it simply as a blanket. The zipper is designed so that you can open it from any side and you can have venting options as the picture above shows.

Please see a bit more in this video:
---
Who is it for
Size-wise, note that they build it as regular (R), long (L), and you will also see on Amazon a version described as a women's bag suitable for users up to 5'8″. The other numbers are shown in the specifications below.
So by choosing the appropriate size, you can improve the thermal efficiency of this bag, and this saves weight as well if you are a shorter person and choose a smaller size.
Weight-wise, the R-size weighs 2 lb 10 oz (1.2 kg), so it is best to compare it with some other bags on the market to realize the true meaning of this weight. Take Kelty Kush 30 Degree Synthetic Fill Car Camping Sleeping Bag from the same brand that is with the same temperature rating but with synthetic fill, it weighs 4 lb 6 oz (2 kg). The difference in weight is quite significant.
But see also this Big Agnes Flume UL 30, that is with 850-down fill and it weighs 1 lb 6 oz (624 g). So the big difference in weight is due to its narrow mummy-design and a different fill. Take one more, the NEMO Ramsey 30-Degree Down Mummy Sleeping Bag that is with an almost the same type fill 650 down and it weighs 2 lb 1 oz (0.935 g).
As you see the Galactic 30 is indeed heavier than these mummy bags. But if you feel restricted in a mummy bag, this Kelty Galactic 30 is definitely a better option. You can open it completely and use as a blanket.
Regarding the packed size, it measures (L x D) 15 x 7.5 inches (38 x 19 cm). The mentioned Nemo Ramsey 30 measures 12 x 8.5 inches (30 x 22 cm). So I would say, this packed size is normal for its shape.
Regarding users and best applications, this is an amazing sleeping bag. It is lightweight and packable so you can take it on the trail, or use it as a car camping blanket or bag, and this in at least 2 seasons. If you feel claustrophobic in mummy bags, definitely consider this bag as an option.
Regarding the price, it is far more affordable than any of its competitors. In fact, it is comparable to many synthetic bags of this type.
---
Specifications
Type: rectangular.
Three sizes R & L, and women-specific.
Weight:
– R: 2 lb 10 oz (1.2 kg).
– L: 2 lb 14 oz (1.3 kg).
– WSD: 2 lb 8 oz (1.14 kg).
Stuffed size:
– R: 15 x 7.5 in (38 x 19 cm).
– L: 15 x 8.3 in (38 x 21 cm).
– WSD: 15 x 7.5 in (38 x 19 cm).
Fits:
– R: 6 ft (183 cm).
– L: 6 ft 6 in (198 cm).
– WSD: 5 ft 8 in (173 cm).
Fill: down 600.
Temperature rating: 30 F (-1 C).
---
Final thoughts, rating, pros & cons
In the summary of this Kelty Galactic 30 Sleeping Bag review, I would say that the beauty of this bag is its simplicity. It is warm, very practical, and versatile. It is suitable for any outdoor activity, and the price is more than appropriate for what you get.
The brand behind this sleeping bag is globally known and respected, and the bag is great and functional, fully recommended. I have included it in my lists of best sleeping bags for car camping and best 2-season sleeping bags.
Please check under the category Sleeping Bags if you need more options. You will find the top brands' items presented there. Check this incredibly affordable Coleman Sun Ridge 40°F Warm Weather Sleeping Bag suitable for summer camping.
Note that we add texts here regularly, so you might want to bookmark this site and visit occasionally. Subscribe to our weekly newsletter and stay informed, there is a subscription form below. Please use the comment box below if you have any questions or comments. Have a nice day.