---
This Big Agnes V Notch UL 40 Degree Sleeping Bag is an ultra-lightweight and ultra-packable backpacking item for up to 2-seasons use, minimalist in style and with a top quality synthetic insulation.

---
Key features & benefits
Crazy light.
Temperature rating 40 F (4.4 C).
Synthetic PrimaLoft Hi-Loft Ultra Silver insulation.
Nicely packable.
---
What this is about
This V Notch UL sleeping bag is a part of a new series by Big Agnes which they launched for 2019 season. It is built with 80% recycled PrimaLoft Hi-Loft Ultra Silver insulation, and this is among the best that you can have from synthetic materials.
This is an ultra-lightweight (hence the letters UL in the name) mummy-style sleeping bag designed for fast and light outdoor tours. The mentioned synthetic insulation provides a reliable and consistent performance regardless of weather conditions. It is designed to resist moisture and it will dry fast if it gets wet.

The design is minimalist, see the picture above, and the bag is designed to be narrow, this increases thermal efficiency but also reduces the comfort. If you feel warm, you can open it wide and use as a blanket shown below.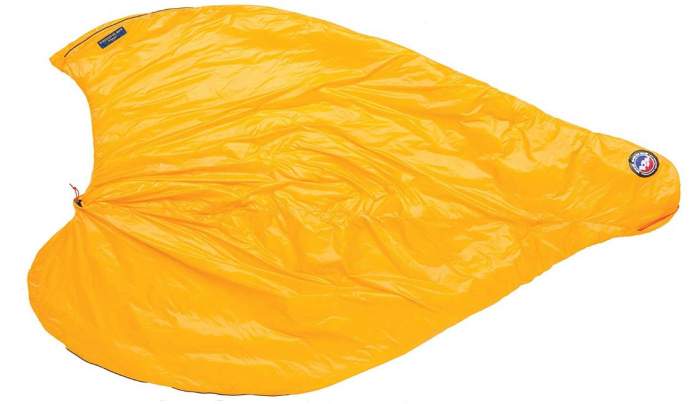 The external fabric is a DWR nylon ripstop and the same material is used for the liner. As you realize from the picture above, there are no baffles from outside, apparently this is again related to thermal efficiency. The idea seems to be that the insulation remains lofty and not compressed by stitching.
The bag is with a two-way zipper, so you can open it independently from the bottom to allow for some ventilation when needed. Note that it has a regular stuff sack and a mesh storage sack for long storage, but the stuff sack is without compression straps, pity.
Other features
Minimalist hood with drawcord.
Low-profile cord-lock for the hood.
Full-length 70 in (178 cm) YKK #3 locking zipper.
Ergonomic footbox construction.
Zipper garage.
Interior fabric loops for sleeping bag liners.
Exterior loops for drying or storage.
Please see more in this short video by the brand:
---
Who is it for
Size-wise, the Big Agnes V Notch UL 40 is built in two lengths R and L (the numbers are in the specifications below), so you have some versatility to choose what suits best your body side and to avoid carrying unnecessary weight.
Weight-wise, with 1 lb 8 oz (680 g) weight for the R size, this is indeed among the lightest you can have if you are an ounce counter. In the comparison table below you will be able to compare it with some other bags to realize how exceptional this weight is.
Seasons-wise, in view of its 40 F (4.4 C) degrees temperature rating, this is more or less a summer backpacking bag or perhaps for 2-seasons maximum.
---
Specifications
Type: mummy sleeping bag.
Sizes: R & L.
Weight:
– R: 1 lb 8 oz (680 g).
– L: 1 lb 9 oz (709 g).
Fill weight:
– R: 16 oz (454 g).
– L: 17 oz (482 g).
Fit:
– R: 6 ft (183 cm).
– L: 6 ft 6 in (198 cm).
Packed size R, L: 13 x 6 in (33 x 15 cm).
Compressed size (for this you have to order a separate bag):
– R: 5 x 6 in (13 x 15 cm).
– L: 5.5 x 6 in (14 x 15 cm).
Girth (chest/hips/knees):
– R: 59/53/36 in (150/135/91 cm).
– L: 62/56/39 (158/142/99 cm).
---
Big Agnes V Notch UL 40 Degree Sleeping Bag vs Competitors
I have decided to show you this V Notch bag side by side with two ultralight down-fill bags to realize how its synthetic insulation compares with the lightest what you can have and this is down. There are differences in the temperature rating but they are not substantial.
As you realize, this synthetic insulated bag is completely comparable with the down-fill bags, both by weight and by the packed size. This in spite of the fact that the Sierra Designs bag is zipperless and this sheds the weight as you can imagine.
Mountain Hardwear
Ratio 32
---
Final thoughts, rating, pros & cons
From the comparison table above, you have realized that this Big Agnes V Notch UL 40 Degree Sleeping Bag is an exceptional piece of outdoor equipment. In view of its weight and the packed size, this bag is a perfect choice for thru-hikers and ounce-counting backpackers. With its high-performance synthetic insulation, it will work great in any conditions, no matter dry or wet. It is included in my list of best compact sleeping bags for backpacking and also to  best 2-season sleeping bags.
This is a moderately expensive product and this becomes obvious when you compare it with their Flume UL 30 which is far more expensive. Please see how I rate this bag against the same criteria used for all sleeping bags here in the site:
If you need more options to consider, please check my page with sleeping bags. You might need also an ultra-light sleeping pad to match, so check some of those in my page with sleeping pads.
Please note that this is not a sponsored post and I am not paid by the manufacturer. Do you have any experience with this bag, or have some question or comment? If so, please use the comment box below.