---
This Mountain Hardwear Ratio 32 review is about a sleeping bag for summer/shoulder season, a versatile item due to its weight and its Q.Shield treated down which maintains its insulation even when wet.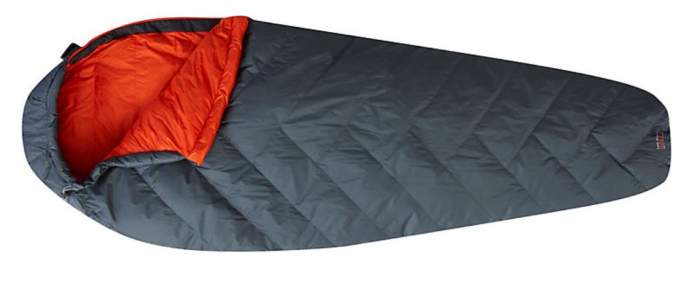 ---
Key features & benefits
Comfort mummy cut.
Thermo trap baffle system.
650 Q.Shield treated down fill.
Responsible Down Standard (RDS) certified.
---
What is in the name
This sleeping bag has been around for several years already. The Ratio in the name describes the model for men, and they also used to have the Heratio bag with similar features but designed specifically for women, though I do not see it around these days.
Temperature rating – how many seasons
This is related to the number 32 in the name, and it describes the temperature rating. So the bag is designed for temperatures of 32 F (0 C). In fact, they give 37 F (3 C) as the comfort rating, and 27 F (-3 C) limit rating, so the official number is the mean value as usual. The feeling of cold is quite individual, but I would add up to 10 degrees here; better use it in a warmer environment, say 40 F (4 C) or higher.
---
Who is it for
Seasons-wise, the temperature rating indicates that this is a 3-season bag for camping, hiking, and even for backpacking. It looks lightweight enough for me to be carried even on longer tours. You will be able to compare it with some other models, there is a comparison table below. So the bag is not for extreme conditions.
Weight-wise, with its 829 g, this is a lightweight bag but it is definitely not in the group of ultra-lightweight bags. If you are not familiar, such bags for ounce-counters are in the range 12 – 20 oz (340 – 570 g), but those are not for low temperatures, and they usually cost a lot. So the bag you have here is a great all-purpose item.

---
Overview of features
To start with the shape, as you realize this is a mummy style bag and with a bit more room than usual for such a type. But you will notice that the foot box is very narrow. They build it with zippers on the left and on the right so you can choose what fits you best. Along the zipper, you have an insulated draft tube with an anti-snag panel that prevents cold spots.
The hood is with the same fill and you have a face gasket, you can cinch it around the face to block drafts; there is a single-handed drawcord for this purpose.
It comes with a carry bag and with a storage bag, so use the latter when you store the bag at home for a longer period of time. Note that the carry bag has no straps for extra compression, pity they missed to add this useful feature. You can compare this with NEMO Ramsey 15 which can be considerably compressed with such side straps.
Materials
The shell fabric is 30D nylon plain weave so this is not particularly durable. It has some DWR treatment so you have water-repellency up to some point.
The insulation is Q.Shield treated down 650. In the video below you will see what this means. Roughly, speaking each plume is coated and this makes it water-resistant, so it longer preserves its insulation in wet conditions as compared with untreated down, and it also dries faster if moisture gets in. It also retains maximum loft in damp conditions. This is nothing new, they just use their own technology and give it a name.
You will notice that baffles go diagonally instead horizontally or longitudinally. So this is what they call the Thermo Trap baffle system. Apparently, these chambers keep the down better distributed. As a physicist I am a bit skeptical and unconvinced about the concept but OK, the design looks cool. Though the chambers are smaller than usual and this prevents down migration.
Responsible Down Standard Certified
This sounds like a big deal, so if you follow this link you will read that "The Responsible Down Standard safeguards the welfare of geese and ducks that provide down and feathers for the products we all love". Apparently, the ducks did not mind giving their natural clothing for such bags. You will also read that this is "to ensure that down and feathers come from animals that have not been subjected to an unnecessary harm". I guess I should not make comments here, but frankly, this sounds ridiculous to me.
Here are a few more words in this short promotion video:
---
What is Q.Shield down
So here is a short video which explains this phrase, please have a look:
---
Specifications
Type: mummy sleeping bag.
Sizes: R & L.
Weight:
– R: 1 lb 13 oz (829 g).
– L: 1 lb 15 oz (870 g).
Loft: 4 in (10 cm).
Comfort: 37 F (3 C).
Limit: 27 F (-3 C).
Packed size: 14 x 7 in (36 x 18 cm).
Inside length:
– R: 78 in (198 cm).
– L: 84 in (213 cm).
Hip girth:
– R: 58 in (147 cm).
– L: 60 in (152 cm).
Shoulder girth:
– R: 62 in (157 cm).
– L: 64 in (163 cm).
Foot girth:
– R: 38 in (97 cm).
– L: 40 in (102 cm).
---
Mountain Hardwear Ratio 32 sleeping bag vs Competitors
Here I give this Ratio 32 bag side by side with two others from quite a different temperature ratio, and one is with a different fill. This is on purpose to see what you can expect in terms of weight when the fill is synthetic, and when the temperature rating is different. This may help in making an informed choice. Please follow the links to read more.
Mountain Hardwear
Ratio 32
---
Final thoughts, rating, pros & cons
So I would summarize this Mountain Hardwear Ratio 32 review by stressing the simplicity and efficiency of this bag. The Q.Shield fill indeed works as they describe it, the moisture is wicked away and the down maintains its loft and insulation properties. So you will not have moisture accumulated and the warmth will remain the same during the night.
The rating by customers has been very positive and the average value is high. See how I rate it:
Mountain Hardwear Ratio 32F/0C Sleeping Bag
If you still need something different, or want a bag with a synthetic fill, please have a look in my page with sleeping bags, you will find something for you, like this Big Agnes V Notch UL 40 bag. Check this NEMO Disco 15 Sleeping Bag with some patented features and also this NEMO Ramsey 30-Degree Down Mummy Sleeping Bag which is with a similar temperature rating and a down fill.
Thank you for reading. Please use the comment box below in the case of questions or comments. Have a nice day.