---
This Kelty Tuck 20 Degree ThermaPro Ultra Sleeping Bag is a new version of the well known Kelty's bag. It is better than ever and it comes with a price that is hard to match. 

---
Key features & benefits
Great price.
Very specific zip design.
Roomy for a mummy bag.
Great ventilation.
---
What type is this – who is it for
This Kelty Tuck 20 is a mummy-style sleeping bag and they build it in two sizes R, and L. The former fits people of up to 183 cm of height and the latter up to 198 cm.
I pointed out in the title that this is the 2018 version of the bag, it has been on the market already but they have redesigned it. If you compare the two versions, you will realize that there is more insulation at certain places (in the foot box for example and probably also in the hood). The baffles are different now, you have them more in the new version. The hood is different, and also the color of the bag is changed.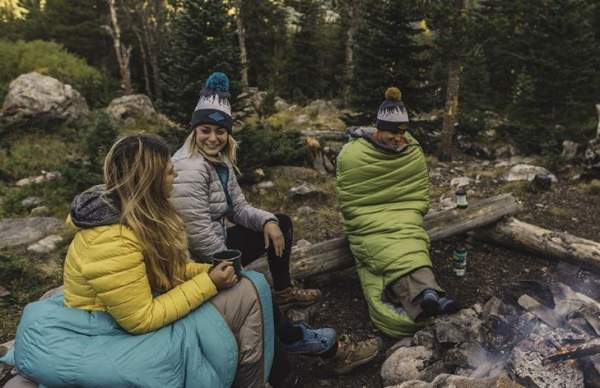 Ventilation
The word Tuck in the name they use for their bags with the zip that not only goes along the bag on the left side, but it also crosses over to the right in the feet area. This is on purpose, you can simply unzip this lower section when you need some ventilation and you can also pass the feet through it as you see in the pictures.
Note also that this allows you to walk in it, no need to get out of the bag. This is all due to its innovative 2-way zip system which also has an anti-snag and anti-draft tube inside the bag along the zipper.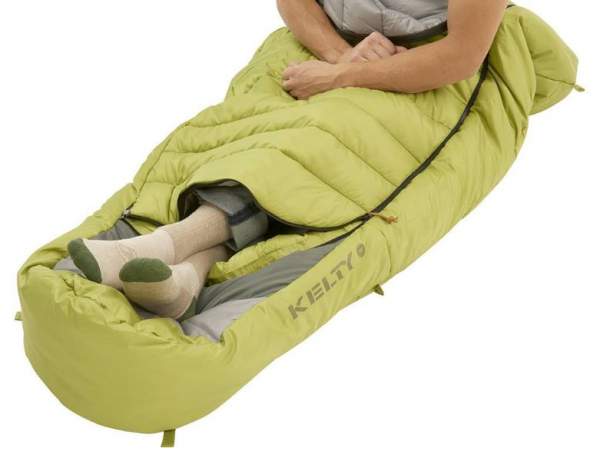 Best use
The weight is 3 lb 11 oz (1.67 kg) and you will be able to compare it with some other bags in the same style, there is a comparison table below. So it is surely backpack portable but far from lightweight. For longer backpacking trips you would go for something lighter. But see also its shell material, this is a very durable fabric which you do not have in very lightweight bags. Note that the synthetic insulation is generally heavier than the down.
Note also that this bag is quite roomy, and this means more material, so the weight is not a surprise. It is more comfortable than those super lightweight mummy bags. It is also a bit bulky when packed and this is again due to the same reasons as mentioned above. But those reasons are not always bad as you realize. So all in all, it is best if used so that you do not carry it yourself, for car or motorbike camping.
How many seasons
They describe it as a 3-season bag for backpacking and camping. The style and the temperature rating they give certainly suggest that this is such a tool. Note that such a synthetic insulation is easy to maintain and it retains its features in time. If it gets wet, it will still provide insulation.
Is it really for 20 degrees
The insulation is Kelty's ThermaPro synthetic and with the offset quilt construction to avoid cold spots. To be on a safe ground, it is best that you add 10 degrees to this value; I would say this applies to most of the bags on the market. To have a bag for 20 degrees, I think you would have to pay much more.
It may be interesting to compare it with this Big Agnes Bolten SL 20 Degree Sleeping Bag which is with the same temperature rating and also synthetic but much lighter (and more expensive).
Materials
The shell is 75D polyester taffeta as well as the liner. The same materials are in the contoured hood where you have an insulated draft collar and dual drawcords. Outside you have hanging loops.

Please see more in this video by Kelty:
---
Specifications
Type: mummy style.
Sizes: R and L.
Weight
– R: 3 lb 11 oz (1.67 kg).
– L: 4 lb 2 oz (1.87 kg).
Temperature rating: 20 F (-7 C).
Packed size:
– R: 15 x 8.7 in (38 x 22 cm).
– L: 15 x 9.4 in (38 x 24 cm).
Fill weight:
– R: 40.9 oz (1.16 kg).
– L: 44 oz (1.26 kg).
Fit:
– R: 6 ft (183 cm).
– L: 6 ft 6 in (198 cm).
Compression stuff sack is included.
---
Kelty Tuck 20 Degree Sleeping Bag vs Competitors
Here is the Tuck 20 side by side with two other built in the same style. See the weight, but check also the prices, the Kelty's bag is far more affordable. Observe the difference in the fabric.
Sierra Designs
Mobile Bag
---
Final thoughts, rating, pros & cons
In the conclusion of this Kelty Tuck 20 Degree ThermaPro Ultra Sleeping Bag review, I would stress again that this is a great option for those who are on the budget, this bag is a great value for the money. It may be light enough even for occasional shorter hiking tours, but it is more a car camping type bag. The fabric is far more durable than in its competitors, you have seen it in the comparison table.
Note that they also have a women-specific version of this model, you can see it here. If you do not know, Kelty is a renown brand, they have been around ever since 1952, so you know what you buy.
See how I rate it for several parameters:
Thank you for reading. Please visit my page with sleeping bags if you need some more choices. Check this Mountain Hardwear Ratio 32 bag with its treated down fill and also this NEMO Disco 15 Sleeping Bag which is more expensive but with some patented features. This NEMO Ramsey 30-Degree is also a much lighter option.
Bags normally go with sleeping pads, so here you have many of them presented in detail. There is a comment box below in the case of questions or comments. Have a nice day.