---
Sierra Designs Mobile Mummy sleeping bag is one of the three innovative bag designs developed by Sierra Designs. The other two include the Backcountry Bed type sleeping bag, and Backcountry Quilt type, each of them being very specific and unique.
The Mobile Mummy is a kind of a garment bag. This is an award-winning series. It is cleverly designed to move with you regardless if you sleep on your back, your side, or your stomach.
As a result, you will feel far less constrained than in any classic bag design, although this is a Mummy-type bag. In other words, you wear it like a garment, you sit up, and you use your hands, or you walk around while still having the bag on you. Sounds truly unique, doesn't it?
I present the most important features of this type of bags by using some specific examples from the series. So here are some of them.
Sierra Designs Mobile Mummy 800 3 season sleeping bag

This is a DryDown duck down fill bag. I warmly recommend you to have a look later into my another text where I have said a few words about Sierra Designs DryDown technology. In the same text, you will find a nice video explaining the meaning of the number 800 in the name of this bag.
Here, just to mention that this number 800 corresponds to the compressibility of the down fill. For example, some bags will have 600F in their names, and this means a more compressible fill and therefore less thermally efficient as compared with 800F.
So what is so specific in the Mobile Mummy type? See some features below.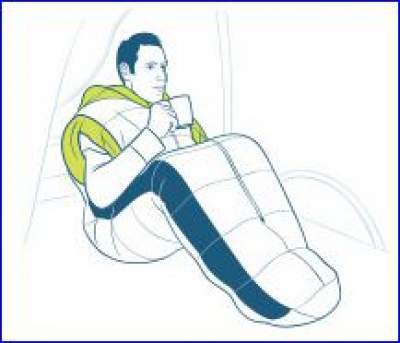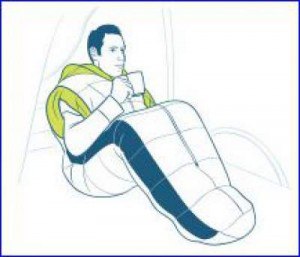 This is a garment style bag; you can thus 'wear' it and use it in different ways. In practice, you will feel as if you have yet another down jacket on your back.
You thus realize that you may be fine even without extra clothes which you would normally have to carry if you use a 'normal' sleeping bag.
This feeling of having a jacket is in fact emphasized by the fact that you have a nicely made hood on the top.
You have arm holes on both sides, so you can put your hands through when you are 'wearing' the bag. This is a nice feature and you will use it for sure, to learn a book or for any other activity when you are in the camp. The holes are with large baffles so they close nicely when you do not use them, no zipper is there whatsoever.

Nicely designed hood.

The bag comes with a 58 inches long zipper on the front, and this is accompanied with a baffle inside the bag, which prevents heat from escaping.

Zippers are normally weak points of bags because of the possibility for the heat to escape, but this is nicely avoided in the present case.  In the same time, the zipper is long and therefore getting into the bag and out is made easy.

Mobility while still in the bag.

The zipper is two-way; you can unzip it from the bottom.

So with this, you can put your legs out and you can walk while having the sleeping bag on your upper body. This is made possible by toggles attached to the bottom.

You can lift the bottom of the bag and attach it by these toggles to some attachment loops located in the middle section of the bag.

This picture depicts how you can put arms through the holes when you sleep.

Arm hole with baffle.
Technical specifications
Weight:
-men's regular: 2 lbs 4 oz (1.02 kg)
-men's long: 2 lbs 8 oz (1.14 kg).
European norm (EN):
-comfort limit: 27 F (-3 C)
-lower limit: 16 F (-9 C). Please check my another text about temperature specifications.
Length:
-men's regular: 80 in (203 cm)
-men's long: 84 in (213 cm).
Fits to:
-men's regular: 6 ft (182 cm).
-men's long: 6 ft 6 in (198 cm).
Shoulder width:
-men's regular: 64 in (163 cm)
-men's long: 68 in (173 cm).
Hip width:
-men's regular: 58 in (147 cm)
-men's long: 60 in (152 cm).
Foot width:
-men's regular: 40 in (102 cm)
-men's long: 42 in (107 cm).
Stuff sack (L x W):
-men's regular: 15 x 8 in (38 x 20 cm)
-men's long: 15 x 8 in (38 x 20 cm).
Material:
-shell: 20D nylon ripstop
-liner: 20D nylon taffeta
-insulation: 800 fill duck DriDown.
There are several other versions available:
There are far more available of course, including more expensive 4-season bags. The design is the same in all of them. The differences are due to the fill, and this results in the difference in prices.
These truly advanced Sierra Designs sleeping bags you may see in this short video:
So to summarize, Sierra Designs Mobile Mummy sleeping bag is a great design. This is a bag I love to have in my equipment. You might want to compare it with this new item on the market with some innovative features, the NEMO Ramsey 15 Sleeping Bag. If you need something more classic, rectangular, please check this Teton Sports Celsius Regular Sleeping Bag.

I hope this text was useful to you. If so, please share it with others through social media. Thank you for reading and please do leave me some comment in the box below.