---
The Sierra Designs Cloud 800 35-Degree Sleeping Bag is an innovative ultra-lightweight zipperless design for a 3-season camping, with a foot vent and comforter, and with the best down fill.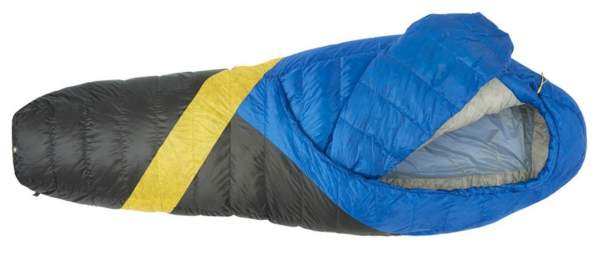 ---
Key features & benefits
Mummy-shaped bag.
Innovative zipperless design.
Top-quality down fill.
Feet vent.
Ultra-lightweight bag.
---
What type of sleeping bag is this
The shape is a typical mummy-type, but note this is the Sierra Designs item, so as usual, you have a nice twist here – this is a zipperless design. They claim that such a construction decreases the weight (no zipper here), although you have a bit more material. Namely, you have a piece that looks like a blanket or comforter, which you wrap around you to preserve the warmth and to prevent cold drafts. In any case, this is a nice construction for a relatively warm camping.
The comforter is with a "shoulder pocket" which is designed to accommodate the shoulder when you sleep on the side. So this is a mummy-version of their frontcountry bed but it is lighter and the comforter is open on one side only.
The fill
The bag is with a lightweight and treated down insulation, and this is 800 fill, so among the best. This type of fill has a great warmth to weight feature, and it is far more compressible than any other down with a smaller number or a synthetic fill. This is why the top quality items of this type are always with such a fill or with an even bigger number (you can have 850 and 900 as well) and they are with the best possible packability.
As you know, the down fill loses its insulation properties when it becomes wet, this is why you have the treated down here. This is Sierra Designs DriDown type, and it will perform well even in humid conditions.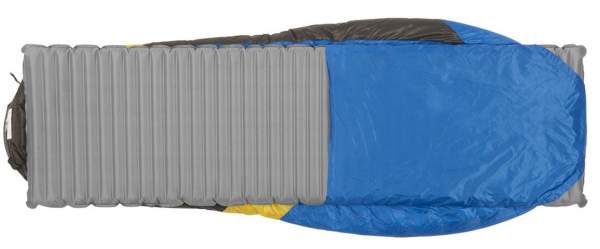 The bottom sleeve & vent
The bag is with feet vent and it is on the bottom side of the bag. Yet another feature (which partly explains its weight) is a very lightly insulated bottom. The idea behind this is that insulation loses its feature when pressed by your body, so it becomes useless. This is why they have added a sleeve for the pad. When you put a pad in the sleeve, this keeps the bag in place and you will not roll it when you turn in the bag during the night.
So this is a very practical design that reduces the weight and it also adds to the comfort. But note that the sleeve is of a limited size, see in the specifications below, and not every pad will fit.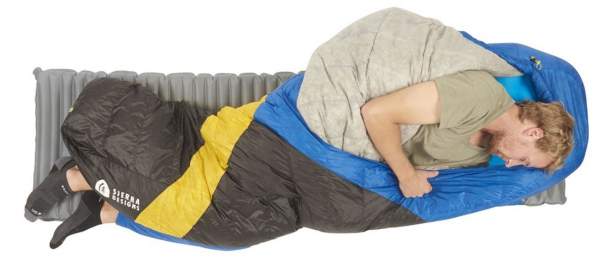 Other features
The shell is a quality ripstop nylon, very lightweight, 15D only. The pad is built in two sizes, Regular (R) and Long (L), you will see in the specifications below the meaning of this.
Note that you have a stuff sack and the storage sack. As you probably know the latter is included because down should not be kept compressed for an extended period of time; so use the storage sack at home.

Please see more in this video by Sierra Designs:
---
Who is it for
Size-wise, if you are a tall person, you will probably go for the L size which fits people of up to 6′ 6″ (198 cm); otherwise, save some weight and take the R size which is for people of up to 6 feet (183 cm).
Weight-wise, with its 1 lb 7 oz (0.66 kg) for the R size, this is an ultra-lightweight bag suitable even for backpackers. So you have a versatile item here that you can use for any outdoor activity as well as for summer camps and music festivals.
Seasons-wise, the bag is for a warmer weather, say 3-seasons, see below the EN temperature rating. If you are not familiar with this terminology, please check here. The official temperature limit is 35 F (1.7 C). In reality, add some 10 degrees here to be sure.
---
Specifications
Sizes: R & L.
EN Limit Temperature Rating: 26 F (-3 C).
EN comfort: 36 F (2 C).
Fill weight:
– R: 9.5 oz (268 g).
– L: 10.4 oz (294 g).
Minimum weight:
– R: 1 lb 7 oz (0.66 kg).
– L: 1 lb 9 oz (0.71 kg).
Length:
– R: 78 in (198 cm).
– L: 84 in (213 cm).
Fits up to:
– R: 6′ 0″ (183 cm).
– L: 6′ 6″ (198 cm).
Packed size (L x D): 13 x 7 in (33 x 18 cm).
Storage bag (L x D): 20 x 12 in (51 x 31 cm).
Fits sleeping pad (W x H):
– R: 20 x 2.5 in (51 x 6.4 cm).
– L: 25 x 2.5 in (64 x 6.4 cm).
Shoulder/hip/footbox circumference:
– R: 60/58/40 in (152/147/102 cm).
– L: 62/60/42 in (157/152/107 cm).
---
Sierra Designs Cloud 800 vs Competitors
In the table below I give the Cloud 800 side by side with two other top-notch bags built in a similar style. All are from renown brands, but clearly, those two are not a match for the Cloud 800. It is lighter because of its design and because of the higher quality fill. Please follow the links to read more.
Mountain Hardwear
Ratio 32
---
Final thoughts, rating, pros & cons
To summarize this Sierra Designs Cloud 800 sleeping bag review, you realize that this is a nice lightweight bag for warm-weather backpacking and hiking and for any other outdoor use. This is a quality item from a renown brand which is at the forefront in this industry.
They made it ultra-lightweight by the clever zipperless design and by reducing the bottom insulation and adding the pad sleeve. Those are the features that set this pad apart from their competitors. I have included it in my list of best 3 season sleeping bags.
The price is steep but see its fill and features. Please see how I rate it:
Please check in my page with sleeping bags if you need more options. Check this top-quality and ultra-lightweight Big Agnes Flume UL 30 bag. A bag normally goes with a pad, so check also in my page with pads if you need one.
Thank you for reading, please use the comment box below if you have experience with this or any other similar item, or if you have any question. Have a nice day.