---
Here you have our list with 6 best compact sleeping bags for backpacking, all ultra-packable and ultra-lightweight top-notch items from renown brands.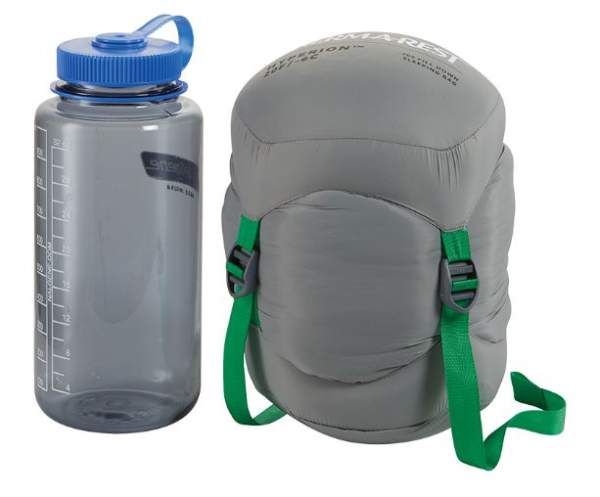 ---
Compact sleeping bag – what does this mean?
If you are a backpacker then you know that this implies a small packed size. But the term 'small' makes no much sense unless you compare a bag which is described as compact with another one which is not in this group.
So the picture above shows an example of an ultra-compact sleeping bag, the Therm-a-Rest Hyperion. Its packed size is (L x D) 8 x 6 inches (20 x 15 cm). Now, compare this with Kelty Tuck 20 sleeping bag with 15 x 8.7 inches (38 x 22 cm). Note that both bags have the same temperature rating, yet the packed size is substantially different.
But do not understand me wrongly, this Kelty bag is excellent and its packed size is not bad at all. It is just a matter of i) what you choose to compare it with, and ii) its purpose. Some bags are built for comfort and not to shed the weight and bulk.
On the other hand, take this Nemo Sonic -20 Degree Sleeping Bag. Its packed size (L x D) 16 x 8.5 inches (41 x 22 cm) does not look small, yet see its temperature rating. But there is more to this, so keep reading.
---
Compact sleeping bags – what is behind the packed size?
When you see a compact and nicely packable sleeping bag, here are a few features you can expect:
This can be a bag with a top-quality down fill. In such a case you have a very compressible and packable sleeping bag. You will see some great examples here in the list.
This can be a mummy-style bag where features are reduced to a minimum to shed the weight. A rectangular bag has more material so it is naturally heavier and bulkier than a mummy bag, but there is a big difference in comfort.
This can be a sleeping bag which is for warm weather only, so there is no much insulation in it, and the packed size is a consequence of this. It is therefore a good idea to check the fill weight as well.
This can be a sleeping bag with ultra-thin fabric. This is great to have and shed the weight and bulkiness, but such a material may not be very durable.
This can be a bottomless design. The logic behind such construction is that insulation, when pressed with the body, does not insulate properly. If so, then manufacturers sometimes decide to remove it completely. But you know what, in a very cold environment I would rather have a fully enclosed model than a bottomless one.
There are bags with a zoned insulation. The practical meaning is that you have it less on the bottom than on the top, and the reason is the same as in the bottomless bags.
The bag can be physically small. As you know, top manufacturers build them in several sizes so you can choose what fits you best and shed the weight and the packed size.
Related to the mentioned physical size, this can be a bag for women so it can be smaller and more compact when packed.
This can be a bag without hood which adds some volume as you can expect.
This can be a combination of a few of the features mentioned above.
So when you know the packed size, you can calculate the packed volume of the bag and you have it as an absolute parameter. But it is necessary to know the features of the bag, only then you might realize the meaning of its packed size and understand it as a relative parameter.
This is why I am convinced that there can be no ranking in sleeping bags packability. Sure, you have to check the packed volume (or just the packed size) as an absolute parameter, but bear in mind the features of the bag as well.
There is no way to come out with a general formula that you could use to categorize such bags into a) nicely packable bags, and b) those that are not. There are too many parameters to include and some of them are not reliable.
Take for example the temperature rating. A bag for low temperatures must be bulkier when packed, so the packed size is a relative parameter. Some manufacturers have their bags EN-rated, but many do not have this. On the other hand, the feeling of warm and cold is very personal, and those ratings are for some 'average' user, and you cannot rely on them in any case.
---
So here is my list with the bags ordered alphabetically, and this is not ranking. In view of what I have said above, such a ranking would not make much sense. For each of them, I shall give the packed size and volume, and also stress the most important features that contribute to such a packed size. Note that I limit the packed volume to 5 liters, so all of them are below this value.
---
1. Big Agnes Flume UL 30 Degree Sleeping Bag

This bag is built in two sizes R and L and the compressed size for the R version is 7 x 5.5 inches (18 x 14 cm), but note that the compression sack is not included. So this is 166.31 in³ (2.7 liters) and this is simply incredible.
The bag is mummy style with Big Agnes' DownTek 850 fill water-repellent down insulation, and you have a high tenacity and ultralight shell fabric. Note also that it is not for very low temperatures. So these features are behind the packed size. You might want to know that it is also incredibly light, it weighs only lb 6 oz (624 g).

---
2. Big Agnes Hitchens UL 20 Down Mummy Sleeping Bag

Here again, you have a mummy-style sleeping bag with a high-quality DownTek water repellent 850 down. It is EN-rated and its materials are ultra-thin but strong.
The packed size is impressive as it reduces to 7 x 6 inches (18 x 15 cm). This means 198 in³ (3.2 liters). But note that the compression sack is not included, it comes with an ordinary stuff sack. They build this sleeping bag in 3 sizes and the size R weighs 1 lb 11 oz (765 g), very impressive, but this is a very minimalist design.

---
3. Big Agnes Mystic UL 15 Sleeping Bag

Here you have a relaxed mummy-cut, the temperature rating is great and this is a true 3-season pad. The fill is a cozy 850 fill power DownTek water-repellent insulation, and Bluesign-approved.
Note that here you have the bottom that is lightly insulated. So this also reduces its packed size, but note that you have an integrated sleeve for a pad which adds some bulk. They build it in 3 sizes, and the R size can be compressed to 7 x 6 inches (18 x 15 cm), and the volume is 198 in³ (3.2 liters). But again, you do not have a compression sack included. Note that the weight is 2 lb (907 g).

---
4. Big Agnes Orno UL 0 Degree Sleeping Bag

This Orno UL 0 is a winter sleeping bag, so you would expect a bulky item. They build it in 3 sizes and the R-version's packed size is 7 x 8 inches (18 x 20 cm), and note again that there is no compression sack included to have it at such a size. So the volume is 308 in³ (5 liters) which is excellent for a winter bag.
Now, the picture above tells you that this is a very compact mummy-shape, and the insulation is 850-fill DownTek down and the Insotect Flow construction. This implies what is usually called the Vertical Thermal Channels (VTC's) and FlowGates. The weight is 2 lb 7 oz (1.11 kg).

---
5. Big Agnes Torchlight Expandable Down Mummy Sleeping Bag

This Big Agnes Torchlight Expandable Down Mummy Sleeping Bag is unique expandable and with a patent-pending design. It is incredibly packable and lightweight, and they build it with gender-specific features.
The R size of the Torchlight UL 20 bags has a volume of only 2.8 liters so now you understand why it is here in the list. This same bag weighs 2 lb 4 oz (1.02 kg).
Note that you have these bags with two different temperature ratings 20 F (-6.7 C) and 30 F (-1 C) and in two different sizes. The bag comes with a 600 down fill. The picture above shows one of the possible ways of how you can expand this bag. It is included also in my list of best 3 season sleeping bags.

---
6. Big Agnes V Notch UL 40 Degree Sleeping Bag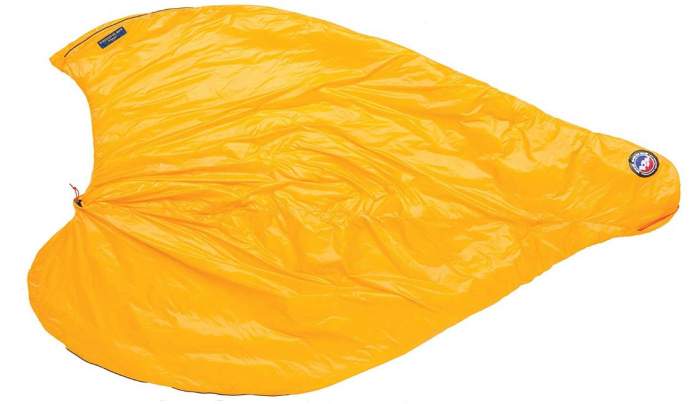 From the temperature rating, you realize that this is a warm-weather camping item. But note that here you have a synthetic insulation and this is 80% recycled PrimaLoft Hi-Loft Ultra Silver. So this is among the best that you can have from synthetic materials. The picture above shows that you can open it up completely and use as a blanket. But this is a bag indeed and not a quilt.
They build it in 2 sizes and the R size weighs 1 lb 8 oz (680 g). But wait to see its packed size, it is 5 x 6 inches (13 x 15 cm) so the packed volume is 118 in³ (1.9 liters). For a synthetic fill, this is incredibly good.

---
7. Therm-a-Rest Hyperion 20 Degree Sleeping Bag

This Therm-a-Rest Hyperion 20 Degree Sleeping Bag comes with a top-quality 900-fill Nikwax Hydrophobic Down. They claim that it maintains its loft 60 times longer than an untreated down, absorbs 90% less water than an untreated down, and dries 3 times faster. It is EN tested and built in 3 sizes.
Here you have what they call Zoned Insulation. The meaning is that 70% of it is on the top and only 30% on the bottom. The fabric is incredibly thin 10D Nylon RipStop with DWR, and the liner fabric is the same material.
The bag is extremely packable and the packed size is 8 x 6 inches (20 x 15 cm). So the packed volume is 226 in³ (3.7 liters). The R version weighs only 1 lb 4 oz (0.58 kg).

---
Final words & Editor's Choice bag
So this was my list with best compact sleeping bags for backpacking and for any other outdoor activity where the packed size matters. As you realize, you have sleeping bags for all seasons included here.
The list will be updated regularly and there will be new sleeping bags added whenever I find something that fits into this extraordinary group. This is why you might want to bookmark this text and check occasionally.
Editor's Choice:
There are many more options in my page with sleeping bags so please have a look if you need something different and more comfortable, you have top-quality products presented in detail. You might want also to read my text about sleeping bags down fill vs synthetic fill.
Please let me know what you think. No doubt there are many more bags that belong to this group so let me know if you have experience with such a bag, there is a comment box below.