---
Lagginhorn (4010 m) is sometimes described as an 'easy 4000er'. I would say climbing it is rather straightforward. Most of the time you see almost all the route as soon as you are above the forest area.
[John Playford: Bobbing Joe from The English Dancing Master (1651)]
But I would not dare to call it easy, no mountain of that altitude should be described by using such a word. In
July 2012
,
no less than 5 people were killed on that mountai
n. In the report on that tragic event, it was written that they fell a few hundred meters after they probably slipped due to ice underneath the snow.
Within this page, I give details of my climb. They contain valuable information which you will need if you decide to climb this mountain.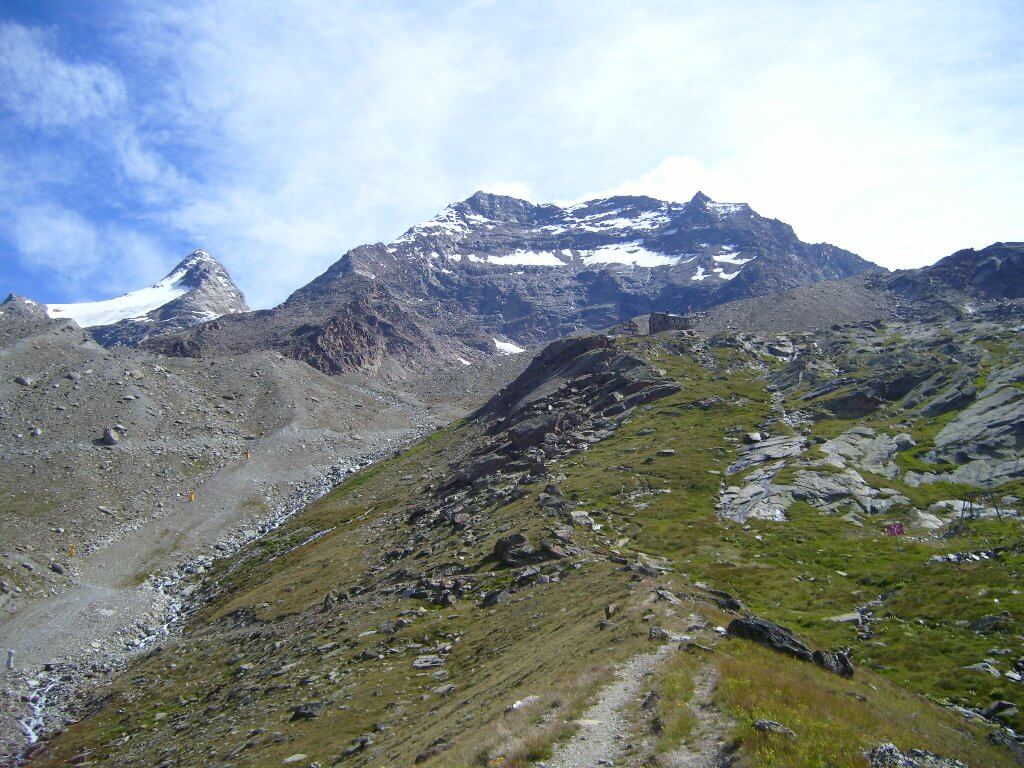 Lagginhorn is on the east side of Saastal (Saas valley) in the province of Wallis in Switzerland. It is a part of the massif with Weissmies (4023 m) and Fletschhorn (3993 m). Starting point of the normal route is Saas Grund village, which is at 1565 m.
If you are a purist and ignore the gondola which can take you to Kreuzboden (2400 m), or yet another one to Hoohsaas hut (3100 m), you may climb it directly from the village in around 7-8 hours.
The height difference is 2445 m, demanding but doable. I guess not many people climb it that way, the two huts on the way up are too tempting, including gondolas which may take you there. But this is not the way I am going to describe here.
The route from Saas Grund is shown on the map below, courtesy of © OpenStreetMap. It passes Weissmies hut at 2726 m: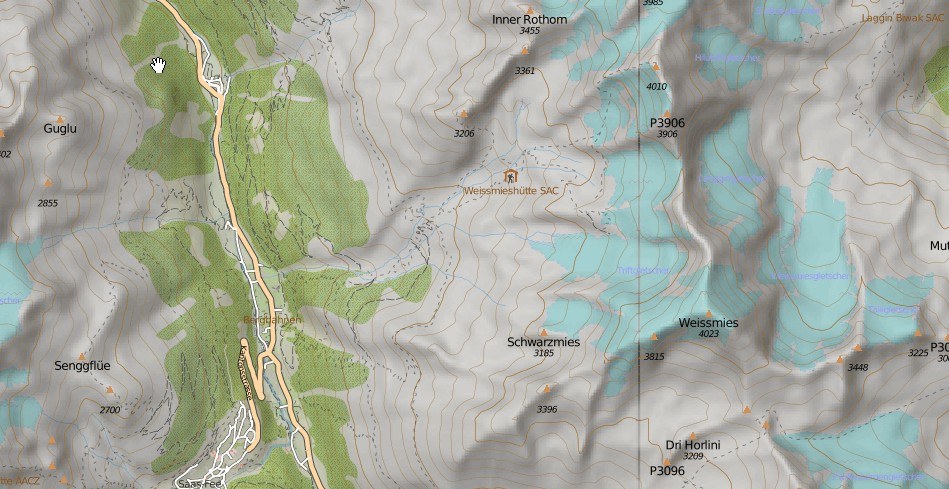 You may park the car next to the lift station. From that point, you walk along a road to the left (in the north direction) and this will get you above the village after passing a small chapel. You will then walk through the woods and pass the same road several times before coming to Kreuzboden.
From there you just follow the route to Weissmieshut, Lagginhorn is all the way in the sight. It will take you about 2.5-3 hours from the village to the hut.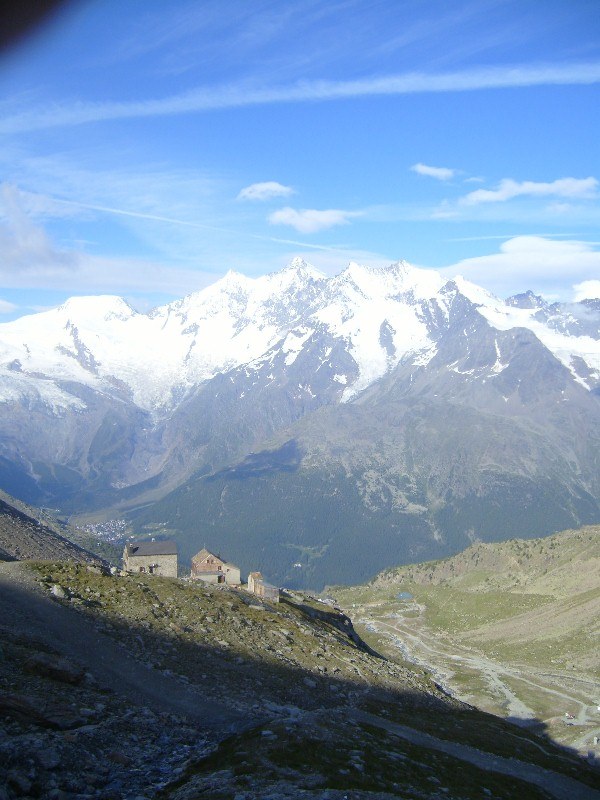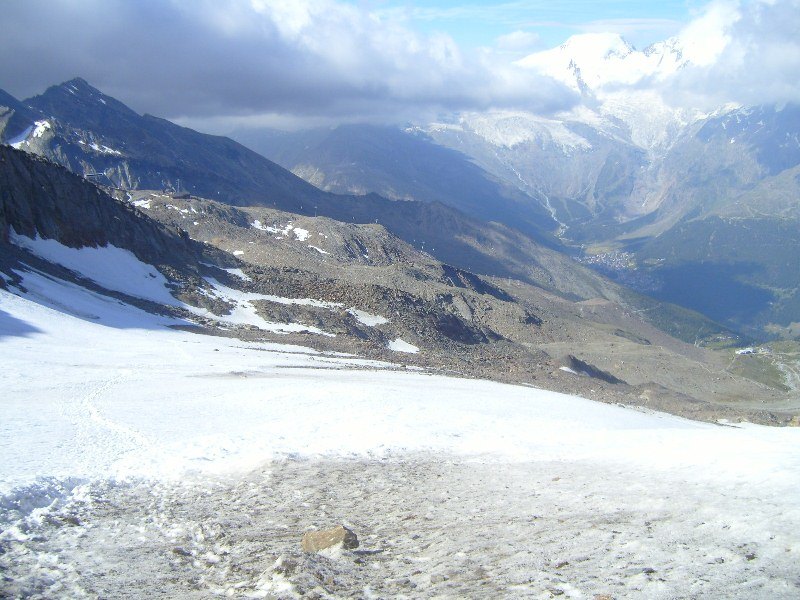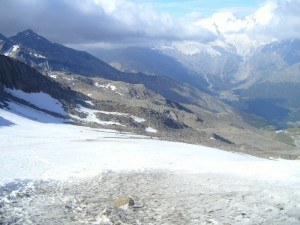 ---
From the hut, the route to Lagginhorn goes in the north-east direction across a glacier and snow area. In this section I used crampons, please visit my page here about equipment which you might need. This section is a simple glacier walk, no crevasses.
When it becomes steep, you are now under the main massif of the mountain, you turn north and switch to the west ridge somewhere around 3350 m. There is a section with boulders for some simple scramble and after this, it becomes smooth but rather steep and with snow, where I used crampons again. Here you go zigzag up to the summit. This is the area where the tragic accident from 2012 happened.
There is an option to avoid the glacier walk. For that, you start the ridge route from the very beginning of the ridge. This is typically done by waking from Kreuzboden directly to the ridge, in this case, the hut is far on your right side. There is a route to this direction from the hut too.
---
About the necessary equipment
This is a climb with snow and glacier, so here is the list with some items you will need:
Regarding the boots for crampons, please read more in my separate text.
---
My climb to Lagginhorn
I started late, walked through the woods, passed the Weissmies hut, and on the first snow area, I met several groups already descending the mountain. Some of them were looking at me strangely. Indeed, not many climbers who know mountains would go so late up, especially in view of the weather which was changing rapidly.
But I was not the only one going up. There was one younger climber (well, many in mountains are younger than me) who passed me so fast that I felt miserable. I could not really figure out how it was possible to move at such a speed. The age matters, but so does the equipment as well. Compared to him who had just a tiny rucksack (I assume he was coming from the hut), I was heavily loaded.
Later close to the summit, I met him again, he was descending already. We were both in clouds. I asked for advice, to continue or not. He said do not give up now, it would be a pity. It would indeed, so we went in the opposite direction, he was speeding directly down the steep slope by going backward and using his ice-axe in every step, and I continued like a snail up.
I was at the summit at 1 pm, the last person for that day. Could not see more than 3-4 meters in front of me. Being alone, I was a bit emotional, just a few tears, you know how it is, my first mountain over 4000 meters.
In my earlier description of the mountain at Peakware, I wrote "ideal for solo climbing". After the tragedy which I mentioned above, I would not dare to claim the same again. Be careful if you climb this mountain.
---
Accommodation: If you stay in the area you might need a place to stay. You can stay in any of several villages in the Saas Valley. It may be important to know that Saas-Fee is a car-free zone.
I myself have been renting apartments through Booking.com. They have plenty of options with fully equipped apartments, houses, and hotels. You can save a lot through their loyalty program.
For example, you can find one in Siviez for less than 200 E per week, or think about Grimentz, Nendaz, etc. I stayed there a few times in the past. Note, there are usually some extra charges for cleaning.
If you are in the area and want to play it safe and hire a guide, please follow this link, they will find you somebody from the local area who will take you safely to any of the summits around.
---
I found this YouTube video with weather conditions similar to my case, please have a look:
Please leave below your comment, opinion, or your experience with this mountain, I shall be happy to read it.