---
Petzl crampons are a tool I have been using from 2007. Though I do not use them extensively, and I am sure I shall not need another pair for quite some time. At the end of a season I sharpen the points if they are damaged or if they are not sharp enough, lubricate with some oil to prevent rust (yes, they are of steel and they can get rusty) and they are safe.  
If you plan to climb in the Alps you will need crampons for many mountains, even for some that are not particularly high like Rosablanche, Breithorn at Simplon, Zugspitze, Marmolada, or Pigne de la Le. For 4000-ers like Bishorn, Breithorn at Zermatt, Weismiess, Lagginhorn, etc., they are a normal part of the equipment.
Climbing crampons are an expensive element in climbing equipment, and you should be careful in choosing a pair that suits you best. The type of bindings will depend on the type of shoes you have, or you might put it the other way around if you wish. More about it is given elsewhere within this site. In general, you will have three types of bindings which you may see on the picture here: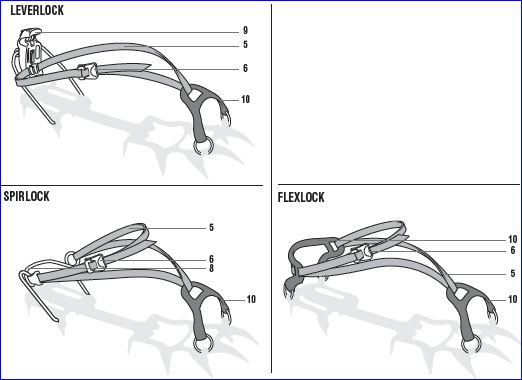 Below, I describe a few Petzl models,  which all have the following features in common:
They are all with 12-points or 14 points. This is what you need if you want a reliable climbing tool, this will provide you maximum traction regardless where you are using them.
All of them are steel crampons. Steel is what you need for best performance, do not even think about aluminum.
All of them are semi-rigid, which is a norm nowadays.
There are several possible Petzl crampons types available on the market now, which you can order directly from Amazon:
Petzl Lynx crampons.
Petzl Vasak crampons.
Petzl Sarken crampons.
Petzl Dartwin crampons.
---
Petzl lynx crampons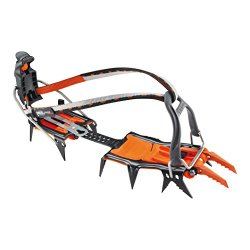 These are versatile ice climbing crampons for technical climbing, and can be used for mixed climbing as well. You will find the following features:
14 points (the only such a model presented here).
Modular front point, dual or mono, long and short.
Two types of front bindings, for boots with or without toe welts. Stainless-steel toe bail for the former and/or flexible for the latter.
LeverLock heel bail, adjustable.
The size of boots: 35 – 45 with included M linking bar; 40-50 for optional L linking bar.
Weight: 1080 g.
Guarantee 3 years.
Price: check the link for updates.
My rate 4/5. Reason: a good choice but see the price.

---
Petzl Sarken crampons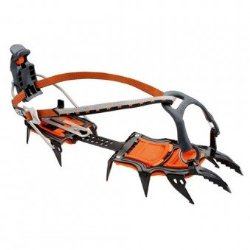 This is a great tool for technical climbing on mixed terrain. The main features:
Hybrid type: toe flexible binding, can be used for both heel and toe welt boots.
Binding toe part: plastic polymer, flexible at any temperature.

Configuration and length of front points can be modified.

Tapered points.

Front points toothed.

Heel bail stainless steel.
Thumb catch at heel bail.
Size: 36-46 with included M linking bar; 41-50 for optional L linking.
Weight 960-1010 g, dependent on the binding type.
Guarantee 3 years.
Price: check the link.
My rate 5/5. Reason: appropriate price for its features.

---
Petzl Vasak crampons
This is a general-purpose type, classic  mountaineering crampons with the following features:
Ideal for mountaineering
Two versions;

LeverLock binding for boots with a heel welt, or flexible plastic polymer. Toe binding plastic polymer for both types.

Boots: 36 to 46 size with M linking bar; optional L linking bar fits boots sizes 41 to 50.
Weight 920-980 g, dependent on the type of binding.
Guarantee 3 years.
Price: check the links in the images below.
My rate: 5/5. The reason, features vs price, in particular for the heel LeverLock type.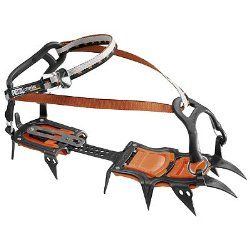 ---
Petzl Dartwin crampons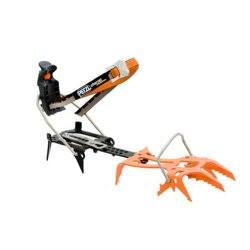 Crampons for technical climbing. Essential features:
It has two positions for toe bail wire; perfectly fits all sole thicknesses; possibility to adjust to asymmetrical shape boots.

Requires shoes with both heel and toe welts.


The front point is toothed for precise placements.

There is a sub-type, Dart, with a single front point for ice climbing.
Boots: 34-44 for included M linking bar; 38-49 for optional L bar.
Weight 864 g.
Guarantee 3 years.
Price: check the link.
My rate: 5/5. Reason: great features, in particular, the points in the first three rows with same properties as in the lynx model.

 Accessories
Anti-balling plates, they are delivered with crampons. They

prevent snow sticking to the bottom.
Crampon case and point covers, this is something you will definitely need. I use the case without point covers, this has been good enough so far. It is made of a  puncture-resistant nylon. Points covers are made of rubber.
Gaiters; I managed to damage my pants by crampons before buying gaiters. You will need them in any case when you are on the snow.
Spare center bars. It is essential to have them. I have read about situations where they were broken and the person was in trouble. You do not want to find yourself in such a misery.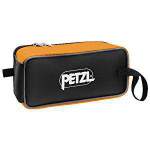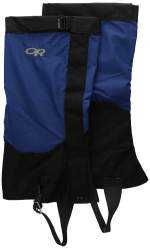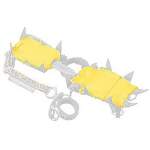 ---
Summary
I hope you find this post about Petzl crampons useful. This is a great and reliable tool which I am using myself, and I have never been disappointed with it. Please read also the text on the page about equipment, where you will find some information about best types of boots/shoes you will need to use with crampons presented here. And, do leave some comment in the box below, I shall be happy to read it.
---