---
Big Agnes Torchlight Expandable Down Mummy Sleeping Bag is unique, incredibly packable and lightweight, with gender-specific features and available in multiple variants.


---
Key features & benefits
Unique expandable patent-pending design.
Down fill.
2 Sizes.
2 Gender-specific constructions.
2 Temperature ratings.
Ultra-packable.
Lightweight.
---
What this is about
This Big Agnes Torchlight Expandable bag is a complete series launched for the season 2020. You have them in:
Separate versions for men and for women.
In two temperature ratings 20 F (-6.7 C) and 30 F (-1 C).
In addition to this, they are built in regular (R) and long (L) sizes for men, and in petite (P) and regular (R) for women.
This is not all, they build them also in standard and ultralight versions.
Expandable – what is this
This expandable design means that you have full-length zippers on the sides and a baffled design. When fully unzipped, this gives 10 inches (25 cm) extra circumference, i.e., 5 inches (around 13 cm) on each side. This you see from the picture:

But you can unzip the bag in various ways, from above and from below, and this allows for a variety of possible expansions shown in the pictures below: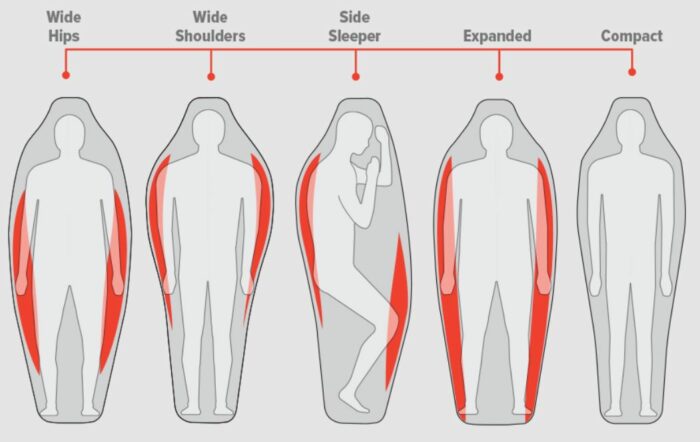 The orange areas shown in the pictures above are those where the bag is expanded, so you get the idea of how this all works. You can regulate in which area you need more space. This all can also affect the warmth of the bag, it is the warmest in the Compact variant as a regular mummy bag.
With the unzipped expander the bag is far wider and you can realize this from the picture below: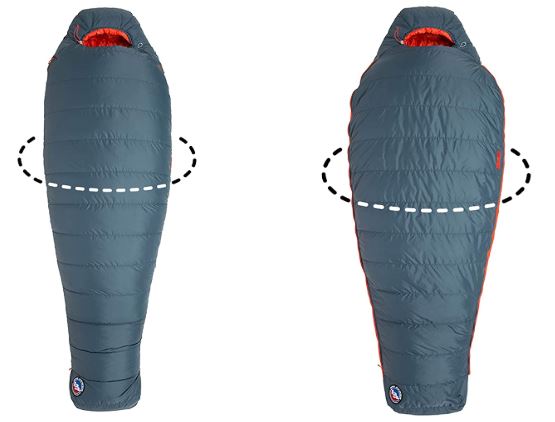 The materials & temperature rating
You have 600-fill DownTek insulation so this is a treated down that, according to the manufacturer, absorbs 30% less water and it dries 60% faster than an untreated down. Even if it is exposed to moisture it retains significantly more loft than an untreated down.
Note also that this is PFC-free bluesign-approved chemistry, and it is certified to the Responsible Down Standard (RDS) that ensures the down does not come from animals that have been subject to any unnecessary harm. It is also certified as PFOA and PFOS free water repellent chemistry.
Note also that these bags are ISO 23537 tested. This is equivalent to the older European Norm (EN) 13537 standard. So this is a product that satisfies all internationally accepted norms.
As for the temperature rating, this is quite individual but in this industry they use some standards. This implies a person wearing one long underwear layer and a hat, and sleeping on an insulated surface with a minimum R-value of 5.38. Such a statement I have found at REI. But at the Big Agnes site they write about a self-inflating pad of 1 inch (2.5 cm).
In any case, when you see 'Comfort' or 'Lower Limit', take this all with a grain of salt and test the bag yourself, but make sure that you are properly insulated from the ground.

The temperature rating is either 20 or 30 degrees, dependent on which bag you order. But with the expanders, you can make big differences. For example, the initial 20-degree rating will change when you expand the bag in various ways shown in the picture above. This makes it a very versatile sleeping bag suitable for a variety of weather conditions and climates. I guess this is as versatile as a mummy-style bag can possibly be.
The shell material is a ripstop nylon, and the liner is a polyester taffeta. Other features include:
A contoured hood that follows the shape of your head.
You have a low-profile cord-lock for the hood.
No-draft collar.
Insulated tube along upper hood opening keeps out drafts when cinched.
Durable water repellent (DWR) finish.
Interior fabric loops to attach a sleeping bag liner.
Exterior loops for hang drying or storage.
Zip together left-zip and right-zip bags. This allows for creating a double sleeping bag to use with your partner.
---
Who is it for
Seasons-wise, these are more or less 3-season sleeping bags no matter which of the two you choose.

The temperature rating is graphically presented in this picture below for the case of Torchlight UL 20 bag. As mentioned above, this implies a user with a long underwear layer and a cap.

Size-wise, you have two options to choose from, so R size is for men of up to 6 ft (183 cm) and L size for users of up to 6 ft 6 in (198 cm). In the case of women's bags this means petite (P) size 5 ft 5 in (165 cm), and regular R 5 ft 10 in (178 cm).
Weight-wise, there are differences between R vs L for men, and also P vs R for women. But it is interesting to compare the standard vs ultralight versions.
So men's standard R 20-degree bag weighs 2 lb 11 oz (1.22 kg) and men's ultralight R 20-degree bag weighs 2 lb 4 oz (1.02 kg)
Women's R standard 20-degree bag weighs 3 lb 2 oz (1.42 kg), and women's ultralight R 20-degree bag weighs 2 lb 10 oz (1.19 kg).
As you realize, the differences are not negligible and it makes sense checking carefully. Note that the term regular (R) for men and women implies different lengths. So the women's R is shorter than men's R bag, but it is heavier in both standard and ultralight versions.
But in spite of the word 'ultralight' in their UL bags, I would not call them really ultralight. This brand has much lighter bags on the market and you can see them here.
Regarding the packed size, the UL versions definitely belong to the group of ultra-packable items and I have included it in my list of best compact sleeping bags. To realize this, note that the R size of the Torchlight UL 20 bags has a volume of only 2.8 liters.
Please see a bit more about the complete series in this short video:
---
Specifications
As you realize, there are many bags in this series so it would be a mess to show all the numbers. So I take Torchlight UL 20 Bag for men as an example, so you get some idea about the basic parameters:
Weight:
– Regular: 2 lb 4 oz (1.02 kg).
– Long: 2 lb 6 oz (1.08 kg).
Fill Weight:
– Regular: 17 oz (482 g).
– Long: 19 oz (539 g).
Compressed size:
– Regular: 7 x 5.5 in (18 x 14 cm).
– Long: 8 x 6.5 in (20 x 14 cm).
Stuff sack size:
– Regular & Long: 17.5 x 8 in (45 x 20 cm).
---
Final thoughts, rating, pros & cons
In conclusion, this Big Agnes Torchlight Expandable Down Mummy Sleeping Bag is currently completely unique on the market. With its expandable design, it offers as much comfort as you can expect from a mummy sleeping bag. This makes it very versatile regarding the temperature rating and climate where you can use it, with expanders you can a bit regulate the temperature as well. But this also allows for different family members to use it and adjust so that it fits their body shape and size.
I have included this series in my list of best 3-season sleeping bags and also in the list of best sleeping bags for women. Fully recommended.
Please see how I rate this sleeping bag against my standard set of criteria used for all such items here in the site. So you can easily compare.
For more options please check under the category Sleeping Bags here in the site, we have top products from the renown brands presented in detail.
Note that we add new texts on a regular basis, so bookmark this site and check occasionally. There is a subscription form below for our weekly newsletter, so subscribe and stay informed. Have a nice day.