---
If you would want to know about sleeping bags down fill vs synthetic fill, and which of them is better, this is the text to read. Both types have pros and cons, and the result will depend on your preference, budget, and conditions where you plan to use the bag.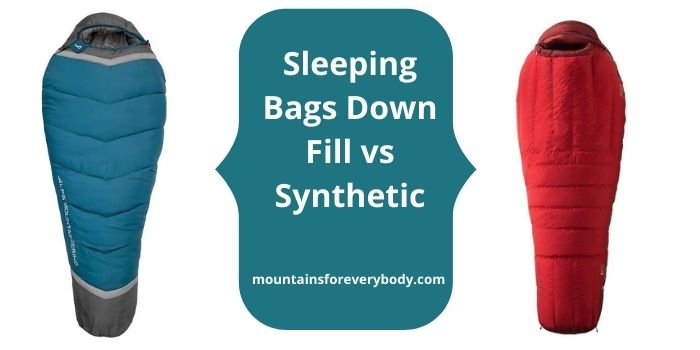 This text is motivated by a question somebody asked recently in a Facebook group. I did not have a text ready to offer a complete answer, so I have decided to write it here.
So there are several basic criteria to consider, I give some that come to mind first, but there may be more, and they are:
Price.
Packed size.
Warmth to weight ratio.
Moisture resistance.
Maintenance.
Ethical issues.
Price
Obviously this is the matter of your budget and how much you are ready to invest. But keep an eye on the other criteria before you decide.
In general down-filled bags are always more expensive than synthetic fill bags. But even among the down bags there are differences related to the fill power. This is the loft or fluffiness of the down and you will see it described as 600, 650, 800, 900 fill. The bigger the number the more fluffy the down is, and the more expensive as well.
So if you are on a budget, you will choose a synthetic bag, but keep reading.
Packed size
This is related to the fill power. In general, down bags are incredibly packable. So have a look at my list of best compact sleeping bags for backpacking, all of them are ultra-packable and with the volume below 5 liters when compressed, and almost all of them are down sleeping bags and with a high fill power, typically 850 or so.
But it is true that there are many other factors related to the design and the fabric that affect the packed size. This is why I use the word 'almost' in the previous paragraph. So follow the link to read more.
To see some examples, compare this Big Agnes Crosho UL -20 Down Mummy Sleeping Bag with (L x D) 9 x 8 inches (23 x 20 cm) packed size, and this ALPS Mountaineering Blaze -20 Degree Mummy Sleeping Bag with its packed size 23 x 14 inches (58 x 36 cm). The former is down and the latter synthetic.
Warmth to weight ratio
Here again we come to the issue of the fill power. It is not just the down that insulates, but this is a common effect of the down and the air trapped by the down. This is why the higher the fill power the lighter the bag.
Clearly, no synthetic insulation is a match for a down, but it is true that there are some good synthetic insulation materials, one is the PrimaLoft used in this Big Agnes V Notch UL 40 sleeping bag.
To get some idea about the weight, you can compare this ALPS Mountaineering Blaze -20 Degree Mummy Sleeping Bag with its 6 lb 12 oz (3.06), and Therm-a-Rest Polar Ranger Minus 20 Degree Expedition Sleeping Bag that weighs 3 lb 4 oz (1.47 kg). Both have the same temperature rating but the weight difference is huge.
Moisture resistance
This is a very important feature, and here synthetic is far better. But let me be careful about this, I have never seen a wet duck. The reason is that natural down when still on a duck is naturally treated and 'waxed' and plumes are normally perfectly aligned so water cannot penetrate.
But plumes used in a bag lose such properties and down must be treated. So all top brands perform some sort of treatment and such down indeed dries faster if it gets wet, it retains its insulation when wet, far better than untreated wet down.
Nevertheless, synthetic insulation still performs better. So if you expect wet conditions, better go for a synthetic fill bag.
Maintenance
Treated down is complicated, you cannot wash it, it should not be compressed when the bag is stored at home. On the other hand, a synthetic fill bag is normally machine washable.
Ethical issues
If you oppose using animal products, then it is best to forget everything mentioned above and go for a synthetic bag, there is not much I could add here.
But it is good to know that there is something called the Responsible Down Standard, established to ensure the ethical treatment of animals. Top brands will always clearly indicate this in specifications.
So here is how these two types of bags score, as a short summary I give this comparison table:
It looks that synthetic is a clear winner. But how about you? It will be great to hear what you think about this topic. So let me know if I have missed mentioning something important, I shall be happy to improve this text. Thank you for reading and have a nice day.