---
Big Agnes Crosho UL -20 Down Mummy Sleeping Bag is ultra-light and ultra-packable with a top-quality down fill, designed for extremely cold conditions.
---
Key features & benefits
Bag for extreme cold.
Lightweight.
Quality fill.
Ultra packable.
---
Where to buy
This sleeping bag is available on Amazon. Please follow the link to check the shipping conditions for your location.
---
What type of sleeping bag is this Big Agnes Crosho UL Minus 20
This is a part of Big Agnes' series that includes also Orno, Hitchens, and Flume bags that are built as 3-season backpacking bags. They all follow the same narrow mummy-cut profile and come with similar features. But this Crosho -20 is designed for the lowest temperatures. As you see from the pictures, you have a contoured hood with baffles that cradle the head for a comfortable fit.
These all bags look the same, but there is a big difference in the weight and also in the fill weight vs total weight. In the case of Crosho -20 this value is 73%, while in Orno UL 0 bag this is 71%, and in Hitchens UL 20 this is 67%. But note that Hitchens UL 20 bag weighs only 765 grams while you have 1360 grams in the Crosho -20 bag.
What puzzles me is the fact that they are all the same size and the same fabric, while the insulation percentage difference is not so big. So what creates such a big difference in weight is puzzling. It seems there is more fabric in the bags for lower temperatures because of their bigger volume. The fabric weight in Crosho UL -20 is 368 grams, in Orno UL 0 it is 317 grams, while in Hitchens UL 20 it is 255 grams.
Body mapping: This term is used in the specifications of this sleeping bag and it implies longitudinal baffles that are i) meant to distribute heat from end to end, and ii) to allow the bag to more closely follow the contours of the user. The term which is used for this is Vertical Thermal Channels (VTC's); my understanding is that the word vertical should be understood as 'longitudinal'.
Vertically structured sidewalls: This is visible in the side view below, and as they claim the idea is to trap heat closer to the body, whatever they mean by that.

They write about ergonomic foot box construction which is supposed to provide more loft and warmth. As you realize this is a very narrow structure, so indeed it should be very temperature affective.
Insotect Flow construction: This is the same as what you have in their Orno UL 0 sleeping bag, and the meaning is that you have the FlowGates. They are introduced in the baffles to prevent the insulation from down-shifting. This eliminates cold spots and increases thermal efficiency.
The fabric used here is a superlight, high-tear strength nylon rip-stop shell with a water repellent finish, and the lining is also a rip-stop nylon.
Temperature rating
The official rating is -20 F (-29 C) but this is not EN rating, so this is what the manufacturer provides. Such a great temperature rating is due to a top-quality 850 fill DownTek water repellent down where they use a PFC-Free, bluesign-approved chemistry. One must indeed appreciate their efforts to have such a certificate with their products.
For such a temperature rating of the bag, you will need a corresponding sleeping pad. So the R-value which you should have in the pad should be at least 7 or higher. You will find some of these in my page with sleeping pads.

Other features
Minimal two-way YKK #5 zipper to cut weight and to reduce cold spots. The length is 40 inches (102 cm). You can link the sleeping bag with another that is equipped with the same zip.
The usual draft tube runs the length of the zipper, see the picture below.
There are internal loops which enable you to use the bag with a liner (not included).
A low profile hood cord lock.
Streamlined exterior loops for drying and storage.
Mesh storage sack and nylon stuff sack are included.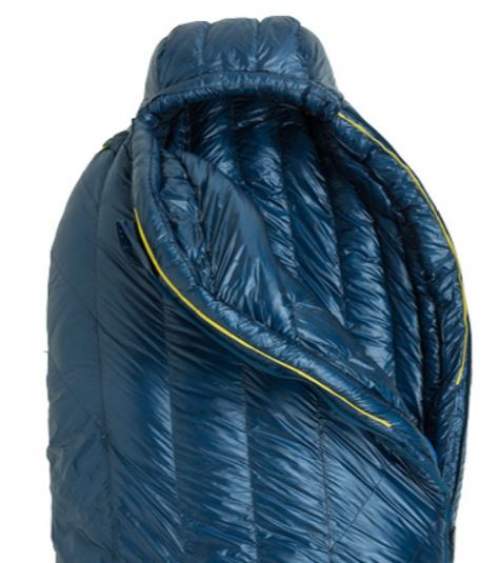 Please see a bit more in this video:
---
Who is it for
Size-wise, they build this Orsho -20 bag in three different sizes, you will see the numbers below in the specifications. So it could be described as unisex and the three sizes give options to choose your proper length for a better temperature efficiency and to avoid carrying unnecessary weight.
Seasons-wise & climate-wise, you have seen the temperature rating so clearly this is a winter camping bag for very cold conditions. It can be used throughout the year by high altitude alpinists.
Weight-wise, in view of its 3 lb (1.36 kg) of weight for the R size, this is an ultra-light bag among the winter sleeping bags. Note also that its packed volume is only 7.4 liters (452 cubic inches), but this only if you use a compression stuff sack which is not included here, pity.
---
Specifications
Sizes: S, R, L.
Temperature rating: -20 F (-29 C).
Weight:
– S: 2 lb 9 oz (1.16 kg).
– R: 3 lb (1.36 kg).
– L: 3 lb 4 oz (1.47 kg).
Fill weight:
– S: 33 oz (0.935 kg).
– R: 35 oz (0.992 kg).
– L: 37 oz (1.049 kg).
Height fit:
– S: 5′ 5″ (165 cm).
– R: 6′ (183 cm).
– L: 6′ 6″ (198 cm).
Girth shoulders/hip/knees:
– S: 54/53/34 in (137/135/86 cm).
– R: 60/54/36 in (152/137/91 cm).
– L: 62/56/38 in (158/142/97 cm).
Compressed size ( L x D), compression sack is not included:
– S: 8 x 8 in (20 x 20 cm).
– R: 9 x 8 in (23 x 20 cm).
– L: 9 x 8 in (23 x 20 in).
Stuff sack size: 20 x 9 in (51 x 23 cm).
---
Big Agnes Crosho UL -20 vs Marmot Col -20 vs Nemo Sonic -20
So here you have these three bags side by side, all with the same temperature rating and built in the same style. Note that the Marmot Col -20 is the only bag here with a waterproof and breathable fabric.
On the other hand, Nemo Sonic -20 Bag has venting options which you do not have in the other two bags, so it can be used at higher temperatures. The Crosho UL -20 is lighter, and it packs much better but this only if you buy a separate compression sack.
---
Final thoughts, rating, pros & cons
In conclusion of this Big Agnes Crosho UL -20 Down Mummy Sleeping Bag review to stress again that what you have here is a very technical item for advanced users and for harsh weather conditions. All its features are to maximize thermal efficiency, and the result is such an impressive temperature rating with such an incredible weight and packed size. I have included it in my list of lightweight winter sleeping bags and also to my list of best extreme cold sleeping bags.
What you have here is a really expensive item but such prices are typical for the bags with such temperature ratings. Below is my rating of this Crosho -20 Sleeping Bag, I use the same criteria for all the bags in the site, so you can easily compare. The rating for the weight is with respect to its absolute value because I use the same scale for all the bags, but as mentioned above this is an ultralight item for a winter bag.
Please visit my page with sleeping bags if you need more options to consider.
Note that this is not a sponsored text, and I am not paid by the brand. Let me know if you have any comment or question, there is a comment box below.