---
Not many sleeping bags on the market come with a waterproof and breathable shell, this is what you have with this Marmot Col Sleeping Bag -20 Degree Down. So keep reading.

---
Key features & benefits
Sleeping bag for extreme cold.
EN-tested.
Premium down insulation.
Waterproof & breathable shell.
Nicely packable.
Two sizes.
Zippered pocket.
---
Where to buy
This Marmot Col Membrain Sleeping Bag is available on Amazon. They operate globally, so please follow the link to check shipping conditions for your location.
---
What type of sleeping bag is this
The top picture above tells you a bit about this bag. So this is a minimalist design and a mummy-style bag designed for temperature efficiency. They use the same baffle structure as in their CWM bag which is designed for even more extreme conditions. But note that this is still a spacious construction at least when it comes to shoulder and hips girth, you will see the numbers in the specifications below.
The Col Bag is a unisex item, but they build it in two sizes, regular (R) and long (L), and the difference in weight is substantial so you can choose what suits better for your body size and shed weight. But if you need a bag for women, check our separate list of sleeping bags for women.
The fabric
This is an incredibly weather-resistant bag, they use their MemBrain waterproof and breathable 2-layer 30D Pertex Shield ripstop nylon 2.3 oz/yd. So the quality fill inside is fully protected. So this is the same membrane used in some of their rain-shell jackets. The lining is a Pertex Microlight 30D 100% nylon 1.3 oz/yd.
I already mentioned the baffles, so this is Stretch Tricot Marmot's Cross Baffle construction design that prevents down from shifting, this helps in avoiding cold spots, and it also wraps around the foot box, see the picture.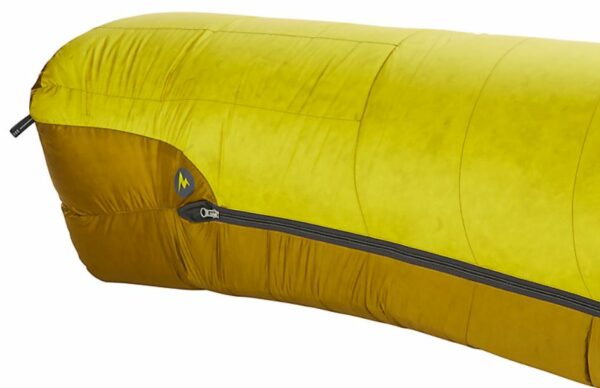 The pictures below shows the ergonomicly shaped 6-baffle hood with a cinch cord, and also the structure around the neck:
The insulation
This bag is with the declared rating of -20 F (-29 C), it is EN tested and it is filled in Rohnert Park, California with a high quality 800+ fill goose down. You have 41 oz (1.16 kg) of the down in this bag. This is an exceptionally lofty and insulative construction, see the hood above.
Although this is a mummy bag, you have extra space for more layers when you need them. Its shoulder and hip girths are 63 and 61 inches (160 and 155 cm). You might want to compare this with the Nemo Sonic -20 where these two are 61/58 inches (155/147 cm), respectively.
As you see from the hood picture above, it can be cinched tight and you have enough opening for the face to breathe normally. The collar which you see on the right above, is with its own extra cinch cord which will keep out any drafts.
These features are further helped with an insulated draft tube sewn behind the full-length zipper. The foot box is anatomically-designed and with multiple baffles, all introduced to bolster warmth at the feet.
Other features
The zipper pull is glow-in-dark.
Ground-level side seams. This design is normally to reduce heat loss through stitches because warm air in the bag tends to raise up, this is why the seams are moved closer to the ground.
Hidden draft tube pocket, see the picture below.
Zipper guards.
Stuff and storage sacks are included.
---
Who is it for
Size-wise, the two mentioned lengths are for users of 72 inches (183 cm) and 78 inches (198 cm) height so this is more or less for women and men.
Seasons-wise, in view of all the features introduced for insulation and the declared temperature rating of -20 F (-29 C), this is a bag for very cold weather. This may imply a variety of activities like alpinism, mountaineering, expeditions, hunting, etc.
As you know, when you sleep many days in the tent, the bags start accumulating moisture, so having such a waterproof yet breathable shell is an excellent option to avoid such problems.
Weight-wise, the R-size weighs 3 lb 14.59 oz (1.774 kg) so this is not something for fast and light tours, but see the temperature rating and its durable fabric. So I have added it to my list with best lightweight winter sleeping bags.
However, the packed size 16 x 7.5 inches (41 x 19 cm) is really great for a bag with such a temperature rating. You will see below how it compares with some of its competitors.
---
Good and less good features
Here is my short summary:

Great packed size.
Great temperature rating.
Quality craftsmanship.
Waterproof fabric.

The price & rating
This Col Bag is on the market with a price of around $700 so this is not for users who are on a budget. If you cannot afford it you will see some alternative in the comparison table below. The link here below will give you the daily updated price.
Please see how I rate this sleeping bag against my standard set of criteria used for all the bags in the site. This allows for easy comparison:
My rating of the Marmot Col -20 Sleeping Bag:
Weight -

7.2/10

Packed size -

8.8/10

Temperature rating -

10/10

Comfort & features -

9.3/10

Price -

6/10
---
Specifications
Gender: unisex.
Sizes: R & L.
Weight:
– R: 3 lb 14.59 oz (1.774 kg).
– L: 4 lb 9 oz (2.07 kg).
Temperature rating: -20 F (-29 C).
Fill: 800+ goose down.
Fill weight:
– R: 37.5 oz (1.06 kg).
– L: 41 oz (1.16 kg).
Fits up to:
– R: 72 in (183 cm).
– L: 78 in (198 cm).
Girth shoulders/hips:
– R: 63/61 in (160/155 cm).
– L: 65/63 in (165/160 cm).
Packed volume:
– R: 946 in³ (15.5 l).
– L: 1214 in³ (19.9 l).
Packed size:
– R: 16 x 7.5 in (41 x 19 cm).
– L: 19 x 9.5 in (48 x 24 cm).
---
Marmot Col Membrain Sleeping Bag vs Nemo Sonic -20 & Marmot CWM -40 
Here you have this Col Membrain Bag side by side with Nemo Sonic -20 which is with the same temperature rating. I also added the CWM -40 bag from Marmot so that you get some idea what difference in weight and packed size those -20 degrees make.
As you see, it is a bit heavier than the Nemo Sonic bag but its fabric is more durable. On the other hand with Marmot CWM -40, you have 19.4 negative degrees F per kilogram of the weight of the bag. The Col Bag gives 11.3 negative degrees F per kilogram of the weight, so it is less temperature-effective (or with a lower warmth/weight ratio) than the other two bags.
---
Final thoughts
In summary, this Marmot Col Sleeping Bag -20 Degree Down looks like a very simple construction, but this is an advanced design with a tough waterproof yet breathable shell and top-notch insulation that makes it a great option for extreme cold-weather adventures. Fully recommended. I have included it in my list of lightweight winter sleeping bags and to my list of best extreme cold sleeping bags.

If you need more options to consider, please visit my page with sleeping bags. You will find them for all temperatures and climates.
Note that this is not a sponsored text and I am not paid by the brand. Please use the comment box below in case of questions or comments. Have a nice day.

---