---
Marmot Featherless Component Jacket For Men is a very versatile quality item, fully waterproof and breathable, suitable for all-year outdoor and casual use.
---
Key benefits
This is a 3-in-1 system.
4-season piece of garment.
Insulated.
Regular fit.
Angel-Wing movement design.
Incredibly versatile.
Very lightweight.
High quality.
---
What is in the name
This is a piece that can be used all the year due to its two-piece structure. The term used for such jackets is 'interchange jacket' or 'component jacket' or 'three-in-one jacket'. The meaning of all these terms is the same: you have two jackets in one:
External shell jacket, waterproof and breathable.
Internal insulation jacket.
Both of them are designed to be used together or separately, so you have a nice shell jacket for a 3-season use, and you also have one insulated and non-waterproof jacket also for 3-season use.
When combined together, you can zip them and also use snaps that are there, and they become one piece. Though you do not have to zip them together, the picture below on the left shows them unzipped.
I prefer to use such jackets unzipped to each other, this means I can remove the shell jacket and remain in the inner jacket. In any case, when combined, you have a great warm and waterproof jacket for the harshest winter conditions.
The word 'featherless' in the name describes the simple fact that the inner insulation jacket, shown above, is without feathers although it looks like one of them. This is a synthetic insulation, more below.

---
Who is it for
The jacket is ideal for:
Backpackers.
Mountaineers.
Hikers.
Skiers.
Around town use.
This in all seasons, literally.
I have several jackets of this type and I use them throughout the year. We do not have really strong winters in the part of EU where I live, so the combined jacket I use only occasionally. But I have one of them always when I go to the Alps. Read here about clothing needed for mountaineering in the Alps, this should be applicable to any mountain region and high elevations, 3000 meters and above.
In such an environment you need an interchange jacket of this type, and to realize this, please check my recent article about my Cima Solda tour from the last summer, with winter conditions in August.
---
Overview
The jacket is a regular fit and it is also with what they call the Angel-Wing movement design. This means that you have a freedom of movement of your arms and shoulders, which is great if you use it as a technical jacket for mountaineering and climbing, or just for some normal scramble on the route.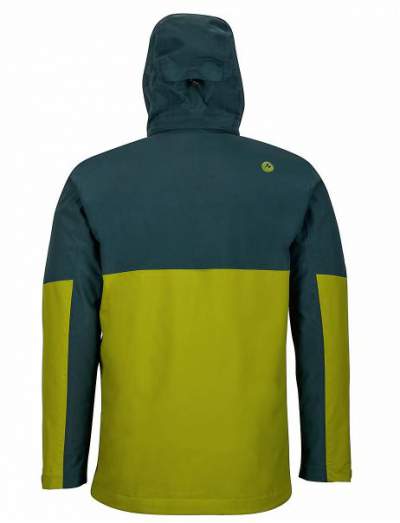 The outer shell jacket
This is Marmot's MemBrain 2L 100% Nylon Oxford, completely waterproof and breathable. All seams are taped, see here about this terminology. So you can be sure that the jacket will keep you dry. More about this technology below.
Insulation jacket
As pointed out above, this jacket you can use on its own, with the shell jacket which you have here, or with any other shell jacket which you have at home (in such a case you will not be able to zip it but this is not so important; I am using such inner jackets in various combinations).
Here you have 3M Thinsulate Featherless synthetic. The good features of this material are:
Enhanced water resistance.
Great performance in wet weather environment. This means it still preserves its insulation features when it becomes wet.
It is incredibly packable.
Obviously, this all is very lightweight.
Please see more about this technology below.
Pockets
There are 5 pockets in total: one zippered inside pocket is in the inner jacket, and this jacket also has two hand pockets (naturally you cannot use these two when the jackets are combined and zipped together). The shell jacket is with two zippered hand pockets.
The hood
The hood is completely adjustable, and also removable. I am not sure that I love this fact; it can get lost.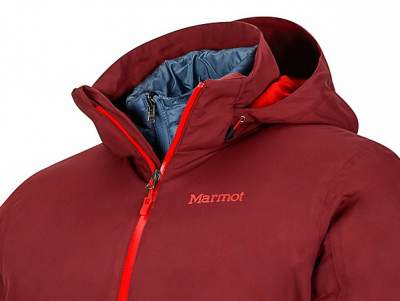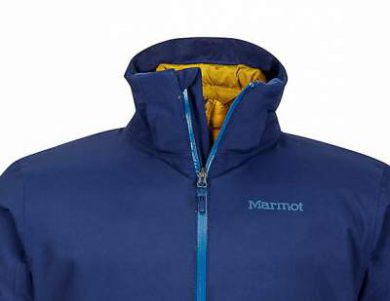 Other features
On the cuffs you have Velcro adjustment tabs, this is what I find really good, so if you use it with thick gloves you can pass the sleeves over the gloves and then tighten them with the Velcro.
You have the usual adjustment on the hem, to cinch the jacket and to preserve the body warmth in cold situations.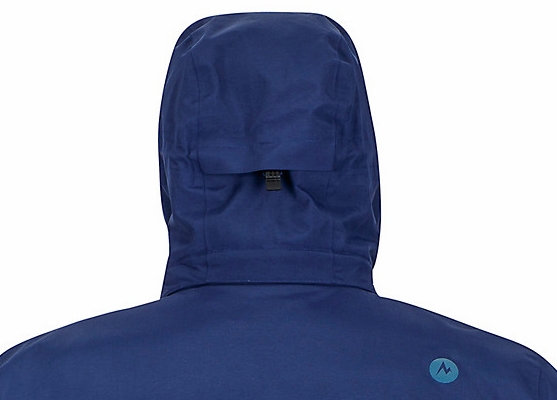 ---
Waterproofness rating & breathability – what is Marmot Membrain
The Marmot Membrain is a 2-layer lamination (note, this is only about the shell jacket, not to be mixed with the overall two-layer character of this component jacket), which guarantees a minimum of 10000 mm waterproofness rating. So this is in the middle of the range which may go up to 20000 mm. For comparison, I have one Sprayway jacket with 5000 mm and I can assure you it has been fully waterproof so far.
This technology offers an excellent weather protection but it also provides an interior comfort. This is due to the hydrophilic nature of the PU lamination which reduces internal condensation and increases comfort.
Breathability is really good too, so you have 10000 g/24h. This is equivalent to Hohenstein RET: 6 to 8. If you are not familiar with this terminology, you can see more here. Just to stress that the breathability you have in this jacket is in the range of highly breathable materials.
---
3M Thinsulate Featherless synthetic
This material is equivalent to 700 down fill. So it is introduced by Marmot to replace down, which is good for various reasons. In practical terms, it will perform great even when it becomes wet, and this is not what you have with natural down (When used by men of course. Have you ever seen frozen birds? No way we can ever match the Mother Nature, just my thinking).
In any case, this is a Blue Sign approved technology, I think you should know and be aware of this fact.
See a bit more in this short promotion video by Marmot:
---
Specifications
Type: interchange insulated jacket.
Best use: hiking, backpacking, skiing, mountaineering, casual daily life.
Insulation: synthetic.
Weight: 12.3 oz (349 g).
Center back length: 31.5 in.
Waterproof & breathable.
Shell: MemBrain 2L 100% Nylon Oxford 5.2 oz/yd; 100% Nylon Double Mini Rip 1.0 oz/yd.
Insulation: 3M Thinsulate Featherless synthetic, removable.
Hood is removable.
Pockets: 5.
Fit: regular.
100% seams taped.
Elastic drawcord hem.
Angel-Wing movement design.
Warranty: limited lifetime.
Colors: 4.
Sizes: 5.
---
Summary & rating
In the conclusion of this Marmot Featherless Component Jacket For Men review, I wish to stress that I am impressed with everything but the price. But this is a great piece of garment with two jackets in one, from a renown brand, and I can fully recommend it. I have included this jacket in my list of 10 best waterproof interchange jackets for men.
The price is steep and perhaps not for everybody's pocket. But again, this is about two jackets in one – both are fully multi-purpose when used separately, and when combined in the usual way this versatility is still there.
In any case, the prices change all the time so I give this link below because it is supposed to show the current Amazon price at the moment of your reading the text. I use several criteria, so see how I rate this jacket:
You might want also to check this Bastione jacket from the same brand, which is of the same 3-in-1 type, and also the Marmot Minimalist Component Jacket.
If you need some other type or some other brand, either for men or for women, please check my page with clothing. Thank you for reading, in the case of questions or comments please use the comment box below. Have a nice day.