---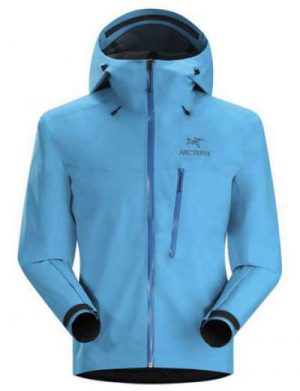 I am sure you have seen the terms fully taped seams, critically taped seams, and welded seams. This is always mentioned somewhere in the description of tents, waterproof jackets, boots, and shoes. So what is this about?
Regardless of how waterproof the fabric is, unless the seams are sealed, you do not have a waterproof product. The tape and seal are applied to a seam from the inside, and the idea is to stop the water entering through the stitched holes in the material.
This creates an air-tight and water-tight layer, and it may also add a bit of strength to your gear. So, let's see what the differences are.
Taped seams
Critically taped seams
This means that only some of the seams are taped, those that are known as common fall seams. In the case of a jacket, this should be on the shoulders and on the hood. In general, it is best to avoid such gear, it is going to suck and it is not waterproof.
I have one old Sprayway Gore-Tex jacket with such a design, so can say from my first-hand experience how this is. It is a great jacket, with a free-hanging mesh inside, one of the reasons for buying it. I love jackets with such a layer inside and I pointed this out in several of my reviews of jackets.
But only the hood is sealed and perhaps shoulders. I say 'perhaps' because I cannot see the seams, the mesh covers them. So, for example, from the first day of using it, I would have water in pockets after walking in rain. This is not so great, trust me on this.
Fully Taped Seams
Obviously, this is a more expensive option where every seam on the garment is taped regardless of its position. See one excellent example in the picture below from one of my own jackets.
So with this, you should have a heavy-duty waterproof product. We have several jackets of this type at home, from Eider, The North Face, Jack Wolfskin, Sprayway, and a few more, and the same is with my waterproof pants.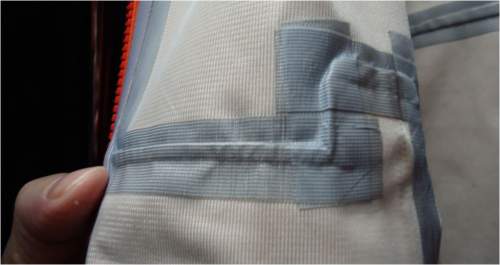 Of course, I have this type of seams also in my shoes and boots. In fact, I use practically only waterproof shoes in Belgium where I live, we have a lot of rain here. My favorite is Merrell Moab low-cut, but I have also a few of some other brands.
In this video you can see the process of sealing seams with a tape:
Welded seams
In this case, you have the pieces of material fused together with the help of heat and pressure. As you realize, this implies that there are no stitch holes, no threads, no sewing machines used in the process, no seam tapes, so this may reduce costs.
Obviously, this does not work with every material, but most thermoplastics are weldable, like PET (polyethylene terephthalate), PETG, PVC, PP, TPUR, Open Celled Polyurethanes, LDPE/EVA. This is why you will see the term 'plastic welding'. So the plastic itself is used as the fastener to hold the seam together as opposed to sewing, adhesives, seam tape, etc.
These materials can be welded alone or can be combined with others. In general, this creates durable and abrasion resistant seals without seam deterioration and decay. The welds can be even stronger than the original material.
See how plastic welding works in this short video:
Non-sealed seams
Apparently, there are such examples as well, but I have not used any of this kind and cannot say more. It is best to avoid this type.
Conclusion
In any case, always make sure that seams are either fully sealed/taped or welded. Only then you have a reliable outdoor equipment. In the reviews available here in the site, this information is always given. So have a look around, there are many quality tents and shelters presented in the site, waterproof clothing, and boots.
If you have a waterproof jacket, then your pants must have all seams sealed. This is because a lot of water from the jacket will run to the lower body and you have to have all sealed there. There are several great waterproof pants presented in the site, some inexpensive but reliable, both for women and for men.
Thank you for reading, in the case of comments and questions please use the comment box below. Have a nice day.