---
Merrell Moab waterproof hiking shoes for men and women are wonderful lightweight and durable Gore-Tex shoes suitable for long walks and hiking, and for everyday life. I myself have been using them for more than 8 years.
Personal story
Merrell Moab hiking shoes have been on the market longer than a decade now. These are my own shoes which I purchased most likely in 2007, in fact, do not remember precisely. So for me, it is a great pleasure to write about them.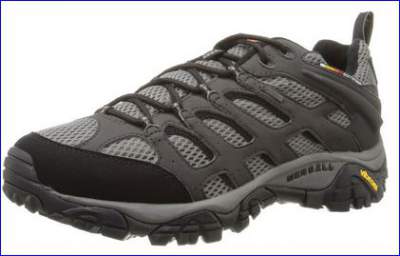 Except for the last summer 2015, all those years I used them exclusively for everyday life. We have a lot of rain in Belgium throughout the year, so I needed such reliable shoes. But last summer I used them for climbing Kreuzspitze in Austrian Alps. They were perfect for such a simple walk up. I mentioned my fast climb directly from Vent, because of such a very light equipment.
Unfortunately, cannot show the photo of my own pair because I am in Belgium now, and after the climb, I continued to Serbia and left them at home in Belgrade. They showed some signs of wear on the seams in the toe area, and they were not completely waterproof.
So I said OK, the time for new ones. In fact, I would probably buy the same again, but I spent a year on Tenerife and could not find them there. Instead, I am using a pair of Oriocx shoes, not bad but still not the same feeling I must say.
Materials
Now back from my sentimental part of the story. Merrell Moab shoes' tops are made of suede leather and a synthetic mesh, with a Gore-Tex membrane layer inside. So this is a durable summer waterproof and breathable shoe, suitable for long hikes or for everyday life. This is how I was using them all the time.
The sole is very grippy Vibram high-performance rubber, with an unmatched durability, stability, and slip resistance. There is extra rubber and leather protection in the toe and heel section, as you can see in the pictures below.
An EVA footbed inside provides a first level cushioning. Some extra Air cushioning is in the heel section. You have also OrthoLite cushioning for additional support and comfort. The shoes come with an anti-microbial treatment that prevents bacteria buildup.
The model shown in the pictures is the low, regular height, but there is also mid-height model of these shoes which is around 6 inches tall.
The Moab shoes are made for both men and for women as well, with the same features.
Specifications & summary of features
Weight: 1lb 8oz (680 g).
5 mm lug depth.
Waterproof leather and mesh upper.
Synthetic leather toe cap and heel protection.
Breathable mesh lining.
Merrell air cushion in the heel to absorb shock and to improve stability.
Molded nylon arch shank.
Molded EVA foam foot frame for cushioning.
Merrell M Select FIT.ECO blended EVA contoured footbed with organic odor control.
Size (US): 7, 7.5, 8, 8.5, 9, 9.5, 10, 10.5, 11, 11.5, 12, 13, 14, 15. Please check this size chart to choose your fit if you are from other countries.
5 colors:

Merrell Moab waterproof hiking shoes colors.
Pros & cons, users' experience
Being a user myself for so many years, I do not see any cons in these shoes.
 Cons
 Pros

Lightweight.
Quality materials, waterproof, breathable.
Reasonable price.
Very durable and reliable.
Merrell Moab shoes are nicely rated by Amazon users, with 4.4/5 average rate. The 'fit as expected' statistics is incredibly high, with 85% fit. See more in the links given here.
Conclusion
To conclude this report about Merrell Moab waterproof hiking shoes for men and women, I can sincerely recommend these shoes for anybody. They are perfect for everyday life, outdoor works, outdoor sport activity, and you name it. I love these shoes, so perhaps I am biased, but I present my view and you decide for yourself.
These are not my only Merrell shoes. I also have hard mountaineering shoes from Merrel, you can see them in my another post. Note also there is a model Merrell Men's Moab 2 GTX and I am using them.
So, I hope you find the text useful. If this is so, I shall be grateful if you share it with others. Please check the links above for the best price. Free shipping from Amazon might be possible as well.
Thank you for reading. Please leave me some comment below, I shall be happy to read it. Have a most pleasant day.