---
In this text, I present best women waterproof pants suitable for practically any outdoor activity, like hiking, backpacking, skiing, climbing, mountaineering, and for every season.
Some essential features of women waterproof rain pants
When you are in the process of searching for waterproof and breathable pants, then very frequently waterproofness may be great while breathability is not so good. This is related to different physical processes taking place there.
Inside you may expect to have water vapor molecules, while outside you have water in the liquid state. It is far easier to make the fabric waterproof than nicely breathable. So do not expect too much if you are using such pants in relatively warm conditions. You may expect to sweat, but this will depend on the quality of the material and membrane, and on your activity.
Typically you have a GoreTex fabric, but many big brands have developed their own waterproof and breathable materials. About breathability and all related issues you can find more in my separate text.
What to expect in rain pants? Here are just a few features to bear in mind.
Cuffs & zippers

It is good to have zippers on the cuffs, the longer the better, so that you can put the pants on or take them off without removing boots. Long zippers may allow for more ventilation as well. This may be important also in the case of a sudden storm. I have experienced this in the Alps. This is because you do not want to have these pants on unless it is totally necessary; remember what I said above about rarely perfect breathability. So you wait till the last moment, and then it may take time if you need to remove boots (and crampons) first.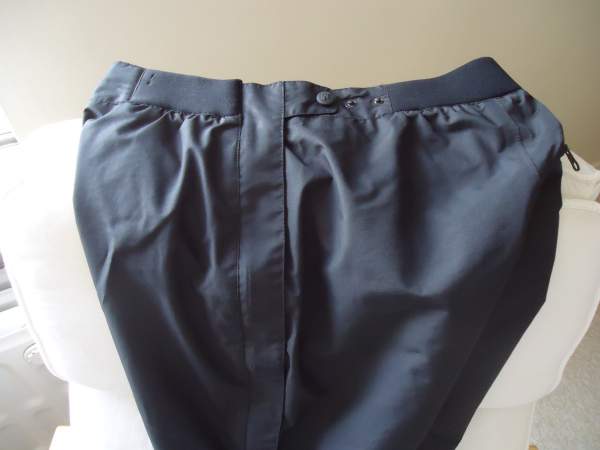 Sometimes you have full-length zippers, they go all the length of the pants. This may be great (you may have a better ventilation), but such lengthy zippers add weight. Why you would need them? One obvious reason: you can put on these pants even if you have crampons on your boots. I have pants of this kind, with a full zipper and with a full-length flap, with several snaps on the cuffs and on the waist. You can see them above, a great piece in my equipment.
Zippers may be two-way, so you can open them from any side. This is again very useful as it can increase ventilation. See this in the Patagonia Torrentshell pants below.
Cuffs may be equipped with a drawcord, which may be very useful to have. Plus, you can find some with a snap, or with a velcro tab. All these elements are good to have for adjustment and for the zipper protection.
Hand pockets
This is good to have, but not necessary. However, these pockets are usually made of mesh, so you can have extra ventilation through the pockets.
In addition, some nicely designed pants can be stuffed into their own pocket, this is great to have, and you will see it in some pants below. You will see this in the Patagonia Torrentshell pants below.
Some pants may have only a back pocket, my own pants shown above are of that type.
Waistband
You can have it in any of the following shapes:
With elastic or with a drawcord.
With both elastic and drawcord.
With an extra snap or without it, in combination with any of the above.
My own pants are without a cord, but I have several snaps, one on the front and 3 on each side, so 7 in total on the waistband, and a few more on the cuffs. Yeah, my pants are not the lightest on the market.
Inside liner
This will depend on the type of membrane. Sometimes you do not have any liner, like in pants which are of the 2.5-layer type. In this case, you have some 'half-layer' bonded to the membrane from inside. Personally, I dislike this option, in many cases, I do not like the feeling of such materials touching the skin. But these pants are generally lightweight.
In some cases, you can have a free hanging mesh which is there to protect the membrane and to wick the moisture. Usually, this is a heavier variant. My own pants are of this type. This is the same design you have in many rain jackets.
So here is my list, given in no particular order.
1. Columbia Sportswear Women's Storm Surge Pant
Columbia's Omni-tech waterproof and breathable technology is used in these pants. All seams are sealed and they will surely keep you dry. As usual, Columbia's price is without a match, these pants are below $50.
The waistband is with both elastic and a drawcord, and the cuffs are with zippers and velcro tabs for adjustment.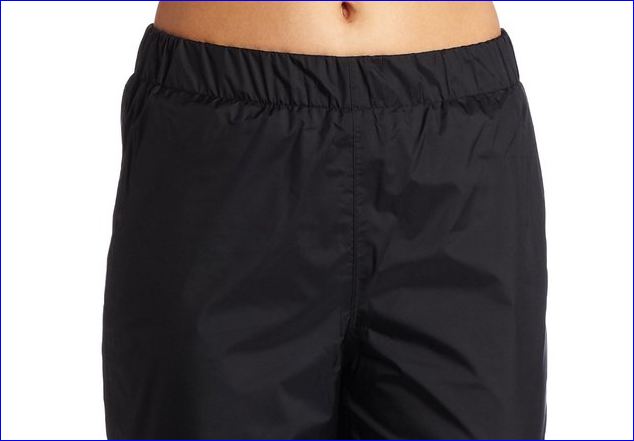 You can see more about the technology in this video:
Specifications
Omni-Tech waterproof and breathable.
Fully seam sealed.
Color: black.
Sizes: XS, S, M, L, XL.
Materials:
– Shell: 100% nylon MO LTX.
– Lining: 50% polyester/50% recycled polyester mesh, 100% nylon 210T taffeta.
– Waistband lining: 100% nylon 210T taffeta
Drawcord adjustable waist.
Elastic at waist.
Inseam: 31 inches regular.
BEST PLACEs TO BUY
---
2. Patagonia Women's Rainproof Torrentshell Pants
These are waterproof and breathable pants with Patagonia's own H2No 2.5 layer 50 denier hard shell construction. Lightweight, durable, and reliable, built 100% from recycled materials, this is a great tool for hikers and backpackers. The external surface is treated, so in addition to the membrane, you also have a durable water repellent material here.
Note that there exists Patagonia Torrentshell jacket of the same material, it is described in this site.
The waistband is stretchy, and you also have an internal drawcord. Two hand pockets are on the sides, with mesh fabric inside and with storm flaps outside. The mesh is there so that the pockets can serve as vents as well. One of the pockets serves as a stuff sack for the pants, so you can store the pants in own pocket and you also have a loop to attach it to the pack.
The deign of these pants includes articulated knees and regular fit. You also have very long zips along the legs, which go above your knees. They are made long so that you take them on and off easier. You will not have to remove boots to do this. The zippers are the two-way type, so you can open them from the top as well if you need more ventilation.
On the bottom, you have a stretchy and elastic hem, together with a snap that you can fix in two different positions, or a velcro tab.
Specifications
Regular fit.
Colors: 2, black and navy.
Sizes: XS, S, M, L, XL.
Materials:
– Patagonia's H2No Performance Standard shell with 2.5-layer, 50 D, 100% recycled nylon ripstop. Bluesign approved fabric.
– Waterproof and breathable barrier.
– Durable water repellent (DWR) finish.
Limited lifetime warranty.
Pockets: 2.
Packs into its own pocket.
Waist: elastic with internal draw-cord.
Articulated knees for best mobility.
DWR treated zippers.
BEST PLACEs TO BUY
---
3. Marmot Women's Minimalist Pant Waterproof Shell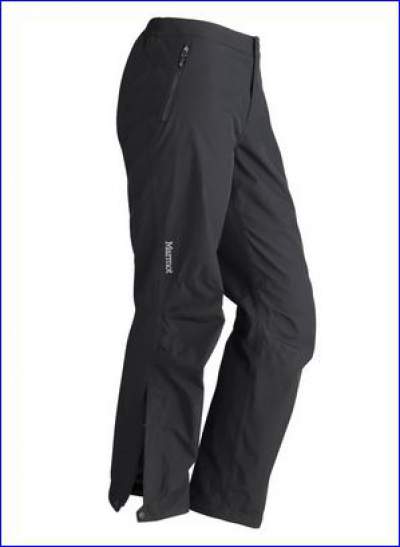 These pants are made of the same waterproof and breathable GORE-TEX Paclite fabric which you may see in Marmot's Minimalist jacket described in this site.
As the name suggests, this material packs nicely, it is very breathable and lightweight. So if you have the jacket and you are happy with it, this is a nice extra piece of clothing for your complete protection from the rain.
This is a durable tool, suitable for any kind of outdoor activities. All seams are taped so you have a total protection.
These Marmot Minimalist Pant are with two zippered hand pockets, and zippers are made water resistant.
You also have ankle zippers with the same features, they are long enough so that you can put on the pants or remove them without taking off your boots.
On the cuffs, you have an elastic draw-cord and a snap with a flap. The waistband is elastic and with a snap closure. So as you realize these pants are built with a lot of tiny but beautiful features.
The Marmot Minimalist Pants are with a regular fit and with articulated knees.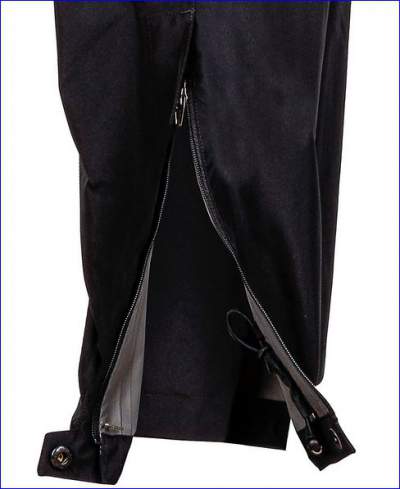 Here is a table with Marmot's sizes, it may be of help if you want to find a proper size for you:

Specifications
Regular fit.
Color: black.
Sizes: XS, S, M.
Materials:
– 100% polyester.
– GORE-TEX paclite, waterproof and breathable shell.
100% seams taped.
Lifetime warranty.
Pockets: 2.
Waistband: elastic.
Ankle zippers & drawcord.
Articulated knees.
BEST PLACE TO BUY
---
4. Marmot Women's PreCip Full Zip Waterproof Shell Pant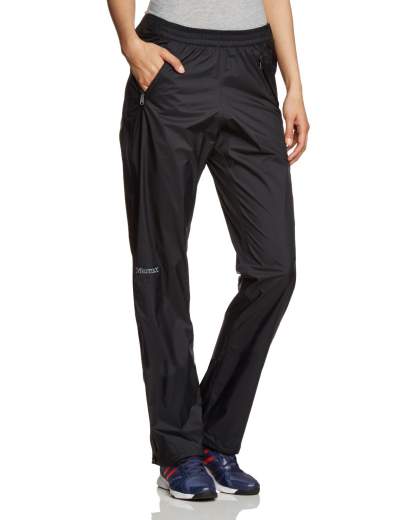 These pants are fully waterproof and breathable, based on Marmot's own NanoPro membrane.
The same material you will find in Marmot PreCip rain jacket which is described in this site. So here again you have a possibility for the pants-jacket combination of the same materials. Note that there is the model for men as well described in this site.
These are lightweight regular fit pants, very durable ripstop nylon suitable for various outdoor activities. All seams are fully taped.
Here you have a waistband with elastic. In total 3 pockets are available, all zippered, two on the sides and one on the back.
As you see from the name, these pants are with a full-length zipper. The zipper is covered with a flap all along the pants, very similar to my own rain pants.
On the cuffs, the zipper is protected with a snap and a flap, and you also have a drawcord here. On the waistband, you have a flap with Velcro tabs. With such a design, you can put them on and off even if you have boots and crampons on your feet.
Here is a video about Marmot Women's PreCip Full Zip pants where you can see all the features mentioned above:
Specifications
Regular fit.
Use: hiking and backpacking.
3 sizes: S (29 in), R (31 in), L (33 in).
Material: NanoPro membrane; 100% nylon ripstop.
100% seams taped.
Pockets: 3.
Warranty: limited lifetime.
Waistband: elastic with drawcord.
BEST PLACEs TO BUY
---
5. Marmot Women's PreCip Waterproof Shell Pant 46240

Regarding the fabric and membrane, these pants are practically the same as the full-length zipper model presented above. Therefore the main difference is the zipper, and consequently the weight of the pants. So again you have a fully waterproof and breathable tool, with all seams taped.
You have ankle zips and the cuffs are with snap tabs and a drawcord. So this is just enough to have them on and off without taking off the boots. The waist is also with an inner drawstring and elastic.
See more about these pants in this short video:
Specifications
Regular fit.
Use: hiking and backpacking.
Color: black.
Size: XS, S, M, L, XL.
Regular fit.
Marmot NanoPro waterproof and breathable membrane.
100% seams taped.
Waistband: elastic with drawcord.
Zipped front pockets.
Back zipped pocket.
Ankle side zips.
Snap tabs at cuffs.
Warranty: limited lifetime.
BEST PLACEs TO BUY
---
6. Red Ledge Unisex Thunderlight Full Zip Pant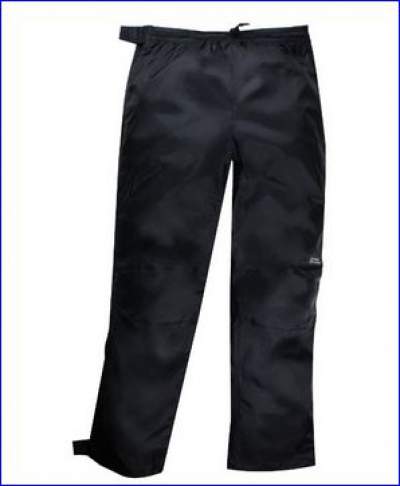 These are unisex waterproof pants, very suitable for various activities, for backpackers and hikers, and with a great price.
Here you have a ripstop nylon shell with a T-Core polyurethane coating. All seams are taped.
The zipper is a full-length type. You have a zippered back pocket and the pants are with articulated knees. They come with a stuff sack.
The waistband is elastic and with adjustable velcro side tabs. On the cuffs, you also have velcro tabs.
See more about these pants in this video:
Specifications
Best use: hiking and backpacking.
Fit type: relaxed.
Waistband: elastic and a drawcord.
Shell: ripstop nylon taffeta.
Pockets: 1.
All seams taped.
Full length zip with storm flaps.
Cuffs with velcro tabs.
Articulated knees.
Packable into its own back pocket.
Mesh stuff sack included.
BEST PLACEs TO BUY
---
Conclusion
To summarize this text about best women waterproof pants, you have realized so far that the prices of the models presented here are in a rather wide range, roughly between $40 and $170. So here you have pants for every pocket and every environment.
If you need waterproof and breathable pants for men, please see my another text.
I hope the text has been useful to you. If this is so, please share it with others.
If you have any question or comment, please get back to me, there is a comment box below. Thank you and have a nice day.