---
In this text I give a list of best waterproof 3 in 1 jackets for men on the market. All jackets are from renown brands and built from top-quality materials.
---
Why using 3 in 1 jackets
I guess this should be obvious, and this is described in detail in my separate text. So here just to stress that you have 2 separate jackets that can be used independently and together.
Typically (but not always), the inner jacket is a fleece which you can use whenever it is chili weather but without rain. The external jacket is a waterproof rain jacket, usually breathable as well and you can use it throughout the year as a light jacket for rain.
My own jackets are all of that type and I live in an area with lots of rain so the outer shell jacket I use all the year-round. The inner fleece I mostly use separately either at home or in the city. I use them together in mountains, and also in the area where I live in the wintertime.
---
About terminology
The term 3-in-1 jackets is most frequently used, and this is what I do as well here in the text. But just to know that some use the term component jackets for such combined pieces of the garment, and you will see it in the names of some jackets in the list below. The meaning should be obvious – you have two components in the system.
You will also see the term interchange jackets which describes the fact that you can use them separately and together.
So do not get confused with all these different phrases, they all describe the same type of jackets.
---
All-in-one jackets vs 3-in-1 jackets
After using so many interchange jackets, I know that the comfort of some of them is not always great. This is mainly the case with those that have a very thick inner fleece jacket. Also speaking from my own experience, in such a case I feel more comfortable when the two jackets are not zipped together.
On the other hand, a good all-in-one jacket (i.e., a single layer insulated jacket) may be far less constricting and confining than an interchange jacket.
However, the main advantage of 3-in-1 jackets is that you can choose the level of protection, so you truly have a tool for all seasons. This is how I use my own jackets, we have lots of rain so the shell jackets I use all the year-round, and the inner layer I add only exceptionally, like these days around Christmas. But I do use the inner jackets separately all the time. Currently, I have 4 interchange jackets, which means that I effectively have 8 pieces to use individually. So this is plenty of options to choose from. In fact, since I do not always zip them together, I can combine the elements from different jackets.
I usually have short sleeves (I use polo shirts in all seasons), and I normally have only my interchange jacket on it. So when I enter somewhere, I use to take off the shell jacket and stay in the inner jacket. This is why I prefer to use such component jackets unzipped to each other.
---
My list of 3-in-1 waterproof jackets for men
Here is my list of jackets given in alphabetical order:
Below you can see a bit more about each of the items in the list. The numbers are not for ranking, they are here only for navigation.
---
1. Columbia Sportswear Men's Powderkeg Interchange Jacket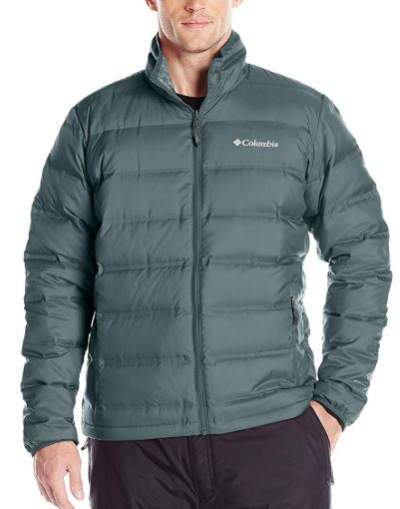 They describe this jacket as ultra-technical so let's see what exactly it offers. The shell is a waterproof-breathable jacket with a minimalist design. This is Columbia's Omni-Tech 100% nylon legacy twills fully seam sealed. They do not provide numbers for waterproofness and breathability. Note that you have zippered pit zips so ventilation should not be an issue with this jacket.
The inner jacket is really nicely built with a 100% nylon Shadow Ripstop exterior fabric. This is a super-warm 650-fill-power down jacket, a combination of 80% down and 20% feathers. The picture above shows how stylish it is. You can really use it as a stand-alone jacket when the weather allows.
The jacket also includes Columbia's Omni-Heat Thermal Reflective feature, this is something unique to Columbia and they use it in many of their jackets as well as in boots and shoes. You will see a video about this below related to yet another Columbia's jacket in the list.
This is a modern classic fit with a drop tail, you have a removable and adjustable storm hood, note that it is also helmet-compatible, drawcord adjustable hem, and adjustable cuff tabs. As for pockets, you have an interior security pocket, a zippered chest pocket, a zippered sleeve pocket, and zippered hand pockets.
BEST PLACE TO BUY
A bit more you can see in this short video:
---
2. Columbia Sportswear Men's Whirlibird Interchange Jacket
This is a very versatile and affordable jacket with all the great features you expect from such a component jacket. One thing that makes this jacket exceptional is the variety of colors, so you have them in tens of different variations and combinations. This is so typical for Columbia.
This is one of the warmest options, which is due to several factors: you have the jacket's lining, insulation, and shell, plus Columbia's proprietary "Omni-Heat" heat-reflecting technology. You will see it described as a ski jacket, but obviously, it is far more than that.
One feature I love to see here is the separate hanging liner which is a natural part of the shell jacket. Several of my jackets have this liner, it adds to the warmth and cosines, and it also separates the membrane layer from the body, which is good to have when you use it as a shell jacket in the summertime.
The Columbia Whirlibird's shell is with pit-zips, so this is a jacket with very good ventilation. But you have good protection here as well, the inner jacket is an insulated jacket with 80 g synthetic insulation.
Both jackets attach to each other through the snaps on the cuffs and along the front main zipper line.
Yet another important feature is its price, so the jacket is very popular and if you check on Amazon you will find it in various departments, there is a link below.
Key features
Many color combinations to choose.
Great price.
Pit zips in the shell jacket.
Very warm jacket with Omni-Heat" heat-reflecting technology.
Goggle pocket.
Adjustable sleeve cuffs and drawcord adjustable hem.
Drop tail.
Critically sealed seams – this implies that only the most exposed seams are sealed. See more about seams in my separate text.
Note, they have the same model for women as well, it is included in my list of interchange jacket for women.
BEST PLACEs TO BUY
---
3. Columbia Men's Eager Air Interchange 3-in-1 Jacket
This is a very popular interchange jacket, with the outer shell made of 100% Nylon, and the inner microfleece jacket is 100% Polyester. Similar to the Columbia Whirlibird jacket above, it has Thermal reflective Omni-Heat particles, introduced to maintain warmth inside the jacket continuously. So this is a piece of garment suitable for year-round wear regardless of the temperatures.
The outer jacket is waterproof, windproof, and breathable, with two side pockets on the outside and one interior secure zip pocket. You have a drawcord adjustable hem, Velcro tabs on the cuffs, a high collar with a detachable hood, and the main zipper covered by a storm flap. The inner jacket is with two hand-warmer outer pockets.
This is a modern-classic fit, a bit relaxed, but not sloppy.
Key features
Very affordable price.
Length (size MD): 31 in.
Chest measurement: 46 in.
5 pockets in total.
Many color options available, please check the link below.
BEST PLACEs TO BUY
---
4. Columbia Men's Wild Card Interchange Jacket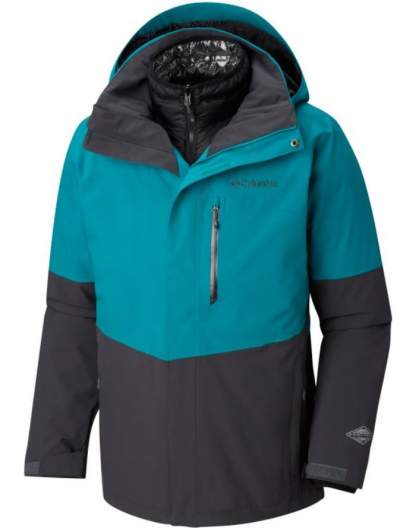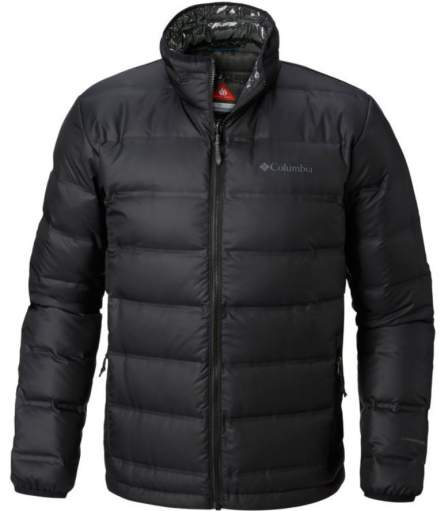 This beautifully designed jacket comes in four different color combinations. The external shell is 100% polyester with Columbia's Omni-Tech waterproof and breathable technology and with fully sealed seams. Note that this is an item with a 2-way comfort stretch for complete mobility.
The inner jacket is a bonded baffle 100% polyester construction with Omni-Heat reflective lining which you have also in several other jackets from this brand. The insulation is 650-fill power down, RDS certified. The inner jacket zips to the shell on the two sides on the front, and you also have 3 snap buttons, on the sleeves and behind the neck. As you realize from the picture above, it looks cool and stylish to use on its own.
The jacket comes with a removable and adjustable hood and it is equipped with underarm vents with zippers. You have adjustable sleeve cuffs, a drawcord adjustable hem, and a drop tail.
Pockets: Outside, you have two zippered hand pockets, one zippered chest pocket, and one zippered pocket on the left sleeve. Inside of the shell, you have one zippered media pocket on the right side. Inside on the inner jacket, you have one zippered pocket plus one mesh pocket on both sides, so 4 in total. This inner jacket also has two zippered hand pockets. So if you love to be organized and have many pockets, here you have them many everywhere.
BEST PLACEs TO BUY
---
5. Jack Wolfskin Men's Iceland Jacket 3-in-1
This is a rather robust jacket, with a TEXAPORE TASLAN 2L hardshell waterproof and breathable outer fabric which is with a cotton-like finish.
The official waterproofness rating for the outer shell jacket is 10000 mm, and its breathability is above 6000 g/m²/24h). So for the first, it is roughly in the middle of the range, and you can rely on it completely. For the second parameter, it is in the lower half of the range, so it is not for highly aerobic activities where you would expect lost of sweating.
You have two side pockets with zipper closures on the shell jacket, a non-removable hood, the front zipper is covered by a storm flap, and the cuffs are Velcro-adjustable. The hem is with drawstrings to tighten the jacket when it is particularly cold.
The inner jacket is 100% Polyester and it is fleece in this case, more precisely the Nanuk 200. The number 200 here suggests that this is in the upper side of the scale, so it is far more robust and thicker than the fleece 100 which you have in The Nort Face Evolve II Triclimate jacket described below. It has a short stand-up collar and two hand-warmer pockets. It alone is suitable for the dry weather and for chili conditions.
This is a system for all seasons and for any weather conditions, it is designed to keep you warm, dry and safe.
The Jack Wolfskin is a German company of outdoor gear with over 600 stores all over the world. The brand is currently owned by The Blackstone Group, an American company. Here is a short video about the Nanuk fleece of this brand, please have a look:
Key features
Completely waterproof and moderately breathable.
Adjustable but non-removable hood.
The shell jacket pockets: 2 hip pockets + secret pocket.
Inner jacket: NANUK 200 warm and robust fleece, with 2 hip pockets.
Articulated elbows.
Combined weight: 1165 g (Size L), so it is lighter than the Marmot Bastione below.
The version for women also exists.
BEST PLACEs TO BUY
---
6. Marmot Bastione interchange jacket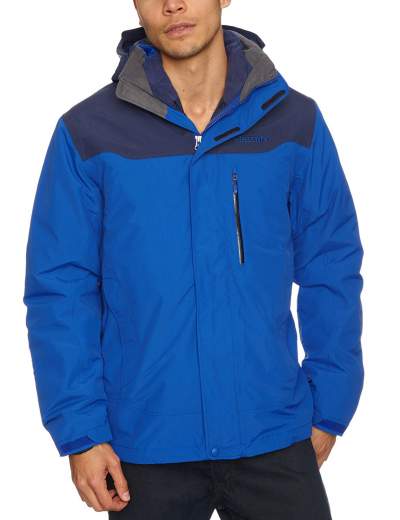 This is a very versatile jacket, suitable for mountaineers, hikers, backpackers, and for around-town use in all seasons of course.
The external layer is a hard-shell waterproof and breathable rain jacket with Marmot's MemBrain 10 2L, 100% nylon 4.6 oz/yd. The main zipper is a two-way type, which is good for ventilation and in the case when you have a climbing harness on. Note that you have extra zippers under armpits where you have rather long vents for extra ventilation.
The inner jacket is not a fleece, and this is an interesting and stylish piece of garment, very much suitable to be used as a standalone jacket. It allows for extra layers underneath it. The inner jacket's material is water-resistant and it is insulated with a layer of Thermal R insulation. It is with a full zipper, and you have two hand pockets with zippers as well, plus one internal zippered pocket.
Key features
Angel wing design – this gives lot of mobility without restrictions in moving your arms in any direction.
You have 7 pockets in total, in both jackets. So you have 4 pockets in the shell jacket and 3 in the inner jacket.
Removable hood with a laminated brim, fully adjustable, and from the same material as the shell jacket.
Great materials in general.
Style: regular.
Back length: 29 in.
Average weight: 3 lb 1.6 oz (1406 g).

---
7. Marmot Featherless Component Jacket For Men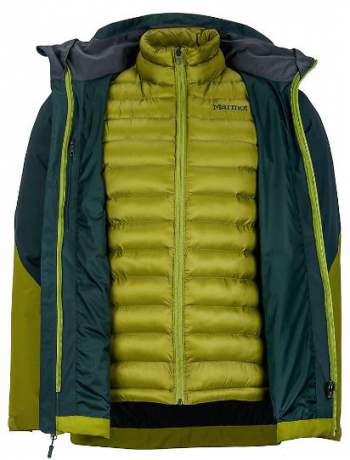 This jacket is great for backpackers, mountaineers, hikers, skiers, and for around-town use in all seasons. The term 'featherless' in the name simply implies that you have synthetic insulation in the inner jacket.
So this is 3M Thinsulate Featherless synthetic for enhanced water resistance, and for great performance in a wet environment. Such insulation is known to work well even if it becomes wet. It is also very packable and lightweight.
The outer shell jacket is Marmot's MemBrain 2L 100% nylon Oxford, completely waterproof and breathable. All seams are fully taped and you can be sure the jacket will keep you dry.
The jacket is with a minimum of 10000 mm waterproofness rating. So this is in the middle of the range which may go up to 20000 mm. Note also that you have a hydrophilic PU lamination which reduces internal condensation and increases comfort.
Breathability is really great 10000 g/24h, which is equivalent to Hohenstein RET: 6 to 8. So this piece is in the range of highly breathable materials.
Key features
4-season piece of garment.
Insulated.
Regular fit.
Angel-Wing movement design.
Incredibly versatile.
Very lightweight.
High quality.
5 pockets in total.
The hood is completely adjustable and removable.

---
8. Marmot Men's KT Component Jacket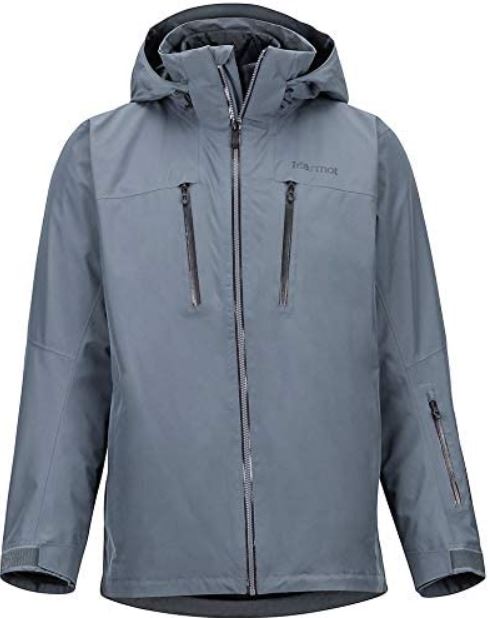 This is a very lightweight jacket and you realize this when you compare it with the Bastione jacket from the same brand or with The North Face Carto below. The shell jacket material is again with the Marmot's MemBrain, but this time it is 100% polyester oxford 4.5 oz/yd and 100% polyester mini-ripstop DWR 1.6 oz/yd, as compared to the nylon used in the other two Marmot's jackets above.
So again this is a fully waterproof and breathable piece with all seams taped, with a removable hood, and with zipped pit vents. You have 5 external zippered pockets on the shell jacket, two hand pockets plus two chest pockets with water-resistant zips, and one zippered pocket on the left sleeve. The cuffs are adjustable with Velcro tabs, and on the hem, you have an elastic drawcord.
The inner jacket is a removable insulated Thermal R liner jacket with a very cool design.
Key features
Fit: regular.
Center back length: 30 in.
Weight: 1 lb 9.3 oz (717.2 g).
Removable hood with a brim.
Pit zippered vents.
Zippered sleeve pocket.
Internal media pocket.
Many great color combinations for the inner and external jackets.
BEST PLACEs TO BUY
---
9. Marmot Minimalist Component Jacket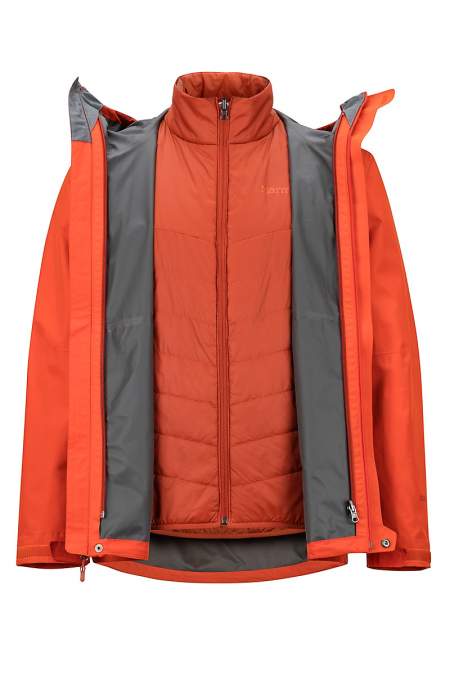 Marmot has a long series of interchange jackets so it is not surprising to have several of them here in the list. They are all different and you realize this when you write their features side by side as I did in my text about this Minimalist Component jacket, so follow the link below to see what I mean.
This jacket is based on their Minimalist rain shell jacket which has been around for a number of years already. In 2018 they came out with this variant which has a removable insulation layer. So this is a true 3-in-1 jacket for all seasons. The rain shell is described in detail in my separate text, no need to repeat it here, just to point out that this is a Gore-Tex Paclite 2.5-layer.
The inner jacket is a synthetic fabric with Thermal R insulation and with 3 pockets in total. It looks really good and you can use it on its own as an external layer.
Here are a few numbers you might want to know. The complete set is 1 lb 13.6 oz (839 g) of weight, so it is considerably lighter than the Bastione jacket. The average length is 30.5 inches (77 cm). Please follow the link for more.

---
10. Patagonia Snowshot Jacket Men's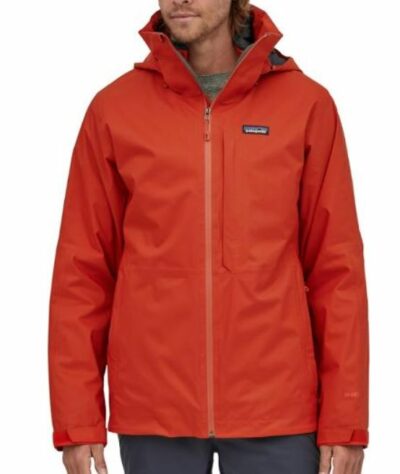 As usual for this type, you have two jackets that can be snapped and zipped together. This is a really high-quality jacket with great weather protection, but also with the price to match.
The inner jacket is synthetic insulated and with full front zip. Note also that this inner jacket is reversible, so you have two different colors and you can use them as two different jackets.
The shell jacket is waterproof with H2No membrane, used also in many climbing jackets of this renown brand. All seams are sealed and the external fabric is an excellent water repellant coating as well. Here again, you have a free-hanging mesh similar to the Columbia Whirlibird jacket given above.
The insulation you have here is 60 grams of synthetic, and this combined with multiple layers of fabric and the air trapped in between, adds a lot of insulation and preserves the warmth. So this is a warm jacket but it is still not a match for the Columbia Whirlibird jacket.
This jacket comes with pit zips on the outer shell jacket, so it offers excellent ventilation in various conditions, completely comparable to the Columbia Whirlbird jacket.
The style and features of this jacket are somewhat unique. Effectively you have 4 different options – two different faces of the inner jacket when used alone, the shell jacket alone, and the two jackets together, and they all are rather unobtrusive.
This is an expensive tool, but it is covered with Patagonia's extraordinary warranty, and its construction is that it will surely last long, so this is an investment that may be worth the money.
Please see here about the waterproofing they use:
About this particular jacket, please see more in this short video:
Key features
High quality, very durable, and warm jacket.
Reversible inner jacket – this makes it a 4-in-1 system.
Synthetic insulation.
Pit zips on the shell jacket for good ventilation.
BEST PLACEs TO BUY
---
11. The North Face Carto Triclimate Men's 3-in-1 Jacket
This is a waterproof and breathable technology based on the DryVent external shell with polyurethane (PU) coating. It consists of a tri-component, multi-layer system for waterproof protection, moisture permeability, and durability.
So the outer jacket is 100% nylon 70D x 160D 140 g/m², with all seams sealed. The front zipper is protected by a storm flap against water and wind.
You have two zippered hand pockets plus one zippered chest pocket. The cuffs are with Velcro tabs, so this is the best adjustability you have here, and you also have a cinch-cord on the hem. The hood of the same material is fully adjustable and removable.
The inner jacket is a stylish piece in several nice colors and it includes 100 g Heatseeker insulation for extra warmth. It comes with bound cuffs and with two zippered hand pockets. The material used here is 50D 73 g/m² 100% recycled polyester.
Note that the word Triclimate implies the 3-in-1 nature of this system, so you can wear this inner jacket when it is dry and mild, and both together when it is cold. The shell jacket alone is for wet weather in any season.
Key features
Many great colors, please check the link below.

Fully adjustable and removable hood.

Center back length: 30 in.
Average weight: 1059 g (37.36 oz).
Insulation: 120 g Heatseeker.
Waterproofing: DryVent.
Lifetime warranty.
Relaxed fit.
BEST PLACEs TO BUY
---
12. The North Face Evolve II Triclimate Jacket
This is a very functional jacket that offers a high resistance with respect to weather conditions in all seasons, as typical for such 3-in-1 designs.
The inner jacket is a fleece, with no less than 4 pockets, two outer and 2 inner pockets. This is Polartec Classic 100 fleece, very lightweight, comfortable, and soft. So this is an incredibly insulating and pleasant material, and it is also quite breathable yet wind-resistance.
If you are not familiar with the fleece, please check my separate text. You will learn that the number 100 mentioned above implies that this is the finest fleece you can have in such jackets. So it is not bulky and it is nicely packable.
Note that the same Polartec fleece is the pockets' inner lining and on the inside of the collar. This all adds a lot to the comfort and the coziness of this jacket.
The shell jacket is waterproof, windproof, and breathable, with all seams sealed, and it has 2 outer pockets. The inner lining of the shell jacket is 100% polyester mesh, while the outer lining is made of 100% nylon. The shell is with the HyVent technology which makes the jacket waterproof and windproof.
The hood can be stowed in the high collar. It is with a great front brim, and it is adjustable with drawstrings placed on both sides and at the back.
Note that you have ventilation zippers under the armpits. The front zipper is protected by the storm flap. The cuffs are with Velcro tabs and the hem is drawstrings, so they all can be tightened to preserve the warmth.
Key features
The finest fleece used in the construction of the inner jacket.
Pit zips for ventilation.
The adjustable hood stows in the collar.
BEST PLACEs TO BUY
---
13. Under Armour Men's Storm ColdGear Infrared Porter 3-in-1 Jacket
The shell jacket is a 2-layer twill fabric on the exterior with a smooth taffeta lining. Here you have the UA Storm technology which repels water, it is both waterproof and windproof jacket, yet breathable and suitable for a variety of outdoor activities and for city use.
The ColdGear Infrared technology used here has a special inner coating of soft, thermo-conductive material that retains your body heat. So this is something different from what you have seen in the Columbia jackets above. You have a print of ceramic molecules inside the shell jacket, which are there to absorb the body heat rather than reflecting it back. So the system stores the energy when you are more active and gives it back when you are less active.
You have two zippered hand pockets and a zippered chest audio pocket with an internal escape hole for your headphones. There is also an internal escape on the inner layer as well.
The inner jacket is an advanced high-loft fleece that is designed to trap the body heat without excessive weight. This is a moisture-wicking, quick-dry material, and you have extra hand pockets for dry weather situations when you want to wear it on its own.
The inner jacket attaches to the outer shell through the zipper and through hook-and-loops on the cuffs and behind the neck.
Key features
Very reasonable price.
Not removable hood.
Very warm system.
ColdGear Infrared technology based on ceramic molecules that keep the warmth.
Adjustable cuffs and bungee hem.
Fuller cut for complete comfort.
BEST PLACE TO BUY
---
A bit more about the key features of a 3-in-1 jacket
Waterproofness
All jackets described here are with the waterproof external jackets, but you might want to know that there are such interchange jackets that are not fully waterproof. However, I would not consider such cases. For my needs, a jacket must be waterproof. In fact, I do not have any that is not waterproof. If I need such a non-waterproof jacket, I can always use the inner layer of some of my interchange jackets.
About types of waterproof membranes, you can see in my separate text. Typically, you have Gore-Tex but some brands have their own stuff. You have seen some mentioned above, like H2No, MemBrain, TexaPore, but there are many more. Gore-Tex remains the best so far, and you can read about this material in my another text.
Breathability
Making a jacket waterproof is easy, but the point is to make it breathable as well. I have had such a non-breathable jacket and it was a terrible choice. In any physical activity you will become totally wet, so do not waste money, you will not be able to use it for anything.
I have discussed this issue in my previously mentioned text, so no need to repeat the story here. So how this mechanism works? The idea behind it is that the pores in membranes are small enough to prevent the rainwater from getting in but they are large enough to allow the vapor (from your sweat) molecules to get out, it is as simple as that.
I have jackets with a breathability rating in the range 5000 – 12000 (this is in units g/m²/24h), and I can feel the difference between the jackets with such numbers. But this is never perfect and it will depend on your activity. To tell you frankly, if you are on a hiking or mountaineering tour up a mountain, you will always sweat, take my word for that.
Insulation – inner jackets
In general, you have a fleece or non-fleece inner jacket, and you have seen examples of both in the text above. I already mentioned that I use to use them unzipped, so in such situations, when you put the shell jacket on and off, you may have a better experience with a non-fleece inner jacket. This is because such an inner jacket is usually of a smooth material (polyester) so it is easier to get the shell jacket on. Also, from an esthetical point of view, some of these non-fleece jackets can really look cool when used separately on their own.
But fleece remains a great choice as well, in particular a microfleece inner jacket with 100 number (you have it in The North Face Evolve II jacket mentioned above). In fact, I am sitting and writing this text in one fleece jacket of that type which I bought many years ago, and can tell you these materials are really pleasant and they seem to last forever.
Storm flap on the zipper
The long front zipper is the area where you can expect the water to pass. So it is essential that you have a storm flap that protects the zipper. In some extra great jackets, you have double flaps, one from each side so they overlap, plus Velcro tabs that keep them in place. My wife has such a great jacket from Jack Wolfskin. With such a design it is totally impossible for the rainwater to pass through. Though this may be a bit annoying in everyday life, you have lots of work to do to get to your zipper.
Taped seams
If you plan to use a jacket in an area with a lot of rain, then all seams must be taped. You have seen one example above (the Columbia jacket) where the seams are only critically taped. This might be fine for ski jackets but this would not be my first choice for my tours in the Alps. Please see more in my separate text.
Armpit vents
This is good to have but this will depend on your activity. None of the jackets I am using now is with such openings. Typically, those are zippered vents, and this means a chance for water to get in. But my wife and daughters have jackets with such zippered vents, and the fact is they have never complained.
Pockets
The more the better, as simple as that. I would never consider a jacket without hand pockets. Yes, there are such rain shell jackets, you can see some of them here. Though, I do not remember any 3-in-1 jacket with such a design.
---
Thank you for reading. Do you use an interchange jacket? I shall be happy to hear from you, please use the comment box below. If you would rather have a standard winter jacket, check this list with best insulated jackets for men. I wish you a pleasant day.