---
If you have ever searched Amazon for insulated jackets most certainly you have seen that some of them have so called 3 in 1 feature. So what is 3 in 1 jacket? Here I explain terminology and give a few nice examples of such jackets.
So what is a 3 in 1 jacket?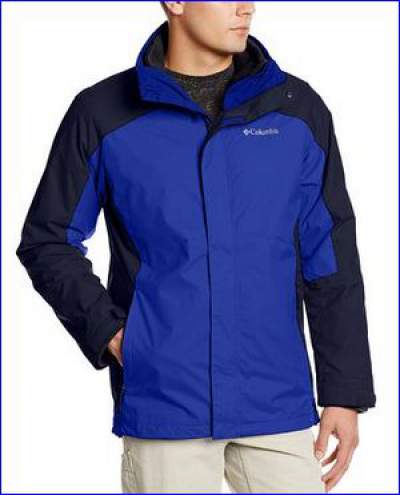 In my view, this is the best way to go through all seasons with a single piece of garment. In short, this is an insulated jacket of a special kind. This means that you have the following:
An external waterproof or water-resistant shell.
An internal fleece jacket.
They can be used together as a single jacket.
Both elements in this type of garment can also be used separately. They are both fully functional. This means that each of them has separate zippers, pockets, drawstrings on the hem.
When you use the two layers together, you can use them in the following ways:
Zipped together as a single jacket. In this case, they behave as a single jacket attached to each other: i) through a zipper on both sides, ii) through snap buttons inside the sleeve of the shell jacket and on the sleeve of the fleece jacket, and iii) through similar snap buttons in the collar behind the head.
Not-zipped together. In this case, you have two jackets on top of each other, bot zipped separately.
Terminology
If you search for such items, note that there are several expressions used for them:
3-in-1 jackets,
3-in-1 jacket systems,
interchange jackets,
interchangeable jackets.
What are benefits of having such a jacket?
The benefits should be obvious:
You have a waterproof protection due to the external shell.
You have insulation due to internal jacket.
You have wind protection by the action of both layers.
Dependent on the model of the jacket, the layer inside can be very thick or thin, it can be fleece or something else. Sometimes, the breathability of the fleece layer is not so great, so combined with the external shell which is normally breathable (but this may be limited), the feeling in such a jacket is not so great if you are sweating a lot.
Here is a short video where the person explains the meaning of the term 3-in-1, so please have a look:
How about the price
These jackets can be very expensive, see this Marmot Bastione jacket, this will depend on the brand and the quality of the materials of course. This is to expect, good waterproof and breathable rain shell jackets are expensive themselves. The range of prices of fleece jackets alone is really wide.
So when you combine both, with all functionality and benefits of such a combination, the price can be very high.
But see below a few nice and inexpensive examples of 3-in-1 jacket systems for men and for women, all of them with fully waterproof shells:




My own 3-in-1 jacket

I have always had at least one jackets of this type. Presently, I am using a quite old Eider Polartec 3-in-1 Gore Tex jacket with a very thick internal jacket, see the picture below. But I must say that most of the time I use only the external shell jacket because in Belgium we do not have strong winters, we do have a lot of rain though.
Only around Christmas time, I have them zipped together. In such a situation I have never used anything more under the jacket, except a polo shirt with short sleeves. This works nice even for temperatures -5 C to – 10 C; yes we do have such days here, but very rarely. This is how I usually go to the Alps as well.
So what I have here is the following. I have a nice and pleasant waterproof shell jacket with a hanging mesh to protect the membrane. It has 3 pockets (two zippered hand pockets and one hidden zippered pocket on the chest). So this is a great jacket to use on its own.
The internal jacket is also with two hand pockets. So this is a jacket for itself, and I use it that way when needed. When it is zippered to the external shell, then its hand pockets are not in use of course.
This was very expensive, 220 Euro on discount, probably 5-6 years ago, just to compare with the models given above.
---
Conclusion
I hope this text has been useful and you now have a more clear picture about what a 3-in-1 jacket is. This is something I have been using for many years now and I know it is a perfect system.
But indeed, in some situations, like in my own present case, the internal fleece jacket may be too bulky or too warm. No problem, you can put it aside and use some other piece of fleece instead, in combination with the outer jacket. In this case, they will not be zipped together as one single piece, but this not so important. This is an alternative which I have also been using, with the mentioned Eider jacket, and with some other rain shell jacket. See my page about equipment, many rain shell jackets are described there.
If you are in search for a 3-in-1 jacket for women, please see this text with 5 great models.
Thank you for reading. I shall be happy to have some comment from you. Thank you for reading.
---