---
Gore-Tex fabric has been on the market since 1976. There are many items with Gore-Tex material described in this site. So what is Gore-Tex material really? Here I present some basic facts about this great outdoor equipment material.
---
What is Gore-Tex fabric – find out from its essential features

When you speak about Gore-Tex, this is all about a microporous membrane with over 9 billion pores per square inch. More importantly, these pores are 20000 times smaller than a water droplet, as you will see from the video below.
The most important features of a Gore-Tex fabric are the following:
♦ It is waterproof
The main purpose of waterproofness is to preserve your body warmth, which would otherwise be lost through the water in your clothes. This is because wet materials conduct heat 3 times faster than dry materials. So you effectively lose your warmth with soaked clothes. This is why you have to keep the water out.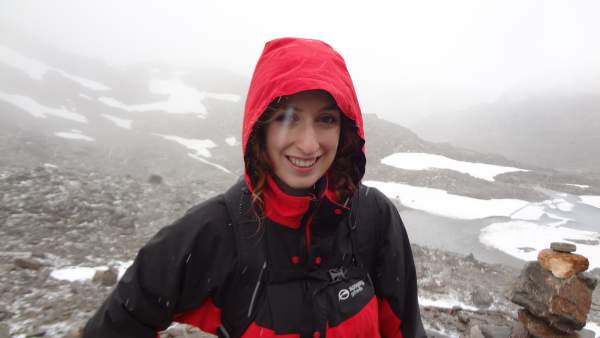 The pores in the Gore-Tex membrane are far smaller than the water droplet and this is what makes it waterproof.
See more about this from the video from Gore-Tex, which is about their durably waterproof materials:
---
♦ Gore-Tex fabric is breathable
The idea behind this is to allow sweat to escape, and to avoid overheating and sweat accumulation. This is enormously important.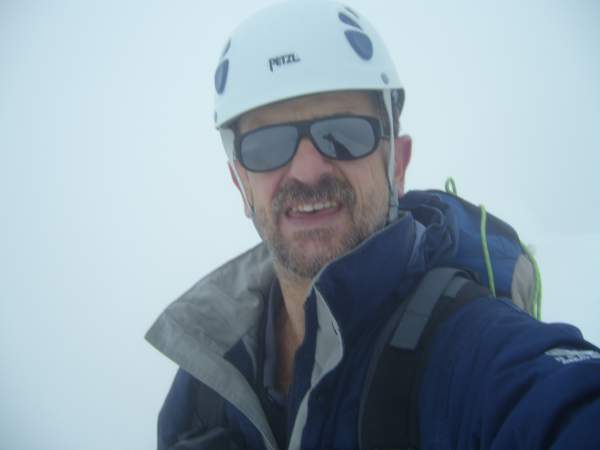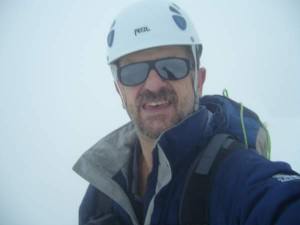 In the past I have had a completely waterproof jacket, I climbed Lagginhorn using it, so you can see my selfie there on the summit of this 4010 meters high peak. But I was totally wet from the inside. It was almost no breathable, not Gore-Tex of course. This was the last time I used it.
Two days after that I was climbing Weissmies, and I was in another jacket, you can see my photo there on the summit. This was in 2007, and you might not believe, but I am still using this jacket from Weissmies.
So breathability is about fabric's ability to let sweat escape as vapor. The mentioned pores in the Gore-Tex fabric are 700 larger than water vapor molecule, and this is what provides its excellent breathability.
Gore-Tex materials are among the best in this respect but there are many factors which affect this. You can see more in my separate text.
---
If you have some time, see this funny video which shows waterproofness and breathability at the same time. A completely wet hand is put into a glove made of the Gore Tex's ePTFE membrane (see more below about this material). Then the guy is keeping his hand with the glove in the water. As a result of evaporation due to natural body warmth, the hand becomes dry, and all the moisture evaporates. This is the magic of Gore-Tex, have a look:
---
There are several ways and criteria to describe breathability of materials. Very frequently this feature is described in Ret scale. Materials are classified regarding the R factor in the following way:
R in the range 0 – 6: extremely breathable,
6 – 13: very breathable,
13 – 20: breathable,
20 – 30: slightly breathable.
---
♦ Gore-Tex fabric is windproof
This is aimed at preserving your micro-climate. If the material is not windproof, you have a convective heat loss. As the air passes through the clothes, it takes the body warmth along.
Windproof materials are supposed to have air permeability below 5 l/m²/s. This number describes the air volume which passes through one square meter of the fabric in one second. Gore-Tex materials fulfill this criterion.
---
About expanded poly-tetra-fluoro-ethylene. Confused? This is just Gore-Tex membrane

Here you have 100% ePTFE-based multilayer membrane. PTFE stands for poly-tetra-fluoro-ethylene. This is a linear polymer consisting of fluorine and carbon. Gore-Tex has been using PTFE polymer from the beginning. This is a very stable material which does not degrade. It is non-toxic, it is bio-compatible, it is not soluble, and it will not end up in water.
The letter 'e' in the word denotes 'expanded'. So, ePTFE is a processed form of PTFE, in other words, the PTFE molecules' fibers are set in a certain formation. This was discovered by Bob Gore after he rapidly stretched PTFE under certain conditions.
So what we now have as a result in Gore-Tex fabric is an incredibly strong microporous material. It has a low water absorption and good weathering properties. But this all started in 1970 when Gore made his first patent in the list of  Gore-Tex products.
The membrane itself is only 0.01 millimeter thick. This is why it is necessary to bond it between high-performance lining and shell textiles. Such a structure is known as Gore-Tex laminate. There are several types of it.

Three layer laminate
A Gore-Tex 3-later material contains:
Wicking base layer which takes the vapor away from the skin.
Insulating mid layer, membrane, which maintains warmth.
External DWR fabric. All Gore-Tex materials have this DWR (durable water repellent) polymer applied on the fabric. With this, water beads up and rolls of the surface and the material does not become wet.
Two-layer laminate
In this case, the membrane is bonded to the outer fabric only. In such a construction in jackets, sometimes but not always, you have an extra lining inside (typically a free hanging mesh) which is there to improve comfort. I have two Gore-Tex jackets of this kind.
But there are many examples where the extra lining is not there, to save weight for example. I find this far less comfortable, the rubbery feeling of the membrane is not so pleasant to touch.
Z-liner
In this case, the membrane is bonded to a lightweight fabric, and this Z-liner is then freely suspended between the outer fabric and the lining.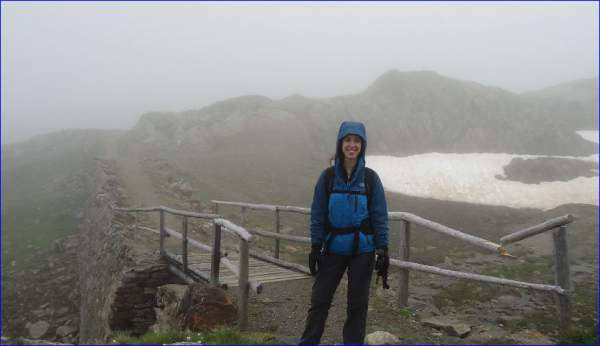 ---
Equipment with Gore-Tex fabric
You should know that all Gore-Tex products pass rigorous tests before they are allowed into production in certified factories. This includes:
Material tests.
System tests.
Field tests.
Controlled performance tests.
See how it is with some specific pieces of equipment:
♦ Gloves
They pass various tests which include the following. First, this is the whole-glove breathability test. Hot steam is pumped through it, and it is weighed before and after the test. They measure how much vapor has escaped.
Then comes the spray test: Here they measure the water resistance of the outer material. This is important because poorly impregnated fabrics soaked with water becomes heavy and causes heat loss as mentioned above.
Next is the liner retention test which checks if lining and finger inserts are securely affixed to the shell of the glove. They should not get pulled out when the glove is taken off. There is a minimum retention limit: 5 lbs.
This is not all. There is also the whole glove leak test which is done under certain prescribed air pressure.
Here are a few examples of Gore-Tex gloves presented within the site:
♦ Jackets
They are subject to:
Abrasion (Martindale) test with sand paper.
Cold flex test. This means squashing them and stretching under extreme conditions, repeatedly for many hours, and then waterproofness is checked after that.
Rain room test.
Comfort test.
A few examples of Gore-Tex jackets presented in the site:
♦ Boots and shoes
They too are subject to rigorous tests, and these include:
Walking simulator – they are subject to 200000 steps in water baths. Sensors measure if any moisture enters the shoe/boot.
Wicking test. All components, upper, shoe's leather and foam, stitching and laces are tested.
Centrifuge test. They are filled with water and then spun at high speed. The pressure forces water through even the smallest of holes. This is aimed at discovering leaks.
Comfort test. The whole shoe/boot is tested for breathability.
Here are a few examples of Gore-Tex boots presented in the site:
♦ Hats
See this one, waterproof and breathable Gore-Tex hat:
♦ Bivy sacks
---
What is Gore-Tex Pro
In short, this is a waterproof material launched in 2013. Gore-Tex Pro products also use 100% ePTFE-based multilayer membrane system. The membrane is durably bonded to both the outer material and a specially developed robust inner lining. Outer materials used here must meet strict performance criteria, with minimum 40 denier.
The inner layer is a thin, low-denier low-density woven Gore Micro Grid Backer instead of a tricot knit. It enhances breathability, reduces weight and it also allows the jacket to slide more easily over the layers that are underneath it.
So what you have here is a fabric that is more durable and up to 28% more breathable than the Gore-Tex Pro Shell materials. In terms of the Ret factor mentioned above, Gore-Tex Pro is with R<6; so this is an extremely breathable material.
The Pro fabric is also more stretchy and lighter than the Pro Shell.
---
Here are a few truly great Gore-Tex Pro products:
---
Summary
To conclude this text about the Gore-Tex fabric, there are many waterproof and breathable materials on the market, but Gore-Tex still remains on the forefront. I have many pieces of this material in my own equipment and I can say I am reasonably satisfied with them.
My old jackets do leak in some places, like on seams but this is indeed after many years of use. I mentioned one of them in the text above. Yet I always feel comfortable when I wear them.
There are differences when you compare various waterproof and breathable jackets, in particular with respect to breathability. I would say that, in general, breathability is a greater challenge than waterproofness.
I hope you have enjoyed this text and it is useful to you. Please share it. Thank you and have a nice day.


---