---
Outdoor Research Arete gloves for men and women are full of features, completely waterproof, breathable and windproof hiking gauntlet style award-wining glows. They have a removable liner which you can use as separate light gloves.
Description and explanation of terminology
Terminology
Here are a few parameters which are good to bear in mind when you choose gloves:
These are gauntlet gloves which means they have a quite long cuff. A good thing with this is that they are warmer and easy to put on, no need to put them under the sleeves.
But in the case of a strong rain, you might need to tuck them under, otherwise you will have water running along your waterproof sleeve directly into the gloves. My own gloves are of that type and I do this in rain. This is why it is good to have a jacket with velcro tabs on cuffs, to allow this even with the glows of this type. OR Arete gloves are indeed gauntlet-type.
Dexterity is another feature to bear in mind. This means that you are able to do simple tasks while wearing the gloves. If they are very bulky, this is complicated. This is the issue with mittens. In Alpine environment, I always use gloves, never mittens. Outdoor Research Arete gloves pass this test nicely. This is basically due to the following: soft material, and pre-curved structure.
Are the glows waterproof? Well, I would never consider anything else. This is a must.
Are the glows warm enough? This may be personal, but OR Arete are very good in this. Here, you have two pairs of gloves one inside the other. They are great for Alpine conditions.
Description
OR Arete are all-synthetic gloves, durable and lightweight. The palm is an exceptionally grippy surface. This is something you need for any kind of tools you might use, like an ice axe, trekking pole etc.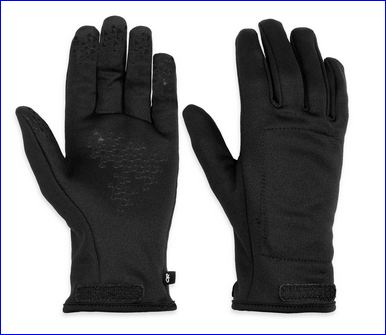 ♦ Internal gloves: As mentioned, you have two layers here. So the external shell can be taken off, and you are left with a nice pair of fleece thin gloves, you can see them in the picture right.
You can use them separately in the morning or evening cold in dry weather. This is indeed a great feature which you definitely need in the mountains.
On the palm and on the fingertips you have silicon patches that are there to provide extra grip with these internal gloves alone. They are shown in the picture below.
These liner gloves have a velcro tab on the cuffs, for attachment to the shell gloves. You can see it below in one of the pictures.
♦ 3-in-1 feature: Shell gloves can also be used separately, without the internal fleece gloves. The internal surface of the shell gloves is again a pleasant fleece liner.
So what you have here is a true 3-in-1 feature: both gloves used separately, and both gloves used together in the rain and cold conditions. What better one can expect from gloves!
♦ On each of shell gloves, you have a carabiner loop on the middle finger. It is visible in the picture below. So you can attach them to your pack. OR designers have thought about everything here.
♦ On the cuffs, you have a cinch cord with clip, which can be used by one hand. You also have a security leash that is used to put it around your wrist. It is removable. You also have clips on each glove, to clip them together. In addition to all this, you still have pull loops on the cuffs.
Please see this short video where all the important features of OR Arete gloves are mentioned:
Specifications & summary of features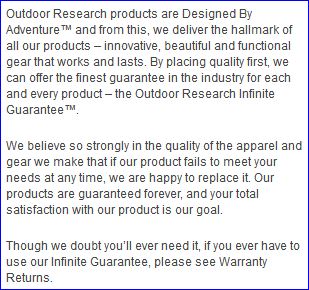 Avg. weight: 7.8 oz / 220 g (L).
Fabric:
– GORE-TEX membrane.
– 100% nylon oxford shell outer mixed with dobby nylon shell.
– AlpenGrip palm.
– 100% polyester lining.
– Radiant Fleece 95% polyester, 5% spandex removable liner.
Fully waterproof.
Breathable.
Windproof.
Durable.
Pre-curved construction.
Silicone grip liner palm.
SuperCinch gauntlet closure.
Removable leash.
Pull loop.
Carabiner loop.
Infinite guarantee, see the picture above.
Size: S, M, L, XL.
2 colors.
---
Model for women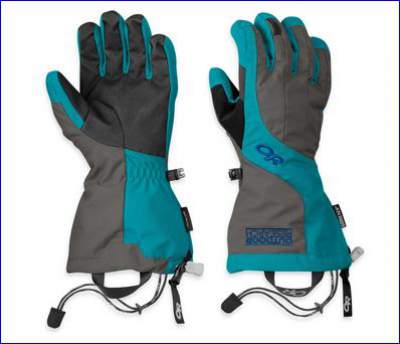 All features in the model for women are the same. The only difference is in the average weight, size range, and in colors.
Avg. weight: 7.1 oz / 202 g (M).
Size: S, M, L.
---
Pros & cons for both models & users' experience
 Cons
 Pros

Lightweight.
Comfortable.
Durable.
Great grip.
Good price.
Completely waterproof & breathable.
3-in-1 feature.
These gloves have received a very good rating on Amazon and the 'fit as expected' statistics is great.
Conclusion
In conclusion of this text about Outdoor Research Arete gloves for men and women to stress again that this is a very reliable quality tool from a renown brand. These gloves have been around for many years now, you could realize this from the video above.
Outdoor Research is proud of their warranty policy, which is rather unique, and it shows their confidence in the outdoor tools they provide. In view of all the features and the price, these gloves are a real bargain. I can fully recommend them.
If you are still undecided, you might want to see a few more great waterproof gloves in my another text.
I hope the text has been useful to you. Perhaps it might be for others as well, so please share it.
It will be great to have some comment from you. There is a comment box below. Thank you and have a nice day.