---
This Vasque St Elias GTX review is about durable and comfortable award-winning backpacking boots suitable for a variety of outdoor activities. These are waterproof boots which offer a great traction, stability and cushioning on practically any terrain.
Best place to buy
The best place regarding the price and shipping conditions is usually Amazon.com.

Construction and materials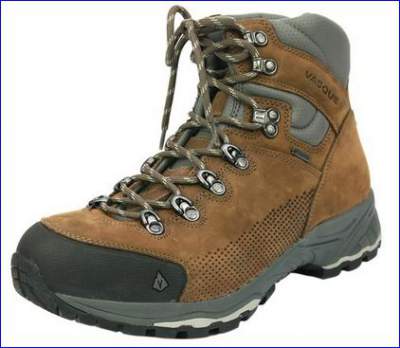 These are boots built of a high-quality nubuck leather resistant to wear in any environment. If you are not familiar with the terminology, this is a top-grain cattle leather that has been sanded or buffed.
On the toe section you have a molded rubber over-layer for extra protection, and some extra leather over-layer on the back as well.
Metal eyelets, 7 pairs of them, are nicely designed, strong, and of exceptionally good quality, one of the several nice features in these boots. The upper 3 pairs are hook design.
GORE-TEX liner inside makes these boots truly breathable and waterproof. You can stay in over 5.7 inches (14.6 cm) of water without any danger of having your feet wet.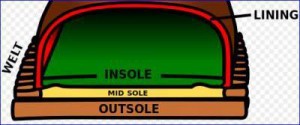 The EVA foam insole layer is removable, just to know in case you need to add some of your own. You might want to know that EVA stands for ethyl vinyl acetate.
Beneath it, you have a molded ASE midsole with EVA cushioning pads and TPU (thermoplastic polyurethane) shank. All users report an exceptional stability and cushioning which this design provides. These boots provide comfort right out of the box.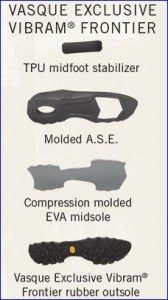 The outsole is Vasque Exclusive Vibram Frontier molded with XSTrek compound, see the picture below. This is a great design which provides stability on various types of terrains, aimed to minimize rubber but in the same time without sacrificing traction, which resulted in a very lightweight sole.
This all structure of the sole construction you can see in the picture here on the right.
The ankle collar is a synthetic material, and with the additional leather layers it gives a nice support and cushioning.
---
Vasque St Elias GTX size
These boots are made in several width options (narrow, medium, and wide) and in the following sizes:
Men's narrow: 9, 9.5, 10, 10.5, 11, 11.5, 12, 13.
Men's medium: 7, 7.5, 8, 8.5, 9, 9.5, 10, 10.5, 11, 11.5, 12, 13, 14.
Men's wide: 8, 8.5, 9, 9.5, 10, 10.5, 11, 11.5, 12, 13.
Women's narrow: 7, 7.5, 8, 8.5, 9, 9.5, 10.
Women's medium: 6, 6.5, 7, 7.5, 8, 8.5, 9, 9.5, 10, 10.5, 11.
Women's wide: 7, 7.5, 8, 8.5, 9, 9.5, 10.
To check the size corresponding to your country (e.g., EU, UK, Japan, etc.) please check the table given here.
With such a range of sizes, and for 3 different width options, you will definitely be able to find an optimal fit for your feet shape.
Technical specifications & summary of features
Back view of St Elias boots.

Use: backpacking, hiking, outdoor works of any kind.

Materials:
– Outsole: Vasque exclusive Vibram Frontier.
– Midsole: A.S.E. with EVA cushioning pads and TPU shank.
– Footbed: dual density EVA.
– Upper material: 2.3 mm waterproof oiled nubuck leather.
– Liner: GORE-TEX.
– Toe protection: molded rubber bumper.
– Synthetic ankle collar.
7 metal eyelets.
Size range (US): 7-14 for men; 6-11 for women; wide, medium, and narrow options.
Weight: 1.57 kg (for size 12 medium).

Heel 1.75 in.

Platform 0.75 in.

Warranty: 1 year.
Colors:
– Bungee Cord/Neutral Gray
– Slate Brown/Beluga.
Users' experience
I have a friend who is wearing these boots for more than a year now and he is obviously very happy with them, saying that you do not feel terrain under your feet, regardless of the surface. After all this time the sole looks the same as it was in the beginning.
From his own experience, they provide an excellent traction regardless of the surface. The same experience is with respect to water resistance. He never had any issue with wet feet when wearing these boots, and this even when he would submerge them completely in the water up to the height mentioned above.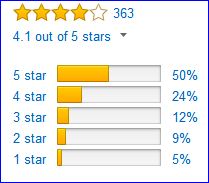 With respect to breathability, he had some objections. But this is to be expected due to Gore-Tex material used here. I have described some basic features of Gore-Tex in my another text, so have a look if you have time. The complete feeling and breathability, when you wear a Gore-Tex material, depend a) on the outside temperature, and b) on your own activity.
The point is that there is no waterproof/breathable material which is optimal for every situation. Knowing this, you can adapt when this is about your jackets, but with boots and shoes, this is a bit different story.
I have checked several sites and what I see is a generally very high rating and a great users experience. In the picture above you can see how these boots are rated by Amazon customers.
You might want to compare these boots with some other models from the similar category presented in the site, Lowa Renegade GTX and Timberland White Ledge. Please see the prices and rating by customers.

Pros and cons
Great boots and very popular, yet there are some complaints. Here is a summary of the possible cons and pros:
 Cons
 Pros

Complaints about breathability.
Complaints about laces.
Not durable synthetic ankle collar.
Complaints about weight.

Very durable.
Very comfortable.
Great ankle support.
Waterproof.
Comparison with other brands
Here I give a comparison table with boots from several other top brands:
Vasque
St Elias GTX

Salomon
Quest 4D GTX


Timberland
White Ledge
Waterproof
yes, GoreTex

yes, GoreTex

yes, leather
Upper Material
all-leather

leather,
synthetic

all-leather
Width options

3

1

1
My rate

8.9/10

8.9/10

8.7/10
Conclusion
To conclude this Vasque St Elias GTX review, these are high quality, solid, and reliable boots which will surely keep your feet dry from outside elements. The boots are designed with a minimum number of seams, definitely waterproof, and reasonably well breathable.  These boots are a perfect tool for backpackers, mountaineers, and hikers.
They brag about out-of-the-box comfort, but realistically give it a week or so before you break these boots in. All in all, great booths with a specific design for both men and women. With 3 different widths and such a variety of sizes, you will surely find your best fit.

So, I hope this text has been useful to you, and if this is so please share it with others in your social media.
For the updates about price please check the links given above. These are the places with the best price to expect. In addition, you may have a free shipping as well.
Thank you for reading and please leave me some comment in the box below, I shall be happy to read it and to answer any question. Have my best wishes and regards.
---
This video is 1:30 only, have a look:
---