---
There are several types of Outdoor Research Bivy Sacks on the market. In this review, I present the best of them, highly rated and reliable for fast and light outdoor adventures. Keep reading.
Outdoor Research Alpine Bivy sack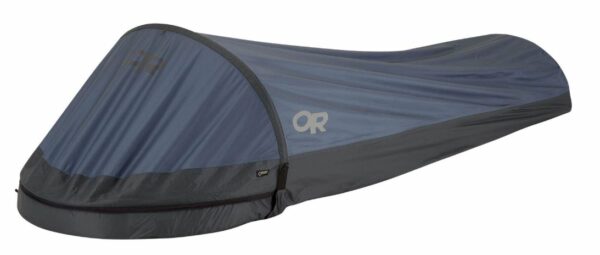 This bivy sack has been on the market for a number of years already. But it is newly revamped recently so now it is much lighter. The weight is 20 oz (564 g). This is an excellent product for solo winter alpine pursuits.
The Bivy features the seam-taped waterproof fabric with GORE-TEX Respiration Positive technology which is supposed not to collect interior condensation. The fabric is 3L 100% nylon, 30D ripstop upper and 100% nylon 40D ripstop with TPU lamination floor.
You also have a clamshell opening that lets you breathe freely without letting in the weather. The structure is supported by a single pole that creates overhead space but you can leave it at home to save weight.

---
Outdoor Research Advanced Bivy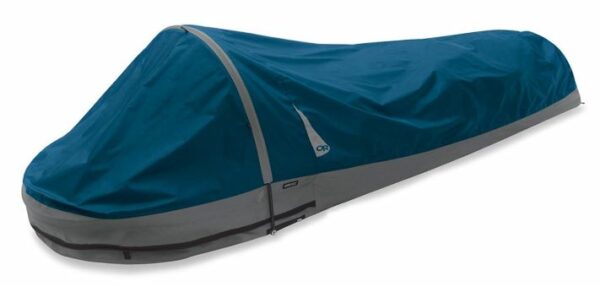 This Outdoor Research Advanced Bivy is a 4-season solo shelter, completely waterproof top and bottom. It provides excellent flow-through ventilation with a vent in the foot box in combination with a no see-um mesh at the head area. You have plenty of space for a winter sleeping bag.
You have a waterproof and breathable 3-layer GORE-TEX Respiration Positive fabric, fully taped seams, two shock-corded Delrin poles, overhead and circumferential, removable no-see-um netting, end-opening zipper with wide storm flap, and sleeping pad straps.
It is equipped with 5 stake loops, 3 guy line loops, a high-volume foot section with zippered vent, and one small internal mesh pocket. The package includes stakes as well. The weight is 2 lb 7 oz (1.1 kg).

Please see this video by a professional guide, explaining how to set up a bivy. In this particular case it is the Advanced Bivy with 2 poles:
---
Outdoor Research Helium Bivy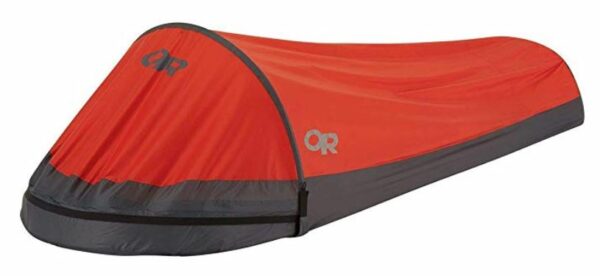 This Helium Bivy is an award-winning lightweight shelter that they built for multiday minimalists who want to have an item for speed, agility, and performance. It is ideal for thru-hikers and bikepackers with its refined footprint and reduced weight, and its durable waterproof and breathable Pertex Shield+ fabric.
So you have a 2.5L 100% nylon, 30D ripstop upper, and on the bottom you have a 100% nylon 40D with TPU lamination. The weight is 15.7 oz (445 g). Seams are fully taped, you have a Delrin single-pole system, 2 stake loops, reflective logo, and one guyline loop.

---
Outdoor Research Interstellar Bivy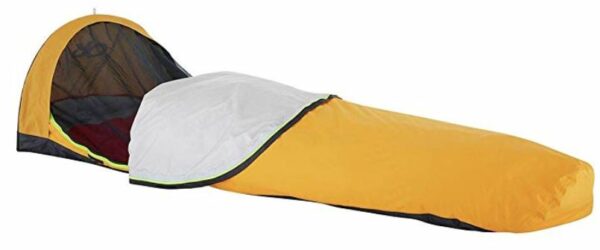 The Interstellar AscentShell Bivy is a waterproof and versatile choice with a newly designed side entry that makes it getting in and out of your shelter faster and easier than ever before. It comes also with an innovative zipper design and a built-in sombrero that allow you to sit up and perform some camp tasks like cooking and packing while still sitting inside the bivy.
They use Outdoor Research's proprietary AscentShell technology created by an electrospun process that results in a 3L construction. This is 100% nylon with a 20D mechanical stretch ripstop face with 100% polyester 12D backer, 100% nylon. On the floor you have a 40D ripstop with TPU lamination that breathes faster, it is stretchy, and it surpasses the traditional waterproof membranes.
The weight is 19.9 oz (546 g), all seams are taped, one guy line loop is there, two stake loops, and a high-volume toe end. You also have a functional Derlin single-pole system.

Please see more in this video:
---
Outdoor Research Stargazer Bivy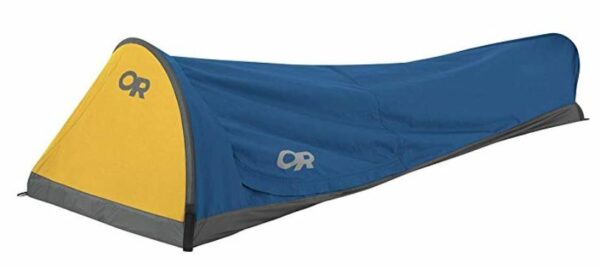 They describe it as the most comfortable and scenic way to enjoy a solo night outside. Here again you have a fully seam-taped, breathable, and waterproof AscentShell technology so you are completely protected from the elements. The bivy also includes their newly designed side entry. The best part is its enlarged headspace. Here you have a large mesh screen that keeps bugs out but also lets you enjoy stargazing.
The fabric is a 3L 100% nylon with a 20D mechanical stretch ripstop with 100% polyester 12D backer, 100% nylon, 40D ripstop with TPU lamination floor. The weight is 18.9 oz (535 g). You also have a Delrin single-pole system, reflective logo, large side opening, one guy line loop, two stake loops, and high volume toe end.

---
Summary
Users' reviews for all these models are great. People have been using them in very different conditions and these sacks will definitely keep you dry. This is a reliable brand and you need this for the items of this type.
Thank you for reading. Please use the comment box below in the case of questions. Bookmark this text, it will be updated with new models from Outdoor Research whenever they appear on the market.