---
Here you have the list with best lightweight winter sleeping bags for camping, all with the rating 0 °F (-18 °C) or below, and all from the top brands.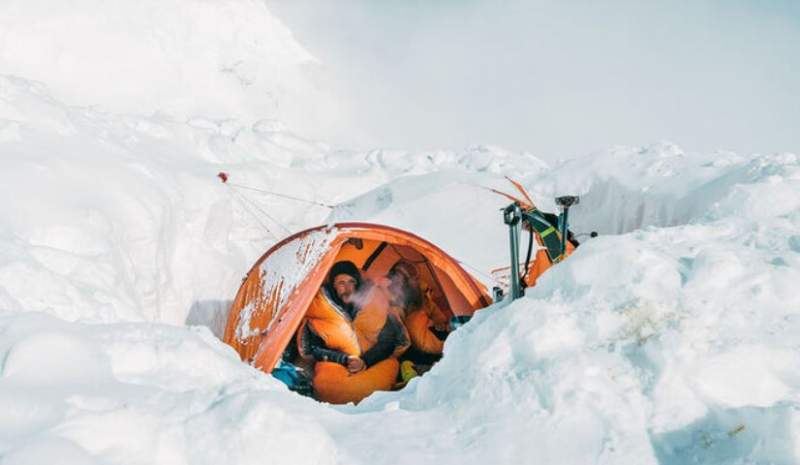 ---
What is included in the list
Here is what the list included:
Gender-specific sleeping bags. Most of the bags on the market are unisex, but some top brands build also gender-specific sleeping bags for experts and for advanced users. So for example, women-specific sleeping bags have a different size, shape, insulation distribution, and also different colors. You can see more in my list with best sleeping bags for women.
The focus here is on reasonably lightweight sleeping bags. In view of their temperature ratings, you cannot expect some ultralight items, but they are still light enough to be carried in the backpack.
Regarding the fill, you will notice that all of them come with down insulation. This is what you might expect from the bags for low temperatures that are at the same time lightweight enough and nicely packable.
---
My list of best lightweight cold weather sleeping bags
So here is my list, with the sleeping bags ordered alphabetically:
---
1. Big Agnes Orno UL 0 Degree Sleeping Bag

This is a sleeping bag with 0 F (-18 C) temperature rating as stated by the manufacturer. It is ultra-light and also incredibly packable bag. This is not so surprising when you see its minimalist mummy-style cut.
So the weight is 2 lb 7 oz (1.11 kg) for the size R, and the compressed size is 7 x 8 inches (18 x 20 cm). This is why I have included it also in my list with best compact sleeping bags for backpacking.
The insulation here is a 850-fill DownTek down and they utilized nanotechnology for a water-repellency and anti-microbial and anti-bacterial protection. The bag is built in three sizes and one great feature is that it can be zipped to another bag.

---
2. Big Agnes Crosho UL -20 Down Mummy Sleeping Bag

This Big Agnes Crosho UL -20 Down Mummy Sleeping Bag is ultra-light with its 3 lb (1.36 kg) for the size R. It is also ultra-packable with the compressed volume of only 7.4 liters. and with a top-quality 850-fill DownTek water repellent down, designed for extremely cold conditions. The official temperature rating is -20 F (-29 C) so this bag deserves to be here in the list.
They use what they call body mapping with longitudinal baffles that distribute heat from end to end, and allow the bag to more closely follow the contours of the user. They also use vertically structured sidewalls with the idea to trap heat closer to the body.

---
3. Marmot Col Sleeping Bag -20 Degree Down

This Marmot Col Sleeping Bag -20 comes with a waterproof and breathable shell, and this is what sets it apart from many of its competitors. It is designed for extreme cold, it is also EN-tested, and its temperature rating is -20 F (-29 C).
You have a premium down insulation, and the bag id built in two sizes R and L. The weight of the R size is 3 lb 14.59 oz (1.774 kg) so the bag deserves to be here in the list. Please follow the link for more.

---
4. Marmot CWM -40 Degree Sleeping Bag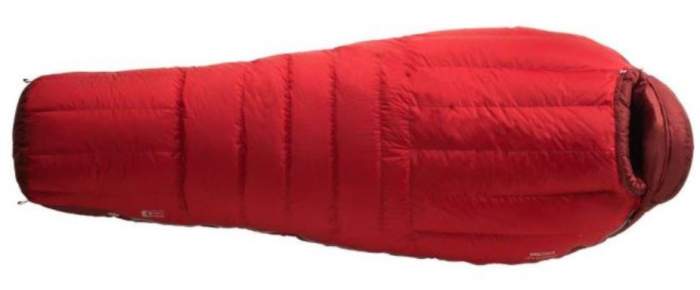 This Marmot CWM -40 Degree Sleeping Bag is something you need if you plan to venture outdoors in the depth of winter. With the minus 40 F (-40 C) temperature rating and EN-tested, this sleeping bag is designed to protect you in the most extreme weather situations.
Note that this is a backpack-portable bag, it weighs 4 lb 9 oz (2066 g) for the size R, and its packed size is (L x D) 19 x 9.5 inches (48 x 24 cm). The fill here is a lofty Responsible Down Standard-certified 800-plus power goose down.

---
5. Marmot Women's Ouray 0 Degree Sleeping Bag

So here you have a sleeping bag built specifically for women. What makes it lightweight is its mummy-shaped profile and a quality 650 Power duck down fill. This is a treated down for better performance in wet conditions.
The weight is 3 lb 10 oz (1.64 kg) and this is what you might expect for such temperature rating. The bag comes with top quality YKK zippers and you have them two; the main long and one short on the other side. This allows for some comfort and easy access.
With its 0 °F (-18 °C) temperature rating, this is a sleeping bag that can be used for winter camping. Note that it is EN tested, and you should know that not all brands have such a certificate with their sleeping bags. There is no formal obligation for this, but here you have it as a bonus so you know you can rely on what they claim in the specifications. The bag is built in two sizes.

---
6. NEMO Sonic -20 Degree Sleeping Bag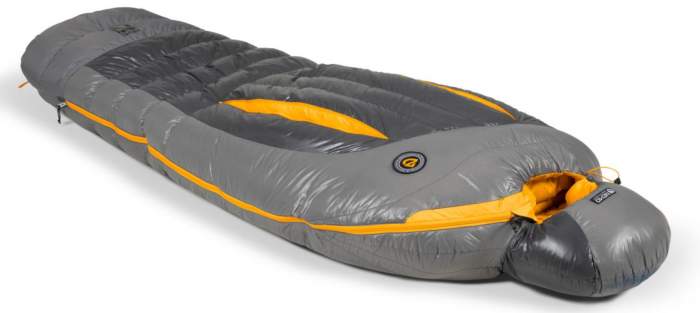 This NEMO Sonic -20 Degree Sleeping Bag is an award-winning item, but it has been even more improved recently. It is equipped with a venting system that allows for some heat to escape when needed, and this without letting cold air in. This makes it suitable for a very wide range of temperatures.
So the bag comes with Thermo Gills which they have introduced in several of their new sleeping bags. It also comes with stretch stitching at the knees, a waterproof and breathable footbox and hood, and with a zippered pocket. They build it in two sizes and the R size weighs 3 lb 8 oz (1.59 kg). This is quite remarkable for its -20 F (-29 C) temperature rating.
The fill is one of the best options on the market, so you have a 800 FP down fill. The plumes are treated so they will stay dry longer in wet conditions.

---
7. Therm-a-Rest Oberon 0 Degree Sleeping Bag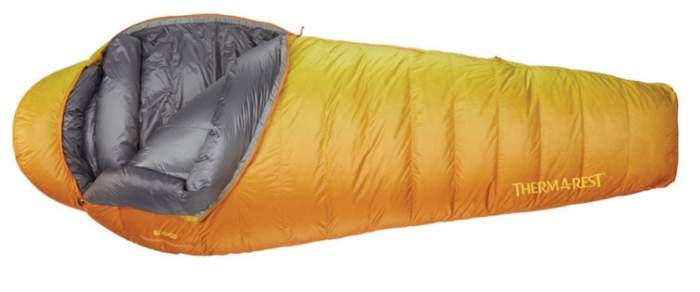 This Therm-a-Rest Oberon 0 Degree Sleeping Bag is a technical EN rated winter bag with treated premium 800-fill Nikwax Hydrophobic down. It comes with a heat-reflective lining and with what they call a zoned insulation. This means it has less insulation on the bottom. 
The ratio of insulation is roughly 60% of the fill on top and 40% on the bottom. They claim this is the optimum balance of warmth-to-weight. There are three sizes to choose from and the weight will depend on the size you choose. It is in the range of 1.02 – 1.19 kg. This is a unisex design.

---
8. Therm-a-Rest Polar Ranger Minus 20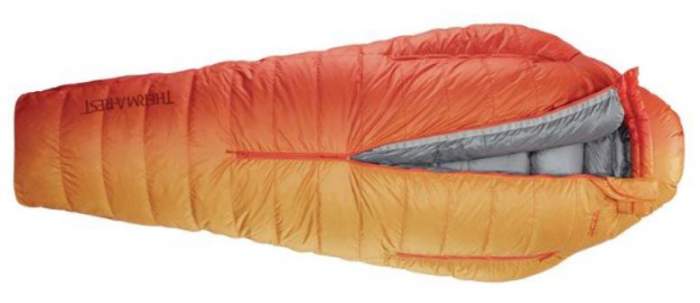 This is an award-winning sleeping bag with a temperature rating of -20 F (-29 C). It was designed with polar explorer Eric Larsen so every component of the bag is maximized for warmth even in Arctic settings.
The insulation is an 800-fill Nikwax Hydrophobic down, but it also includes a synthetic snorkel hood and a rather unusual central zipper. It has overlapping side vents which open to allow arm use and customizable temperature control.
Other great features include a Toe-asis foot warmer pocket, overstuffed draft tubes, and quilt and blanket loops. This sleeping bag weighs 3 lbs 4 oz (1.47 kg) and its packed size is 20 x 11 in (51 x 28 cm). Please see more in the video below.

---
How to choose your winter sleeping bag
Packed size: These low-temperature bags can be bulky and this is for all good reasons. But if you plan to carry the bag in the pack, then you should check the packed size, there are some nice options here. Note that some of them need a separate compression sack in order to compress them to the declared packed size.
Weight: Here the same holds as for the packed size. There are sleeping bags on the market that are perhaps for even more extreme temperatures but those are with the wight which you would not want to have in the pack, see this Browning Camping McKinley -30 Bag's weight to realize what I mean. As mentioned above, the focus here is on backpack-portable bags.
Size: Practically all of these sleeping bags are built in several sizes. So if you are a short person you can choose a smaller bag and avoid carrying unnecessary weight. Note also that a proper size implies a better temperature efficiency.
Features & comfort: Warm sleeping bags may not be the best option for higher temperatures. This is why some of them include venting options which make them more versatile. I mentioned temperature efficiency, so this is why all of the sleeping bags here are mummy style. This may reduce comfort, but it will keep you warm.
Price: These are high-end items where the highest quality fabric and insulation are used. They are also from the leading brands in this industry, and this has price. So be ready to pay more.
---
Final words
So this was my list with best lightweight winter sleeping bags for camping and backpacking. It will be updated whenever I find a sleeping bag that is worth adding to the list. This is why you might want to bookmark this text and check from occasionally.
For cold weather camping you will need an appropriate tent, so check these winter camping tents in the size range of 1–4 people. For larger tents and for car camping check this long list with a variety of them.
For more options please visit my page with sleeping bags, you will have them many to choose from. I love to hear from you, so please use the comment box below in case of questions or comments.
---