---
Therm-a-Rest Oberon 0 Degree Sleeping Bag is a technical EN-rated winter bag with treated down fill, a heat-reflective lining, and a zoned insulation.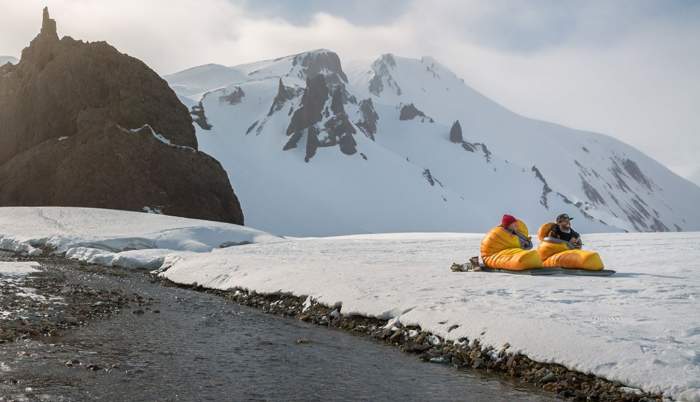 ---
Key features & benefits
Winter sleeping bag.
Mummy style.
Nikwax 800 Down fill.
Three sizes to choose from.
Heat reflective lining.
Bottom straps for a pad.
Quilt/blanket loops on the sides.
Zoned insulation.
---
What type of a sleeping bag is this
This Therm-a-Rest Oberon 0 Degree sleeping bag is a new item on the market, a typical mummy-style bag, as comfortable as you can expect from an item designed to save weight and yet to keep you insulated and protected from the cold.
So it is not a feature-rich bag but those features that you have here are functional, thermally efficient, and necessary. This means a trimmed design in general, a relatively short 3/4 zipper, and not too many bells and whistles. My understanding is that it is built as a unisex item in the sizes small (S), regular (R), and long (L). Above all, the materials are very pleasant and the bag really looks great.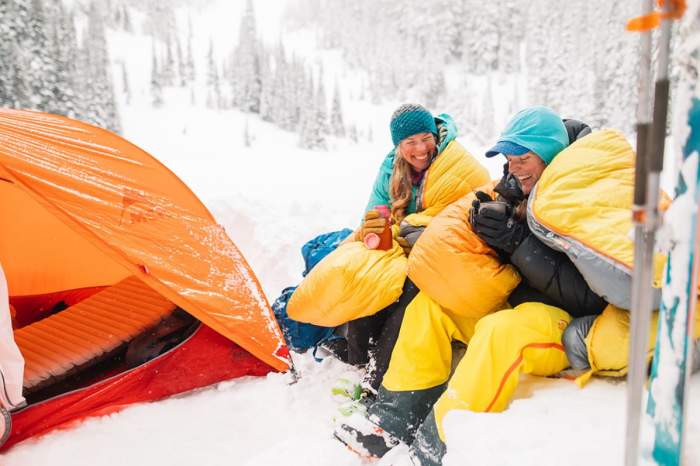 ---
Who is it for
Seasons-wise, this is a sleeping bag for cold-weather outdoor activities, and this includes even sub-zero temperatures. Note that it is EN tested and the temperature rating is given in the specifications below. The down fill is normally best suited for a dry environment, but it is treated and it should perform well in any environment.

I would stress that the feeling of cold is still very individual so this rating, although reliable and important, should only be understood as a guide. Do not bring yourself into a danger. If you want to be sure, test yourself and this bag at a place where you can have a more controlled situation.
Size-wise, as mentioned above, they have built it in three sizes in the range 66 – 78 inches (168 – 198 cm) so you can choose your best fit and this means avoiding unnecessary weight on the trail.
Weight-wise, clearly the weight will depend on the size you choose and it is in the range 1.02 – 1.19 kg (more in the specifications below). This is quite a good weight for such a winter sleeping bag and you will see how it stands when compared with some other models, there is a comparison table below.
They have saved the weight a bit by having less insulation on the bottom, but it is still there no worry. This is because insulation loses its properties when compressed. If you ask why, the reason is simple, when it is compressed there is no much air left in it. So although the insulation is reduced on the bottom half, the warmth is not compromised.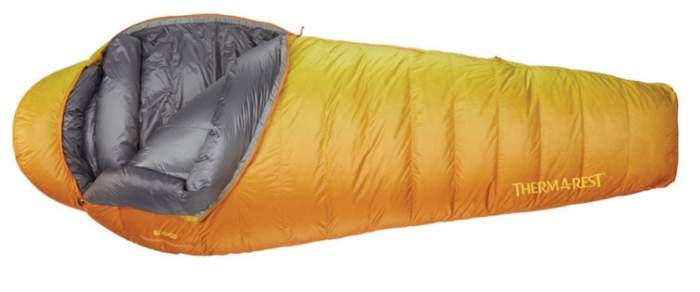 So the bag is suitable for backpackers, hikers, mountaineers, and for practically any cold-weather outdoor activity.

---
How is it constructed
Insulation
Obviously, the insulation is the most important part in this bag. So you have a premium 800-fill Nikwax Hydrophobic down used here, and in the specifications below you will see that around 70% of the weight of this bag is the insulation alone.
This is a treated down with a water-repellency that keeps the insulation dry longer and allows it to dry faster if it gets wet. They claim that such a treated down maintains its thermal efficiency even if it becomes wet. It absorbs 40% less moisture than an untreated down. This is a Responsible Down Standard certified fill, it ensures that the animals used in the down supply chain are treated humanely.
Zoned insulation: As mentioned above, there is less insulation on the bottom. The ratio is roughly 60% of the fill on top and 40% on the bottom. They claim this is the optimum balance of warmth-to-weight. It is essential that you have an appropriate sleeping pad to match the bag's thermal properties. You have them many in my page with sleeping pads so please have a look.
They have added two straps on the bottom where you are supposed to add a sleeping pad. This is what they call the SynergyLink Connectors which integrate a mattress with the bag and they make sure you stay on your mattress when you roll during the night. The straps fit any mattress up to 25 inches (63.5 cm) wide, they are stretchy and removable, see them in the picture.

The fabric
The shell fabric is 20D polyester ripstop with a durable water repellency. The liner fabric is 20D polyester taffeta with a reflective ThermaCapture feature to reflect at least partly the body heat back.
You also have a large draft tube and a draft collar. All acting together, these features are supposed to keep you warm, hence the mentioned temperature great rating.
On the foot zone, you have what they call the Toe-asis Foot Warmer Pocket. This is an ergonomic toe box that rapidly warms cold feet in a pocket of warm down.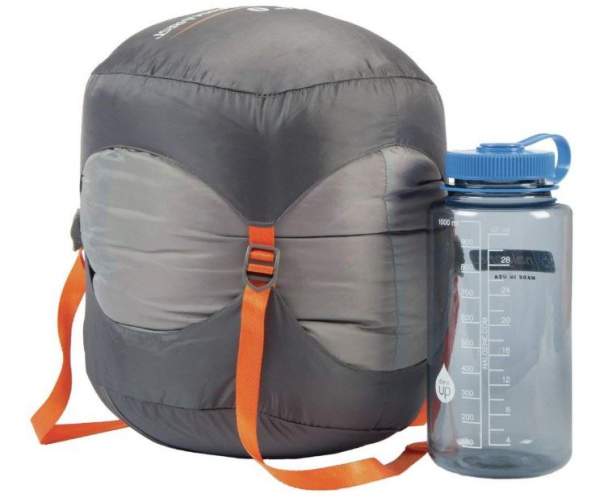 Other features
Quilt and Blanket Loops: This is introduced for layering their quilts or tech blankets when needed, for increased warmth.
Snag-free zipper.
Cinchable hood.
An external zip pocket for small items.
Both stuff sack and storage sack are included.
Please see more in this video by the brand:
---
Warranty
Limited Lifetime Warranty: This is what they offer for all their products except electronics where they give a 2-year limited warranty.
Better Sleep Guarantee: This is a special guarantee for their bags and quilts. This is their statement: " When you wake up on a Therm-a-Rest sleeping bag or quilt, we're confident you'll wake up feeling better than ever. If you are not completely satisfied, return it within three months with the original receipt of purchase and we will give you a full refund- no questions asked." This sounds more than fair to me.
If you are not familiar with the Therm-a-Rest brand, it is worth mentioning that they have invented the first self-inflating pad in 1972. This is a company based in Seattle and renown globally for their sleeping bags and pads.
---
Specifications
Type: mummy sleeping bag.
Sizes: small (S), regular (R), long (L).
Weight:
– S: 2 lb 4 oz (1.02 kg).
– R: 2 lb 7 oz (1.11 kg).
– L: 2 lb 10 oz (1.19 kg).
EN temperature rating:
– Comfort: 14 F (- 10 C).
– Limit: 0 F (-18 C).
– Extreme: -37 F (-38 C).
Fill: down.
Packed dimension: 17 x 10 in (43 x 25 cm).
Fit:
– S: 66 in (168 cm).
– R: 72 in (183 cm).
– L: 78 in (198 cm).
Girth (shoulders/hip/feet):
– S: 57/56/44 in (145/142/112 cm).
– R: 62/57/46 in (157/145/117 cm).
– L: 65/58/51 in (165/147/130 cm).
Fill weight:
– S: 1 lb 9 oz (0.71 kg).
– R: 1 lb 11 oz (0.78 kg).
– L: 1 lb 14 oz (0.84 kg).
---
Therm-a-Rest Oberon 0-Degree Sleeping Bag vs Competitors
In the table below I give this Oberon 0 Bag side by side with two other bags with the same temperature rating. You realize how big difference the fill makes when you compare the weight of the Marmot's Ouray 0 bag and the other two bags.
But see also the packed sizes, the Big Agnes Orno UL 0 bag is simply incredible. However, with that bag you have to buy the compression-bag separately, while it is included here with the Oberon 0 bag.
---
Final thoughts, rating, pros & cons
The Therm-a-Rest Oberon 0 Degree Sleeping Bag is a very reliable and top-quality outdoor sleeping item with exceptionally good warranty conditions. With its 800-fill Nikwax Hydrophobic Down this is a toasty cocoon for cold weather camping and backpacking. It is lightweight and nicely packable with its clever zoned insulation design. I have included it in my list of best lightweight winter sleeping bags for camping.
This is a top-notch item and the price is as expected. Please see how I rate it:
If you need more options, please check my page with sleeping bags, you will find them in many shapes and with a variety of temperature rating. Check this Big Agnes Orno UL 0 Degree Sleeping Bag which is with the same temperature rating. But if you need something for extreme temperatures, check this NEMO Sonic -20 Degree Sleeping Bag.
Please note that this is not a sponsored post and I am not paid by the brand or related to them in any way. There is a comment box below, so do use it and share your thoughts here if you have any experience with this bag. I wish you a pleasant day.