---
Big Agnes Orno UL 0 Degree Sleeping Bag is an ultra-light and incredibly packable bag for cold weather camping, with a body-mapped baffle construction for optimal thermal efficiency.

---
Key features & benefits
Winter sleeping bag.
850-fill DownTek insulation.
Three sizes.
Temperature rating: 0 F (-18 C).
Incredibly packable.
Can be zipped to another bag.
---
What type of a sleeping bag is this
This Big Agnes Orno UL 0 Degree Sleeping Bag is a traditional mummy-style bag and this implies that the insulation is equally distributed everywhere around and also the fit is snug. You realize this when you compare the girth at shoulders, hips, and in the feet zone with some of its competitors.
So the comfort is what you can expect from a mummy bag, if you feel claustrophobic in such bags, better choose something different. This is also a rather technical bag with some features aimed at reducing the weight. So the zipper is short 40 inches (102 cm) only, but this is a top-quality YKK #5 zipper.

If you are curious about the name, it is named after the Orno Peak which is southwest of Steamboat Springs in the USA. The letters UL indicate that it is ultra-light (at least from a winter sleeping bag perspective).
---
Who is it for
Seasons-wise: The temperature rating of 0 F (-18 C) tells you that this is a sleeping bag for a cold weather and all its construction is aimed at thermal efficiency.
Size-wise: They build it in three sizes and the bag is unisex. The S size fits most of the female users. So the fit is from 5′ 5″ (165 cm) for the S size to 6′ 6″ (198 cm) for the L size.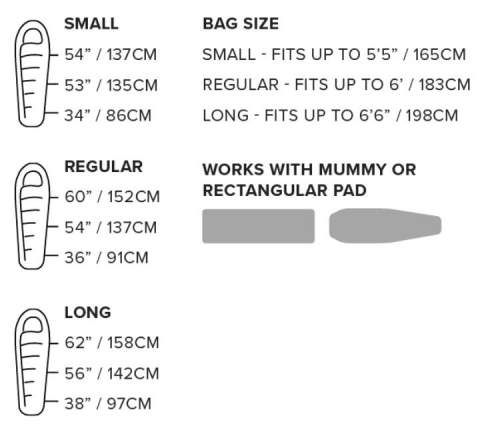 Weight-wise: You have seen the letters UL in the name. This is indeed a very light item with the weight in the range 2 lb 3 oz (998 g) for the S size, and 2 lb 9 oz (1.16 kg) for the L size. This is as light as you can go and still feel comfortable in the cold.
Note that the fill weight is 26 oz (737 g), 28 oz (793 g), and 30 oz (850 g) for the three sizes. You can compare this with the Therm-a-Rest Oberon 0 Degree Sleeping Bag where the corresponding fill weight is 1 lb 9 oz (710 g), 1 lb 11 oz (780 g), and 1 lb 14 oz (840 g). No much difference as you see.
Packed size: The bag is incredibly packable and this is partly due to its quality down fill which is 850 as compared to 800 in the Therm-a-Rest Oberon 0 Degree Sleeping Bag. But note that you have to order the compression sack separately if you wish to benefit from such a great compressibility.
So from all this, you realize that this is a bag suitable for users who are supposed to carry their stuff in the pack and need something that saves the weight and space.

---
How is it built
The fabric
The bag's weight is partly due to its ultralight high tenacity shell fabric, though I could not find more info about its parameters. This is a nylon rip-stop with a very good water repellent finish. The lining is also a nylon rip-stop.
The insulation
Here you have the Insotect Flow construction. This implies what is usually called the Vertical Thermal Channels (VTC's) and FlowGates. Note, I am just using the standard terminology which in my view is not completely correct, the meaning of 'vertical' should be understood as longitudinal, i.e., along the bag.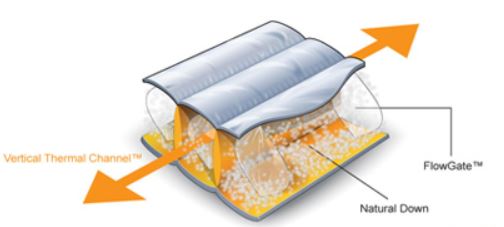 So you have longitudinal baffles that are meant to distribute heat from end to end, as compared to the side-to-side (or transverse) baffles. On the other hand, such 'vertical' (longitudinal) baffles allow the bag to more closely follow the contours of the user. So this is a body-mapping in application here.
But why FlowGates? This is to prevent the insulation from down-shifting. So they introduced these obstacles that are strategically distributed along the baffle. The basic idea of this is to prevent cold spots, and it appears that this really works as they describe it.
Yet, the main component here is the insulation and you have their 850 DownTek water repellent down that repels water while maintaining insulating value. This DownTek treatment utilizes nanotechnology for a water-repellency and anti-microbial and anti-bacterial protection.
Other features
You have a thermally-efficient insulated and contoured hood.
A draft tube runs the length of the zipper to keep out cold air.
There are internal loops which enable you to use the bag with a liner (not included).
Ergonomic foot box.
A low profile cord lock is on the hood.
Streamlined exterior loops for drying and storage.
Mesh storage sack and nylon stuff sack are included.
Please see a bit more about this and other bags from the series in this short video:
---
Specifications
Type: mummy style bag.
Best use: backpacking, hiking, mountaineering.
Sizes: S, R, L.
Weight:
– S: 2 lb 3 oz (998 g).
– R: 2 lb 7 oz (1.11 kg).
– Long: 2 lb 9 oz (1.16 kg).
Temperature rating: 0 F (-18 C).
Fill: down.
Fit:
– S: 5′ 5″ (165 cm).
– R: 6′ (183 cm).
– L: 6′ 6″ (198 cm).
Fill weight:
– S: 26 oz (737 g).
– R: 28 oz (793 g).
– L: 30 oz (850 g).
Compressed bag size:
– S: 7 x 7 in (18 x 18 cm).
– R: 7 x 8 in (18 x 20 cm).
– L: 7 x 8 in (18 x 20 cm).
Stuff sack size:
– S: 7.5 x 15 in (19 x 38 cm)
– R: 8 x 17.5 in (20 x 45 cm).
– L: 8 x 17.5 in (20 x 45 cm).
Girth (shoulders/hip/feet):
– S: 54/53/34 in (137/135/86 cm).
– R: 60/54/36 in (152/137/91 cm).
– L: 62/56/38 in (158/142/97 cm).
---
Big Agnes Orno UL 0 vs Competitors
Here you have the Orno 0 Bag side by side with two other items with the same temperature rating. Note that the Marmot Ouray 0 is a women-specific bag and I use the L size which corresponds to the R sizes of the other two. If you follow the links, you will realize that it offers less space than the Therm-a-Rest Oberon bag, the girth values are smaller. It can be packed to a smaller volume (with a proper compression sack), but it is much more expensive.
---
Final thoughts, rating, pros & cons
So to summarize this Big Agnes Orno UL 0 Degree Sleeping Bag review, this is a technical sleeping bag designed by experts and for outdoor experts, for situations where each ounce counts. It comes at a price but if you find yourself on a long trail and in the cold you will realize it is worth the investment. It is included in my list of best compact sleeping bags for backpacking.
The declared packed size of this bag is indeed incredible but note that you have to order a compression sack separately. The packed size in the sack which comes with this bag is quite different. In view of its high price they could have included a sack with compression straps.
Please see how I rate it and you can compare with some other bags here in the site, the same criteria are used all the time:
If you need more options to consider, please check my page with sleeping bags. For extreme temperatures, check this NEMO Sonic -20 Degree Sleeping Bag. As you know, a bag without a corresponding pad is not enough so check the best what is available on the market in my page with sleeping pads.
Please note that this is not a sponsored post and I am not paid by the brand or related to them in any way.
There is a comment box below, so do use it and share your thoughts here if you have any experience with this bag. I wish you a pleasant day.