---
Here you have my list with best winter camping tents in the size range of 1 –  4 people, all reliable tents from renown brands. Some of them are with a convertible design and thus suitable for all seasons. Please keep reading.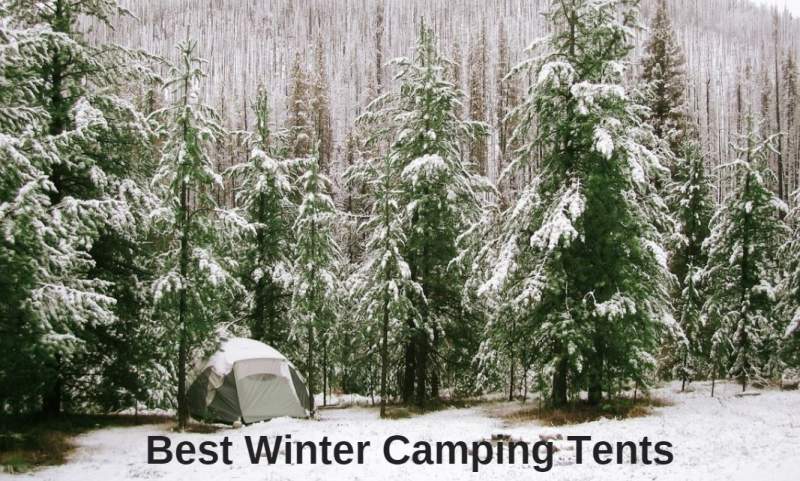 ---
Size range & weight range
The list given here includes the tents that are in the capacity range 1 – 4 people and those that are not always suitable for carrying on the trail because of their weight. So some of them are heavier but offer more comfort that backpacking tents. Though some of them are light enough even to be carried on the trail. Please note also the following:
---
What is meant by a winter tent
You will see a variety of constructions here. In general, a winter tent is supposed to have such a design as to prevent cold drafts, and to give some insulation if possible. They are also supposed to be strong enough to withstand vertical pressure due to snow accumulated overnight, or the side pressure due to strong winds.
These tents are also usually with much stronger poles than the normal 3-season tents, and they have far fewer mesh sections than other tents. You can find out much more about this in my earlier text about winter tents.
So here you have examples of insulated tents and with a properly defined R-value just like what you have for a sleeping pad.
Although I use the words 'winter camping tents', some of them are convertible so you can use them in all seasons.
You will see also examples of fully enclosed tents with PVC windows. Such a design prevents any cold draft from outside.
There are tents with multiple rooms here.
---
Winter camping tents – my list
The list below is given in alphabetical order so this is not a ranking. Note that the tents are with the declared capacity 2 – 4 people, but there are substantial differences in the area per person. This is because of some manufacturers using the backpacking principle even for camping tents so the area per person can be really small.
---
1. Big Agnes Copper Spur HV Expedition Tent 3 Person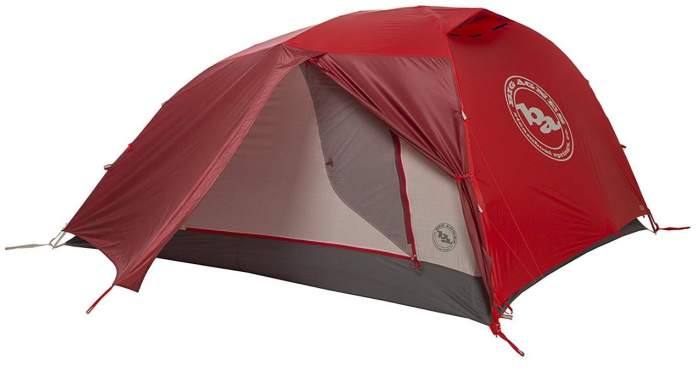 Here you have a dome-shaped 3-person tent with a fully convertible design. So all the openings are with a double structure, mesh and panels, and also some sections on the inner tent are with removable panels. This makes the tent suitable for all seasons. But you also have hubbed and thick poles so the frame is strong and can withstand winds and the snow.
The inner area is 41 ft² (3.8 m²) and the total protected area with the two vestibules included is 59 ft² (5.2 m²), so this is more than you would have in a backpacking tent, but if used by two people instead of three this would give much more comfort. The weight is 6 lb 7 oz (2.92 kg) and this is very reasonable for such a strong construction, so the tent is backpack portable. The packed size is also very reasonable, 22 x 9.5 inches (56 x 24 cm). Please follow the link for more.

---
2. Coleman Oak Canyon 4 Tent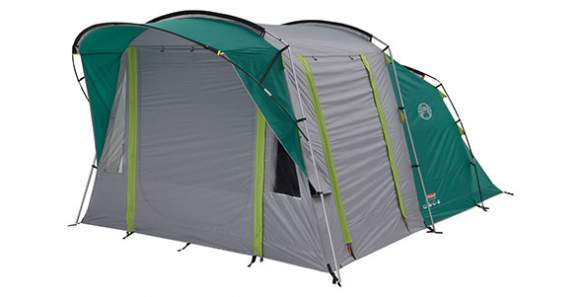 The reasons for having this tent in the list is its enclosed design and its strong structure. So although you have 2 large doors and several windows, these windows are solid PVC structures, so you have no cold drafts here. In addition, the floor is fully sealed and the sleeping area is a tent within the tent with its own floor so you have two layers on the floor in this section.
On the other hand, the poles are steel and this is a reliable tent for all conditions in a 3-season use and in a 4-season use as well. Note that it comes with an impressive 4500 mm waterproof rating.
The structure is with 3-rooms, and you might want to know that the sleeping area is with the blackout design so it blocks 99% of the daylight. This makes the tent suitable for camping in the northern areas where you have almost daylight during the biggest part of the night, I have experienced this in Sweden.
The inner area is 122 ft² (11.34 m²) and this means 30.5 ft² (2.84 m²) per person if used by 4 people. Note also that this is a tall tent with the peak height of 78.7 inches (200 cm). Please read more in my full review.

---
3. Crua Cocoon Insulated Dome Tent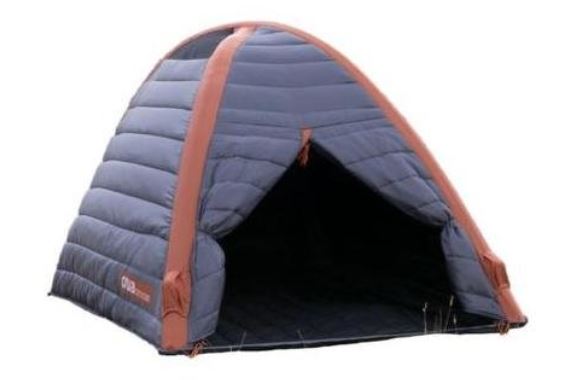 Here you have something completely unique on the market, an insulated tent with the R-value 9. So this tent will protect you in the harshest winter conditions, but this is a true 4-season tool, it will protect you also if it is warm outside.
This is not all, you have air beams here instead of classic poles, the tent is completely freestanding, and it is also with the dark rest or black out design, so glare is removed and it is dark inside. You have a thick insulation layer which also represents a sound barrier.
You can use it on its own, but note that it needs protection from rain, so a tarp will work. You can also use it within any larger tent and have all the protection you need regardless of weather conditions.
Here are some numbers. The weight is 15 lb (6.8 kg), the dimensions are 6.8 x 4.4 ft (207 x 134 cm), and this is a 2-person construction with the total area of 29.9 ft² (2.8 m²). The packed size is 24 x 12 x 12 inches (61 x 30 x 30 cm). Please follow the link for more.

---
4. Crua Tri 3 Person Thermo Insulated Waterproof Family Tent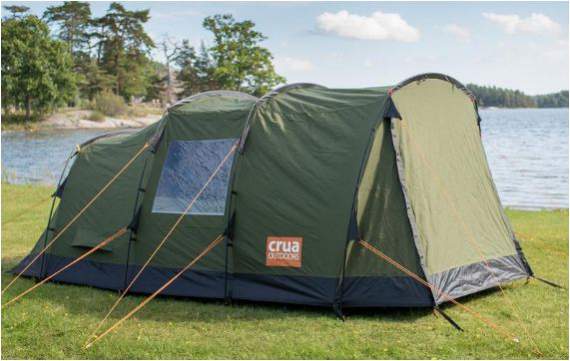 There is no other tent currently on the market that could come even close to all the features which you have in this Crua Tri 3 Tent. So what you have here is completely unique. This is a tunnel type design, and from the name, you realize that this is an insulated tent. The R-value is 4. Note however that this implies that it insulates you from everything outside, regardless if it is cold or warm. In other words, this is a true 4-season tent.
You have sound insulation and this is also a dark rest design. This means that the daylight is almost completely blocked and you can sleep longer in the morning.
About the construction. This is a heavy and bulky tent due to its insulation, it weighs 48 lb (22 kg). The total floor area is 68.5 ft² (6.36 m²), and this includes the porch and the vestibule so this is a 2-room structure. The inner floor area is 50 ft² (4.6 m²).
The tent is built from a poly-cotton fabric, and this means you have a breathable but fully waterproof material. The waterproof rating is 5000 mm. The poles are strong aluminum. I hope you realize how incredible this structure is, so please follow the link to read more.

---
5. Eureka Assault Outfitter 4 Person Tent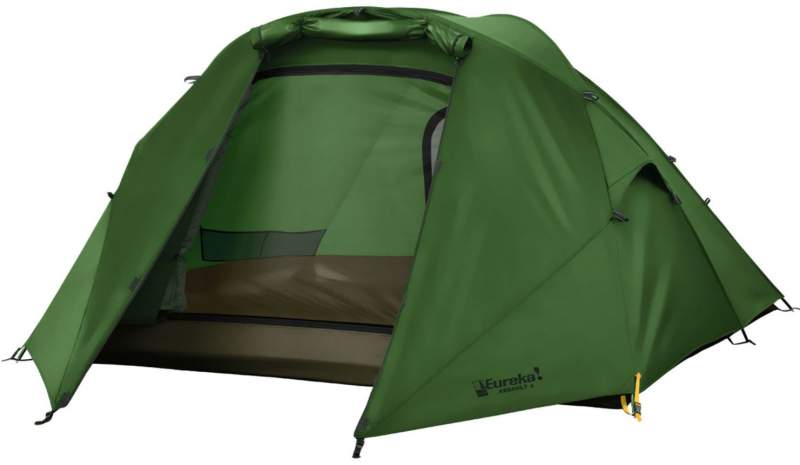 There are several reasons for having this tent here in the list of tents for winter camping, although it is not declared as a winter tent by the manufacturer. The tent is with three thick aluminum poles with 13 mm diameter. The floor is very thick 210D polyester, and its waterproof rating is 5000 mm. The fly is a full coverage type and its waterproof rating is 3000 mm. The inner tent is all 68D strong taffeta, there are only two vent sections with mesh and even those can be closed with panels. So now you realize why it is here.
The tent offers 93.8 ft² (8.6 m²) of the protected space in the inner tent and in its two vestibules. So this is quite a lot if used by 4 people. The weight is 14 lb 13 oz (6.7 kg) and its packed size is simply excellent, 22 x 8 in (56 x 20 cm). Please follow the link for more.

---
6. Eureka High Camp 2 tent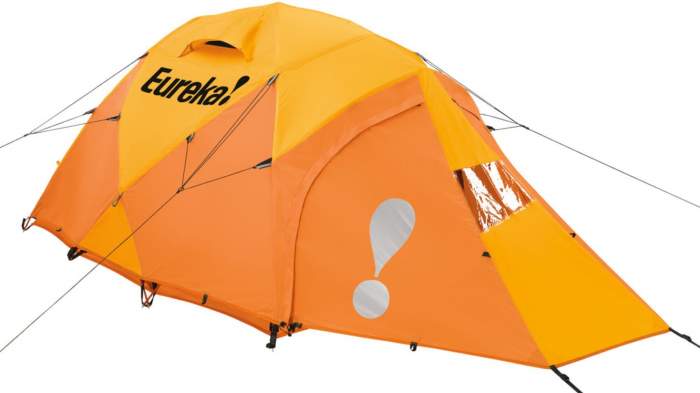 This High Camp 2 tent is a new item on the market which Eureka launched for the 2019 season. So this is a winter tent with two layers, the inner tent is all taffeta and you have the full coverage fly shown above. The inner tent is with two zippered openings on the ceiling that match the roof vents, so you can open vents from inside.
The fly is with a solid window which you can see in the picture. There are 5 strong DAC aluminum poles, and the waterproof rating is 1800 mm for the fly and 5000 mm for the floor. There are 2 doors and 2 vestibules, and you also have 12 storage pockets.
The weight is 9 lb 8 oz (4.3 kg) and the floor area is 40.4 ft² (3.7 m²). The two vestibules add 12.4 + 5.2 ft² (1.2 + 0.5 m²), so the total protected area is 58 ft² (5.4 m²).

---
7. Eureka Mountain Pass 2 Tent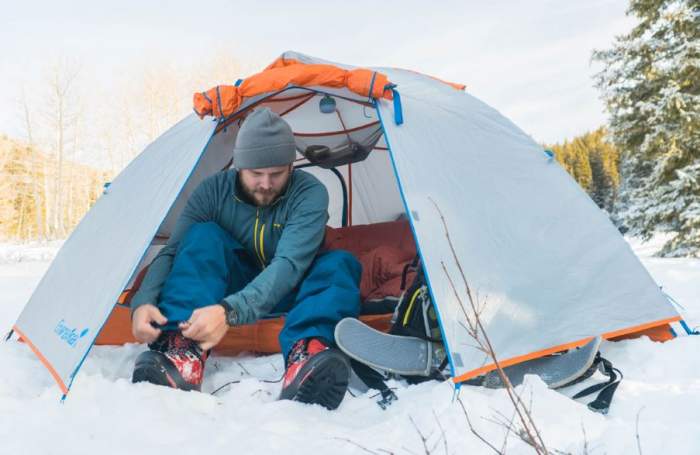 This Eureka tent is a dome-style structure with two asymmetric doors and two asymmetric vestibules and it offers the inner area of 32 ft² (3 m²). Under the two vestibules, you have extra 10.8 + 7.6 ft² (1 + 0.7 m²). So this is quite a space for two campers or for a solo use.
The reason for having it in the list here is its convertible design. The meaning is that you have removable zippered panels which you can keep in winter conditions, but you can also remove them when you use the tent in warm weather conditions. So from this, you realize that you have more than a winter tent here, this is a true 4-season tent.
The weight with the bonus footprint included is 5 lb 9 oz (2.52 kg), so again you realize how versatile this tent is, you can even carry it on the trail. A bit more about the construction, you have aluminum poles, and the waterproof rating is quite good 1800 mm for the fly and 3000 mm for the floor. This is enough to protect you in most weather conditions. Please follow the link to read more in my full review.

---
8. Kodiak Canvas 8.5 x 6 ft Flex Bow 2 Person VX Tent 608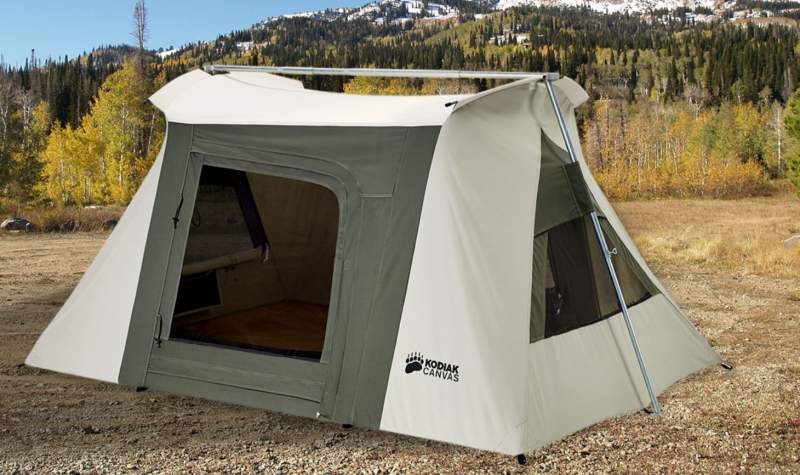 This Kodiak Canvas VX tent is a cotton tent suitable for all year round use. It performs equally well in winter conditions and as a summer camping tent. The fabric is breathable but waterproof, so it creates a cool atmosphere in a warm climate. In a cold climate such a material insulates better than any synthetic tent.
This is a very strong and durable construction with a steel frame with very thick poles and spring steel rods in the roof structure. You have two doors on the opposite sides, both dual layer structures with mesh and panels, and there are also 2 triangular side windows that are with mesh and panels.
The ventilation is excellent with such a breathable material, but the side windows can also be used as vents by unzipping only their upper corners that are under the flaps.
The area is 51 ft² (4.7 m²) so the tent offers lots of space for two campers. This is also a rather heavy structure because of its strong materials, it weighs 30.5 lb (13.8 kg). Please follow the link for more.

---
9. Slumberjack In-Season 2 Person Tent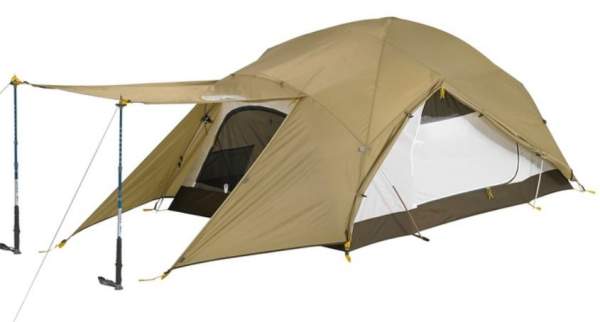 This Slumberjack tent is a 2-person dome-style tent by the design, but it has 3 doors and 3 vestibules. The front vestibule allows for an awning configuration shown in the picture.
The doors are with windows but here you have a double-layer structure with mesh and with panels so you can control the air flow. It has 5 poles that create 7 intersections and this is a strong structure that can withstand lots of pressure from any side, including the snow accumulated on the tent during the night.
The inner area is 38.7 ft² (3.6 m²) but the mentioned 3 vestibules add lots of protected space so the total protected area is 72.4 ft² (6.7 m²). So this is a true winter tent but you can definitely use it in other seasons as well. Now, the weight is 9 lb (4.08 kg), so this may look a lot, but this is quite appropriate for its sturdy design.

---
10. Snugpak Journey Duo Tent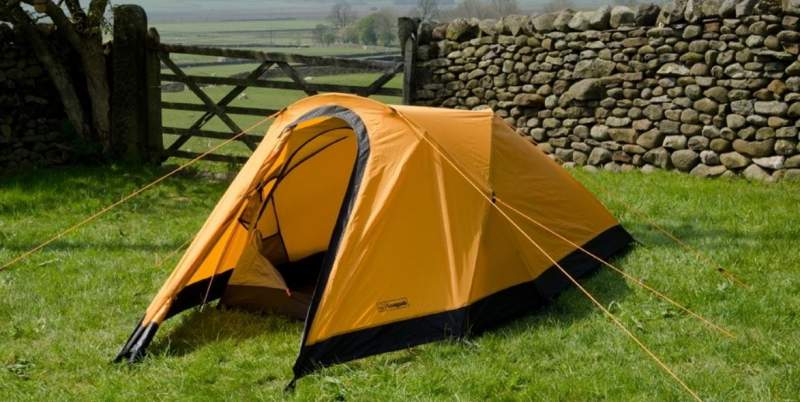 This Snugpak Journey Duo Tent comes with aluminum poles and with a footprint included. So in view of these two bonuses, its price is simply excellent.
The inner tent is fully freestanding due to its 3 poles, the full coverage fly creates one vestibule with the door shown in the picture above. This is a 4-season tent, but it is better suited for a cooler environment. The fly is with 4000 mm rating and the floor with 5000 mm.
There is one rear vent on the fly and it is matched with a mesh section on the inner tent. The only door here is also with a double layer section so you have mesh and panel.
The tent weighs 7.05 lb (3.2 kg), the inner area is 28 ft² (2.6 m²) and the vestibule area is around 10.8 ft² (1 m²). Please follow the link for more details.

---
11. Snugpak Scorpion 3 Tent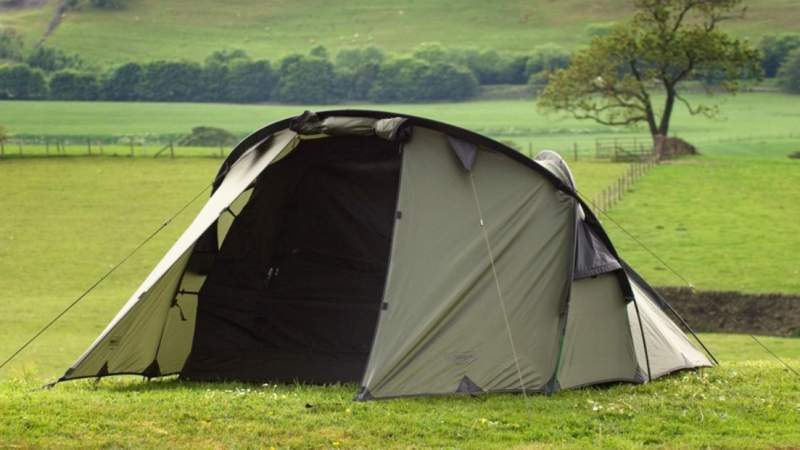 This Scorpion 3 tent has been around for several years. This is a tent with a fly-first pitch, so you have external poles which you pass through the sleeves and attach to the grommets that are on the fly. There are also two straps on the ground and this is what makes such a structure freestanding and you can also use it in a fast-fly variant.
The inner tent you add from inside, but you do not have to remove it when you want to pack the tent. The inner tent is almost all taffeta so this is a rather enclosed design for cold weather camping. There are three vents on the fly and those are matched by mesh sections on the inner tent.
The waterproof rating is huge, 5000 mm for all the material, and the poles are the best quality DAC, so you have all that you need for a full protection from elements. The tent weighs 7.5 lb (3.4 kg) and the inner area is 35.5 ft² (3.3 m²) plus vestibule area of 11.8 ft² (1.1 m²).

---
12. Snugpak The Cave 4 Person Tent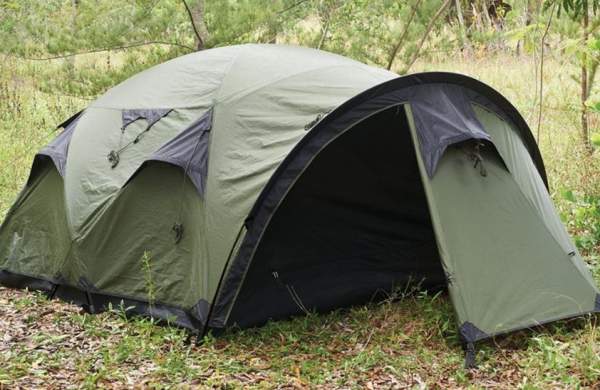 This is a very reliable 4-season tent with an impressive waterproof rating of 5000 mm and you have 5 Featherlite NSL anodized poles from DAC. They create 7 intersections so the structure is incredibly strong and very flexible. The tent is dome-shaped structure aerodynamic and low profile so it is designed to work great in strong winds. Note also that you have Y-beam type stakes and those are in general very good for a variety of terrains, there are 25 in the package.
The inner tent is 190T nylon with polyester MeshTrail, and the mesh on the doors is 50D polyester No-See-Um. This is a dark rest or 'lights out tent' with a very dark inner tent material. The floor is bathtub style and the full coverage fly is with 4 vents and you also have yet another vent on the main vestibule, so the tent is built for an excellent ventilation to cope with its inner tent design which is without mesh. This is all in order to prevent drafts and to keep the warmth.
The inner floor area is rather small for 4 people, only 51 ft² (4.73 m²) so perhaps it is better to use this tent for 3 campers. But note that there are two vestibules which provide extra 25 ft² (2.3 m²) of the covered area.

---
13. Vango Banshee 300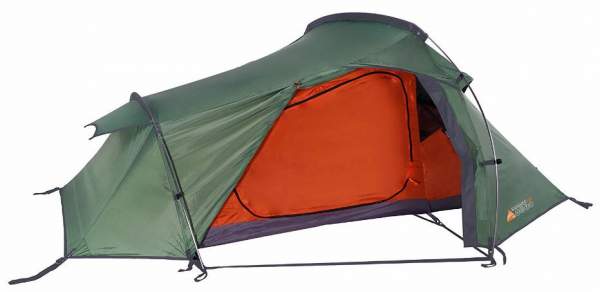 There are several reasons for having this tent in the list. It has an impressive waterproof rating of 5000 mm for the fly and 6000 mm for the floor, this is a tunnel-type tent and rather low yet it has Vango's TBS system which means tensioned bands that stabilize the tent against side winds. Also, the poles are strong aluminum. All in all, this tent is designed to withstand a lot of pressure from any side, and it deserves to be here in the list.
Its weight is 6.06 lb (2.75 kg), so it is portable and versatile. Note also that its packed size is excellent, 19 x 6.3 in (48 x 16 cm). This is a two-layer design and the floor area is very modest for its 3-people capacity, only around 3.4 m² (36 ft²). So it is best to use it as a tent for 2 people so that you have space for your gear.
This is a very reliable tent that has been on the market for over a decade already, and it comes with a great price tag. So please follow the link to read more.

---
14. Vango Capri 400 XL Tent
This Vango Capri 400 XL is with the declared capacity of 4 people, but the letters XL in the name should be taken literally as it offers 143 ft² (13.25 m²) of the floor area which is organized in 3 separate rooms. But you also have a large porch area which you can use for sitting and cooking.
This is a tent with air beam technology. So only the front porch pole is classic, all others are inflatable air beams. This leads us to the main topic of this text, such air beams are surely not the best option for the snow accumulated on the tent. But this is a great tent for cold weather camping because of its PVC windows which make it a very enclosed tent and you are safe from cold drafts. Note also that the sleeping area is a tent within the external waterproof shell. This all together justifies for having it in the list here.
The inner tent material is of a darker color and this is the dark rest tent. The waterproof rating is simply great, you have 4000 mm for the shell and 10000 mm for the floor.

---
Final thoughts
So this was my list with the best winter camping tents, as I stressed above those are the tents that are not backpacking tools (so check here if you need such a tent), and they include only tents for up to 4 people (for larger winter tents please check this list). I would not put a rank list and declare which is the best, they are too different to compare. This is all the matter of individual preferences and needs.
This list will be updated regularly so come back from time to time to check, I shall keep adding good tents as they appear on the market.
Thank you for reading. Please check my page with tents if you are looking for something different, many of them are described in detail. For larger structures, check these family camping tents. I wish you a nice day.
---