---
There are no many insulated tents on the market, and this Crua Duo Cocoon Maxx Combo Tent review is about one of just a few currently available, with some unique and extraordinary features. So keep reading.

---
Key features & benefits
3-in-1 Modular combination.
Insulated tent R-value 9.
Huge waterproof rating.
Sound insulation.
Dark rest construction.
Aluminum poles.
---
What is Duo in the name?
So what you have here is a larger version of their Crua Duo Dome and Crua Duo Cocoon tents. They use the word Duo and this is probably to describe the fact that there are two elements in the package and not the capacity. In fact, this is a 3-person combo they say this clearly on their site and on Amazon.
So you have what is shown in the picture above and this includes:
An insulated cocoon with enough place for 3 people. Note that they also use the market name Crua Culla Cocoon Maxx (yes with two x, this is not a typo).
A three-person tent. It is on the market under the name Crua Duo Maxx 3 Person Lightweight Hiking Tent.
Note that they sell these two items as a combination and also each of them separately.
Crua Outdoors is currently the only globally present brand known to me that builds insulated tents. I already mentioned the Duo and Duo Cocoon, but they also have Crua Tri which is built in a completely different style. There is yet another much bigger Crua Loj 6, this tent has been appearing and disappearing from Amazon ever since they launched it. Currently, it is available on their site but not on Amazon.
So it is in order to say a few words about each of the two components separately. I start with the insulated cocoon as this is something totally unique.
---
Crua Cocoon Maxx
This is a 3-person insulated shelter, no more no less. I use the word shelter because I do not have anything better, there is nothing to compare with. You can use this shelter on its own to protect you from the cold, but it will not protect you from the rain.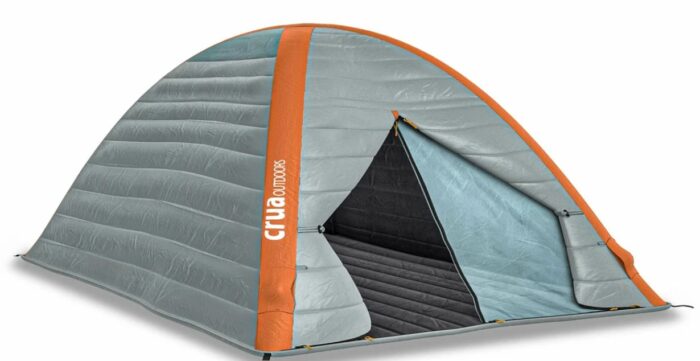 You have the following remarkable features here:
The Cocoon Max is without classic poles, you have air beams instead.
You have a patented insulation here. This is a breathable polyester with 450 grams per square meter.
You can use it inside of any larger tent and you will be protected from the cold and you will have sound insulation as well.
The shelter provides a dark-rest space when you close it fully. It is completely dark inside.

Dark rest design.

I stress again, this is not a waterproof shelter. 
They claim it is built from fire-retardant materials.
This is a ventilated structure with one vent above the floor (see the picture below) and two vents on the ceiling. They match the vents on the shell tent, and they are closable to preserve the warmth.

Closable floor vent.

Ceiling vents in the Culla Cocoon and air beams.
This is a freestanding structure that you can set up anywhere. The air pump is not included. Pity, in view of its price. Here are some numbers, perhaps you will not like all of them:
Dimensions: 6.8 x 6.4 ft (2.03 x 1.93 m). 
Area: 43.5 ft² (3.9 m²).
Weight: 16.5 lb (7.5 kg). With the tent included this is around 20 lb (9.1 kg).
Peak height: 4 ft (122 cm).
Packed size is shown in the picture: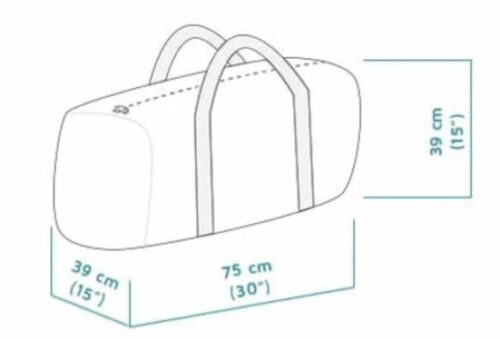 So as you see it is wide enough for three pads on the floor. It is low and this is probably to have a smaller volume because the warmth spreads into a smaller space and you feel warmer. Now, I am a short person and the length is perfect for me, but clearly, it is too short for tall people.
Materials
A bit more about the materials. There are various numbers around and it is not clear what is what. So on Amazon, you can see that this is a breathable polycotton 80/20 mix or 70/30, and you will even see that it is waterproof. But on the Crua site, they write about breathable polyester. No doubt this is all polyester, and no doubt also this is not waterproof.
The insulation is what they call Dura Breathe microfiber which apparently gives an R-value of 9. Note that the door also has a mesh so you can keep it that way for increased ventilation, see the picture.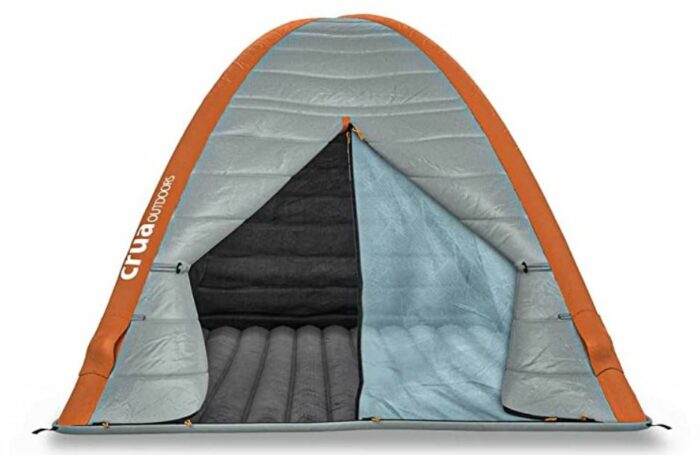 Please see more in this video:
---
Crua Duo Maxx 3 Person Tent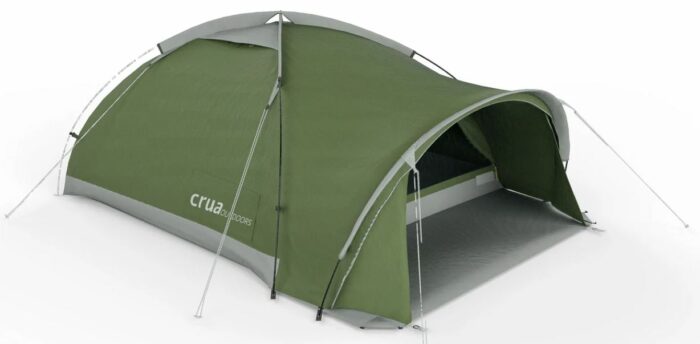 This is a 3-person tent built to serve as the shell for the Culla Max presented above, but you can also use it on its own as a hiking tent. The tent is a single-layer (note the Cocoon is its second layer), and you have some great materials used here. So the poles are aluminum with 8.5 mm diameter, and the fabric is a high water-repellent polyester with a 5000 mm rating.
This is almost a 2-room construction, you have the inner tent plus a floored vestibule supported with one extra pole. The picture below shows its front view: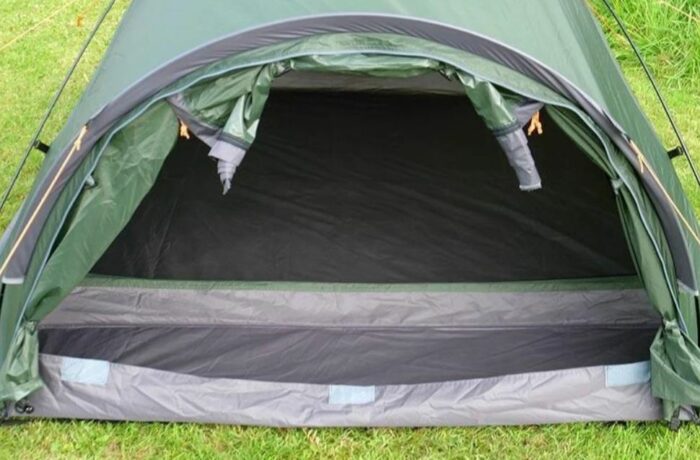 So this is a nice design, you can store your gear under the vestibule and it will be protected even from the groundwater and mud. The tent itself is not freestanding, you have to stake the vestibule to have it functional.
Observe that the poles are external, and this is good for a dry setup. When you are forced to pitch the tent when it is raining, you can do this safely and the inner area will not become wet.
Ventilation
This Crua Duo Maxx 3 Tent is nicely ventilated, and this deserves to be mentioned separately. You have the inner door that is deep under the vestibule (the picture above). So you can keep it open for ventilation.
But you remember the vents on the Cocoon? They match the vents on the shell, you can see them below. So there is a back floor vent and two roof vents with Velcro stiffeners from outside and mesh from inside, this all is visible in the pictures, observe also the lantern hook:
So as you realize, everything is perfectly done here, and they have not missed anything. Here are some numbers:
Trail weight: 5.5 lb (2.5 kg). 
Dimensions: 9.8 x 7.3 ft (2.95 x 2.21 m).
Peak height: 4.1 ft (124 cm).
Vestibule width: 6.5 ft (196 cm).
Total floored area: 71.5 ft² (6.6 m²).
The packed size is shown below: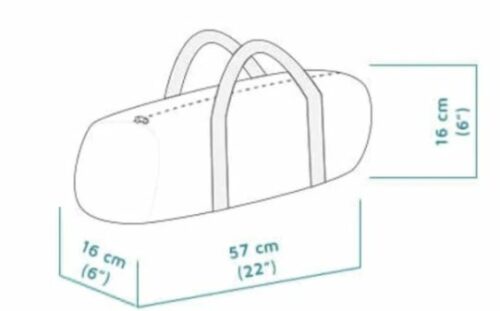 Obviously, the packed size of the tent alone is very good, this is partly due to the fact that this is a single-layer structure.

Please see more about the tent here:
---
Who is this Crua Duo Cocoon Maxx Combo Tent for
Regarding the capacity, this structure has enough space for three users. You have seen above that you have around 2.2 square meters per person, and for this type of tent this is quite a lot.
Regarding best use, seasons, & climate, no doubt this is a sleeping system for all seasons, and it is very versatile. By this, I mean that you have two components that can be used independently and together. So this is a 3-in-1 outdoor sleeping system. There are currently no tents from other brands that could match what you have here.
The shell tent alone is almost a 4-season shelter, nicely ventilated so you can use it also for summer camping, with a low profile and aerodynamic, see the picture below. But with the inner Cocoon, this is for the harshest conditions, you have seen the effective R-value of the Cocoon. As mentioned already, the Cocoon can be used within any bigger shell tent, but there is more to this below.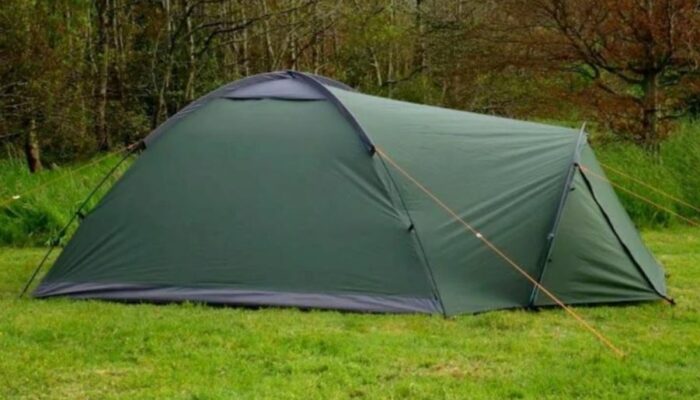 Regarding the weight & packed size, obviously, this is a bulky and heavy system, so you would not want to carry it anywhere, although in specifications they give 'trail weight'. But the shell tent alone can be carried on the trail. So this all depends on how you use the two elements in the set.
---
Rating, pros & cons
It is a bit difficult to rate this system. The rating makes sense only if you can compare it with other products. But this is a unique product. I can rate the tent alone but no need for this, I see it mainly as a part of the set. 
However, there are cons of course. The set is heavy and bulky, but this is normal and expected in view of its insulation. Then there is the price, this all looks expensive but see what you have here.
But let's see the pros. You have a unique product that offers protection from the cold, with a dark rest design, and with sound insulation. The waterproof rating is simply excellent, and the poles are aluminum. You can use this in all seasons. In view of all this, the price is justified.
---
Accessories & combinations
You will want to know that they have an accessory double-sided reflective flysheet. It is designed to keep the tent cool in warm weather by reflecting the sunlight. But you can also turn it over so that it reflects the warmth back into the tent when it is cool outside. These two setups are shown in the pictures:
This Duo Maxx system can be attached to Crua Core 6 Person Tent. In fact, three of these Duo Maxx sets can be attached. This is known as Crua Clan Maxx, see how incredible this all looks: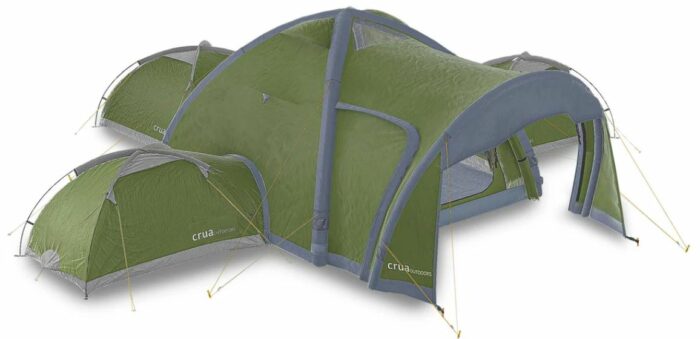 This combination offers 9 places in insulated tents plus 6 places in the central Core tent. So this is a totally unique structure on the market.
---
Final thoughts, rating, pros & cons
In the summary of this Crua Duo Cocoon Maxx Combo Tent review, I can only say that I am totally impressed with this system. It is unique, multifunctional, and versatile. They use quality materials for full protection in all seasons. I can fully recommend it. It is included in my list of best winter camping tents, but clearly, it is far more than this. You will find it also in my list of best 3 person tents for camping.
You can order the Crua Duo Combo Maxx at this link:

If you need more options for 3 people, please check under the category Tents for 3 people. Thank you for reading. I love to hear from you, so please use the comment box below in the case of questions or comments.