---
Here you have the list of best 3 person tents for camping, all from renown brands and with a great waterproof rating, so they are suitable for 3 seasons and some even for 4 seasons. 
---
What the list contains
The tents are with the declared capacity of 3 people and you will notice that some have 2 rooms. This implies more material and the tents are not lightweight, but this makes them more comfortable. Though some of them are light enough to be carried in backpacks.
Regarding the construction, you will see the following types:
Dome tents or extended tome tents.
Tunnel tents.
One of them is an insulated tent, and this is something rare.
All the tents are double layer type at least in one of the rooms.
---
What is not included in the list
If you need a portable 3 person backpacking tent or tent for hiking, please check my separate list with considerably lighter tents. Of course, all of them can be used as camping tents as well, but being portable tools they typically provide less space and fewer features. However, if you need a tent both for hiking and camping these are tents to check.
---
My list of the best 3 person camping tents
Here is my list, with the tents ordered by the floor area from smaller to bigger:
---
1. Kelty Gunnison 3.3 Tent
If used by three adults, this Gunnison 3.3 tent can be used as a hiking tent. But there are surely lighter options if you need a 3-person tent for such a purpose. This is why I have included it in this list of the 3-person camping tents. So this is a freestanding tent with the weight of 7 lbs 6 oz (3.35 kg), and you will realize this is the same as the Kelty Trail Ridge 3 tent below.
The floor area is 45 ft² (4.18 m²) so this look rather small for 3 people, but you have 2 extra vestibules that add 16 + 8.25 ft² (1.5 + 0.77 m²). Note that the tent comes with a footprint included.
This dome style tent is with the waterproof rating of 1800 mm, and with the full coverage fly. So this is a good and reliable option for a 3-season use. More in my separate review.

---
2. Kelty Trail Ridge 3 With Footprint
With the weight of 7 lb 6 oz (3.35 kg), the Trail Ridge 3 is also light enough to be carried in backpacks, so it is in between the car camping and hiking tents. This makes it more versatile and useful. The tent is a typical dome style and very simple structure with two X-shaped poles and a full coverage fly.
You have 2 doors and 2 vestibules. The inner area is 46 ft² (4.27 m²) but the two vestibules add 20 ft² (1.8 m²) so this is quite enough for storage and for sleeping.
The waterproof rating is 1800 mm, and in view of the full fly, this is enough for a 3-season camping. Note that the tent comes with the bonus footprint included. You also have a stargazing feature on the fly. Please read more in my full review.

---
3. ALPS Mountaineering Meramac 3 Person Tent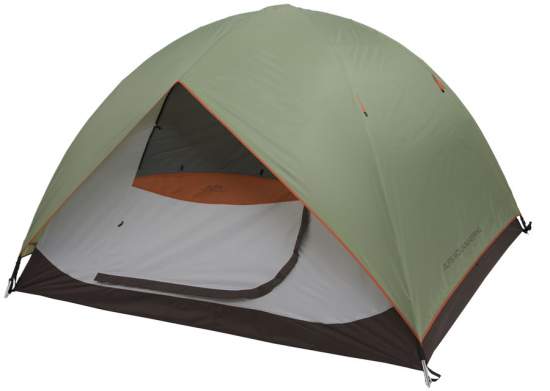 This is a dome style tent with the declared capacity of 3 people. Its floor area is around 4.5 m² (49 ft²) so it is slightly larger than the tents shown above, but note that this is a tent without vestibules, and you have no extra storage space. It may be tight for three people in the case of a true camping, but it is great for motorbikers, cyclists, kayakers, ie., for any activity where you are not going to carry it in a backpack.
You have two doors on the opposite sides with small awnings created by a brow pole, see the picture. This is good for air cross flow and for ventilation. The tent is very popular and it has been on the market for a number of years already. So there is a huge number of reports everywhere and there should be no unpleasant surprises with such a tent. On Amazon, it has received a very high average rating of 4.5/5. Note that its current price is only $77, so it is no surprise that the tent is so popular.
The poles are fiberglass and the fabric is polyester with a modest waterproof rating of 1500 mm. So I would say this is a tent for mild weather conditions and summer camping. The weight is 9 lb 5 oz (4.22 kg), so you would not carry it around.

---
4. Crua Tri 3 Person Thermo Insulated Tent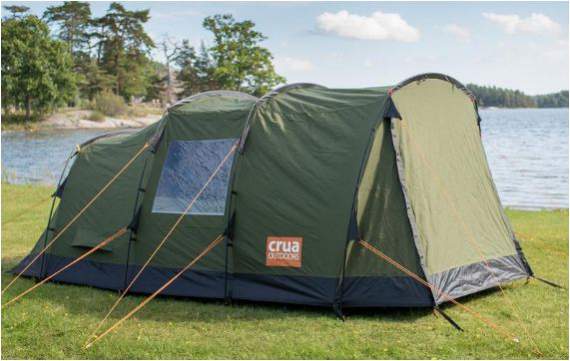 The Crua Tri 3 is a completely unique tunnel type design, unlike anything you can find on the market. From the name you realize this is an insulated tent. This implies that it insulates you from everything outside, regardless if it is cold or warm, so this is a true 4-season tent. Note that its R-value is 4.
The tent also provides sound insulation and at the same time this is a dark rest design. So the daylight is almost completely blocked and you can sleep longer in the morning and take a nap during the day.
The tent is heavy and bulky due to its insulation, so you have 48 lb (22 kg). It provides the total floor area 68.5 ft² (6.36 m²), and this includes the porch and vestibule so the tent looks like a 2-room structure when the vestibule is closed, see the picture above. The inner floor area is 50 ft² (4.6 m²).
Note that the tent is built from the poly-cotton fabric, so this is a breathable but fully waterproof material with the waterproof rating of 5000 mm. The poles are strong aluminum. Read more about this extraordinary tent in my full review.

---
5. Eurohike Avon Deluxe 3 Tent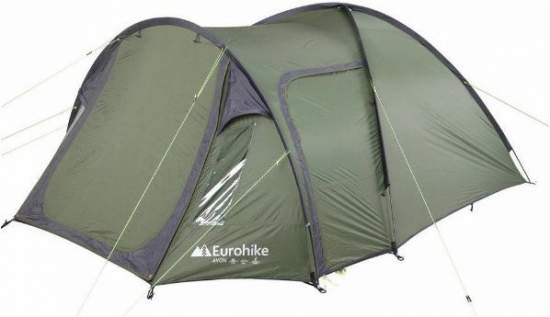 The Avon DLX 3 is an extended dome type, and it is a 2-room tent. So you have an inner dome sleeping area plus a front room supported by an extra pole. This is why the tent is not freestanding.
You have 2 entry doors and 2 PVC windows, both in the front room. The fly is full coverage type and with 3000 mm waterproof rating. So the tent is for any weather conditions in a 3-season use. Note that the poles are fiberglass.
The tent is heavy, 12.3 lb (5.6 kg), and it offers an area of 75 ft² (7 m²). You might want to know that it comes with an incredible price tag, it was $93 at the moment of writing this text, so please follow the links for updates.

---
6. Vango Venture 350 Tent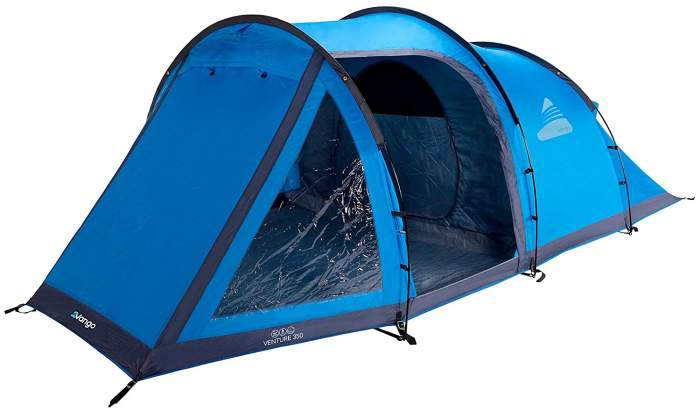 This is one of several Vango tents here in the list, built in a similar style and all with a huge waterproof rating. This Venture 350 is with 3000 mm for the fly and 10000 mm for the floor. So this is a tent which should keep you dry in any weather conditions.
The tent offers 86 ft² (8 m²) of the floor area and this means 29 ft² (2.7 m²) per person. So clearly this is a lot of space for sleeping and for equipment. But this tent is not light, you have 15 lb (6.8 kg), so this is a camping tent to use at places with a motorized access.
There are two rooms here; the sleeping area is a tent within the tent and in front of it you have the living floored area but the floor in this section is not sewn in. There are 2 doors and 2 PVC windows, and one of the doors is with mesh against insects. The inner door is also with mesh. Please read more in my detailed review.

---
7. Vango Beta 350XL Tent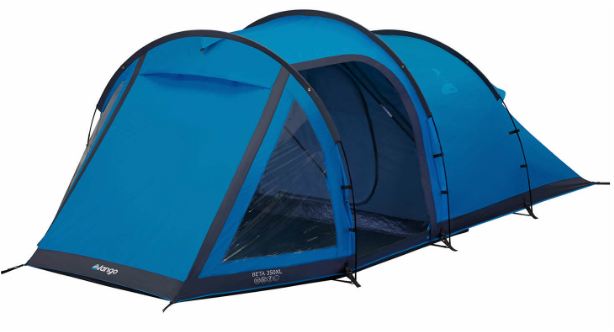 They use the numbers 350 in the name of this tent to indicate that this is a 3.5 person tent. This implies that you have a large storage area and the space for cooking. So the tent is a tunnel type and you have the tent within the tent. The sleeping room offers 4.3 m² (46 ft²) of the area which is quite enough for three campers, but you also have extra 4.2 m² (45 ft²) in what I would call the front room, though some use the term porch for this space. So the total protected area is 8.5 m² (91 ft²).
The front room is with a linked-in floor; this means that it attaches to the fly with toggles. But it is also permanently attached to the inner tent's floor which itself is a bathtub type, you will see this in the video below. This is why I think about this area as a room. Here you have two entry doors on the opposite sides, and also two PVC windows. Note that one door is with an extra mesh layer against insects, pity they did not add it to the second door as well. The inner door is also with panel and mesh so you have a full protection.
The weight is 6.6 kg (14.6 lb) so now you realize why I have included it in this group of camping tents for three people.
You have a great waterproof rating of 3000 mm, and the fabric is a durable polyester. The inner tent material is such that the tent belongs to what they call lights-out tents, also known as dark rest tents.
The tent is equipped with Vango's tensioned band system (TBS) for extra stability in adverse conditions. You have multiple storage pockets in the sleeping room, lantern hanging points are available, and the poles are fiberglass. It is weather tested and fire tested by a certified test center to the European standard EN5912; so this is a very reliable 3-season camping tent with a great price.

Please see this video which shows the complete setup:
---
8. Vango Omega 350 Tent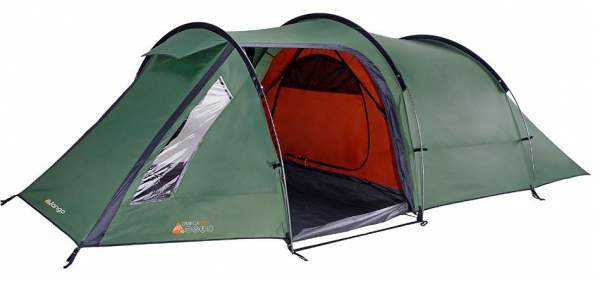 This is a tunnel type tent with two rooms and the total area is around 97 ft² (9 m²). So in view of the 3-people capacity, this is a generous option for camping. The tent is heavy, you have 11 lb (5.0 kg), which is not surprising in view of the floor area, so this is for car camping. Note that the tent is not freestanding, but this is always so with tunnel type tents.
You have an impressive waterproof rating; the fly is with 5000 mm and the floor is with 6000 mm, and you will not find many tents that could come close to these numbers. So the tent is suitable for any weather conditions in a 3-season plus use.
You have 2 large doors and the windows are PVC so the tent is quite enclosed and suitable for a cooler environment. Note that the poles are aluminum, so it could be used in all seasons. In view of such features, its price of around $200 is truly surprising. Please read more in my full review.

---
Final thoughts
For more tents of any type, please see in my page with tents and shelters. If you need a large family camping tent, please check here, you will find the largest tents on the market.
Thank you for reading. Please use the comment box below in the case of questions or comments. Have a nice day.
---