---
The Eurohike Avon DLX 3 Man Tent is an extended dome style 2-room camping tent with an impressive 3000 mm waterproof rating and around 75 ft² (7 m²) of the inner floor area, and with a great price tag.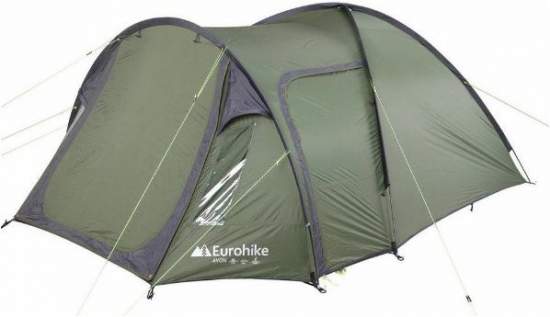 ---
Key features & benefits
Lots of space for 3 people.
Great price.
Full coverage fly.
Great waterproof rating.
Flysheet first pitching keeps the inner tent dry when pitching in the rain.
2 PVC windows.
2 rooms.
2 entry doors.
---
What type of tent is this
The Avon Deluxe 3 man tent is an extended dome type car camping tent. You have a sleeping area which is under the dome, and a front room to store the gear and for cooking. The front area is with a floor so this is a 2-room tent in the true sense. This was not so in its earlier versions so do not get confused if you read such earlier reviews.
Due to such a structure and the extra pole that supports the front room, the tent is not freestanding. So if you want to use it in its full capacity, you have to choose the ground and to stake it properly.
You realize from the pictures that the poles are outside, so the tent pitching is such that you can do this in any weather conditions and the inner tent will not get wet. If you have ever pitched a standard double layer tent in a bad weather you will know that everything gets wet before you put the fly on. I have had such situations in the Alps. But this is not the case here, this tent is indeed a double-layer type but with a particular design.
---
Who is it for
Let's see the area first. The declared capacity is 3 people, but they do not provide the exact number for the area. My estimate based on the floor plan below is around 75 ft² (7 m²) for the total area, which means 25 ft² (2.3 m²) per person.
Though the sleeping area is not particularly large, but this is usually so even in much larger camping tents with rooms. So all in all, this is quite a generous space, with plenty of the storage area, and the declared capacity is justified and correct.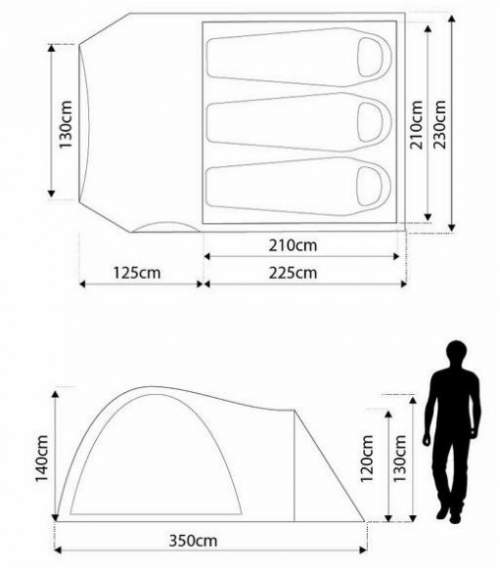 Seasons-wise, the declared waterproof rating is impressive and it makes it suitable for all weather conditions in a 3-season use. This is a full-coverage fly design so the protection should be complete. Note that the structure is very aerodynamic and quite low, so you can be sure it will perform well in adverse conditions.
Climate-wise, there are vents but not much mesh on the inner tent, so in my view this tent is better suited for a cooler environment.
Weight-wise, this is a tent with 12.3 lb (5.6 kg) so clearly you would not want to carry it long distances in the backpack, although this is possible if its elements are shared among the users. So this is a basecamp tent and a camping tent to use at places with a motorized access. But note that its packed size is very good, you have a bundle of 24 x 8 x 6 inches (60 x 20 x 16 cm) and you can transport it even on a bicycle.
---
Materials & construction
Two-room structure
I already mentioned its 2-room structure. I have seen some using the term porch for the front room, but this is a room in the true sense, with the sealed floor and with windows. So this is the best part of the tent. You have 2 PVC windows here and they are equipped with shutters for privacy and a reduced glare.
There are 2 doors on the front room; the front door is with two parallel zippers on the sides so you can create a large awning with its flap and with the help of your trekking poles, see the picture below.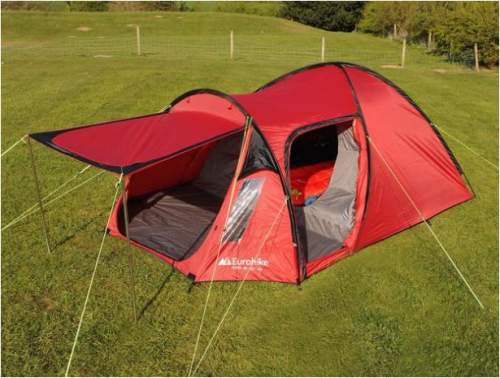 The inner tent is a taffeta, not much mesh here, so the structure will preserve the warmth and the tent is suitable for a cooler environment. But this affects ventilation of course. So they have added two vents on the front and you have yet another on the back, with the corresponding mesh section on the inner tent. I have seen some people complaining about ventilation.
The poles
You have them three; two in the dome are with the length 4.54 m and the third in the porch is 3.71 m. The poles sections are 50 cm and 53 cm; I stress this because of a question regarding this which I have seen somewhere. The poles are 8.5 mm in diameter. They call this Arcflex, but this is just a nice name for fiberglass, which is not the best material for poles. But you cannot expect more from such an affordable tent, see the price below.
For the mentioned awning configuration the poles should be ordered separately or just use your trekking poles. You have color coding for poles and the setup is easy in general.
The fabric
The fly fabric is what they call the Fibreseal, a strengthened 68D 190T coated polyester with a great waterproof rating of 3000 mm. This together with such a full-coverage fly should be a guarantee for a safe camping in any weather conditions. The floor is 120 g/m² polyethylene, so this is a fully waterproof plastic.
The materials are fire-retardant in compliance with the European BS EN 5912 requirements.
Other features
There are several pockets on the sides of the inner tent, and you have a lantern hanging loop at the apex.
Please see more in this short video:
---
Specifications
Type: extended dome tent, not freestanding.
Capacity: 3 people.
Weight: 12.3 lb (5.6 kg).
Dimensions: 138 x 90 in (350 x 230 cm).
Area: 75 ft² (7 m²).
Area per person: 25 ft² (2.3 m²).
Peak height: 47 in (120 cm).
Packed size: 24 x 8 x 6 in (60 x 20 x 16 cm).
Pitching time: 10 minutes.
Colors: 2, green and red.
---
Eurohike Avon Deluxe tent vs Competitors
Here I give the Avon DLX 3 tent side by side with two 3-person tents from other renown brands. There are big differences in features but all are for car camping, and this is to show you what you can expect from such tents, it may help in making an informed decision. Please follow the links in the table to see more.
24 x 8 x 6
(60 x 20 x 16)
33 x 24 x 19
(85 x 61 x 48)

---
Final thoughts, rating, pros & cons
As you see, the Eurohike Avon DLX 3 Man Tent comes with an interesting design with 2 rooms and this is not so frequent in dome style tents. This floored front extension adds a lot of area and functionality to this tent, in fact this is a real room where one person can sleep if necessary. This is a surprisingly affordable tent for all its features and the waterproof rating.
Please  see how I rate this tent:
Eurohike Avon DLX 3 Man Tent
BEST PLACEs TO BUY
If you need something different, please check my page with tent and shelters. Check also this Vango Venture 350 with plenty of space for 3 people. For example, if you need something portable for 3 people, check this Vango Banshee 300 or the Sierra Designs Meteor 3 tent. For true backpacking 3-person tents check this list. For car camping a bit bigger tent is this Vango Beta 450XL. But if you need a much larger family camping tent please check here.
In the case of questions and comments please use the comment box below. Thank you for reading and have a nice day.