---
The Sierra Designs Meteor 3 Tent is a completely new tent for three people, freestanding and reliable 3-season camping tool.
---
Key features & benefits
Pre-bent poles for extra volume.
Two doors.
Freestanding.
Fly vent.
Roll-up fly design.
Burrito-bag design.
---
Warning about the name
This Meteor 3 Tent is a part of a completely new series launched in Fall 2017 and for the 2018 season. So it should not be mixed with the Sierra Designs Meteor Light 3 tent that has been around in the past 7 years or so. This is a completely different tent.
The same holds for the Sierra Designs Mountain Meteor tents, again something completely different and probably discontinued nowadays.
---
What type is this
The Meteor 3 person tent is a freestanding type. The two main poles create an X-shape structure and connect with the tent through the grommets in the corners. This alone makes them freestanding, and when the inner tent is attached, this adds extra stability and tension in the tent body. The extra ridge pole only increases this effect. So in this stage, you can move it around if you need a better ground. More about the terminology here.
This is an essential feature and if you are a beginner you will learn to appreciate it if you are forced to pitch the tent on a frozen ground, on a hard rock, or on a gravel. It does not have to be staked out, but you should not miss doing so if it is possible. Indeed, you have 6 guylines and 10 stakes in the package.
This is also a typical 3-season type tent with a lot of mesh. In fact, the inner tent is nothing but a mesh, see the picture below.  Obviously, the tent is a two-layer type as well, with the inner mesh tent and the fly.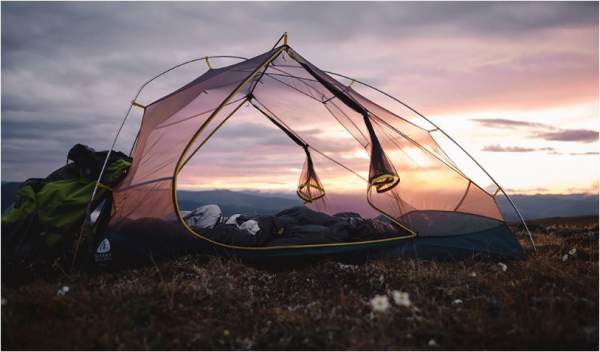 ---
Best use & users
The floor area is 40.80 ft² (3.79 m²), good enough for three people, see the picture below. But if you compare it with the smaller Sierra Designs Meteor 2 Tent from the same series with 29.8 ft² (2.77 m²), you realize that this bigger tent adds only one square meter, and it has the same size vestibules areas 9 + 9 square feet (0.84 + 0.84 square meters). So the total space per person is far less in this bigger tent.
The packaged weight is 5 lb 6 oz (2.44 kg). This is really lightweight enough to be used even as a backpacking tent if the weight is shared among the users. If so, then it is definitely also good enough for overnight and weekend hiking and mountaineering tours.
The tent is also great for ordinary camping when you transport it in a car or on a motorbike, and I see it as a useful tool also for kayakers, hunters, and fishermen.

---
Overview
The tent is with two very large doors on its longer sides, and with two vestibules. You can see from the pictures that it has pre-bent poles, and this small detail creates a lot of extra volume in the tent. I already mentioned the brow pole which is there to pull and lift the side walls and to make them nearly vertical, so this too increases the volume inside.
The dimensions are 84 x 70 inches (213 x 178 cm), so the users cannot have very wide pads here, they must be around 50 cm or so, which means the narrowest that exist.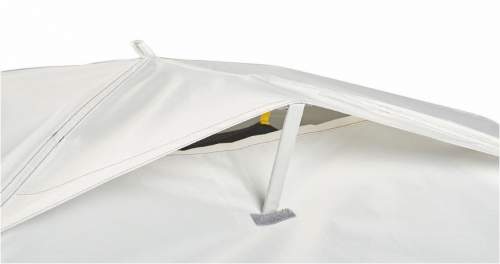 You have a full-coverage fly and it has a vent shown above, so this combined with such a mesh inner tent is a guarantee for an optimal ventilation. The fly can be rolled up for stargazing at clear nights, see the two possible configurations shown below.

The setup is typical, you spread the inner tent and add poles in the grommets and attach the mesh tent to them. Note that this pole system is such that the poles are completely freestanding already after attaching them to the corners' grommets, see the picture below. Everything is color-coded for an easy setup.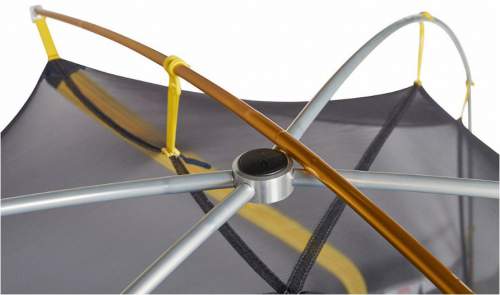 The materials
The tent is a bit on the heavy side because of durable materials used in its construction. Both the fly and the floor are 68D 190T poly taffeta, PU WR FR CPAI84, while the inner tent is a very lightweight 15D nylon No-See-Um mesh. The poles are quality DAC press-fit aluminum.
This notation may be confusing, so to know that FR CPAI84 means Fire Retardant by the standards of CPAI (Canvas Products Association International). The DAC is an abbreviation for Dongah Aluminum Corporation, a well-known pole manufacturer.
Waterproofness
Both the fly and the floor are with an 1800 mm waterproofness rating and this is more than you need. All seams are taped, so the protection is full. You can rely on this tool.
In the video you can see more about this new series by Sierra Designs:
Using the Meteor 3 for two people
I already mentioned that it might be narrow for three people. But if you are in an activity where you would not carry it in the backpack, you can use it for two people and add two cots inside.
In such a setup, you will have enough place for you and your partner and even a dog with you, and you will still have a lot of space both around the cots and under the cots. If you not familiar, you might want to know that there are ultralightweight cots available on the market, that are suitable even for backpackers. But for ordinary camping you can use any cots, so have a look here.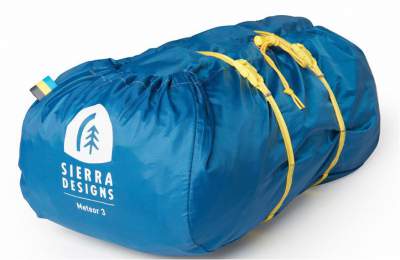 Burrito bag
They call it 'burrito' because of its shape, see above, and you will see more about it in the video below. The packed size is 19 x 7 inches (48 x 18 cm). So see how it works:
---
Specifications
Type: freestanding, 3-person, 3-season.
Best use: camping, hiking, mountaineering.
Minimum weight: 4 lb 14 oz (2.21 kg).
Packaged weight: 5 lb 6 oz (2.44 kg).
Packed size (L x D): 19 x 7 in (48 x 18 cm).
Floor area: 40.80 ft² (3.79 m²).
Vestibule area: 9 + 9 ft² (0.84 + 0.84 m²).
Dimensions (L x W): 84 x 70 in (213 x 178 cm).
Peak height: 42 in (106.7 cm).
Fly: 68D 190T Poly Taffeta, 1800 mm PU WR FR CPAI84.
Floor: 68D 190T Poly Taffeta 1800 mm PU WR FR CPAI84.
Body: 15D Nylon No-See-Um mesh.
Doors: 2.
Vestibules: 2.
Guylines: 6.
Stakes: 10.
Poles: 2, DAC press-fit aluminum plus ridge pole.
Steep wall for extra volume.
"Burrito" storage bag.
Fast & easy two pole setup.
---
Sierra Designs Meteor 3 Footprint
They have a specific footprint designed for this tent, built from 68D polyester taffeta and with 1800 mm PU/WR/FR. So it provides the same waterproof rating as the tent floor and the same durability too. You can order it here. Its specifications are as follows:
Weight: 9.7 oz (274 g).
Dimensions: 81 x 66 in (205.7 x 167.6 cm).
Storage bag size: 10 x 7 x 0.8 in (25.4 x 17.8 x 2 cm).
Storage bag weight: 0.4 oz (12 g).
---
Summary, rating, pros & cons
So clearly, Sierra Designs Meteor 3 Tent is a reliable and nicely built tent, I trust the brand behind it and I can fully recommend it. You will be a bit cramped inside if used for 3 people, but this is typical with such tents. If you use it for two, you will enjoy it. Note that the series includes also the Meteor 2 tent.
Please see how I rate it:
But if you still need something different, please check my page about tents. Many top models are described in detail. Check this Sierra Designs Sweet Suite 3 Tent from the same brand, a completely new model on the market. Check also this Vango Banshee 300 tent with a 5000 mm waterproof rating.
Thank you for reading. What do you think about this tent, any thoughts? Please use the comment box below in the case of any comment or question. I wish you a nice day.