---
In specifications of tents described in this site and elsewhere, you will see the terms trail weight vs packed weight, so it is appropriate to say a few words about this issue.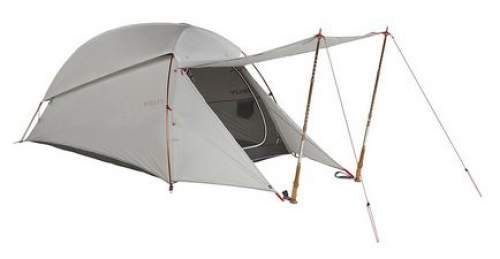 ---
Trail weight vs packed weight – what is this?
In one sentence, this is about essential and non-essential elements from the tent package and about the consequent weight. The terminology is frequently not so clear, and I do not know about any strict standards in the industry regarding this issue.
The trail weight is the weight of essential components alone. Sometimes you can see the term fastpack weight used in this case. So this is the minimum number of elements which you must have to protect you from elements. These essential elements are in principle different for a freestanding and a non-freestanding tent, so let me explain this in detail.
Freestanding tent
A freestanding tent can be set up on any terrain, concrete, rock, sand, grass, on your porch. This is so because it is not anchored to the ground. So, its essential components (which represent the trail weight) are:
The tent body.
The poles.
The fly.
With these three elements, you can manage in any environment and you will have necessary protection form elements. Instead of stakes, you can use a few stones if necessary and put them in the corners inside of the tent, e.g., in the case of a strong wind.
So the trail weight for this case is the weight of these three elements alone. One example of this you can see in the description of the Mountainsmith Morrison 2 tent.
The packed weight or packaged weight is the trail weight plus the weight of all other elements, and these include:
The stakes.
The guylines.
The carry bag for the complete set.
The smaller bags where poles are stored and where the stakes are stored.
The weight of the footprint (if included in the package).
Non-freestanding tent
Tents of this type must be anchored. So to set it up, you first stake the corners, then add poles and fix them by guylines. These guylines must be anchored as well. So clearly, the essential components which add to the trail weight are:
The tent body.
The poles.
The fly.
A certain number of stakes, dependent on the tent design. Most likely, the minimum number will be 4 for the tent corners, plus 2 for the guylines, one on the front and one on the back.
The trail weight will probably be bigger in this case, or in other words, the difference between the trail weight and the packed weight will be smaller.
A bit more – why speaking about trail weight
One reason I already gave above. But here are a few more.
Sometimes you can replace the stakes that come with the tent and use something much lighter. See one great example in the comment of this Big Agnes Fly Creek Platinum tent presented in my site. This person made the ultra-lightweight pack even lighter by purchasing stakes that are only 0.2 oz (less than 6 grams) each.
The same you can do with poles, guylines, footprint. So all unessential elements can be replaced, and some of them can be left at home (like some of the carry bags).
Other terminology
Minimum weight of a tent
In specifications of some packs, you will see the term minimum weight, see the first picture above. Quite frequently it is not completely clear what this implies, but in most cases, this is the trail weight. Examples of this kind you can see in the description of the Kelty Trail Ridge 3 tent with footprint, MSR Hubba Hubba NX 2, Kelty TN2 tent, and Marmot Tungsten 1P.
Fast fly weight of a tent, or 'on the fly' weight
Some tents allow for fast fly or on the fly option which implies poles, tent fly, and footprint. Of course, this applies only for those that come with a footprint, or when you order the footprint separately. Examples of this kind described in this site are NEMO Galaxy 2P tent, and MSR Hubba Hubba NX 2. The latter does not have a footprint, so you have to order it separately.
Fast and light weight
In some particularly great designs, you have even lighter option with the fly and poles only. I am not so sure about this setup, and I would not use it myself. You can see it in this video about MSR Hubba NX Series setup:
---
Freestanding tent vs non-freestanding tent – which is better
I have both types, and from my own experience, I would definitely suggest using a freestanding tent. I have been in some critical situations where I could not find a place to set my non-freestanding tent, on rocky terrain and on gravel. The same is when you have a frozen ground. Freestanding tents are far more versatile. Many of them, both types, are presented within the site in this page.
---
Some other options
Obviously, I have presented the two most typical classical types of tents, but there are many ingenious designs on the market, which do not fit best to these groups and to the description of essential and non-essential elements. One particular example which I want to mention is this Teton Sports Outfitter XXL Quick tent, which pops up like an umbrella.
Yet another unusual example is this Therm-a-Rest cot tent, where you have the cot and tent together, so this is a free-standing example of a really particular kind.
---
Summary
To conclude this text, I hope I have explained the terms trail weight vs packed weight, as well as some other terminology used in tent descriptions. There are other possibilities of course, dependent on the design of particular tents. You can see one in my text about the Kelty Mirada tent, where you have a very specific tent and tarp combination, and the tarp can be used alone or in combination with a footprint. So you realize, this is a fast fly option of a particular sort, with a non-freestanding tent.
Thank you for reading. Please use the comment box below in the case of comments and questions. I wish you a pleasant day.
---