---
In this MSR Hubba Hubba NX 2 review, you will find all essential details about an excellent lightweight free-standing two-person award-winning backpacking three-season tent.
Best price & place to buy
The best place regarding the price and shipping conditions is usually Amazon.com. If you are in EU, check at Bol.com.
Description
MSR's Hubba Hubba tent was introduced many years ago and it has been improved through the years. This is a tent with a completely symmetrical geometry, so you do not have a tapered floor surface like in many other tents on the market.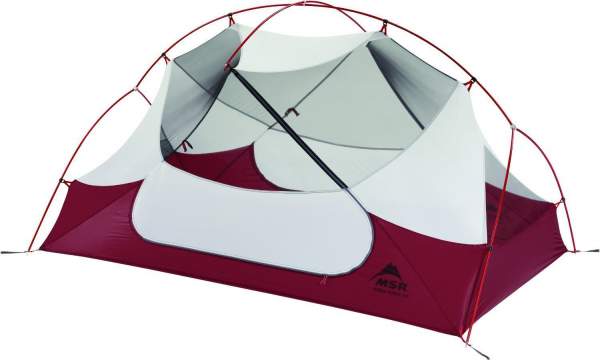 The pole construction is based on a central DAC Featherlite NFL pole which splits at both ends into two sections. This is what provides the freestanding feature to this tent because those sections are then attached to the tent's floor. You can see this in the picture above.
In addition, you have a brow pole (see above) which crosses the central pole at the highest point. This brow pole:
extends the peak height in the areas above both doors,
it makes the side walls nearly vertical,
and this all gives a lot of volume inside the tent.
The floor is built of a bit stronger material, so you have a 30 D ripstop nylon, with 3000 mm PU coating. But you realize that this is still a rather tiny material. The design you have here is the bathtub type, which means that seams are off the ground to reduce the risk of leaking. There is no footprint included in the package, it is sold separately.
In view of its symmetrical structure, Hubba Hubba has 2 identical doors on each side and identical vestibules. Not all tent have the vestibules identical, one nice example you can see in the case of Kelty Gunnison 3.3 tent. The doors can be rolled to the side and fixed there.
You have mesh everywhere around, this is 15 D micro mesh fabric which provides a lot of ventilation.
Inside, on both sides you have large mesh pockets for gear, to keep them off the flow.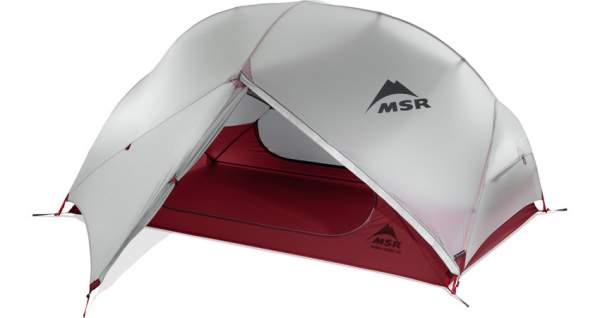 Rain fly
This is a really lightweight fabric, 20 D ripstop, PU coated, with all seams taped. It is designed to create very useful vestibules on both sides, which together give you 1.62 square meters (17.5 sq. ft.) of extra storage space. This is something you will always need when you are in the camp.
Several possible options for using the tent
You can use it in the fast and light version, with just the fly and poles.
Another possibility to use the fly, poles, and the footprint (after purchasing it separately).
Of course, the optimal way is to use the complete tent with the body and other elements.
See all nice features of Hubba series in this video from MSR:
Pros & cons
My summary of pros and cons regarding the MSR Hubba Hubba NX 2 is as follows:
 Cons
 Pros

No footprint.
High price.

Top quality.
Free standing.
Lightweight.
Extra shed option.
Good ventilation.
This tent has received an exceptionally high average rating by Amazon customers, no less than 4.8/5.
I must notice that the tent is built of a tiny fabric in every part of it, so it should be handled with care. This in particular in view of the fact that footprint is not included. Buying a footprint raises the overall price considerably.
But Hubba Hubba tent has been around for about a decade now. It has stood the test of time and remained very popular.
Rating of MSR Hubba Hubba NX 2
Area per person -

8/10

Packed size/Area -

8.8/10

Surface to weight ratio -

9.4/10

Reliability -

9.4/10

Ease of use & features -

9.7/10

Price -

7/10
Specifications
Capacity: 2 people.
Freestanding.
Packed weight: 3 lbs 13 oz (1.73 kg).
Minimum weight: 3 lbs 7 oz (1.56 kg).
Fast and light with footprint: 2 lbs 10 oz (1.19 kg).
Fast and light option without footprint: o.97 kg (2 lb 2 oz).
Floor: 29 sq. ft (2.7 sq. m).
Vestibule: 17.5 (8.75 + 8.75) sq. ft; 1.62 (0.81 + 0.81) sq. m.
Interior height: 39 in (100 cm).
Tent volume: 43 cu. ft (1217 liters).
Packed size: 18 x 6 in (46 x 15 cm).
Materials:
– Rain fly: 20 D ripstop nylon 1200mm Durashield polyurethane and silicone.
– Canopy: 20 D ripstop nylon.
– Mesh: 15 D nylon micro mesh.
– Floor: 30 D ripstop nylon 3000 mm Durashield polyurethane and DWR.
Doors: 2.
Number of poles: 1 DAC Featherlite NFL.
Unified hub-and-pole system with color-coded clips.
Ultra-compact compression stuff sack.
Lightweight reflective guy-outs.
Two large StayDry doors with built-in rain gutters.
Adaptable and cross-ventilating rain fly.
Side entry zipper orientation.
Rain fly kickstand vent.
Adjustable rain fly with roll-up vestibule and stargazer view.
Adjustable integrated stake-out loops.
Reinforced Infinity bar tacks and lap-felled seams.
Bathtub-style floor.
Comparison with competition
See where MSR Hubba Hubba NX 2 stands in comparison with some other top rated tents:
MSR
Hubba Hubba
Kelty
TN2
NEMO
Blaze 2
Weight (kg)
1.72
2.18
1.05
Surface (sqm)
2.7
2.5
2.8
Height (cm)
100
107
101
Fabric D floor/fly/body
30/20/20
70/40/15
20/7/20
Freestanding
yes
yes
no
My rate
8.8/10
8.7/10
8.7/10
Clearly, Hubba Hubba is not the lightest tent on the market, but it compares well with other tents. You realize that the weight is in direct relation with the fabric durability, see the Kelty tent as an example.
The surface these tents provide is practically the same, in general, they are all a bit small for 2 people. The surface-to-weight ratio is the best with the NEMO tent, but this is not a freestanding tent, hence my rating.
Gear Shed
MSR Hubba Hubba NX 2 tens allow you to attach a gear shed to it. This you have to purchase separately of course. You can order it separately. In this video you can see how it looks like:
Below is one more video from MSR on setting up their Hubba series:
Conclusion
To conclude this MSR Hubba Hubba NX 2 review, clearly there are reasons for this tent to be so popular and even awarded. This is a great and reliable tent, though not very durable, with a great ventilation, and with several ultra lightweight options of using it. The possibility to attach the MSR shed to it makes it even more attractive. The Hubba Hubba tent has been around for a decade or so, therefore it has been tested by many people. I fully recommend this tent.
More 2-person tents you may find in my another review. You might want to check also this Big Agnes C Bar 2 Backpacking Tent which is on the same weight range.
Thank you for reading. It will be great to hear from you, there is a comment box below. Please share this text if you find it useful.


---