---
In this text, I give a list of 14 best lightweight 2 person hiking tents, suitable also for backpacking and camping. The tents are compared by weight, floor surface and the ratio of the two, but I also give some general guidelines to bear in mind when you choose a backpacking or hiking tent.
Comparison table
Here is a comparison table with those 14 hiking and backpacking tents given above, all of them for 2 people, and the order is alphabetic. I give only a few basic parameters, to see more please follow the links:
*Note the following: the weight given here implies:
packed weight (the first number),
trail weight (the second number), and
fast fly weight (third number, where available).
The S/W ratio is calculated by using the packed weight (the first number) and trail weight (the second number).
Packed weight includes: poles, fly, tent body, stakes, guy lines, stuff sacks. So this is a complete package you may need.
Trail weight includes: poles, fly and tent body.
Many of the tents allow for the fast fly variant: poles, tent fly, fast fly footprint. But not all of them come with a footprint. On the other hand, going this way implies being exposed to bugs and snakes. I do not recommend it.
How to choose 2 person hiking tents (or backpacking tents)
I assume that the tent you have in mind is with a waterproof rain fly, so this issue will not be discussed here; all tents mentioned in the text are with a rain fly. But I shall say a few words about waterproofness. Also, I do not make a particular distinction between hiking and backpacking tents, and I use these terms in the text simultaneously.
Here are a few most important features to bear in mind when you are in the process of choosing a tent:
Is it free-standing or not.
Is it a double-wall type or a single wall tarp tent.
Two doors or one door.
Is footprint included.
What is the price.
Any award received.
What is the weight.
What is the floor surface.
What is the ratio between the floor surface and the weight.
Free-standing tent or not

Why this issue is of importance should be self-evident. You may find yourself on a terrain where anchoring the tent to the ground may be impossible (frozen ground, rock, gravel). I have been in such situations with my non-freestanding tent, and I was in trouble. I mentioned this in my text about Similaun.
So a free-standing tent is a better option. But some of the tents mentioned below are non-freestanding, the list includes the following:
Sierra Designs Flashlight.
Sierra Designs Tensegrity.
Nemo Blaze 2P.
One-layer backpacking tents
The majority of tents presented in this text are double-wall tents. This means that you have the tent body + rain fly. The lower part of the tent body is waterproof while the upper part is a mesh and taffeta combination. Having a double layer above is generally good to avoid condensation when the fly is on. But this will depend a lot on the design of the rain fly, on the number of vents you have there, and on their size.
But some of the hiking and backpacking tents are single layer, and the list includes:
Sierra Designs Tensegrity.
Sierra Designs Flashlight.
Sierra Designs Lightning 2 FL (hybrid, double in some sections and single in others).
Two doors or one door
Having two doors is very convenient if the tent is used for two people. But an extra door implies an additional long zipper and some extra material, so this increases the weight.
Many of such 2-person tents are in fact great tools as solo tents, and if used that way, the weight is critical. In this case, tents with one door are perfect for you. So if you plan to use it mostly solo, and with a partner only occasionally, go for one-door tent and for low weight.
Another thing is the position of the door(s). They can be:
on one side,
on both sides,
on the front only.
The case with the front door is a better option if you want to choose a tent for 2 people but want to save weight. The reason is that both people are in an equal position with respect to the door. This is not so when you have a single side-door.
Examples of front-door tents are:
Sierra Designs Lightning 2 FL.
Big Agnes Fly Creek Platinum (see the first picture above).
Big Agnes Fly Creek UL2.
Big Agnes Seedhouse SL2.
An example of a single side-door is:
Kelty Salida 2 (see the picture below).
Footprint included or not
Tents are generally expensive tools (see below more), and some of them come without a footprint.
Having a footprint is important to protect the tent from the ground. This will extend its lifetime and save some money. Buying it extra is something you might want to avoid.
Some tents are built from very durable materials and they do not need a footprint, like Kelty TN2, but the majority need it and do not have it included.
The only tent in the list here with an included footprint is:
Weight and materials
To save weight, the materials in most of the tents are very tiny and non-durable. As a rule, this is behind their (absence) of weight.
This can be an issue in particular regarding the floor of the tent, so you need a footprint. This adds the weight and the amount of money you have to invest.
On the other hand, such tiny materials are usually very noisy. They move constantly with the slightest wind.
Particularly durable materials and very thick are in the following models:
Kelty TN2.
NEMO Galaxi 2P.
The price of the tent

The prices change all the time, so I do not give them here. You can follow the links and see the current prices, they are always very accurate and updated daily.
Just to stress that in the moment of writing this text, the least expensive tents are:
Kelty Salida 2 (around $112).
Mountainsmith Morrison 2 (around $135).
Particularly expensive is:
Big Agnes Fly Creek Platinum (around $500).
Award winning tents
I do not review low-quality tents, so naturally many of the tents you will find in this site are award-winning tools. Some of them have multiple awards. Here are some great examples of these tents, you can find more details by following the links in the table below:
Mountainsmith Morrison 2 – multiple awards.
MSR Hubba Hubba NX 2.
Kelty Salida 2.
Big Agnes Copper Spur.
Big Agnes Fly Creek UL2 – multiple awards.
Surface to weight ratio

Two person hiking and backpacking tents are typically rather small for two people, it is hard to find exceptions. This is because of necessity to reduce the weight.
But if the tent is used for two people, then having two doors is really an advantage, while the weight shared between the two becomes far less critical.
You will see sometimes in descriptions of tents that they are praised as being spacious. But this is not a complete information, you may want to know how much weight you have to carry to enjoy such a great livability.
This is where the surface/weight ratio (S/W) comes into the picture. It gives the number of square meters per kilogram of weight which you have to carry. Obviously the greater the value the better.
So what is the lightest tent presented here
Clearly, we can speak about the weight in relative and absolute sense. From this table it becomes clear that the term lightweight or ultra lightweight should be taken cautiously and relative to the surface which you have with the tent.
For example, Sierra Designs Tensegrity is an ultra lightweight tent in the absolute sense. But it offers very little space, and its S/W ratio 1.47 is very low. I would use it as a solo tent only.
But Big Agnes Fly Creek Platinum is indeed ultra lightweight in every sense, its S/W ratio is enormous, 2.86. The same holds for Nemo Hornet. So these tents might be your choices if you need something for really long backpacking tours where grams count.
However, the Big Agnes Fly Creek Platinum is, in fact, the most expensive of all tents presented here.
On the other hand, Mountainsmith Morrison 2 is typically described as spacious, and this is true in the absolute sense. This is a champion, it offers 3.25 square meters of space. Quite similar is with Nemo Galaxy. But their S/W ratio is truly modest, 1.34 and 1.25, respectively. So if it is about short tours, not far from your car, or for ordinary camping, these 2 tents may be great choices for you.
Note also that Mountainsmith Morrison 2 is the second least expensive of all tents presented here, second only to Kelty Salida 2 tent.
How about backpacking – what is the lightest 2-person backpacking tent
As I mentioned above, I do not make much distinction. But indeed for extended backpacking tours, you should consider the lightest options possible. If the price is not an issue, then the choice is obvious. Go for:
Big Agnes Fly Creek Platinum.
Nemo Hornet.
Nemo Blaze (but note, this tent is not free-standing).
Waterproof fly and floor – what to expect
Typically what you see is the rating expressed in millimeters (mmH2O). This describes the pressure at which water is able to pass through the fabric. In other words, if you see 2000 mmH2O, this described the thickness of the water layer which the fabric will be able to withstand before the water passes through. To put things into perspective, an umbrella has the waterproofness around 400 mmH2O.
Sometimes you will also see the same property expressed in pounds per square inch or psi. The meaning is the same and conversion from one unit to another is widely available online.
With tents, the waterproofness is typically expected to be much higher for the floor than for the fly. This is related with the abrasion which is normally much higher in the floor area. So you can have 1500 for the fly and 3000 for the floor.
Waterproofness is typically achieved by applying layers of polyurethane (PU) coating or by silicone, or by a combination of both. Tents with silicone are generally more expensive.
The higher number implies more PU stuff and this means more weight. So a right balance is needed, remember what I said above about an umbrella, you do not need much to have a waterproof tent.
Seams
More frequently you may have problems with seams. They may be sealed or taped, or they may be without anything. The first option is more durable and more reliable. Do not even look at tents without sealed or taped seams.
I had such an unpleasant experience with my new and untested tent while I was climbing Weissmies (4023 m) in Swiss Alps. I climbed to some 3000 meters and set my tent up for the night. During the night there was a storm and my tent was leaking everywhere on seams. I had to give up and descended to the Almageller hut below my camp spot, where I spent the night. This ruined everything.
I never used the tent again. You know what they say in my native language: 'I am not rich enough to buy cheap things'. Yeah, my tent was cheap, though indeed it was branded. I wanted to save money. Did I really? Well, I had to buy another one. Later I climbed the mountain successfully, see the picture below.
So do not make the same mistake, buy a reliable tool. You will need it out there.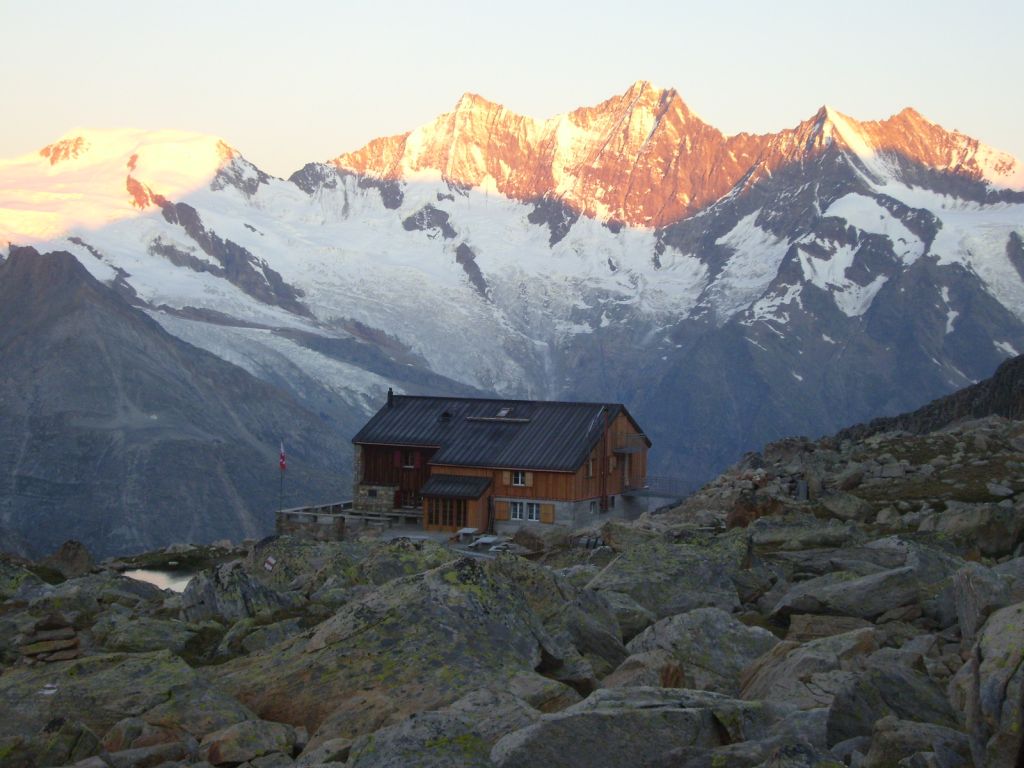 Conclusion
So to conclude this text about best lightweight 2 person hiking tents, there are many ways to rank a tent, and many parameters to take into account. It all comes to the purpose of the tent. For this reason, I believe it is important to have such a table and text in front of view when/if you are in the search for a tent for you.
Many of the tents mentioned above have received awards, no doubt with all good reasons. So read a bit more about them, they all are described in detail in this site.
Thank you for reading. If you think this text is useful, please share it with others. Have a nice day.
---