---
This MSR Access 2 Tent review is about the completely new winter tent series launched recently, suitable both for hiking and short backpacking tours as well as for 4-season use.
---
Standout features and benefits
This is a very lightweight tool for a winter tent.
Multipurpose: features of a hiking and a winter tent.
Crossed poles construction able to withstand overnight snow.
---
All three MSR Access tents compared
Here is the MSR Access 2 side by side with other tents from the Access series:
Weight (kg);
Surface (m²)
Surface/weight
ratio (

m²

/kg)
MSR Access 1 

1.6; 1.76

1.1
MSR Access 2

1.86; 2.69

1.45

MSR Access 3

2.3; 3.8

1.65
This table clearly shows that the solo tent variant is the heaviest option (per person) as usual. Its surface to weight ratio is the smallest.
The bigger the tent the bigger surface/weight ratio. So you have less weight per person as expected. Good to know when the participants share the elements of the tent.
The difference in weight between the Access 1 and Access 2 is only 26 grams, yet the floor area is, respectively, 1.76 

m²

and 2.69

m²

. So the surface gain is no less than 0.93

m²

plus you have one extra vestibule.
On the other hand, the surface per person is, respectively: 1.76

m²

, 1.34

m²

, and 1.27

m²

. So the bigger the tent, the less space per person.
Another thing to bear in mind is also the total vestibule surface. It is 0.84

m²

, 1.62,

m²

, 1.62

m²

 for the three tents respectively. So again, the 3-person tent provides far less storage space per person.
From these numbers, it makes a lot of sense using the Access 2 tent as a solo tent, in particular for relatively shorter tours in winter conditions when you need more space in the tent (because you are expected to spend more time than usual in the tent), or if you have your dog with you in summertime and you camp high in the mountains.
---
MSR Access 2 tent – description
This is a 2-person tent, but from the text above you realize it can be used as a solo tent as well, and you will have a castle in the mountains. In my text about winter tents, you can read about the features of winter tents and their differences as compared to 3-season tents.
What makes the Access 2 tent a four-season tent are basically the following features:
Extra cross pole.
An almost complete absence of mesh in the inner tent construction.
Below, I am going to say a few words about these two elements.
Poles
Normally 4-season tents have several poles, so the more intersections the better. This makes them heavier of course, but they are more stable. Well, here you do not have many poles, but there is one extra cross pole which changes a lot with respect to the tent stability. With such a structure, it can withstand overnight snow loading, but It should be stressed that this tent is not designed to be used in the harshest winter conditions.
Well, here you do not have many poles, but there is one extra cross pole which changes a lot with respect to the tent stability. With such a structure, it can withstand overnight snow loading, but It should be stressed that this tent is not designed to be used in the harshest winter conditions.
The poles used here are incredibly flexible and durable. MSR describes them as the most resilient tent poles ever made. You can bend them as you wish, they always return to their original shape. This is what makes an impression that this tent is weak, but in fact, it is just very flexible. This type of poles are now standardly used in MSR's winter tents.
This is a freestanding structure. The main pole is V-shaped at both ends (see the picture) and these segments fit into the tent's grommets, making the tent freestanding. The extra cross pole adds extra stability and support, and it also pulls the walls up adding more volume in the tent.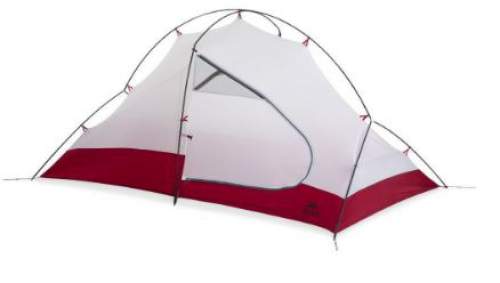 The inner tent
Many 4-season tents are without the inner layer. This is not so here, and this is what puts the MSR Access tents in the group between the winter and hiking tents. So you have an internal canopy which is 20D and durable water repellent (DWR). So eventual water that will condense on the fly (it always does), will not drop down on you, the canopy will keep it and eventually redirect it to the ground.
There is only one small triangular piece of mesh on the top of the door, it is visible in the picture above. This, together with the mentioned extra cross pole is one of the features that makes it quite different from an ordinary hiking or backpacking tent. Such a canopy can probably make more than 10 degrees temperature difference, and this is huge.
But bear in mind that this limits its use as a 3-season tent, you need the mesh for a better ventilation. However, when you are above 2500 meters in the mountains, it can be terribly cold during the night, I have experienced this many times in the Alps. And at such altitudes, you can have all 4 seasons in one single day, again speaking from my own experience. So you would love to have such a tent even in the summertime.
But the extra pole and the full canopy add to the weight, so this is not the lightest option on the market, but this tent is surprisingly lightweight for all what it offers. Note, this is only 4 lb 1 oz  (1.86 kg) tent. So it is lighter than most of the mountaineering tents but at the same time warmer than an ordinary three-season tent.

Other features
An ultra-lightweight fabric is used in other elements of the tent as well. So you have a 20D fly, and 30D floor, the DuraShield-coated fabrics, and taped fly and the bathtub floor.
The tent is with two side-doors and you have two very useful vestibules that provide more than 1.6 square meters of covered space for your gear. Inside the tent, you have internal pockets at both ends and multiple loops on the ceiling to hang things.
Multiple guy-out points outside on the fly allowing you to secure the tent against winds. The 3-sided MSR stakes are designed to have a good holding power in any ground. The poles are packed in their own sack, and this all together with the fly and the tent body comes in an orange sack with two compression straps with buckles.
Packaged and minimum weight
The packaged weight mentioned in the specifications includes the total weight of the packaged contents off the shelf. This is the only weight of interest to you, such a winter tent you will not be using in any other configuration.
The minimum weight is the combined weight of the tent body, rain fly, and tent poles. So it does not include tent stakes, guy cords, stuff sack, etc. More about this terminology you can find in my separate text.
Waterproofness
The fly and the floor are with polyurethane coatings and all seams are taped. You have 1200 and 3000 mm for the fly and the floor respectively, which means that they withstand the given number of millimeters of a water column for more than one minute. This is enough even for a hurricane-force storm.
Here is a nice video by MSR where you can see how to set up these Access tents:
---
Specifications & summary of features
Type: 2 person 4-season freestanding tent.
Best use: for ski touring and snowshoeing in relatively protected zones near the tree-line.
Minimum weight: 3 lb 10 oz (1.64 kg).
Packed weight: 4 lb 1 oz (1.86 kg).
Floor surface: 29 sq ft (2.69 sq m).
2 Vestibules surface together: 17.5 sq ft (1.62 sq m).
Tent volume: 56 cu ft (1586 liters).
Vestibules volume: 17 cu ft (481 liters).
Interior peak height: 42 in (107 cm).
Max inside width: 50 in (127 cm).
Max inside length: 84 in (213 cm).
Packed size: 18 x 6 in (46 x 15 cm).
Doors: 2.
Poles: 2 Easton Syclone. Note, even on the MSR site there is a wrong info, a statement about 3 poles.
Rainfly: 20D ripstop nylon 1200 mm Durashield polyurethane & silicone.
Canopy: 20D ripstop nylon & DWR.
Mesh type: 10D polyester micro-mesh.
Floor: 30D ripstop nylon 3000 mm Durashield polyurethane & DWR.
Color: orange.
Limited mesh on the tent body keeps in the warmth.
Robust frame.
Very quick setup.
DuraShield-coated fabrics.
Here is one more video by MSR about their Access tents:
---
Summary, rating, pros & cons
In conclusion of this MSR Access 2 Tent review, this tent is designed to fill the gap between true winter tents and backpacking tents. So it is very much suitable for relatively protected winter conditions close to the tree-line, and for high altitudes in mountains in the usual 3-season use.
I am sure you will be able to appreciate its inner canopy at sub-zero temperatures in your summer camp high in the mountains. The tent is not so suitable for ordinary 3-season use at very low altitudes unless you are able to keep the door open all night.
Please see how I rate this tent.
You might want to compare it with this Big Agnes Shield 2 Tent and also this Eureka Mountain Pass 2 which is a true 4-season tent. As I mentioned above, the series includes also the smaller solo tent presented in my separate text. If you need a 3-season tent from the same brand, please see this MSR Elixir 2 tent. See also my list of winter tents for backpacking where this tent is included.
Thank you for reading. I hope the text has been useful to you. Please let me know if you have any question or comment, there is a comment box below.