---
If you have a 3 season tent, then perhaps you have already asked yourself 'what is 4 season tent'. This may be just out of curiosity, or you plan to buy one. In any case, knowing the differences between the two tents' groups is important. So, you will find the answers here.
In fact, it may be more appropriate to ask what is winter tent than what is four season tent. This is because of the following:
The term four seasons implies a tent which is suitable for winter conditions.
Such winter tents are frequently with less ventilation, and this holds in particular for single-wall tents. So they are far from a perfect choice for other seasons, like summer for example. Yes, you can use some of them in summer months, but why would you use such an expensive tool in weather conditions which it is not specifically designed for?
So, a 4 season tent is essentially a winter tent. Typically, this implies the following:
Very high price.
Specific and strong design that can withstand a lot of static pressure, e.g., from snow on the tent.
Stable structure that can withstand strong winds.
A tool to use at high altitudes, well above treeline.
Number of walls
You will notice that four-season tents can be:
Tents with single wall
These perform less good in warmer seasons, but they naturally pack well. They perform less good with respect to condensation, but this may be your first choice for hard and relatively short alpine tours. Why? As a rule, they are less heavy than double-wall tents, see more below.
Single wall tents are almost always without vestibules. So they provide less space, but they also need less space to set up, this is something that may be very important in some environments.
Instead of a standard vestibule, some of them have a dry area for boots inside the tent, just behind the door, see one example in the picture, Snow Peak Lago 1P tent.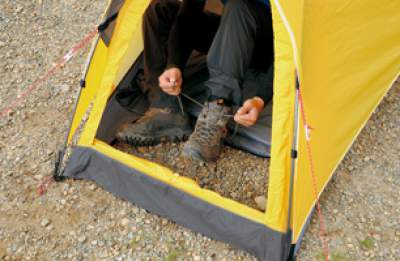 Tents with double walls
These are usually far better than single wall tents, in any season. They are warmer, and they are better with respect to condensation. Double-wall tents are normally with vestibules (with few exceptions) which adds extra dry space for users, but this adds weight as well. One great example is shown in the picture: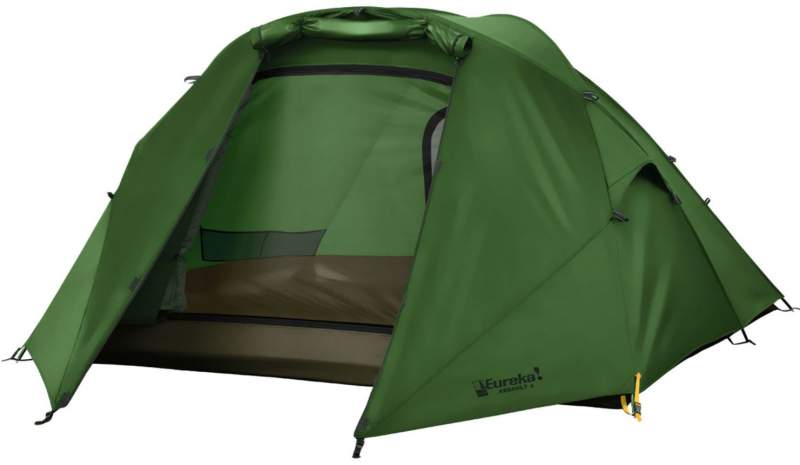 Freestanding or not

Similar to 3-season tents, here too you can have:
Freestanding winter tents. This is the type you should consider if you go solo to high altitudes. You can find yourself on a terrain where you cannot anchor the tent, due to frozen ground and ice, or it is just the rock. They are typically with crossed poles.
Non-freestanding. This type is more appropriate for base camps at lower altitudes. They can also be with poles creating a dome structure, but the structure must be anchored to the ground in order to remain stable.
Strong structure
I mentioned a strong design above. This is based on several factors:
On the structure the poles make.
On the quality and depth of poles.
On the quality of the connection between the inner tent (in the case of a double-wall tent) and the pole structure.
On the quality of the rain-fly connection to the pole structure.
On the durability of the fabric used for the fly and the floor.
On the number of guylines and stakes.
♦ Generally, the more poles the better. The more crossing and intersections of the poles the better. But think about the associated weight.
So, how many poles? Most frequently you will see 2 (see Snow Peak Lago 1 above). But there are models with more poles. How many intersections to expect? From zero (tunnel type tents) to more than 20.  See Mountain Hardwear Trango 2 as one great example.
The tent poles are mostly aluminum or sometimes carbon. The latter is lighter and stronger but brittle, you have the same situation with your trekking poles.
With 3-season tents you usually have 8 mm poles, my own tent is with such poles. But 4 season tents may have poles up to 10.5 mm diameter. This is normal, they are supposed to withstand more pressure.
♦ For pole-tent connection, you have either clips or sleeves. The latter is better as it distributes the pressure more evenly. How many clips to expect? The biggest numbers I have seen so far are 39 in Hilleberg Tarra, and 38 in Mountain Hardwear EV2.
♦ The fabric for the rain fly is typically 30 or 40 D. The floor of 70 D is a great number, but you will find models with very different values. So you have tents with the fly – floor combinations of the following type:
70 – 70 D in Mountain Hardwear Trango 2,
40 – 100 D in Hilleberg Tarra,
30 – 40 D in  Mountain Hardwear EV2,
15 – 15 D in Brooks Range Invasion.
Very small values that you may see in some cases do not imply they are of low quality. They may be designed for snow conditions, where the floor does not have to be strong in general.
You will see some models that are completely different and have waterproof and breathable fly material, like 3 layer eVent in Rab Latok Ultra tent. This is what you find in some jackets.
There are also some tents with Todd-Tex fly, so far I have seen them only in Black Diamond tents, see for example Black Diamond Ahwahnee (the picture below) and Black Diamond Fitzroy (the first picture above). So here again you have a waterproof and breathable material with a membrane similar to the usual Gore-Tex but the fabric is made fire-resistant (up to some point as far as I understand).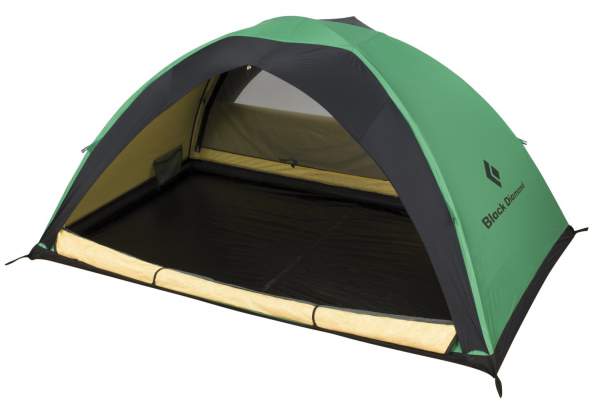 ♦ Regarding the guy-lines, the more the better. They are crucial against the wind, and their number will depend on the size of the tent as well. So how many to expect? At least 4 or more.
Waterproof?
The answer is definitely yes. I would not consider anything else. Seams taped or sealed (the better option); without this, you do not have a waterproof tent.  You can have the following options here:
PU coated.
Silicone is used; this is a more durable option.
Waterproof and breathable materials are used for the fly (mentioned above already).
You can have both PU and silicone combined as well, each used on different sides of the fabric, PU coating inside and silicone outside. With such a combination your fly can withstand at least 100 days of use in harsh conditions. With the silicone on both sides, you can expect much more.
Ventilation
The role of the fly is to protect you from the water from outside, but it also must allow vapor from inside to escape. This reduces the problem of condensation. This is where double layer tents shine.
As I mentioned above, there are 4 season tents with rain fly made of breathable materials. Normally, the size of pores in such membranes is far bigger than the size of a water molecule which you have in vapor; for Gore-Tex, this is by factor 70 or so. In the same time, water droplets are some 20000 times bigger than pores and they cannot get in from outside. This is how such materials work.
Nevertheless, the ventilation is most effective through vents on the fly. In general, it is better to have more vents, preferably close to the highest point of the fly. See below one great example with several vents, Mountain Hardwear EV2 tent.
Weight
So what to expect regarding the weight? The span is really large. Here are some examples from the top-rated four-season 2-person tents, just to realize what you can expect.
Single wall tents
This is the weight range you may expect:
44 oz (1247 g) in Mountain Hardwear Direkt 2.
111 oz (3147 g) in Black Diamond Ahwahnee.
Double-wall tents
71 oz (2013 g) in Hilleberg Unna 1 person tent.
157 oz (4451 g) in Mountain Hardwear Trango 2 (see the picture below).
So from this you realize what makes single wall tents more attractive; they are considerably less heavy.
Conclusion
So to summarize, from this text you have learned what four-season tent is. I believe that now you would be able to recognize at least some of them by just seeing them in pictures. One typical feature which reveals their nature are the number of poles and intersections. But of course, some have only 2 poles and in this respect, they may look the same as 3-season tents.
You might want to see this MSR Access 1 and Access 2 tents which are in between the true winter tents and backpacking tents, this is a part of a completely new 2017 series.
You may be surprised to realize that some 3 season tents are built of more durable materials than some of the four-season tents. But a durable fabric is only one part of the story. For example, this particular tent is not so strong in ventilation.
I hope this text has been useful. If so, please share it with others. Do you have any question? I shall be happy to answer, there is a comment box below. Thank you for reading, and have a nice day.