---
In this text, I present Best 4 Season Tents For Backpacking and for many other outdoor activities, all 2-person tents and all lightweight enough to be carried in the backpack.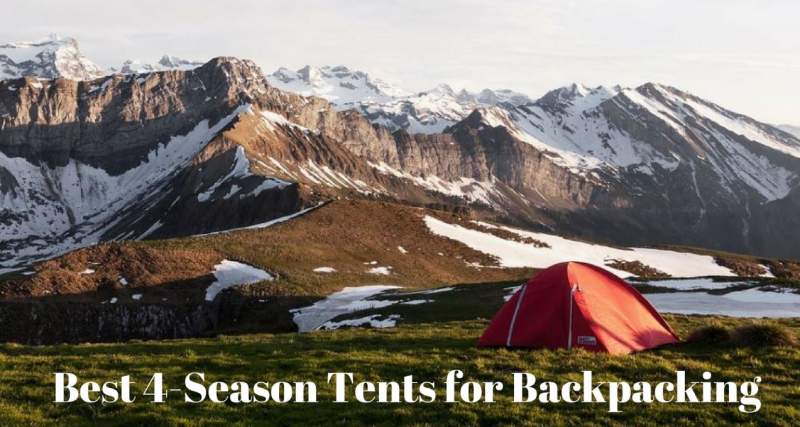 ---
My list of lightweight 4 season backpacking tents
Here is my list, with the tents ordered by weight from lighter to heavier:
Since this is about carrying the tent long distances, the main criterion for the ranking is the weight. But there are other parameters to bear in mind like the following:
The area/weight ratio. This ratio is expressed in square meters per kilogram (m²/kg), so the more the better.
The floor area. Backpacking tents are usually small for obvious reasons, the more area you have the better, but vestibules also play a big role.
The peak height. This adds to livability. Some tents are quite large (see the number 1 in the list) but they may be low and uncomfortable. Some may have a short cross pole as well to add more volume and to increase livability.
Vestibules & doors. Usually, two doors imply two vestibules, so you have not only more comfort, but also more covered and protected space for the gear which you can keep outside instead in the tent. But several of the tents in the list are without vestibules, and for some this can be ordered separately. About vestibules, in general, please see here.
Are these really the best 4 season backpacking tents?
If you go very high, e.g., above 3000 meters, then you are more or less in the area of permanent winter conditions. So some of the tents in the list are designed for mountaineers which go to such elevations, like the tent number 1 below, so indeed this is a great winter tent.
On the other hand, some are described by the manufacturers as "treeline" tents. This means that they are good enough for all seasons but not necessarily for exceptionally strong winds that are expected above the tree line. So if you are a backpacker, such a tent will indeed be a true winter tent for you.
Note that the terminology and essential features of the winter tents (or 4-season tents) is described in my separate text, so please have a look for more.
Are these tents really the top-notch tools?
Some of them are indeed, but as I said above, weight was my main criterion. This is about finding a reliable backpacking tool for all seasons. So some truly great but heavy tents are not included in the list.
Minimum (trail) weight or packed weight
This terminology is described in my separate text. Here just to add that I shall not give the minimum (or trail) weight in the specifications. This is because of the two reasons:
The terminology is not unified, and different manufacturers imply different meanings for this phrase.
You need the tent with all its elements to secure it in place, so leaving some essential pieces at home (like tent stakes, this is what is not included in the trail weight) is not a good idea in general.
So it is the packed weight that I take as an essential parameter. My best advice would be that you simply ignore the trail weight, the manufacturers mention it only to impress you, while in my view it has no practical meaning. I would not go on a trail without stakes and guylines, at least not in the Alps where I normally go. If you do so, you might find yourself in big trouble when you realize that your tent is gone with the winds.
Best 2 person 4 season backpacking tent
You will notice that all the tents in the list are 2-person tents. This is on purpose so that you can make an easier comparison between them.
But in some cases, these are just representatives of series which include several sizes, see for example the MSR Access series where you have tents for 1, 2, and 3 people.
On the other hand, some of them are lightweight enough to be used as solo tents as well. Frankly speaking, some are so small that they should be used as solo tents only.
---
1. Rab Latok Summit Tent
This is the lightest tent given here, most suitable for climbers and mountaineers, but its weight is the reason for adding it to the list. However, its peak height is only 80 cm, so livability is not its best feature. This is a shelter tent but a very reliable one, suitable for all seasons.
In spite of such a small weight, the floor is a 70D coated nylon bathtub design with 10000 mm waterproofness rating, and the poles are 9.6 mm DAC Featherlite NSL. So this is a surprisingly durable construction which is able to withstand a lot of what the Mother Nature has to throw on it.
A particular feature you have here is its eVent Waterproof Technology DVStorm fabric, which is a 3 layer very breathable material similar to what you have in the top-quality hardshell jackets. In addition to it, you still have an unusual vent on the rear side. So you should not have condensation issues in this tent, but you can never avoid it completely as you will see in the video below:
Although I have included it here on the list for backpackers, this is a versatile top-notch tool very suitable for mountaineering, alpinism, ski touring, etc., but it is really small and I would use it mainly as a solo tent.
Key features
Weight: 51 oz (1.45 kg).
Packed size: 21.7 x 7.1 in (55 x 18 cm).
Floor area: 28.4 ft² (2.64 m²). So as you see, the area is quite large, but the low walls and peak height are not so great.
Area/weight ratio: 1.82 m²/kg; this is the biggest value of all tents here.
Peak height: 31.5 in (80 cm).
Dimensions: 86.6 x 47.2 in (220 x 120 cm).
4 corner guy points with 2.5 mm guyline.
10 DAC V-stake pegs provided.

---
2. MSR Advance Pro 2 Person Tent
This tent is described by the manufacturer as a tool for mountaineers and climbers. This implies that it has a relatively narrow floor area designed to fit easily in small surfaces which you might expect in high mountains.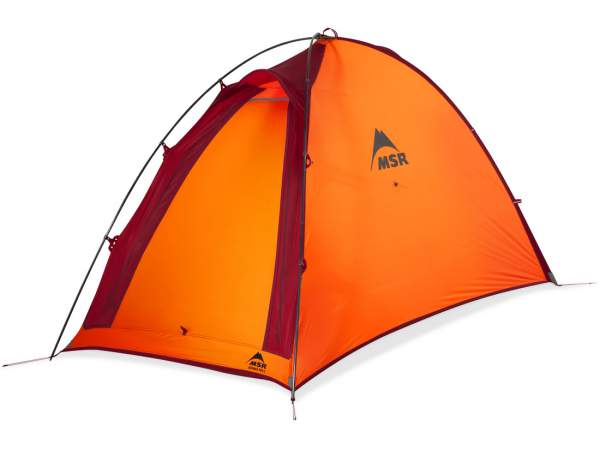 But this tent is so lightweight and easy to set up that it is natural to have it in the list for backpackers as well. One user can set this tent up without moving from a single spot, this is how clever the design of the tent is!
This is a freestanding ultralight single-layer tent with an incredibly easy setup with a unique pole sleeve design. Note that this tent has no vestibule, and this is the only downside of its design.
Key features
Packed weight: 3 lb 3 oz (1.46 kg).
Packed size: 18 x 6 in (46 x 15 cm).
Floor area: 24 ft² (2.2 m²).
Area/weight ratio: 1.51 m²/kg.
Peak height: 44 in (112 cm)
All seasons full protection.
Very easy setup.
Freestanding.
Small floor size for easier pitching on narrow ledges.
Hybrid clip and pole sleeve design for a fast set up by one person.
Easton Syclone poles – ultralight and cutting-edge composite materials designed to resist breaking even in most severe situations.

---
3. Black Diamond Firstlight 2
This is a very lightweight and versatile tool for 4-season alpine climbing and also for backpacking, and its packed size without the poles is smaller than a Nalgene bottle. An interesting feature is that it pitches from the inside, so you put the DAC Featherlite poles' ends into the corners and attach them with Velcro tabs. This may be a bit complicated if you are not used to it.
The seams are double sewn and the stress points are reinforced. For ventilation, you have a small rear window plus the front door, both covered with a no-see-um mesh. The canopy is a water-resistant and breathable NonoShield fabric. So this tent will perform better in a frozen environment with snow than in the rain, bear this in mind, it is water-resistant but not fully waterproof.
The floor is with a 2000 mm waterproofness rating, so you will surely be fine in the snow.
See how it behaves in strong winds:
Key features
Packed weight: 3 lb 5 oz (1.5 kg).
Packed size: 9 x 6 in (23 x 15 cm).
Floor area: 27.3 ft² (2.5 m²).
Area/weight ratio: 1.67 m²/kg.
Peak height: 42 in (107 cm).
Doors: 1.
Dimensions: 82 x 48 in (208 x 123 cm).

---
4. Mountain Hardwear Direkt 2 Tent
This tent is obviously for those who want to have a full protection in all seasons and still want to go as fast and light as possible. It will perform well both for technical and non-technical tours.
The fabric here is polyurethane coated 30D ripstop nylon, fully waterproof, and with all seams sealed. So here again you have a versatile tool for climbers as well as for hikers and backpackers. This is a durable structure with Dimension Polyant X-Pac TX07 PU laminate reinforcement in all of the corner seams.
The fly is with 4000 mm Ether Type PU/SIL, the canopy is 1200 mm PU, and the floor is 4000 mm Ether Type PU/SIL FR. The poles are Paleria DAC Featherlight NSL.
The setup is easy partly due to the DAC Ball Cap connectors at the rear corners where you snap the poles into place and do the rest easily after that. This makes it very different from other tents in the text. See more in this video:
The width is 45 inches so you do not have much width here and you can only use two 20 inches pads, but you will notice that it is taller than any other tent in the list.
Ventilation is not so great, you have only one vent without a stiffener which would keep it open.
Key features
Weight: 3 lb 5 oz (1.5 kg).
Packed size (L x D): 10 x 5 in (25 x 13 cm).
Floor area: 25 ft² (2.4 m²).
Area/weight ratio: 1.6 m²/kg.
Peak height: 45 in (114 cm).
Doors: 1.
No vestibule.

---
5. MSR Access 2 Tent
This is a tent from a completely new winter tent series launched in 2017, suitable both for hiking and backpacking tours as well as for 4-season use.
The tent is in the group of "treeline" winter tents, so not for exceptionally strong winds, but it has an extra cross pole which adds a lot to its stability and it can withstand some snow accumulated on it during the night.
This is a double-layer tent with very little mesh in the inner tent construction and this is one of the important features for its winter use.
Key features
Packed weight: 4 lb 1 oz (1.86 kg). So it is a bit heavier than the tents shown above, but bear in mind its 2 layers, so this is quite normal to expect.
Packed size: 18 x 6 in (46 x 15 cm).
Floor area: 29 ft² (2.69 m²). So this is one of the largest areas of all tents here in the list.
Area/weight ratio: 1.45 m²/kg.
Peak height: 42 in (107 cm).
2 doors & 2 vestibules.
2 vestibules surface together: 17.5 sq ft (1.62 m²). This tent provides far more protected space than any other tent in the list.

---
6. Nemo Kunai 2P Tent
This is again a double-wall design as you realize from the picture below where the tent is shown without the fly so that you can see its pole structure. The tent could also be put in the group of treeline tents, similar to the MSR Access tent shown above.
The tent is with the single front door similar to the number 7 below, but it has a vestibule so you have some 7 square feet (0.65 square meters) of extra covered space for the gear.
The tent is with the vent in the fly and in the vestibule, and you have multiple guyout lines to secure it against winds.
The canopy is 20D nylon and mesh, the floor is 30D nylon and the fly is 20D nylon. The stuff sack is waterproof itself and it has a map of star constellations printed in. Note that the poles are stored in a separate bag, which is good when you share the weight with your partner.
Please see a bit more in this nice short video by NEMO:
Key features
Weight: 4.14 pounds (1.88 kg).
Packed size: 20 x 9 x 7 in (51 x 23 x 18 cm).
Floor area: 27 ft² (2.51 m²).
Area/weight ratio: 1.34 m²/kg.
Peak height: 42 in (107 cm).
Floor dimensions (L x W): 85 x 51/42 in (216 x 130/107 cm). The second width number is for the narrower foot-width.

---
7. Big Agnes Shield 2 Tent
This is a tent for professionals, with many exceptional features and built from very advanced materials. The tent is freestanding and it is a single-layer type, but observe that the fabric is breathable here.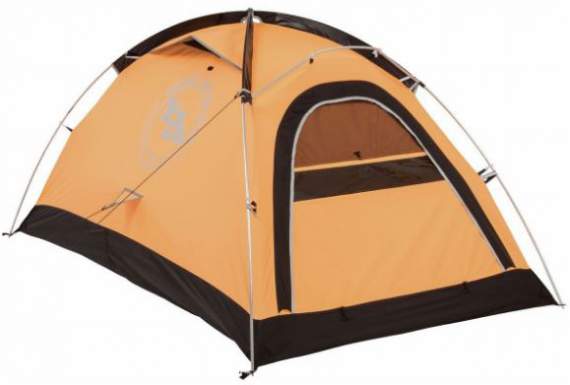 Note that you do not have a vestibule here, and the tent is with one door only but it is in the front section so the access is easy for both users. Though they offer a separate vestibule which provides lots of covered space.
The materials are quite impressive, the fabric is an ultralight three-layer waterproof and breathable nylon with a microporous membrane and tricot layer to enhance moisture management. The breathability rating is 30000 g/m²/24 hours so it in the group of materials of this type with the highest breathability. In addition to this, the tent has two vents, and you will hardly find a better combination in a winter tent.
The membrane is with electrospun nanofibers that give a 10000 mm waterproofness rating at minimal weight. All seams are taped with waterproof, solvent-free polyurethane tape (No PVC or VOC's). More about this terminology here.
Something even more particular here is 37.5 coating applied from inside on the fabric. This is a layer that is supposed to regulate moisture and temperature keeping it at 37.5 degrees.
Key features
Packed weight: 4 lb 5 oz (1.97 kg).
Packed size (L x D): 17.5 x 5 in (44 x 13 cm).
Floor area: 28 ft² (2.6 m²).
Area/weight ratio: 1.32 m²/kg.
Peak height: 42 in (107 cm).
Waterproof and breathable fabric with very high rates.
Very easy setup.
Single-layer.
Strong and sturdy structure.

---
8. Crua Duo Dome Tent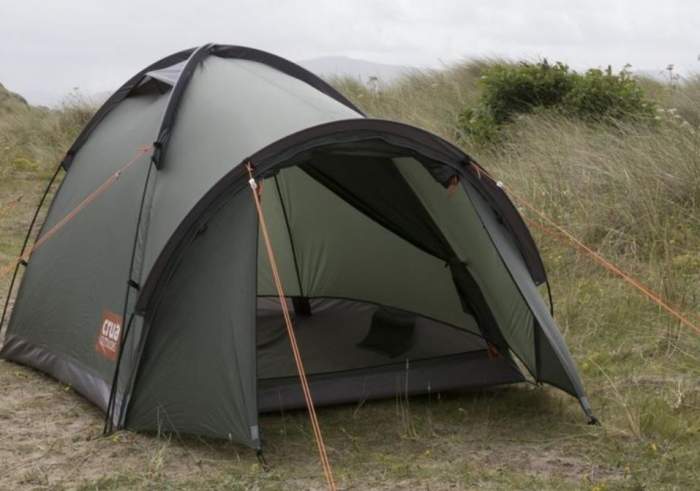 The Crua Duo Dome tent is with all the features a tent needs for 4-season backpacking. It is a rather closed design without mesh sections, but you have a good ventilation system that includes a floor vent and two roof vents, and a huge dual-layer door. All these openings can be closed when needed.
This is a 2-person tent but it offers quite a space, 48 ft² (4.45 m²) in the inner tent and a vestibule. Note that it is very wide with its 58.7 inches (149 cm). The weight is not so great, it weighs 5 lb (2.2 kg), but this is a durable construction with strong aluminum poles.
You might want to know that it is designed to accommodate the Crua Cocoon insulated tent with the R-value 9, so imagine, in such a combination you can use it anywhere, but this would be for a base camping of course. It is also designed to be used together with the Crua Core 6 tent in the Crua Clan combination, again for car camping.
The waterproof rating is huge, no less than 5000 mm, and the packed size is (L x D) 21 x 6 inches (53 x 15 cm). Please follow the link to read more.

---
9. Eureka Mountain Pass 2 Backpacking Tent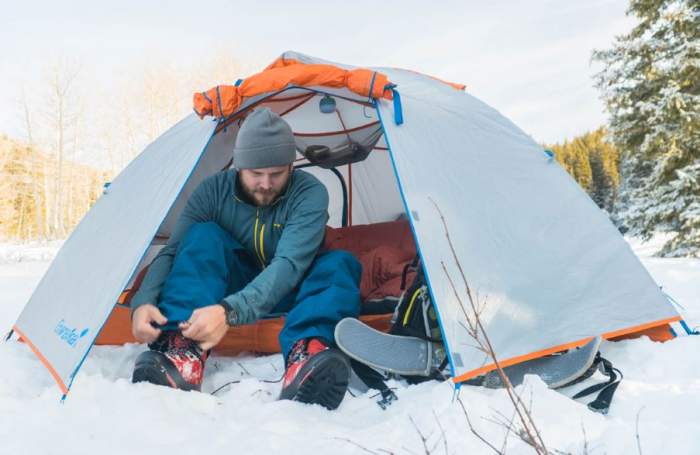 This Eureka tent is one of those where manufacturers give the minimum weight only. So it is 5 lb 9 oz (2.52 kg), and as you realize it is heavy. But note that this is with the footprint which comes included. This sets it apart, but this is not the only reason for having it here, you will realize this is an exceptional tent.
Namely, this is a convertible design. It has removable zippered panels which you can keep if you use it in winter conditions, or remove if you use it in the summertime to have better ventilation. This also affects the weight a bit. But as you realize, this makes it a versatile true 4-season tool.
The tent is with two asymmetric doors and asymmetric vestibules. The tent provides 32 ft² (3 m²) of the inner area and 10.8 + 7.6 ft² (1 + 0.7 m²) under the vestibules, so this is quite a luxury on the trail. The poles are aluminum, and the waterproof rating is 1800 mm for the fly and 3000 mm for the floor. Please read more in my full review.

---
10. Big Agnes Copper Spur HV2 Expedition Tent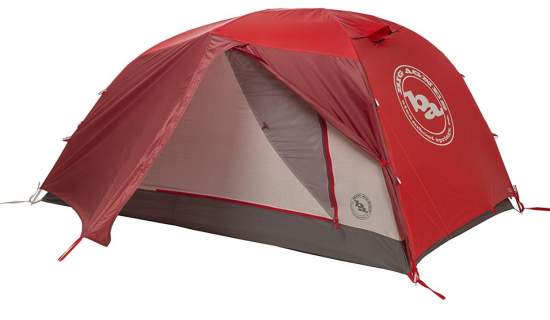 This Big Agnes Expedition Tent is somewhat similar to the Eureka tent above in the sense that this is again a convertible design. So here again you have all mesh sections with additional zippered panels and you can regulate the airflow dependent on the climate and also preserve the warmth when it is cold and windy outside. So this is a true 4-season tent.
You have a hubbed poles system so the setup is easy. The tent is with 2 doors and 2 vestibules and you have enough space for two backpackers. The inner area is 29 ft² (2.7 m²) but with the two vestibules, the total protected area is 47 ft² (4.3 m²). So per person, this is 23.5 ft² (2.15 m²). The weight is not its best side, it weighs 5 lb 8 oz (2.49 kg), but this is the result of its sturdy construction and thick poles, and the extra panels on windows.

---
Final thoughts
So this was my list of best 4 season tents for backpacking, based primarily on the weight but keeping an eye also on some other parameters. These are expensive tents but this is not surprising in view of all the technology used in their construction. Only the Black Diamond tent is not fully waterproof, all others are designed for a full-protection regardless of the weather conditions.
Several of them are described in detail in my separate reviews, so please follow the links for some more information. Note that this list will be updated regularly so bookmark this text and visit it from time to time.
Thank you for reading, and do use the comment box below in the case of questions or comments. Have a nice day.