---
This Big Agnes Copper Spur HV2 Expedition Tent is a new convertible 4-season freestanding hubbed-style tent suitable for all weather conditions.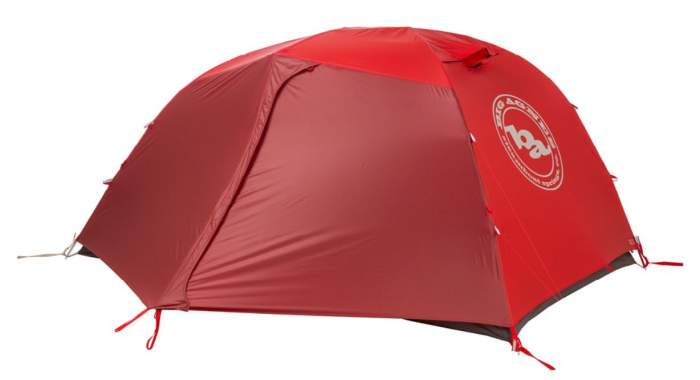 ---
Key features & benefits
Convertible design for all seasons.
Hubbed poles.
Technical expedition tent suitable for professionals.
Very reliable.
2 doors & 2 vestibules.
Lots of space for 2 users.
---
What is in the name
If you are familiar with the Copper Spur series by Big Agnes, then you probably know their ultra-lightweight 2-person tent which is among the lightest on the market. But here they have built a reinforced version which still has the letters HV in the name, and this means high volume because of the pre-bent poles that add more elbow and head volume.
They have built two tents in this series, for 2 and 3 users and in the table below I summarize their most important parameters:
Weight per person, lb (kg)
Area per person, sq ft (sq m)
The Expedition Tent 2 is a freestanding hubbed design and this is a fully two-layer structure which is such that you can regulate the air flow inside or preserve the warmth, and this is why I describe it as convertible, have seen also the term modular used in the description of this tent.

---
Who is it for
Space-wise, the inner area is 29 ft² (2.7 m²) but there are also two vestibules, and the total protected area is 47 ft² (4.3 m²). So the total area per person is 23.5 ft² (2.15 m²). For such a technical tent, this is lots of space. In fact, it provides a bit more per person than its bigger cousin the Copper Spur HV3 Expedition tent. See its floor plan and the dimensions: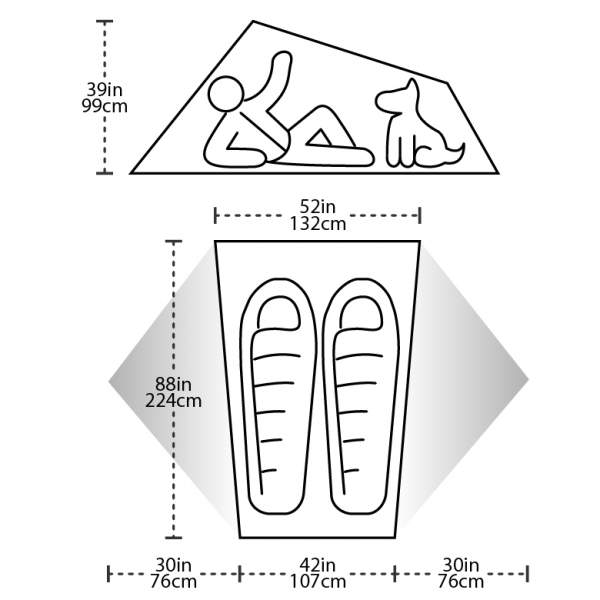 Seasons-wise, this is a clever convertible design so it is for all year use. The construction is such that it can preserve the warmth and the poles are thick so it can withstand lots of pressure, even if snow is accumulated on the tent overnight.
Climate-wise, as mentioned above, this is a convertible design, so you have closable mesh and panels on all openings. In a warm weather this will give a good ventilation, in winter use this will prevent cold drafts. It is very similar to the Eureka Mountain Pass tent which I have described in my another review.
Weight-wise, well, this is not a lightweight backpacking tool, it weighs 5 lb 8 oz (2.49 kg). But this is not surprising if you see its sturdy construction with thick poles and the extra panels on windows. As I said above this is a true 4-season tent. The packed size is very good, it reduces to (L x D) 20 x 7 inches (51 x 18 cm).
All in all, if used by two people on the trail, this is a backpack-portable item. If used solo for car camping, then this is simply perfect regardless of where you use it.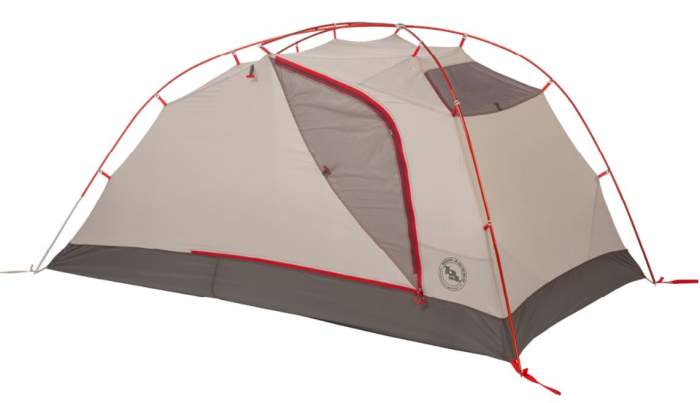 ---
Materials & construction
The poles & stakes
The poles are 9.6 mm DAC Featherlite NSL so you have the best here. All of them are shock-corded and permanently attached to the central roof hub; this does not hold for the short brow pole which raises the walls where the doors are located, you add it separately.
The setup is easy and you have color-coding here. The tent comes with 10 large aluminum J stakes.
The fabric
The fabric is a silicone-treated rip-stop nylon so it is very durable and the waterproof rating for the fly is rather moderate 1200 mm. There is a vent on the fly and it matches the mesh window on the ceiling. The guyout lines attach to the tent at low positions so that you can pull the fly out and this creates a vertical airflow which you may need if you are forced to keep the vestibules closed.
There are two vestibules, symmetric in the design and with central zippers, so as usual, you have to stake them down to have them functional. Velcro tabs fix the fly to the frame. The inner tent is a breathable nylon and you have dual-layer sections on the ceiling and on the doors.
The floor is a nylon rip-stop with a PU coating and its waterproof rating is 10000 mm. It is a bathtub style design so all is done properly here for a full protection from the ground. The seams are taped with a waterproof and solvent-free polyurethane tape (No PVC or VOC's).
The doors & windows
It is always good to have two doors on a 2-person tent so this is what you have here. The doors are with windows that have two closure options, mesh and the panel, and this is a part of its convertible design. You have Quick Stash doorkeeper system in place on the tent body, this keeps the doors out of the way.
The picture above shows the extra mesh (window) on the ceiling with a dual closure, you will see it in the video below.
Other features
Many interior mesh pockets and media pockets.
Multiple interior loops for attachment of accessories.
Oversized and reinforced stake out loops so you can use them with ice axes and skis.
Fits the Triangle, Trapezoid, Large Trapezoid, Wall and Large Wall gear lofts (sold separately).
Reflective guylines and webbing on the corners.
Dual equalized Dyneema guylines for stability and strength.
Easy-grip zipper pulls and glove-friendly toggles and buckles.
Please see more in this short video by the brand:
---
Specifications
Best use: mountaineering.
Capacity: 2 people.
Type: freestanding 4-season tent.
Trail weight: 4 lb 12 oz (2.15 kg).
Packed weight: 5 lb 8 oz (2.49 kg).
Fast fly weight: 3 lb 3 oz (1.45 kg) – this applies only if you buy the footprint separately.
Inner floor area: 29 ft² (2.7 m²).
Inner floor area per person: 14.5 ft² (1.35 m²).
Vestibule area: 9 + 9 ft² (0.8 + 0.8 m²).
Total protected area: 47 ft² (4.3 m²).
Total protected area per person: 23.5 ft² (2.15 m²).
Packed size: 20 x 7 in (51 x 18 cm).
Peak height: 39 in (99 cm).
---
Big Agnes Copper Spur HV2 Expedition Tent vs Competitors
You might want to see how this Expedition Tent compares with some other tents built for 4 seasons. So I give the best what is out there, the Eureka tent is also a convertible type. The MSR tent is much lighter but it is not convertible and its poles are thinner. Note also that the Eureka tent's weight is with the footprint. Please follow the links to check the updated prices:
BA Copper Spur
HV2 Expedition
---
Final thoughts, rating, pros & cons
To summarize this Big Agnes Copper Spur HV 2 Expedition Tent review by stressing that they have again built a great tent, a very versatile tool for all seasons and climates. The setup can hardly be easier, this is a hubbed structure so you have no sleeves and the tent is freestanding. It is certainly not the lightest of what you have on the market, but this is a true all-year tool and the weight/features tradeoff is worthwhile.
The tent is expensive in particular if you compare it with the Eureka Mountain Pass tent that is built in the same convertible style. But see also this MSR Access 2 tent which is much more expensive. Here is how I rate it:
Big Agnes Copper Spur HV Expedition Mountaineering Tent, 2 Person
$499.95
See also my text where I compare this tent with the Eureka Mountain Pass 2 tent, and check also the Slumberjack In-Season 2 Tent built for all seasons.
But if you want an ultra-lightweight tent from this series, check the Big Agnes Copper Spur UL2, note however that this is a 3 season backpacking tent.
Please check my text with winter tents if you need more options, this tent is included in the list. For larger family camping tents check here.
Thank you for reading, please let me know if you have any question or comment, there is a comment box below. Have a nice day.